Your wedding invitations are your guests' first glimpse into your wedding style from the overall vibe and aesthetic to specific color combos and the level of formality. So it is important to make them count. There is a lot to research and choose from thousands of wedding invitation photos, tips, and advice to get the perfect wedding invitations. Once you have selected down the overall style and colors of your wedding invitations and stationery, it is time to finalize the right wedding invitation wordings. The invitation cards must have all the basic lines which can be worded and laid out in many different and new ways to reflect the style of the wedding respective with the changing times. Well, here are some of the best and popular wedding invitations styles for you.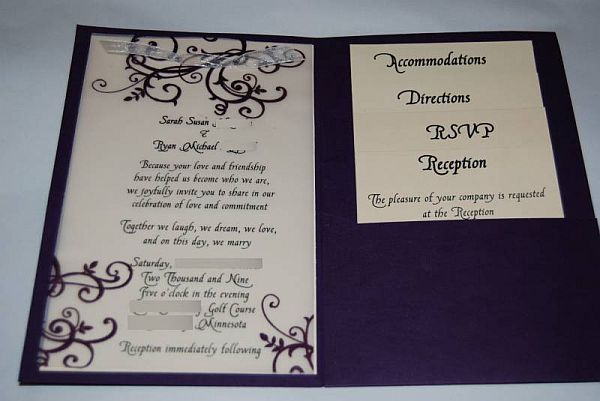 1. Engraved wedding cards
Engraving is the most formal type of wedding invitation which is a form of printing. In the engraving invitations, the wording is carved on to a copper plate. The paper is then printed with this copper plate which is inked and further put in the press. Such printing is termed as engraved because it leaves raised letters on the paper. Engraved wedding invitations are usually used for very formal weddings and are considered to be one of the most expensive printings. These are for the people who does not have a tight budget.
2. Thermography
Thermographed wedding invitations can be used as a substitute to the engraved wedding invitations without even having to worry about the budget. Without the added expense, thermography gives the similar effect as engraving. Engraved wedding invitations are everyone's ideal invitations excluding the cost. In this situations, you can choose wedding invitations which use thermography. To give a raised look like engraving, in thermography ink is mixed with several small dry particles which is put to the paper for printing.
3. Off-set printing
Off-set printing is usually used for needs of business printing and is the most regular kind of printing. Off-set printed invitations do not have a very refined look which is why it not much suitable for weddings. These printed invitations are also very affordable.
4. Handwritten
Handwritten wedding invitations are much ideal for small or informal gatherings rather than formal wedding invitations. Such invitations are written on plain white letter sheets manually by hand.
5. Contemporary
Contemporary wedding invitations use a variety of colors and designs such as picture of a wedded couple, balloons, flowers, etc. These are the most funky, happening and non-traditional wedding invitations unlike the printed ones on white or ivory paper. Contemporary invitations speaks a lot, if you are having a personalized themed wedding, but they must be best not to use for a much formal wedding.