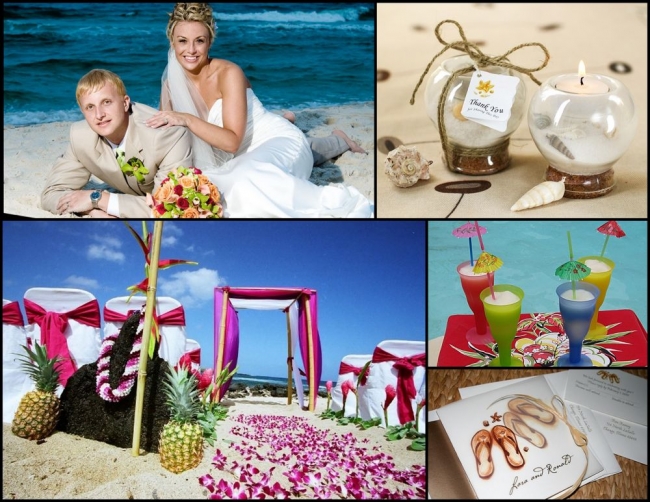 Planning for your wedding involves a lot of time, effort and energy, especially if it is an outdoor wedding. Outdoor weddings are beautiful, fun and are held at exotic location. Intrinsic planning is required, given the locations. One of the most preferred locale for an outdoor wedding is exotic beaches. Beaches lend a refreshing and relaxed backdrop to the wedding celebrations. Here are a few tips to plan a beach wedding.
1. Beach wedding themes and location
Weddings in India are like the mirrors of rich culture of the nation. After discussing about the idea of a beach wedding with all your near and dear ones, one should first begin with finalizing the location. You need to pick up a beach where you can officially, and lawfully get married. You need to check for different requirements to be fulfilled depending upon the state you plan to get married.Remember this is very critical because unless and until you get a licence for a beach marriage, you cannot proceed further. For the themes, you can choose between Hawaiian, Tropical, Caribbean, Surfer or Nautical. This is also important as all your dressing, decoration and food will depend on what kind of theme you choose.
2. Invitation
When the word beach weddings are taken, one can only imagine a clear picture of romance on the beach. Invitation for beach wedding needs to be just perfect as it is the only way you can convey the theme and style of the wedding. Wedding card needs to be elegant, eye catching and unique. A well designed and elegant card marks a print on one's mind and soul and sets the guest up for this unique experience.
3. Bridal wear
Bridal wear needs to be beautiful, elegant and timeless for this kind of unique marriage. One needs to remember that even though all bridal wears have lasting beauty in them, but beach bridal wear along with the lasting beauty should have a casual feel too. Wearing high heels can be a problem on the sand, so the bride can wear flip flops which go with the dress or marriage gown.
4. Food
Success of any party depends upon the kind of food that is served . If a beach wedding is a morning ceremony here are some of the suggestions:
a. You can do a continental breakfast which will include tropical fresh fruit display along with beautiful pastries with good coffee.
b. Post that, when the marriage brunch begins you can serve omelettes, French toast snacks, fluffy pancakes, sausage, smoked bacon, Orange juice, Mimosas, bloody mary's and champagne. This type of reception will surely be a hit.
5. Music and decoration
Depending on what kind of beach wedding you plan to have, music and decoration needs to be arranged. You can choose between a morning ceremony or an intimate sunset wedding. Generally a red carpet is a must in all marriages but instead of that you can have roses and other flowers laid out upon a carpet. Some of the unique ideas which can be used are as follows:
a.Garlands or shells can be used to decorate chairs.
b.On every table you can fill up galvanized buckets with shells and beautiful beach finds and this can be used as centrepiece for all tables.
c.Beach lanterns can be hung on the arch of the couple's table.
6.Beach wedding favors
An elegant and beautiful wedding favors can be the best way you can thank somebody for attending your marriage. In a beach wedding you can choose out of many articles the best gift which sums up your feeling of saying a thank you to your guest. Perfect examples of wedding favors are Coaster favors, Edible beach favors, cookie cutter favors and beach candle favors.