Weddings offer an ideal setting to share a whole range of assorted gifts with your near and dear ones. Wedding gifts will have to be attractive enough to grace the occasion, not too expensive to burn a hole in your purse, and should of course be usable at other times too. One of a kind, expensive gifts may look too out-of-place in a normal setting. When it comes to bridesmaid's gifts, a contemporary selection of jewelry, especially elegant bangles are in vogue today and will serve the purpose quite well. If you are looking for some bangles to gift your bridesmaid, here are some trendy eye-catchers to choose from.
Designer Bracelet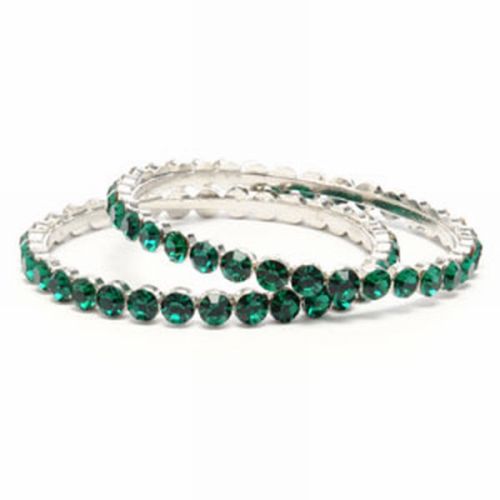 These stone bracelets are from the high-end of the price spectrum, intended for those with deep pockets and don't mind splurging on gifts. The Bridesmaid Non-Openable Bracelet from Tejani comprises a pair bangles embedded with emerald green Austrian crystals, priced at $85. You will also be able find simpler crystal designs for everyday wear at affordable prices.
Fall Bracelet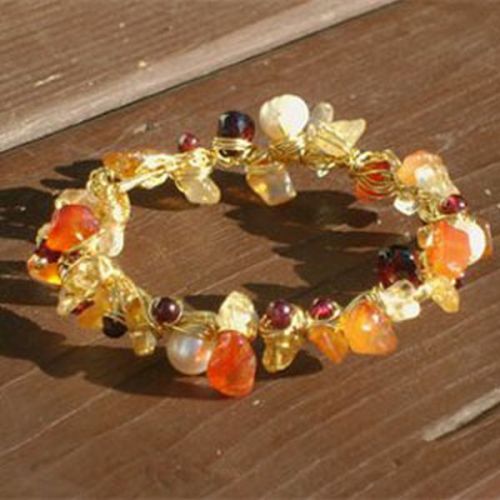 This piece of jewelry goes well with seasonal weddings, as the name suggests and especially intended for weddings held during the fall season. Muted shades of red, brown, bronze, orange, yellow, and an occasional green of the fall, blend well with an orange outfit and this bracelet. Freshwater Pearls, neatly cut Garnet, Carnelian and Citrine strung together using a strong wire is presented in the form of a Cuff Bracelet at Kellymjewels for $56.00.
Beachy Cuff Bracelet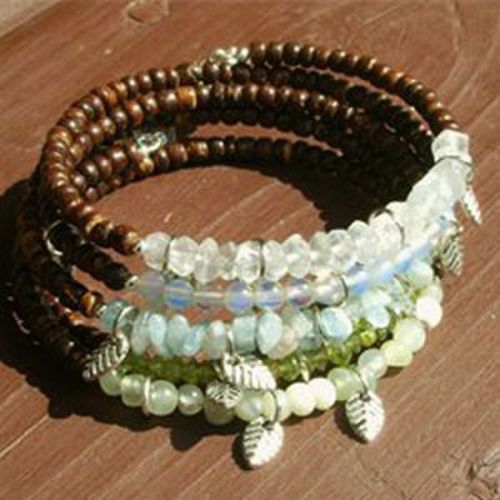 For those who choose to blend with the wedding locale, this design is best suited for oceanfront weddings and pool side celebrations. Strung onto almost anything from a hemp or bamboo cord, to silk threads or strands of sterling silver, smooth sea glass crystals with varying hues of blue, green and white reflect the cool sparkling water surface. Don't forget to embellish your bracelet with a few charms that best describe your personality. You could choose the charms from a cute range of mini fish, leaves, palm fronds, ornate trees, starfish, seahorses or other marine animals. This beach glass cuff bracelet from Kelly M Jewels is priced at $50. It is made of a genuine set of well cut aurora borealis Swarovski Crystals ,Peridot, Fresh Water Pearls, and Aquamarine.
Beachy Bangles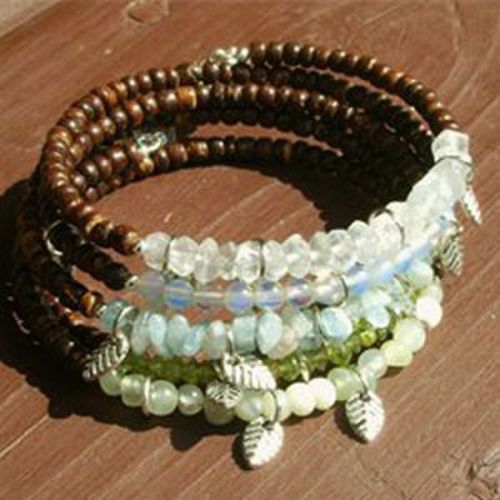 Also from Kelly M Jewels, this Bangle is available for $54, in two different crystal combinations; Peridot, Opalite, Sea Glass and Aquamarine figure in one set, while the other has a mix of Citrine, Aquamarine, Opalite, and Aragonite.
Vintage Chic Bangles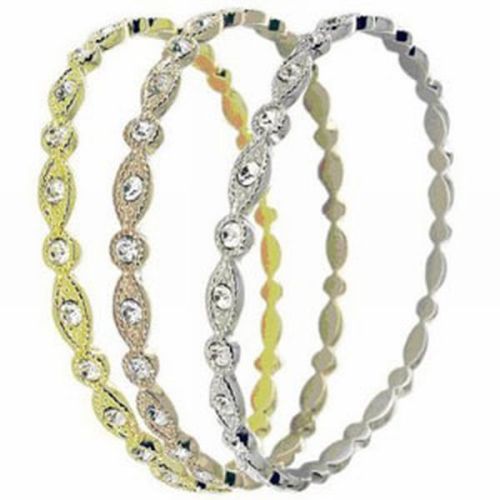 Vintage bangles are really worth their value. A combination of traditional design and romantic charm, they are sure to add a touch of femininity to any type of outfit. A memorable gift that is sure to be cherished for years to come, you can order this piece for a price of just $29.99 from Target.
Chunky Beads and Stones Bracelet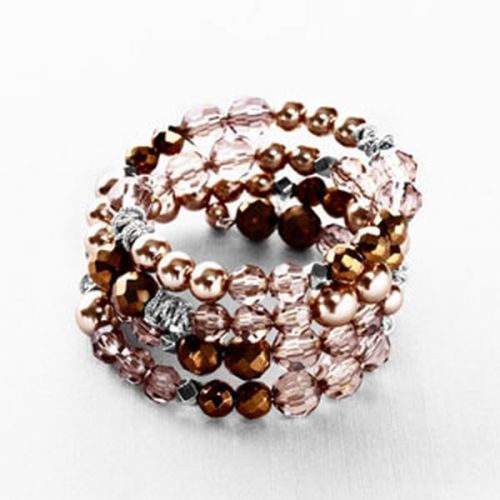 Heavy chunks of unevenly cut stones, octagonal and round beads are now the latest fad. Colors of course characterize the seasons of use, with bright shades popular during the hotter seasons, and muted dark hues of bronzes, orange, and earthy colors, with a splash of wild pink preferred during the cooler settings. The Pearl and Gem Mix Coil Bracelet from Anntaylorloft offers a combination of resin pearls, clear beads, chocolate colored beads and stones, for $29.50. It can be worn across all seasons, any time of the day.
Romantic and Timeless Bracelet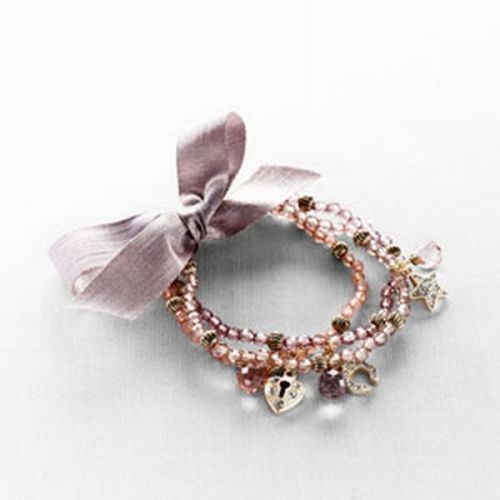 These sleek, romantic, and soft pieces guarantee a versatility that goes well with any type of outfit. The Anntaylorloft bracelet, available for $16.50 is a wonderful piece of stone and gold plated charms, most suited for a floral print outfit. Add as many charms as you like, heart, star, horseshoe or any other charm you fancy, but take care not to startle others with the sound from clanking charms.
Simple and Elegant Bangles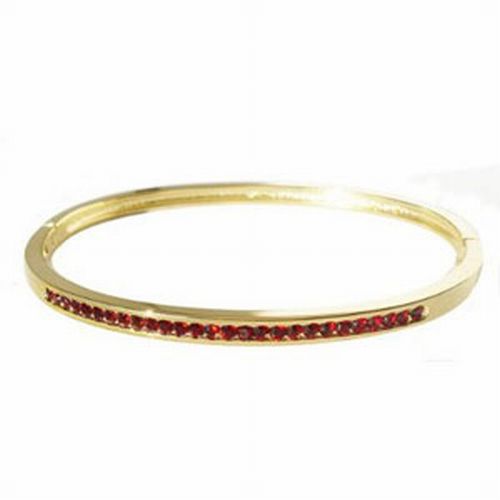 It doesn't get simpler than the elegant, ultra-thin bangles from Target. A Channel set or laser-etched bangle set can be your gift for just $9.99
Be sure you paint a pretty bridesmaid picture by optimizing your accessories. Based on your outfit, select an appropriate necklace and bracelet, those that don't compete with each other for attention. Choose a simple neck wear to go with eye-catching bangles or a chunky necklace with slim elegant bangles or a bracelet. Also limit the number of bangles so that you don't sound like a wind chime.