Wedding cupcakes are great alternatives to wedding cakes, if you are looking for the ways to get more for your money. Also, wedding cake tradition has been taken upside down by many wedding couples, who go by the modern time and choose delicious cupcakes. Beautiful and delicious wedding cupcakes are more appealing than pricey wedding cakes. People with elaborate taste of delicious foods and smaller budget can't say no to these wedding cupcakes that are best to amuse and delight your guests. We are sharing some of the best wedding cupcake ideas with you. Take a glance!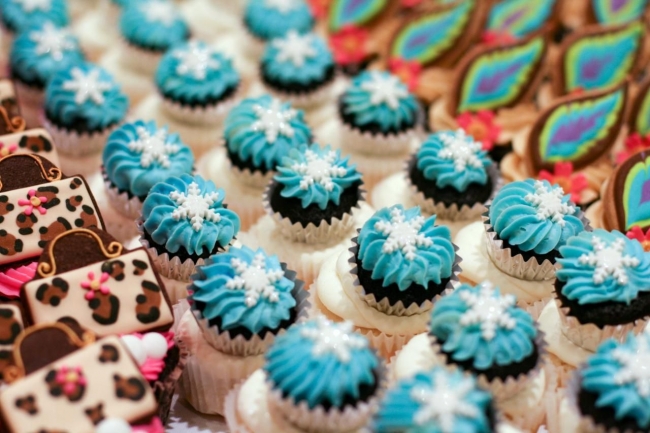 Try out some fresh baked blooms that are crispy, soft and delicious. You can make a perfect balancing of Swiss meringue blossoms on the butter cream and can arrange colors like yellow, ivory and pink on your palate.
Go for yummy moist, coffee-infused chocolate flavor cupcakes and add a shining mocha moment by applying a creamy chocolate glaze on the top of the cupcake.
Dive into the ladylike layers of this charming berry cupcake that is filled with strawberry-rhubarb compote and creme fraiche cream. Your guests are going to remember the wedding for a long time!
You can go for some pink cupcakes with sugar-brushed flower petals and a rose flavor gaze. Inside, there is a sweet ginger jewel hidden that can make guests go crazy and blushed.
Nothing can be more delicious than the moist carrot pint-size wedding cupcake with a sweet candy sparkler on the top. A gentle layer cream cheese frosting is really delicious.
A heart queen wedding cupcake is what people say to the cheesecake with raspberry puree hearts. Give every guest, one small version of this classy cupcake and they are going to remember it always.They also look beautiful.
Monogram cupcakes that are crowned with hearts cut made up of fondant are a great option for those who are planning a classic theme in their wedding ceremony.