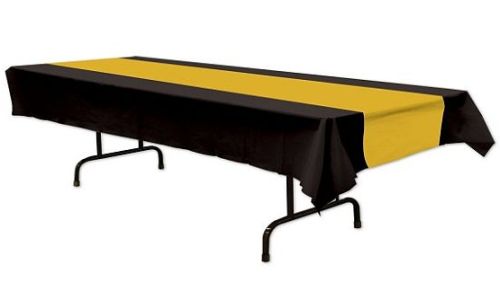 A beautiful tablecloth sets the tone and the base of the wedding, adding a sense of elegance and sophistication. However, purchasing wedding linens can be a task as they can be simple, fancy, intricate, or extravagant. Listed below are some exclusive wedding tablecloths reflecting the desire for beauty and uniqueness.
Heavy-Weight Vinyl Tablecloth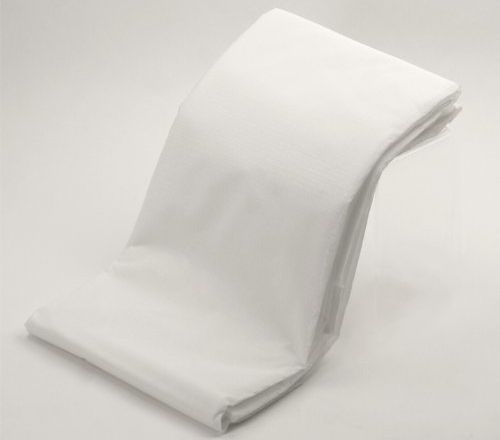 Most suitable for outdoor weddings, this vinyl tablecloth is heavy enough to stay in place during wind. It features classic white color with surface texture and a flannel backing that adds substance. Weighing 7.6 oz, this tablecloth is heavier than most of the vinyl tablecloths. Simple yet elegant, it is liquid proof and provides protection against spills. Use these tablecloths for your wedding to offer your guests clean and attractive dining on the big day.
Ivory Round Disposable Tablecloth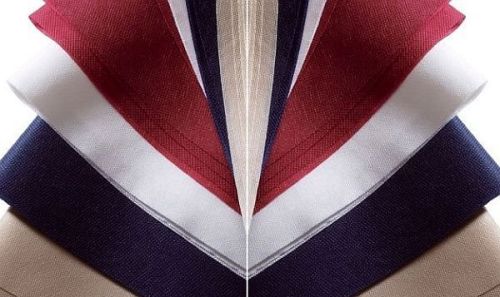 If you are looking for a formal and a traditional wedding, opt for this ivory colored tablecloth. Completely non-woven, these are made from polypropylene fiber and measure 180 cm. As the name suggests, they are disposable however, can be reused if required due to exceptional quality. Manufactured by Ex.tra in Italy, these tablecloths are less expensive and water-repellent and are a perfect choice for weddings.
Wedding Red Concord Tablecloth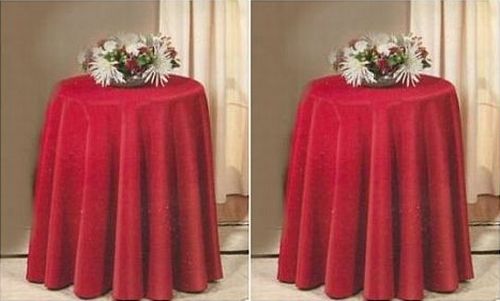 Make your wedding a spectacular event with this beautiful red color concord tablecloth. Made of 100% polyester, this tablecloth is long lasting and wrinkle resistant. Extremely durable and easy to maintain, it measures 70 inches in diameter and makes an elegant piece of wedding décor. Use this tablecloth with complementing centerpieces such as white candles or mason jars with flowers to complete the look.
John Lewis Dine Cotton Black Tablecloths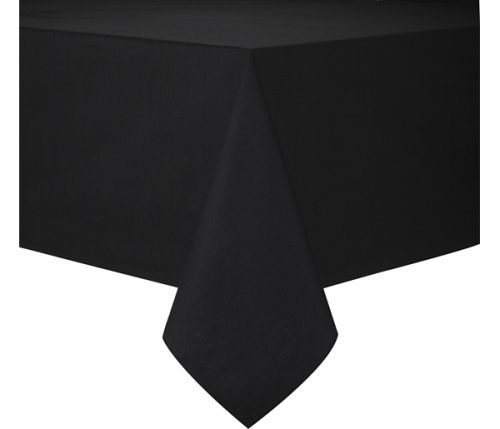 This attractive tablecloth by John Lewis will complement any wedding theme or décor. Available in three different sizes, this elegant table linen is a perfect combination of tradition and modernity. You can easily create a luxurious atmosphere on your wedding with this black tablecloth. It is made of good quality pure cotton and is reusable. John Lewis tablecloths can be bought online at a price tag ranging from £25- £35.
Ivory Party Plastic Tablecover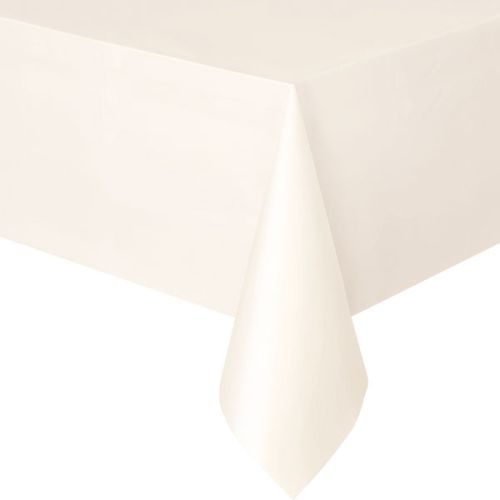 Add a touch of elegance to your celebration with this Ivory colored plastic table cover from party delights. Perfect for decorating wedding tables, it measures 120*180 cm and can be bought online at a price tag of £2.45. This graceful table cover can be reused, are waterproof, and wipe able. It is favorite for wedding receptions and offers convenience and value for money.
Jersey Stretch Table Cover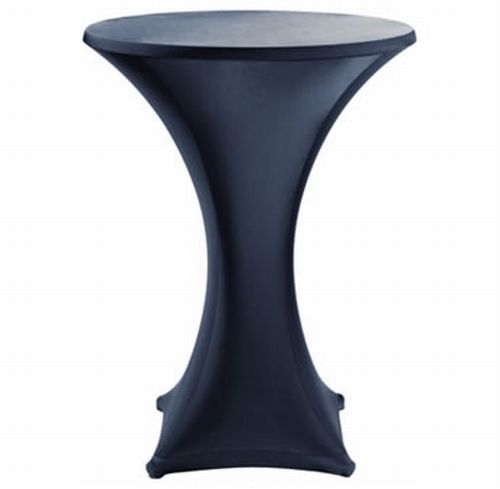 This table linen is graceful, refined, and most suitable for contemporary table. It is a jersey stretch tablecloth made of 80% polyester and 20% elastan. Measuring 1050*800 mm, it provides a professional finish and sits comfortably over tabletops. Easy to clean and use, it ideal for poseur tables. Together with beautiful centerpieces and table settings, this high quality tablecloth will surely create an inviting ambiance for your guests.
Better Quality Navy Blue Plastic Rectangular Wedding Party Tablecloth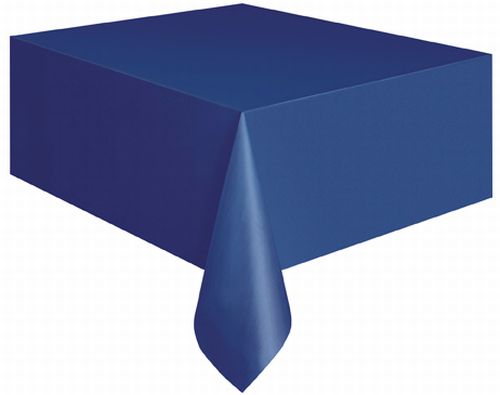 Perfect for wedding receptions, this stunning rectangular tablecloth by Creative Converting features twice the plastic in comparison to any other tablecloth. It measures 54*108 inches and is large enough to cover almost any wedding table. These tablecloths can be re-used and provides protection against food and drink spills. Available in bright navy blue color, this table covering can enhance the look of your wedding table and create a more elegant impression.
Black And Gold Striped Plastic Tablecloth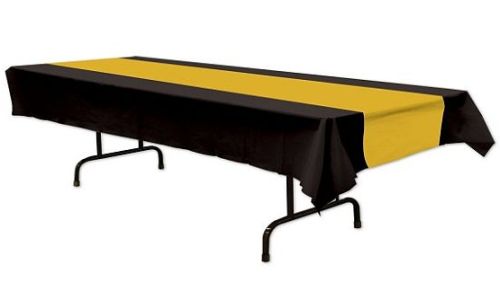 The tale of a beautiful wedding table starts with this elegant plastic tablecloth. It is a black and golden diagonally striped tablecloth that brings a touch of grace, especially when accented with several black mason jars filled with flowers. Measuring 54*108 inches, it can also be customized with silver stripes if desired. Perfect for weddings, it is priced at £3.25 and can be bought online.
Cheltenham Jacquard Tablecloths, White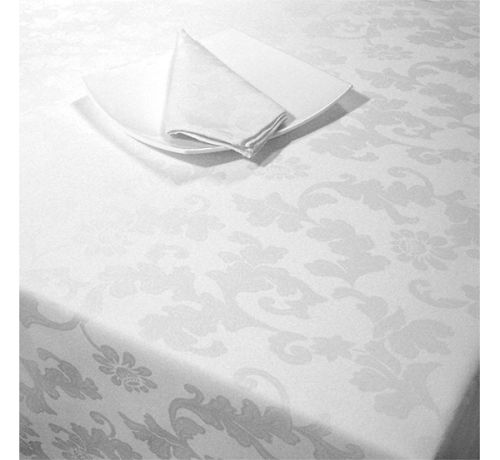 This is a classic jacquard woven table linen in a traditional contrast design most suitable for formal weddings. Cheltenham is made in 100% cotton in pure white color. Available in three standard sizes it is available to buy online between price tag £30- £45. Bring a splash of elegance to mealtimes with this beautiful tablecloth. Machine washable at 60°, it is stain resistant and reusable.
Pale Blue Plastic Banquetting Roll Tablecloth for weddings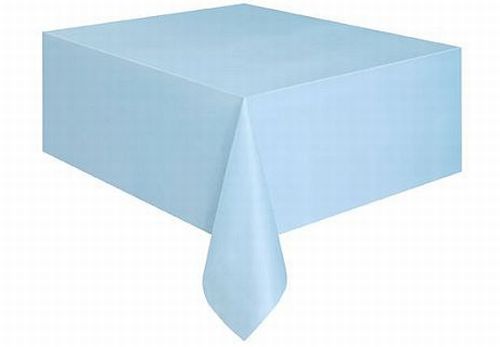 Add a special touch to your wedding tables with this colorful tablecloth. Made of durable plastic, this pale blue table cover will provide a clean, quick, and a disposable eating surface. Available at affordable prices, this table cover measures 50*40 inches. Dress your tables with this stunning looking leak-proof table cover, and make it a grand event.