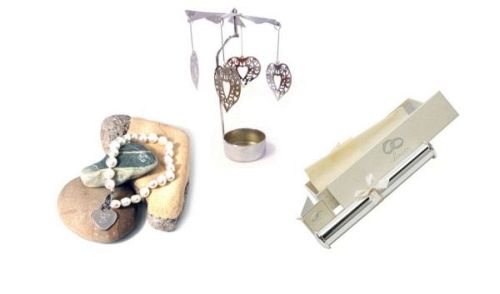 So your best friend is getting married next week and you still don't have a clue what to buy for her. The time is running swiftly and you're getting nervous. In case you have run out of ideas we will help you in making an elegant choice. We have compiled a list of remarkably beautiful gift ideas for the bride that will help you stand out in the memory of your loved ones.
Life Charms In A Pouch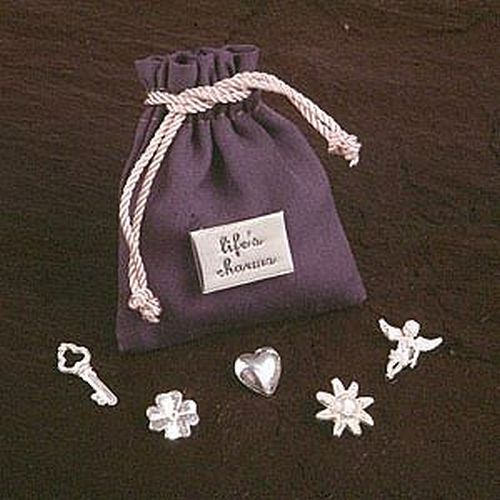 'Life Charms In A Pouch' is to stay with your loved ones forever. The out-of-the-box idea symbolizes your love, care and blessings for the newlyweds. You can greet them for the journey of life with five different sterling silver life charms. The five charms come in different shapes i.e. flower, key, shamrock, heart and angel. The flower charm is supposed to inspire love in the lives of the bride and groom, while the angel is supposed to protect them when in need. Similarly, other charms are supposed to mean things as explained in the poem card accompanying the pouch. What this means is that when those two people would be going through memorable stages of life your lucky charms will always remind them of you.
Silver Wedding Certificate Holder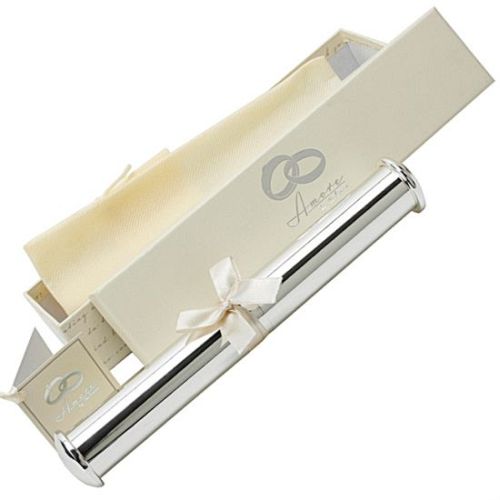 Now this one is quite a memento that will help keep the bride marriage certificate safe forever. The silver-plated holder tied in a ribbon looks classy and elegant. You don't need to worry about the packing as it already comes in a gift box. It stands out as a romantic gift that wishes to keep the bride's marriage safe just as her marriage certificate. It gives your gift a personal touch and doesn't have to be expensive, though the silver-plating certainly does let it look so.
Silver Plated Wedding Horseshoe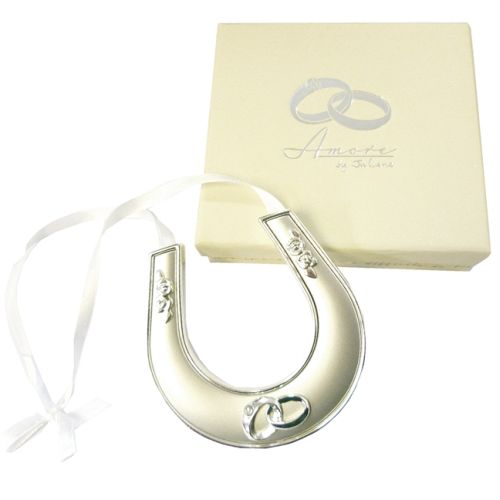 The tradition to gift horseshoe to a bride goes centuries back. It is regarded as a symbol of good luck and is undoubtedly a heartfelt gift. Roses on the two ends and a pair of interlocked wedding rings are embossed on the silver plated horseshoe as a symbol of love. The back side has a shiny plaque. The next big idea is to go to a key-cutter and get the name of bride and the groom engraved on this. This will give a personalized touch to your gift.
Heart Rotary Tea Light Holder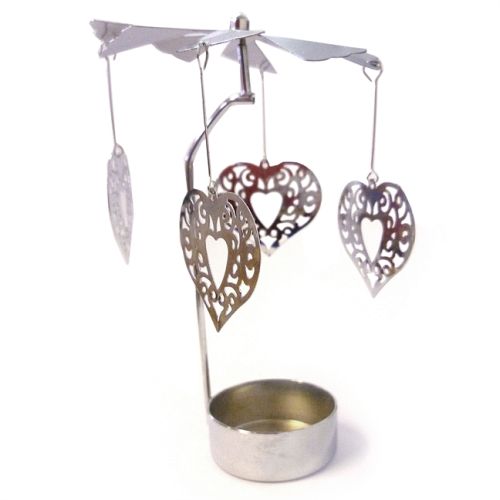 Let your bride and groom find each other in darkness and sit together in front of your tea-light gift. The tea-light holder combines a set of four heart-shaped filigree that twist and turn, while a candle is placed in-between. It will not only set afire the candle in the dark but also the heart of the young lovers. This romantic piece of gift has the 'wow' factor and can be used while having a candle light dinner.
Bomb Cosmetics Sweet Heart Gift Set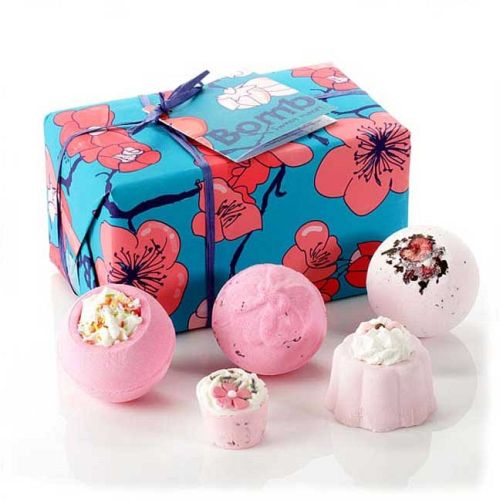 The gift set consists of Bath Blasters and Bath Mallow wrapped in a box. The Kiss Bath Blaster is made of Malva flowers,Cedarwood and Frankincense oils that will make the bride's bath time really special. Just drop it in the bathtubs warm water and watch it fizzle perfuming up your bathing water. It takes care of your skin and gives you a soothing experience. The set also has a Raspberry Ripple bath bomb which is made up of Coco and Shea Butter along with a cute little butterfly designed at the top. The set of five fruity bath bombs comprises of raspberry, cherry, blackberry and strawberry scents. Gift this to the bride so that she can have the exquisite and touching bathing experience.
Personalised White FreshWater Pearl Bracelet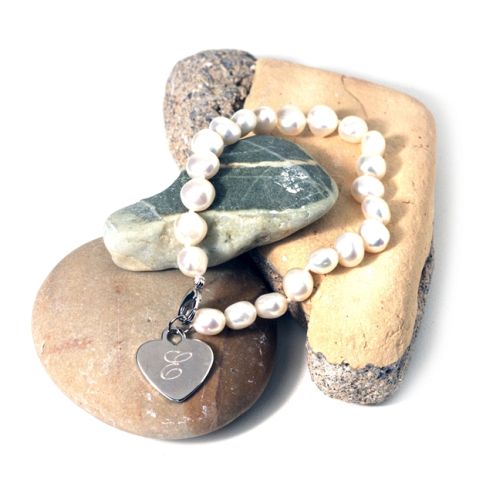 This freshwater pearl bracelet comes with a pendant which you can gift to the bride can engrave the initial of her groom's name on it .A symbol of luck, this gift will also help accentuate the bride's beauty. The heart shaped pendant will always keep her husband in memory and would be a symbol of her love for him.
Personalised Engraved Box With Cross Necklace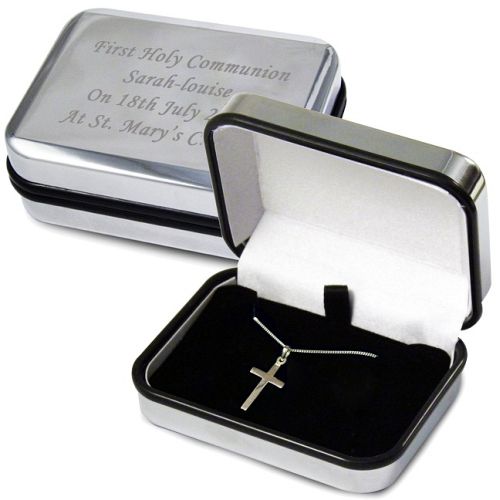 It consists of a sterling silver cross necklace packed in a chrome-plated gift box. The good thing is that you can actually engrave a personalized message of your choice for the bride to give your gift a personal touch. The message though is limited to 50 characters given the size of the box. It symbolizes faith and blessings and we are sure she will like it.
Personalised Wedding Couples Keepsake Christmas Bauble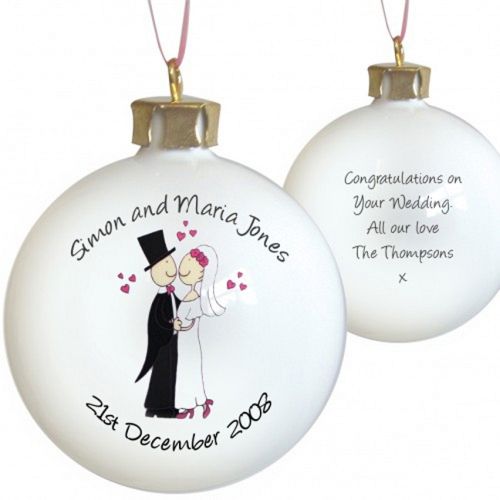 We're quite sure this one will make her say, "How cute!". This bauble comes with a painting of bride and groom kissing each other with hearts all around symbolizing love in the air. You can engrave the names of bride and groom with their date of marriage in the front and a personal message of four lines at the back side. The message though is limited to 20 characters in each line. Thanks to the gift every time they would celebrate Christmas together, the gift will remind them of you.
Thorntons 'Magnificently Milk' Chocolate Hamper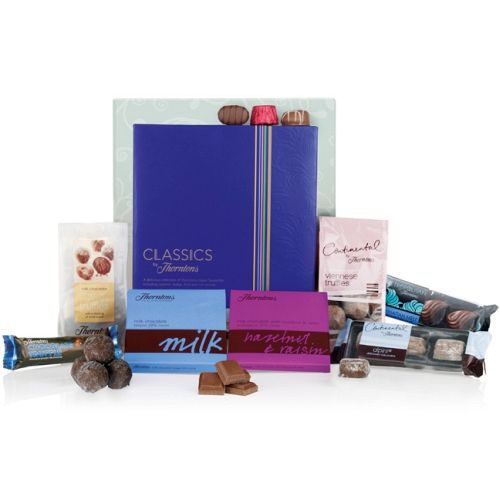 If the bride is crazy for chocolates then nothing would be better than the 'Thorntons 'Magnificently Milk' Chocolate Hamper'. It consists of milk classics, continental milk truffle, Ecuador milk chocolate block, milk chocolate block and Belgian milk chocolate toffee block. The set of luxury chocolates would give a mouth watering effect and would make a wonderful feast for the bride and groom. Chocolate is proven to have many health benefits
making a rare treat that is delicious and healthy.
Balloon Flight Experience For Two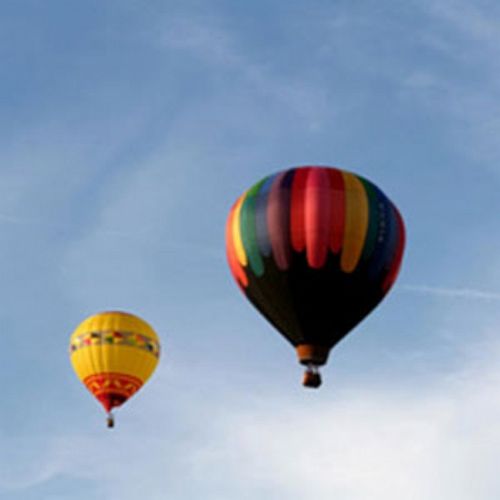 Balloon flight would make a unique and memorable experience for the two. While the bride and groom will be extremely busy and surrounded by guests all the time while marriage, this would give them much needed isolation, which is thrilling as well as exciting. Yeas later, when the husband-wife will look at their pictures in the balloon, it will help reignite their love life with a thankfulness to you for those lovable memories.