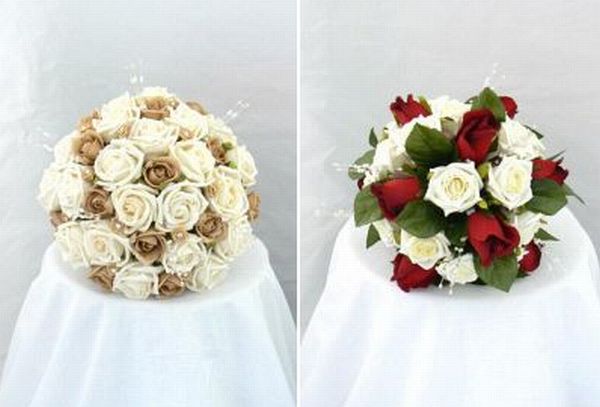 Looking up for your wedding flowers for the special day that is soon to arrive in your life? You might be having many a thoughts and opinions about the flowers that you have to choose. We discuss here with you something that you must know before making the final selection. The point of discussion here are the artificial wedding flowers that can be as much adorable as are the real ones! They come in all shapes, forms, styles and sizes. The best thing is that you can always have the perfect color available in them. Below we share some of the best artificial wedding flowers ideas
Sage green bridal bouquet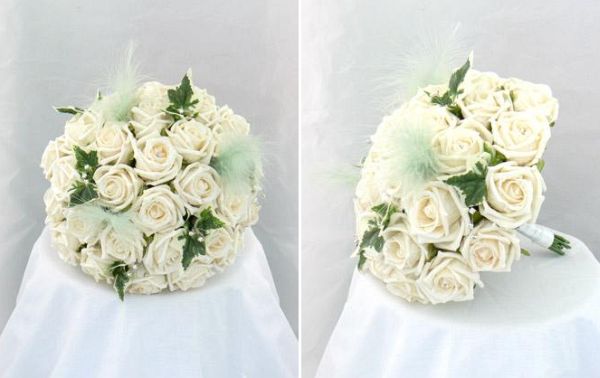 This is a gorgeous looking artificial bridal bouquet that has been prepared with abundance of ivory colored high quality roses made up of foam. Beautifully nestled between the ivory colored roses, are the sage green colored feathers, green ivy leaves and the diamantes. All of this bouquet has been totally hand crafted with the highest standards. You can also choose for the other colors in this bouquet. It is 26 cm in width and 33 cm in height.
Coffee bridal bouquet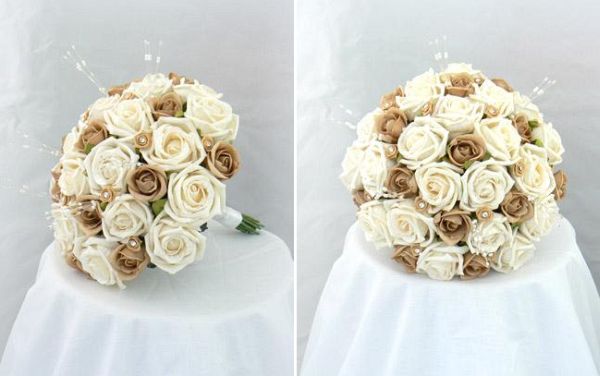 Now this is something that is unexpected in color and will be a favorite one for all. This is a coffee bridal bouquet that has a diameter of about 26 centimeters and has been handcrafted by the professionals. The coffee colored roses is the amazing element featured in this bouquet. There are intermediately placed crystal satin roses and the pearl springs included as the assortment to the bouquet. It is an unusual but a delightful color that will brighten up the mood of any wedding. It comes very affordable and thus makes up as a great substitute for the real flowers that are much expensive and give you this much precision of creativity. The finishing is well done with the organza ribbon.
Ivory calla lily and rose shower bouquet

Having a length of 50 centimeters and a width of 35 centimeters this is a great bridal bouquet to have with you at your wedding. The best thing is that it is all artificially made and you do not have to worry about the flowers losing their charm when you hold them. The bouquet features beautiful Calla lilies with the foam roses that can be variously colored as per your liking and need. This will last a lifetime as a memory of the wedding day that you celebrated with love and togetherness.
Red rose bridal bouquet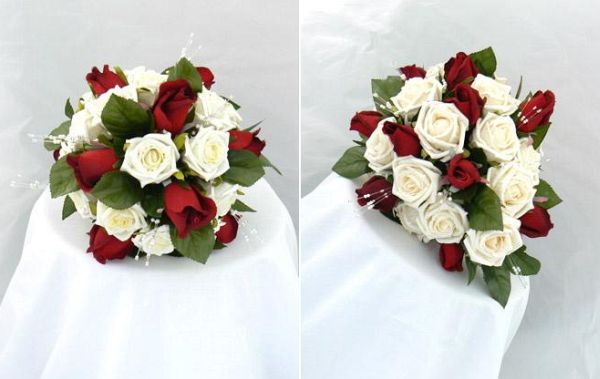 This is a hand crafted bridal bouquet that has been made from the finest of the silk. Artificial roses of two colors form this one with the pearl springs and leaves that are green in color spread nicely among them. The bouquet is 35 centimeters in length and the width of it is 26 centimeters. It makes up for a nice pretty bouquet that will make a bride adorned by all when she walks down the aisle in the beautiful dress and carrying this masterpiece.
Cream calla lily buttonhole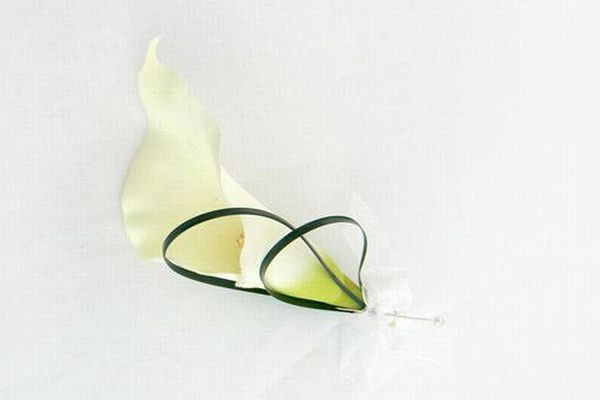 Buttonholes are great addition to any wedding. This is a beautiful calla lily buttonhole that is made up of the silk and is in the cream color. The modern looped grass has also been attached to glorify its beauty. This can be worn by all the wedding guests at the wedding party. All of this has been crafted with hand only by employing the professional skills of the artificial wedding flower making. A good looking organza bow has finishes this perfect buttonhole.
Silk orchid bridal bouquet and groom boutonniere set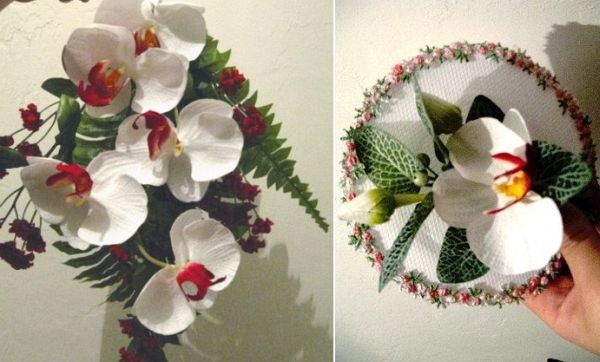 A complete set of silk orchid bridal bouquet and groom boutonniere here is just perfect if you have love for the orchids. The silk bouquet is 22 inches long and has a width of 18 inches. It also has the hook handle to be carried with ease. One can add white or the red colored ribbons to this wedding bouquet to enhance it beauty to the next level. On the other hand the boutonnieres that are 1.5 inches wide and 3 inches tall are amazing as well and are included in this set.
Lily and hydrangea cascade silk bridal bouquet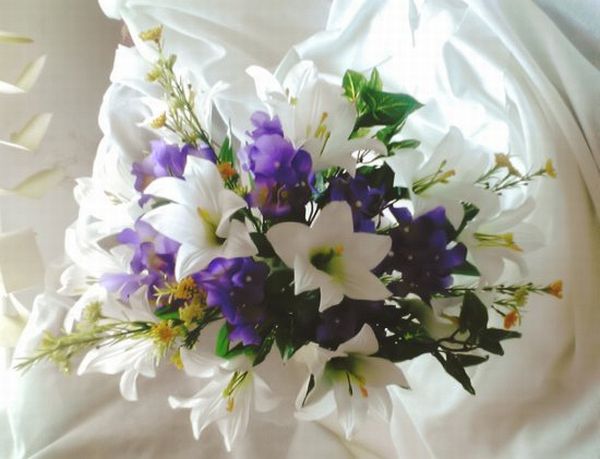 Uniquely designed bridal bouquet. that has man-made artificial lily and hydrangea flowers that are just synonymous to the real ones with some of the artificial scent. This bouquet gives you an option to keep it as a token of wonderful moments spent on your wedding day. Even after your wedding is over you can make it a wonderful home decorative piece for sure. But for your wedding this will make a beautiful bouquet without any doubt.
White roses and violet gerbera daisy cascading bouquet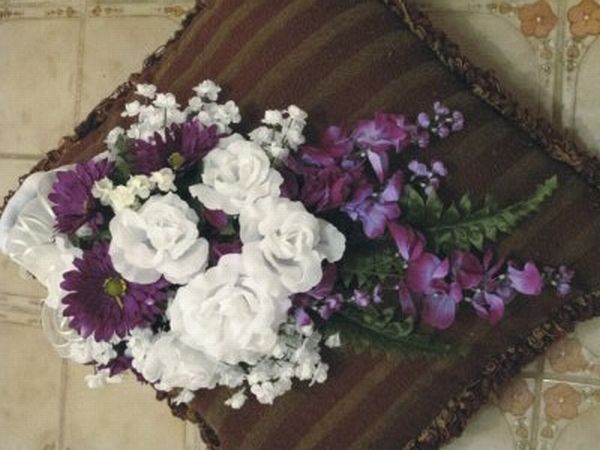 With a lovely flow of creativity this bridal bouquet is cascading in its style. It has beautiful flowers like roses, violets, gerbera and daisy in it. All of them are made of the finest quality of silk that one can ever get. The stem has been slightly hooked and covered with some wired ribbons that make it look nice and also increases its utility at the time of the wedding. A bouquet like this is every bride's dream for sure.
Artificial dried rose bouquet for wedding decoration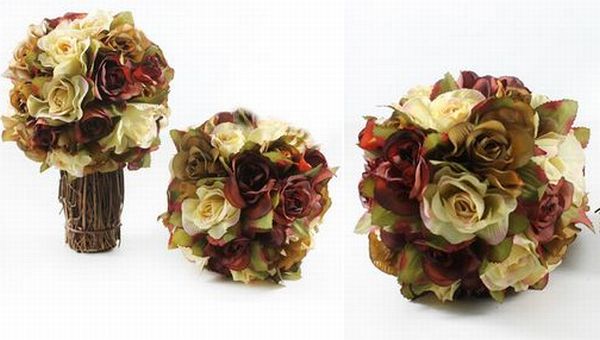 This is what you will call a great idea. This is an artificial dried rose bouquet that is unique to be used for a wedding decoration. Materials like stiffened silk, sticks and wire has been used to create this masterpiece. The different colors that it presents are like brown, tan, cream and deep red. The shades of the flowers is exquisite to be used for any of the wedding themes but they will go too great with the fall wedding pertaining to their design.
Artificial silk purple hydrangea bridal posy bouquet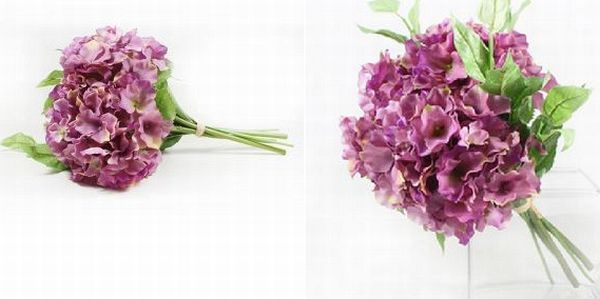 Green and lilac in color this is the silk purple hydrangea bridal posy bouquet that is all artificial. One cannot differentiate these from the real ones at all. The materials used in this are like stiffened silk and the plastic. This can be a lovely choice as the bridal bouquet that will remain in the memory of everyone who attends your wedding for years to come.