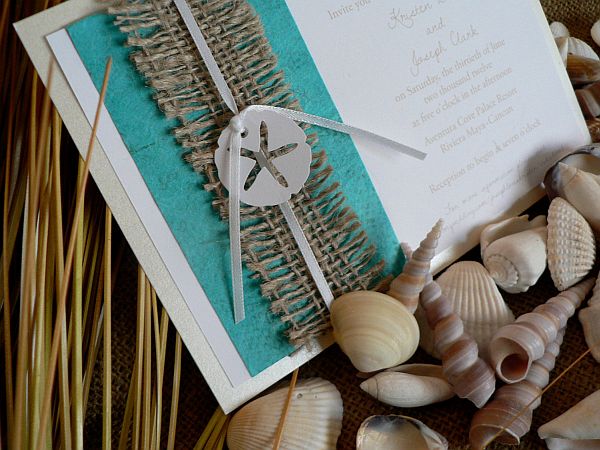 Enough of thinking about getting married in the same old way in the church or some court-yard wedding and just move away from the idea of having a boring wedding ceremony. This is your moment, so try something unique and rustic by planning a beach theme wedding. Now, if you have decided to celebrate your wedding at some exotic beach, first of all think about the wedding invitations that will reflect the kind of wedding you want to have. Give your loved ones an idea about your bashing wedding day and convey a strong vibe through these creative wedding invitations. Here we are with some of the best beach wedding invitations you can choose to give to your loved ones.
Hibiscus Invitations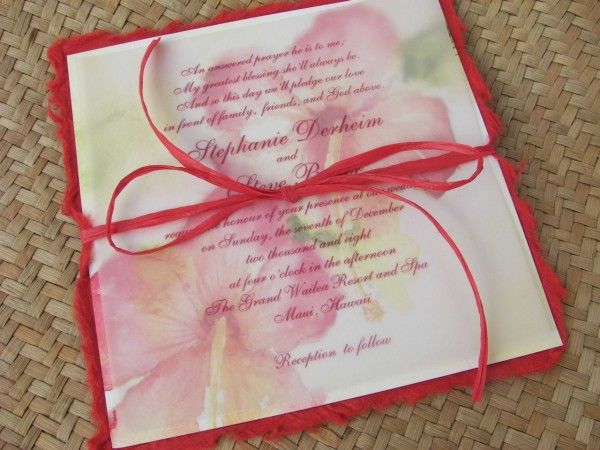 'Wonderful wordings and beautiful color' are the words that make this wedding invitation card really amazing and perfect one for your wedding. You can also print custom text on the card and thus bring your loved ones closer to you. This is an acid-free heavyweight cardstock printed with soft watercolor hibiscus original artwork and on the back of the card, there is a red hand torn textured paper that beautify its overall look to a different level. The red wrapphia ribbon has been tied to the card to give it more royal and rich look. You can buy set of 25 for just $ 100.
Beach Chair Invitations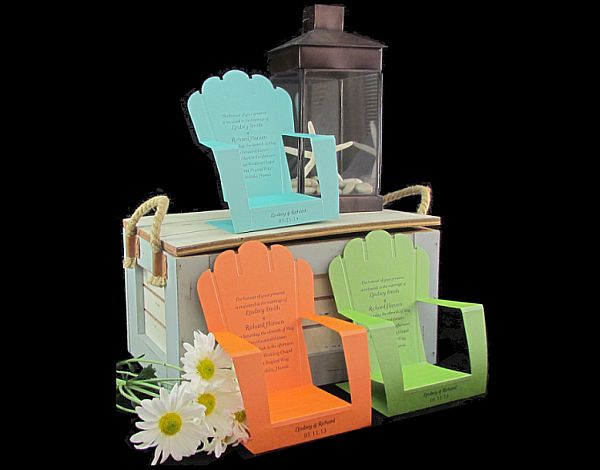 Go the extra miles by buying this beach wedding invitation card that features on an expensive shimmer stock. Although the wedding invitation card is available in two colors; green and orange but green color suits best for a beach wedding. There are some holes on these chairs that help in detaching these chairs from sheet. This is a vertical fold invitation card. In all, beautiful wordings and unique design will make you feel lucky to attend the wedding ceremony. You can also buy other enclosures including white outer cards with this beach wedding invitation card.
Mermaid Invitations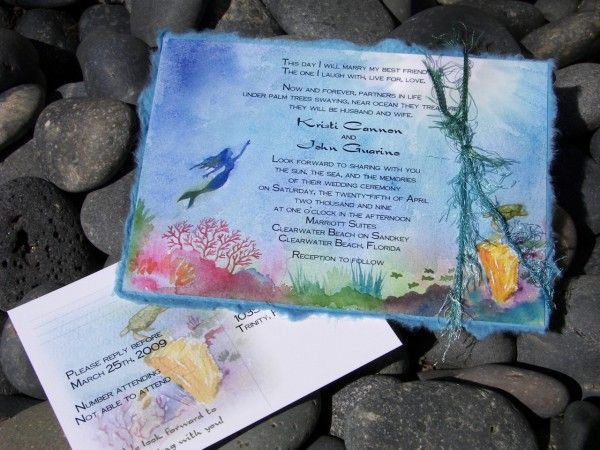 Let your loved ones take a tropical feel by giving this Mermaid beach wedding invitation. You can print your own wording on the card and express your true feelings with the help of this wedding card. On the card, there is acid-free heavyweight cardstock printed with mermaid original artwork done that makes it look amazingly beautiful and creative. A mulberry textured paper has been added on the back of the card that sends a message of your true feelings and love. You can buy a set of 25 cards of $ 100.
Seashell Pink Wood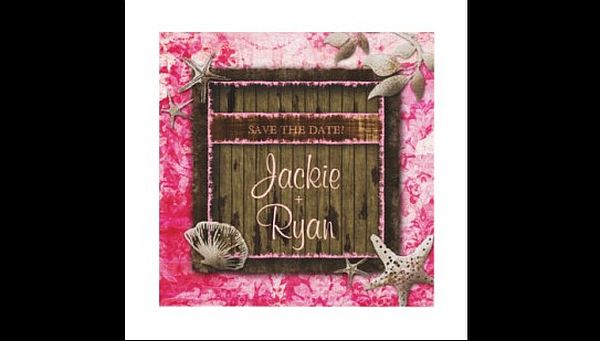 Pink color represents joy, enthusiasm and love and this seashell pink wood beach wedding invitation card is an example of it. Make personalized wedding invitation with this card that is available in nine colors and can be purchased in six different shapes. You will receive white envelope with each of the wedding card. There has been a high quality, full-color and full-bleed printing on both sides that will surely be liked by your loved ones. This wedding card contains 50% recycled content that makes it more special choice for the people who are Eco-friendly.
Touch of Gold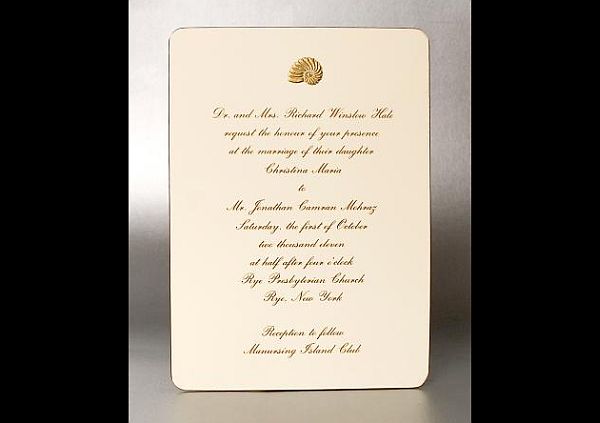 If you don't believe in sophisticate and flamboyant things, then you must look into this simple beach wedding invitation card Dempsey & Carroll. The background is completely white and there has been a beautiful carving of nautilus-shell motif that increases its beauty. You will also get white envelops with this card .This wedding invitation card is perfect for any kind of beach wedding. You can also writing your own wording on the card. You can also purchase this beach invitation card online from card Dempsey & Carroll.
Navy-and-White Invitation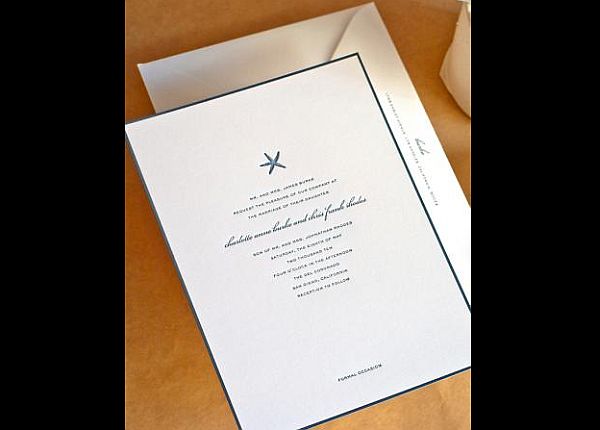 This wedding card from Sugar paper is exceptionally beautiful and unique. If you want your beach wedding to go in quick royal and formal way, you won't find the better option from this. The crisp white background of the card and beautiful navy writing on the same will send your loved ones a signal that your wedding is going to be really special. There is a thin border in navy color to give this card a fine finishing and envelop has been kept white. So why to wait! Buy this beach wedding invitation card from Sugar paper and pump up the wedding bang with it.
A Watercolor Beach Bride and Groom Invitations

Tell your friends and relatives that your love with your would be bride is eternal and you will be privileged by their presence in your wedding ceremony by buying this watercolor beach wedding invitation. In this wedding card, wedding couple is walking on the shore of sea near palm trees and you can express your feelings in your own words by writing invitation in your feelings on this beach wedding card. The white envelop is also included in the cost and matches perfectly with the inner card.
Pink Starfish Wedding Invitation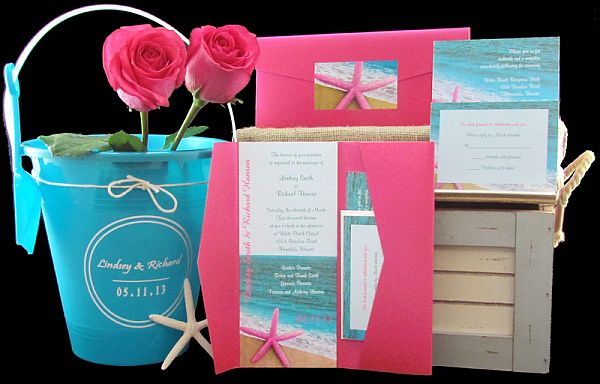 These pink starfish wedding invitation cards are made for those who love sea creatures and thus celebrating your best moments at your favorite place. Invite your friends to your favorite place by sending these pink starfish wedding invitation to them. A pink starfish has been featured on the card and a teal blue ocean on a shimmery invitation is written on the card. The wedding card is available in almost all colors – white, black, teal, fuchsia, ivory, red, purple, blue, green, gold or silver- and gorgeous shimmery fuchsia stock can be changed to any of these colors.
Any Color Beach Invitations with Ribbon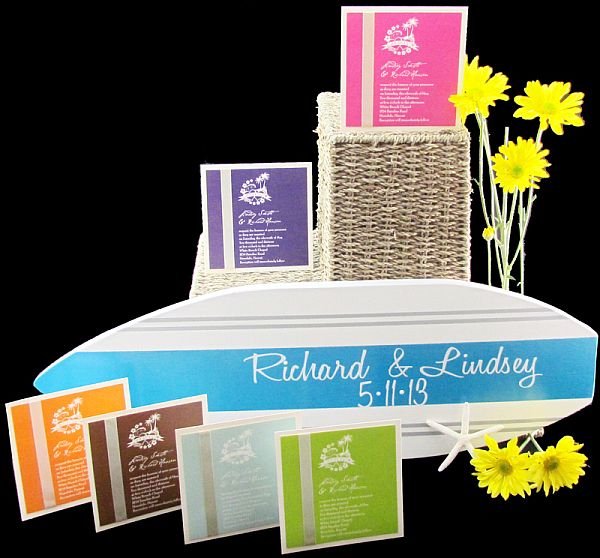 These beach wedding invitation cards features a colored background with a heart shaped sunset surrounded by palm trees sending out the signal about the kind of wedding you will be having. The card is also covered with ribbon and ribbon and backing card. The ribbon cost is also included with the cost of card. You can buy this wedding card in pink, purple, green, brown and light orange colors and can buy response cards and enclosures but that will exclude the original cost of this beach wedding card.