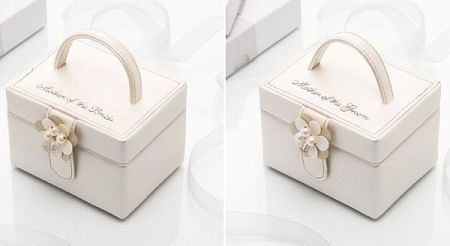 Not just for the bride and groom, the wedding is a special event for the parents of the couple too, especially the mothers. It is a very kind gesture for the bride-to-be and the groom to gift something unique and extraordinary to their mothers to say "Thank You" for all they have done. You can surprise your mother with a thoughtfully chosen gift during the rehearsal dinner or moments before the wedding ceremony. Since mothers are sentimental, personalized gifts are a great option and would be cherished by a mother for years. The 'Mother of the Bride' gifts and 'Mother of the Groom' gifts can be personalized with initials, monograms or some nice emotional message. Here are some of the best gift ideas for Mothers of the bride and groom.
Mother of The Bride/ Mother of the Groom Jewelry Boxes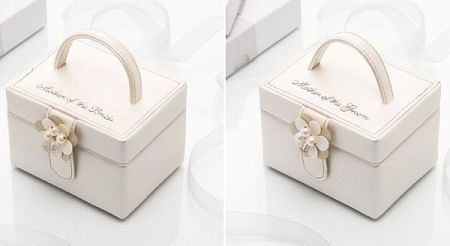 This elegant jewelry box is the perfect way to pay gratitude to the bride's or groom's mother for their hard efforts. You can also add some jewelry, such as a neck chain or small earrings to add that extra touch of your heartfelt appreciation for your mother. This jewelry box has a classic design with gold embroidery. The wonderful gift measures H125mm x W110mm x D100mm. It could be the most amazing gift idea for the mother of bride or groom.
Antique Trinket Box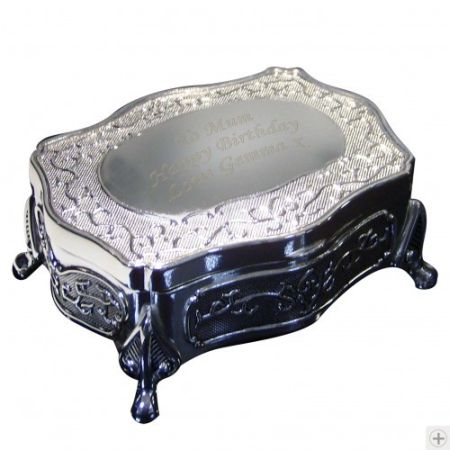 This beautiful Antique trinket box serves as a wonderful obligatory gift for the mother of the groom or the bride. This trinket box has a capacity to keep small amulets, jewelry, rings, or earrings safely. The inside of this cute box is fully lined with very soft velvet in black color. You can engrave a small message along with your personal signatures on the top of the charming box. The box measures 9cm x 3.5cm x 7cm and have a plenty of space to keep your small trinkets. This gift of appreciation would be cheerfully accepted by bride's or groom's mother.
Mayan Musical Chiming Heart Necklace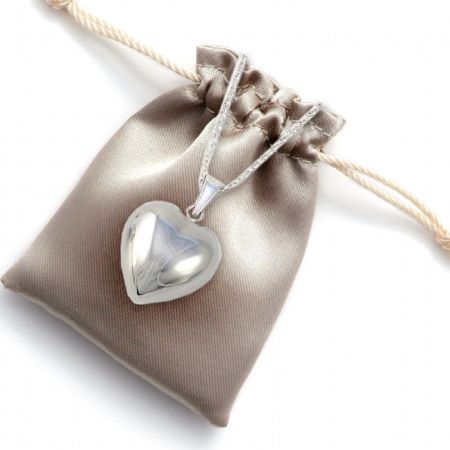 The Mayan chiming balls from India illustrate calming and soothing characteristics. The silver-plated Mayan Musical Chiming Heart is a union of style and relaxation in this fabulous jewelry item. This hand crafted jewelry piece serves as an exclusive gift item for the bride's or groom's mother. The lightweight charming neckpiece is comfortable enough to be worn as an accessory. This stunning piece of jewelry is an ideal piece to become a matter of discussion among friends. It comes in a silky silver pouch that keeps the cute necklace safe and clean.
Spaceform Love You Mum Miniature Token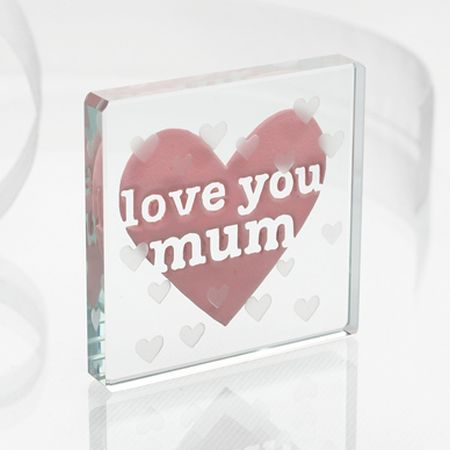 This charming and adorable glass token from Spaceform London, which has a message saying 'Love You Mum', is a great present for the mothers of the bride and groom. This Miniature token from Spaceform is a perfect and memorable keepsake designed especially for your Mum to show your hearty gratitude and admiration to your mother. This handmade, modern miniature measures 40x40x0.6mm. The cute glass token is accentuated with a pale pink heart with clear 'Love You Mum' text and smaller white hearts. This miniature comes packed in a luxury white spaceform gift box.
Vera Wang Votive Tea Light Holder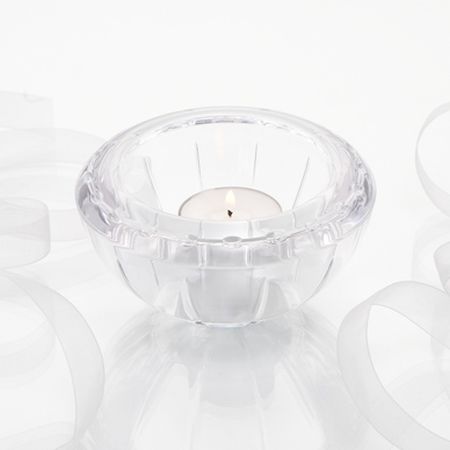 Vera Wang, the world famous bridal designer from America, brings to us a collection of designer glassware that has been created specifically for Wedgwood. This beautiful votive Tea Light Holder is a part of her With Love Vera Wang Glassware range. Her glassware collection is as outstanding and distinctive as her bridal dresses. This pretty tea light holder can be presented to the mothers of the bride and groom. This charming light holder is created from lead crystal with intricate detailing. It measures 11 cm and comes in a Vera Wang packaging gift box. You can also place a tea light candle along with the holder for an additional spark.
White Mother of the Bride/ Mother of the Groom Mugs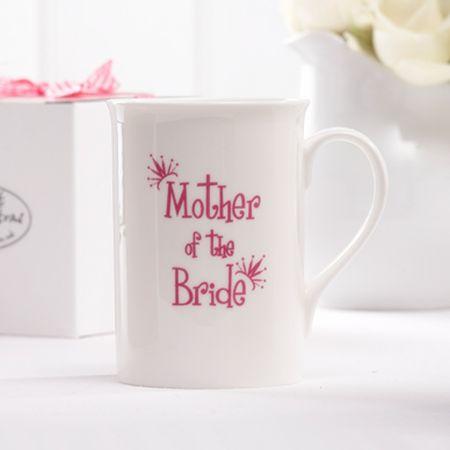 What can be better than presenting a lovely coffee mug to the woman who has worked so hard for making the best arrangements for your wedding ceremony? These cute coffee mugs in white hue are made out of fine bone china, decorated with the words 'Mother of the Groom' or 'Mother of Bride' in pink color that are painted with hands. These mugs are packed in a stylish white gift box with a pink gingham ribbon. These coffee mugs measure W62 x H133mm. Your mother would always remember your special day every time she sips coffee from this mug.
Nougat London Bath Velvet Tuberose & Jasmine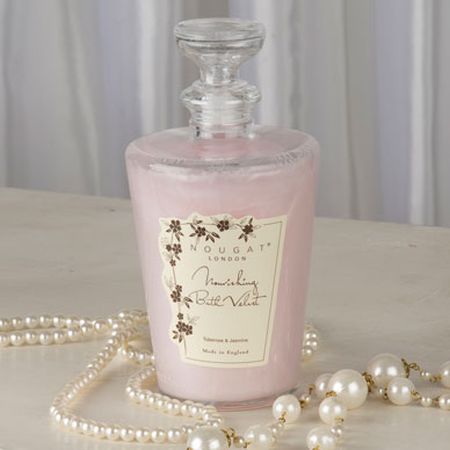 This splendid skin soothing bath velvet from Nougat London will be an acceptable present for either of the bride's or groom's mother. The bath velvet is enriched with chamomile extract that is known for its ability to soften and stimulate the skin. It also contains vitamin E that soothes as well as moisturizes your skin. The sweet aroma of tuberose & jasmine relaxes you away with the care of the day. The bath velvet is packaged in a charming glass decanter, making it more presentable
Silver Personalized Compact Mirror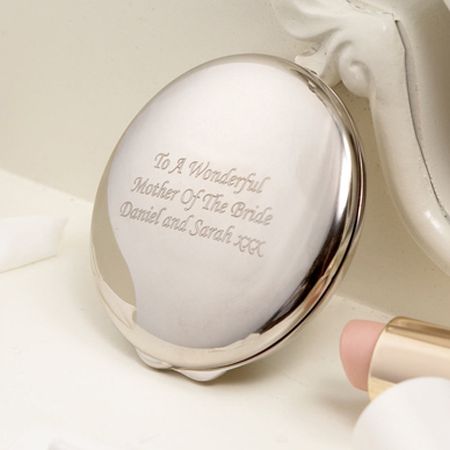 This beautiful silver personalized compact mirror makes a great gift to be presented to the mother of bride or groom during the wedding ceremony. Other than being stylish and elegant, this compact mirror also serves as a practical giveaway. This elegant compact mirror is available in an oval shape that can fit comfortably in your purse, bag or clutch. You can personalize this favor with a small message of three lines.
Kit Heath Cubic Zirconia Earrings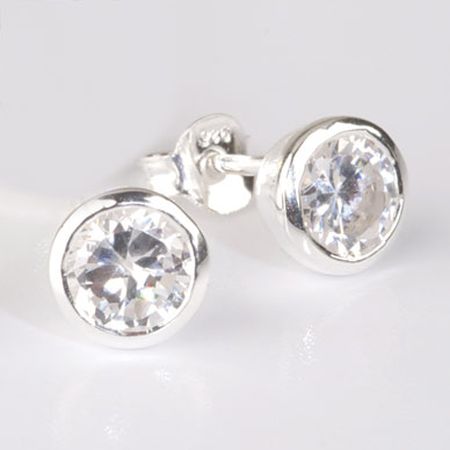 Jewelry items are something adored by every woman in the world. Therefore, these cubic zirconia earrings would be the just right favor for the bride's or groom's mother. These studs have a sophisticated and elegant design. Crafted in sterling silver, the pretty charms have cubic zirconia studded on each studs making it more sparkling and shining. These trinkets would accentuate any attire you wear for the grand occasion. Measuring approximately 7mm these simple studs from Kit Health would make out to be perfect presents for expressing your gratitude.
Ivory Edwardian Wedding Parasol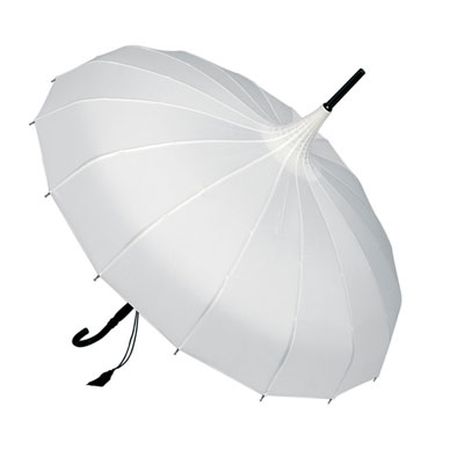 Another great gift you could consider gifting mother of the bride or groom is this beautiful Ivory Edwardian wedding parasol. The inimitable piece comes with tasseled handle and the original Edwardian fashion plates inspire the unique design. Available in pink and black, this stunning parasol, which is perfect for a rainy wedding day, would be loved by the mother of bride or the groom as a token of love and appreciation.