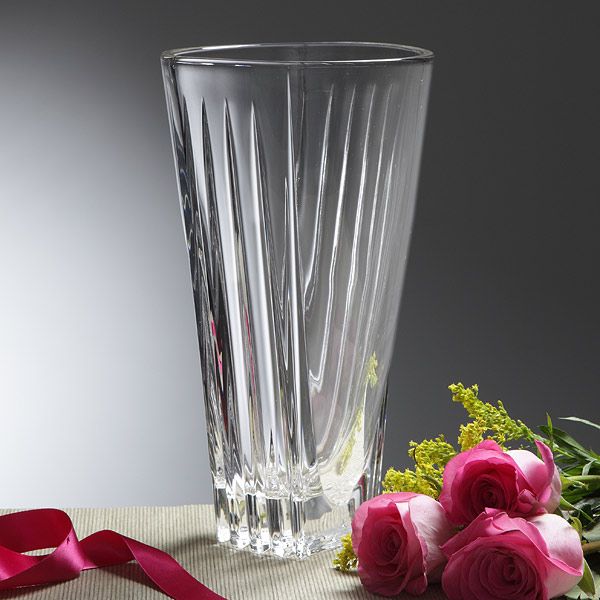 Every time when you are to decide what to gift your parents on their wedding day, you might get utterly perplexed and confused. Nothing seems to be perfect for them. Majority of the times you seem get hold of something which appears too kiddish or bump on to cheap run of the mill things that fail to reflect your love and respect for them. So, take a look at some of the customized anniversary gifts for parents that we have handpicked. These gifts will bring back the romance in their lives years after their marriage.
Crystal Flower Vase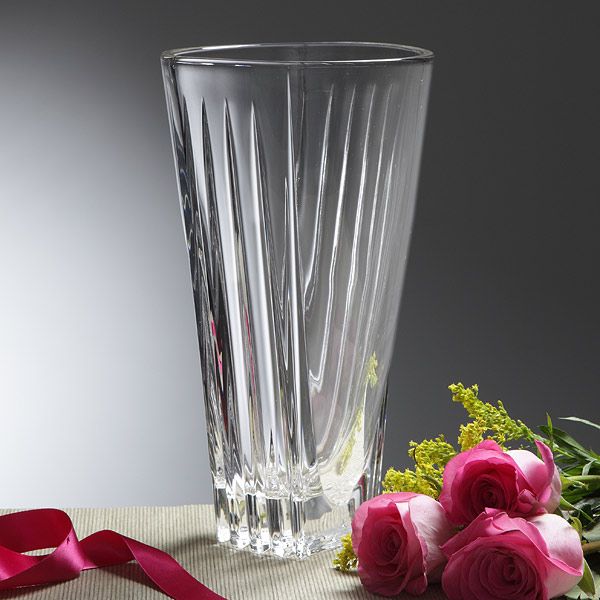 There can be nothing most apt than fresh flowers to express lot more things that words fail do to. But if you have decided to gift your parents a fresh flower bouquet on their wedding then we would ask you to gift a beautiful crystal flower vase alongwith. The transparent vase will be symbolic in describing the transparency that your parents shared in their relationship all throughout and how it strengthened their bond further. You can make it highly customized by etching in the anniversary date, year, venue and most importantly the first name of your parents just like the one we have put here.
Wall mounted family tree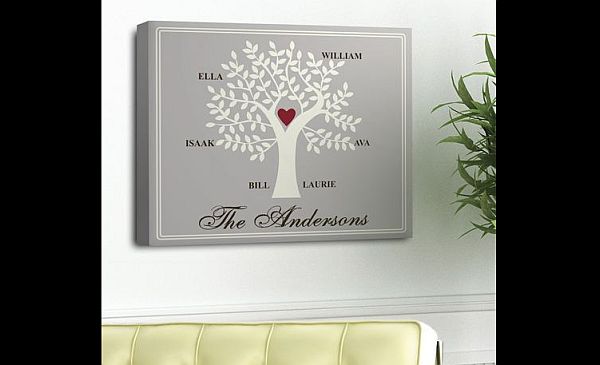 As parents grow older family tradition and customs pose to be of immense value to them. Show that you respect this outlook of your parents too. The best way to go about it is to gift a personalized family tree. It will be an exciting treat for your parents as they look at the network of heirlooms that got created out of their relationship with each other. These family tree placards are available both as modern as well as traditional designs. So, you will surely make your parents proud with this gift. This wall mounting family tree is also worth considering both from its aesthetic point of view and the impact it will create on your parents.
Family tree platter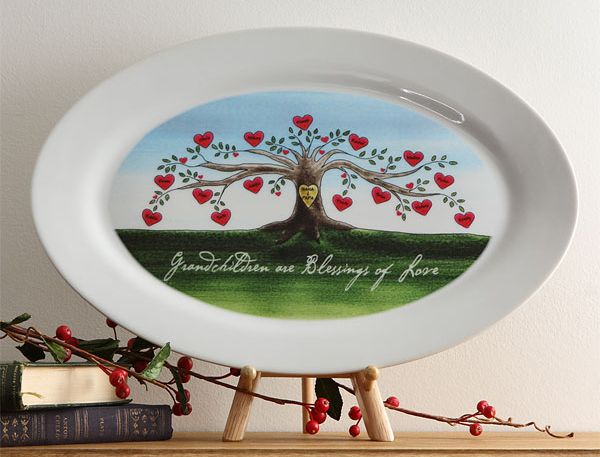 A family tree platter will also be nice gift idea for your parents. Get hold of a platter like the one we have put here. The panoramic view of a tree against a clear blue sky with its branches spread wide and lush greenery underneath will be a great addition to the home décor of your parents too. The inscription of the names of the family members on each of its branches will be a great idea that your parents will love to flaunt among their peer group. Reflect further that you love them and consider them with great respect by inscribing customized quotes on them.
Personalized twin mug set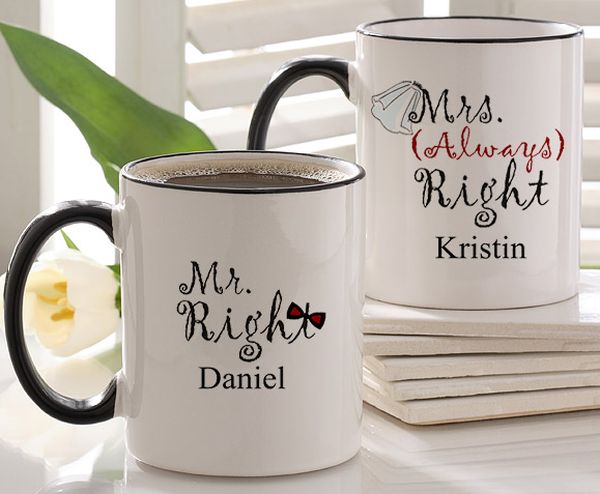 Mugs have always been popular gift items. So, you can get hold of the right pair for gifting your parents too. This mug has a white color which symbolizes the harmony of relationship. The black detailing gives it a feel of elegance. You can make this gift a personalized item by imprinting the names of your parents on each of the cups. Personalized notes like "Mr. Right" and "Mrs. Right" will also be a grand idea to celebrate the fact how they became soul mates over the years.
Pair of Champagne flutes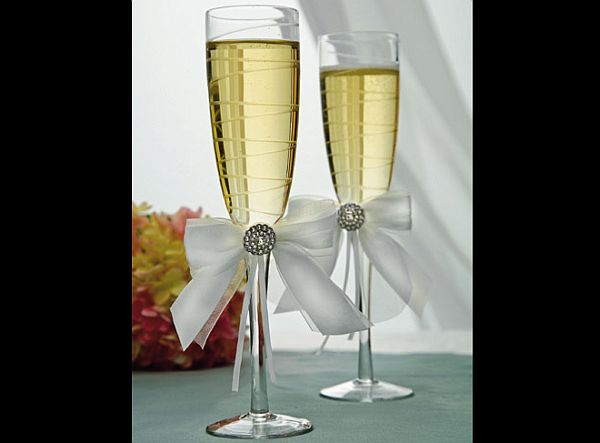 A peg of Champagne sets the perfect mood and ambiance of celebration. So, when it is the time to celebrate the years of togetherness of your parents' Champaign flutes remain unparalleled. This pair of Champagne flutes sports an all clear look so that the visibility of gold tint of Champaign remains undisturbed. The glass blown ponytail-like structure at the base adds up to aesthetic appeal. Make it personalized by engraving the first names of your parents along with the date when they tied their romantic wedlock.
Personalized photo album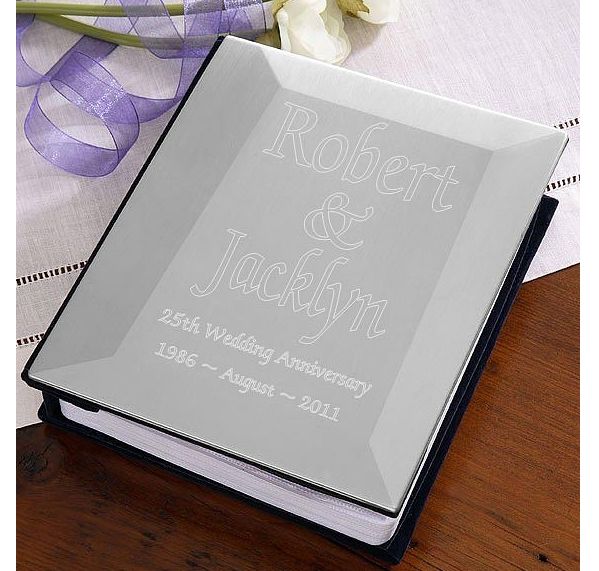 It will be extremely praised when you gift your parents a personalized photo album. Have their names imprinted on the same along with the date of marriage. Stack in photographs since the time they shared their lives together. Although it will be a laborious job but your reward will be the happiness you see in the eyes of your parents. This photo album is also one such customized item that has a dimension of 6 ½ " x 6". The shimmery exterior with black rim and the beveled corners make this photo album attractive yet sober.
Customized candle set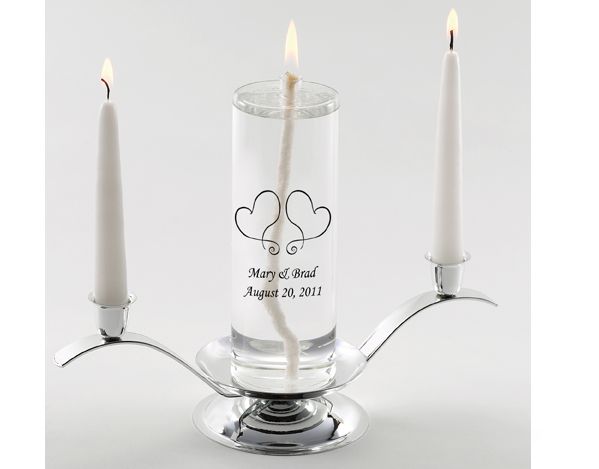 Don't you think that a quite candle light dinner is the most romantic thing to do in a relationship? If yes then consider this customized twin candle set. The beauty of this set lies in the candle stand with liquid wax that is set right in the middle of the stand. White candles with tapered shape set a perfect combination in the arrangement. The shiny silver stand gives it a hint of festivity. We have never forgotten it make it customized. Thus, the liquid wax stand bears the first names of the marital couples and the dates when they entered into the nuptial bond.
Personalized Holy Cross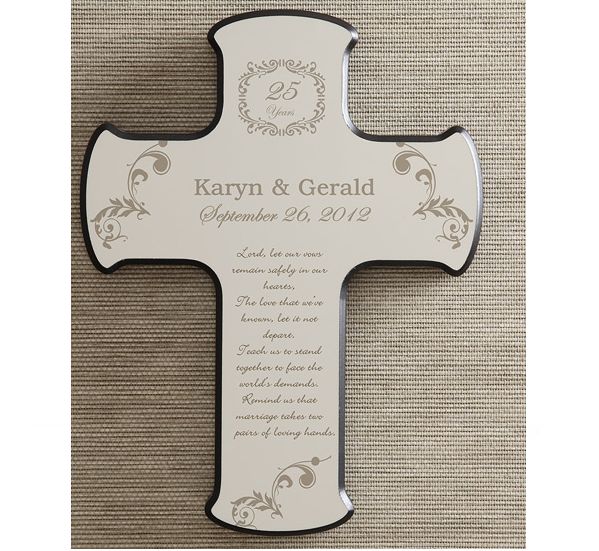 You can send your good wishes to your parents by means of the gift that you intend to give them on their anniversary too. Thus, in case your parents had a Christian wedding the best way to send blessings will be to gift a personalized Holy Cross. It will bring good omen and ensure that the bond of love remains unaltered in years to come. This solid wood cross is a perfect example. While the hi-gloss laminate on its surface increases its longevity as well as that of your parents. The names it bear on it makes it the most personalized icon of good wishes.
Traditional grandma flower vase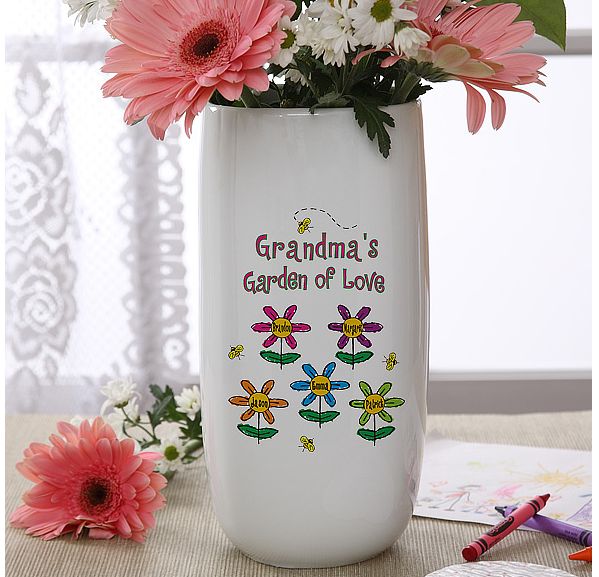 Parents do not wish to be too experimental. Rather they value the tradition and protocols of their family. As they grow older their respect for their heirloom and forefathers keep on growing more and more. So, this grandma flowers vase will be an ideal gift for them. They will be able to identify with this ceramic vase and thank you for having same faith for family heirloom.
Gold trimmed antique clock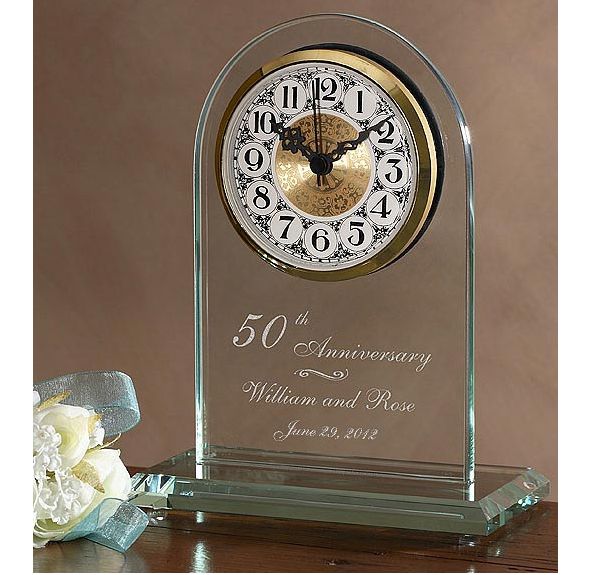 Although your parents might have lots of clocks but when you gift them one on their anniversary it makes them feel that you wish to make their relationship eternal and evergreen. Thus, this gold trimmed clock with its antique features and transparent body will be a perfect match with the grandeur of the occasion. Your parents will love its antique look. Make it look personalized by printing the names and years of togetherness of your parents.