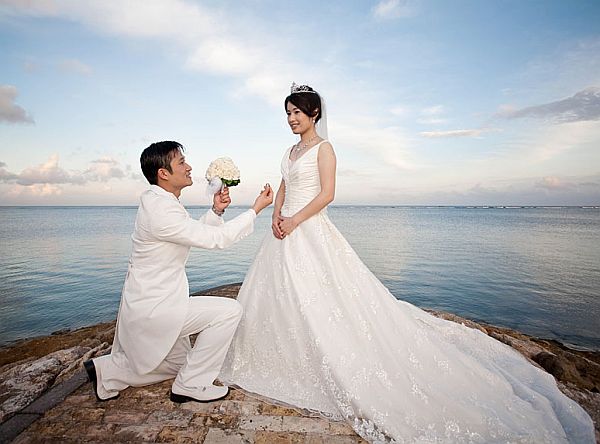 If you consider yourselves as love birds then we suggest you to tie your nuptial bond in the picturesque Bali. As soon as you hit this beautiful island you will feel like you have landed in heaven. The dark blues ripples and the delightful gurgling sound emitting from the ocean, the soothing coastal breeze, serene atmosphere and above all the warm hospitality of the natives will make your marriage even more memorable.
Why Bali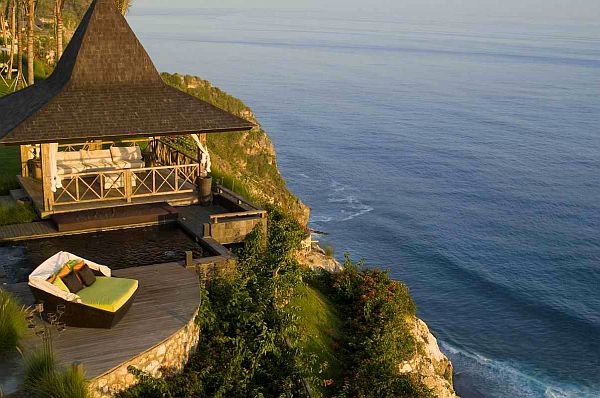 Bali beckons all the couples who wish to have the most romantic marriage in the backdrop of nature and rich cultural heritage. From scenic magnificence to astounding geographical location to luxury to favorable climate and to splendid work of art that includes intricate carvings, artistic paintings and ornate sculpture, Bali is bestowed with all of these.
If you intend to go to for water sports Bali offers you ocean activities as well as river fun. While snorkeling and taking warm bath in the ocean is indeed a fun, the lakes and pools that interlace with the Balinese jungles are also perfect for white water rafting and swimming.
If you are a foodie then Bali is ideal for pampering your taste buds too. You can have fresh ocean and white water catches, tropical fruits and steamed rice, noodles or fried rice served with indigenous condiments that make them even more delicious. Never forget to taste barbeque dishes and skewered meats that are colloquially known as "satay".
Bali also has enough arrangements of fun, frolic and entertainment in the form of opera houses and night clubs. Night life in Bali is something really worth experiencing. Live music and outdoor concerts are prime attractions that draw in masses of tourists as well as the natives every year.
The most important thing of all is that the enjoyments that Bali offers you is much pocket friendly as compared to many other popular wedding venues. Hence, you get more fun here than you have ever contemplated with the money you have intended to spend on your wedding.
How to get there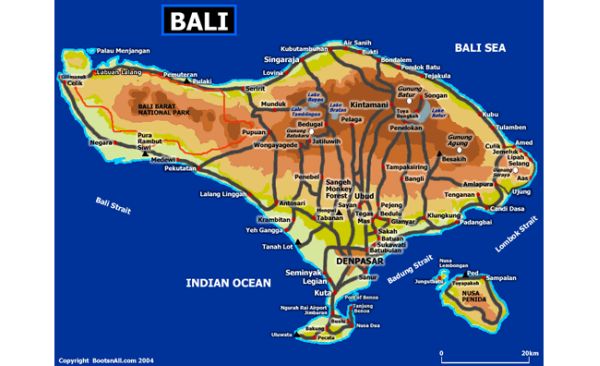 The airways to Bali are connected to majority of the important cities in Asia and Pacific region. But unfortunately if you cannot find a direct flight from your city then look for a flight that connects you to Singapore, Hong Kong, Bangkok or Kuala Lumpur. Once you reach these destinations you will get a connecting flight to Denpasar, the capital of Bali.
Weddings in Bali
Wedding in Bali has been popular since some time now. Therefore, Bali organizes a range of weddings that will suit the preference of every wedding couple who visit here.
1.Legal wedding
Bali organizes legal wedding for those who wish to get bound with each other abiding by the governmental norms and regulations. But you need to be a non-Moslem for this. Further, you must also go through a religious ceremony prior to legal wedding. Once you have completed all these norms then the Government Registry Officials will register and legalize your nuptial in Bali.
2.Religious wedding
Those who wish to go for religious wedding must not be Moslem. But Christians, Buddhists and Hindus are entitled to go for this sort of matrimony in Bali. You must remember that this sort of marriage does not bear a legal significance at all. So, couples who have already registered their marriage or who do not wish to legalize their marriage due to some personal reasons generally go for religious Balinese wedding.
3. Blessing ceremony
As the name suggests there is no religious or legal implication in blessing ceremony. It is mostly based upon faith. In this form of marriage the wedding couples are blessed luck for their later life by a Balinese officiant.
4. Commitment ceremony
This style of wedding is perfect for couples who cannot get involved in matrimonial bonds due to difference lifestyles. In this ceremony they vow to stay with each other throughout their life. It is performed in the presence of a lay Officiant.
Wedding venues
Now, if you have been pondering about the venue that will be perfectly suitable for your matrimonial proceedings in Bali, then we have some incredible wedding venue suggestions for you.
1. Beach wedding venue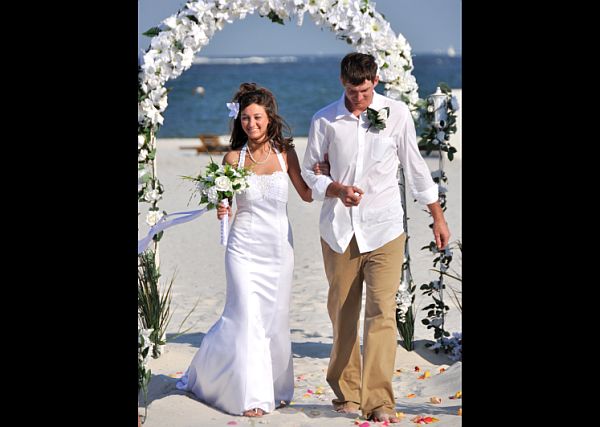 There is nothing more pristine and worth treasuring than to vow for eternal togetherness on the white sandy beaches of Bali with the clear blue sky overlooking from the top. Thus, if you have imagined tying the wedlock in the Bali beach then we will say that you can have a look at the renowned beach resorts and villas in Bali. Majority of them arrange for beach wedding.
2. Garden wedding venue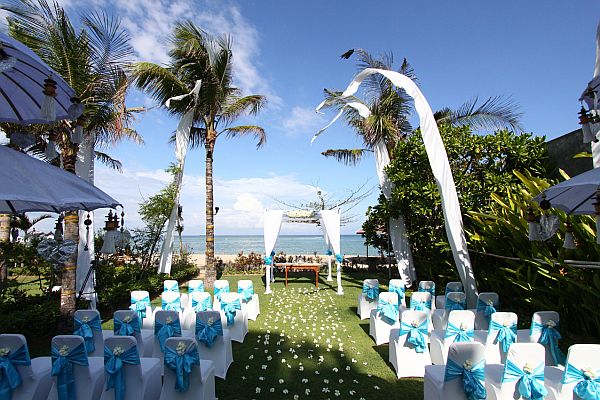 Many couples wish to tie the wedlock in the lush green tropical gardens of Bali that are outlined with juicy tropical fruits and beautiful flowers. If you wish the same then you can tap the Conrad Hotel or the Melia Villa Resort in Nusa Dua. They are famous for organizing garden weddings.
3. Private wedding in Air Bali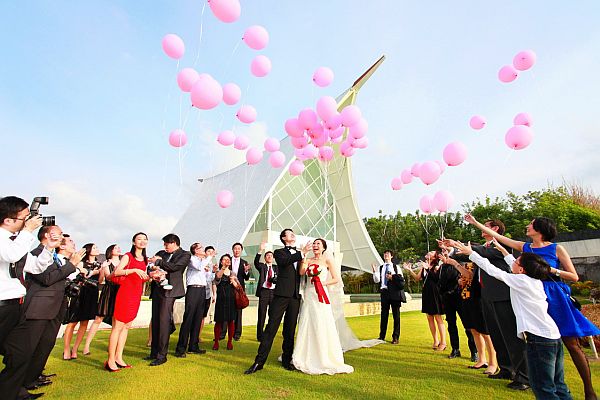 Villa Air Balli is located at Seminyak in Bali. The ambience in this villa is that of passion, warmth and love. Therefore, if you have thought of having a villa wedding then it is worth considering. The panoramic view of the gushing water fall and the exotic garden will be your ideal backdrop when you vow to be with each other forever.
4. Villa wedding in Bali Villa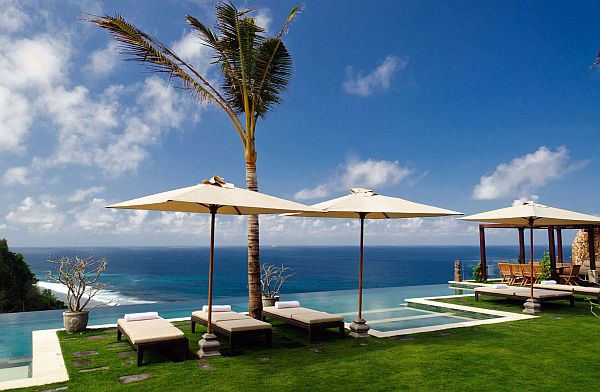 In case you are going to have a large party on your wedding and you require excellent catering and customer care service then do take into account Bali Villa. This venue will give you the opportunity to have a private wedding done in the presence of your esteemed wedding invitees. It also offers accommodations and other extended services such as entertainment, spa and kid's amusement.
5. Chapel wedding in Blue Point Chapel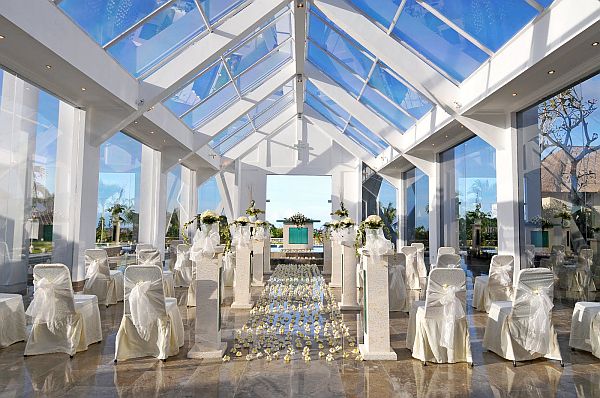 The Blue Point Chapel located on a hill top at the extreme southern fringe of Balinese shore gives a scenic milieu to your wedding ceremony. The chapel has been carrying out wedding ceremonies of Protestant and Catholic couples since years now and is an immensely popular wedding venue. It provides day stay facility for the bride and the groom, floral decoration of the venue and provision for violist or Accapella singer to felicitate the ceremony in exchange of a few additional bucks.