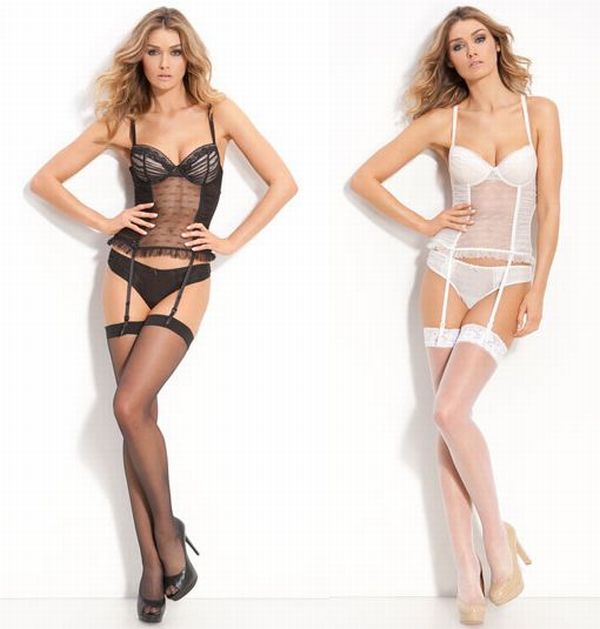 At any wedding, the bride's appearance takes center stage like now other day in her life. This usually freaks a lot of brides-to-be out and they resort to hitting the gym frantically days or months before the big day. However, brides who cannot get to their ideal weight before the wedding, the next best thing to do to make sure that she looks her best is to wear shape-enhancing lingerie under her wedding dress. The form fitting shape wear tucks in loose skin and flab and can even give the bride's bum and bust a boost, flattens the stomach and smoothens out unseemly back bulge. A good foundation garment can be used effectively to enhance the figure to give the bride that added confidence boost to look her best on her big day.
Betsey Johnson Corset & Thong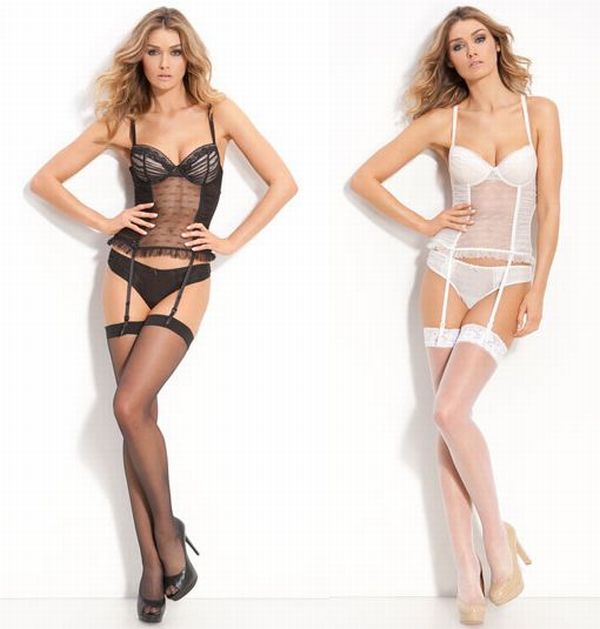 Designer: Betsey Johnson
The Betsey Johnson Dotted Tulle Corset comes with underwired, padded cups that give the bride a quick cleavage-enhancing solution. The hand wash-only set is constructed in nylon with strategically-placed boning to provide a slimming effect.
The soft ruching textures of the set are complimented by the ruffle-hemmed dotted tulle corset. The seductive appeal of the wearer is enhanced by the detachable garter straps with adjustable straps and a hook-and-eye closure secures the open back corset snugly to the wearer's natural silhouette.
Price: $88.00
Buy Here: Macy's
Cage bodysuit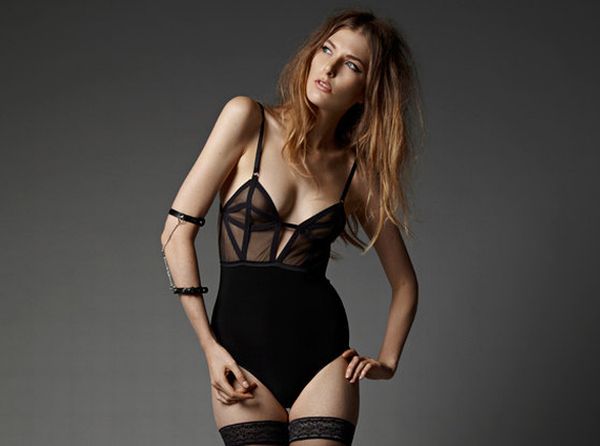 Designer: Dulcedo
Made in a soft jersey knit and sheer mesh panels, the Cage bodysuit conceals just the right amount of skin with a playful effect crossing over the bust with soft detailed elastic. Along the back, a provocatively placed single adjustable strap provides support in tandem with adjustable straps that fall over the shoulder and make the piece easy and comfortable to wear. Seductive and glamorous, the Cage bodysuit hugs the contours of the body and makes the wearer feel sexy in her own skin.
Price: $179.00
Buy Here: Etsy
Fantasie Bridgette Basque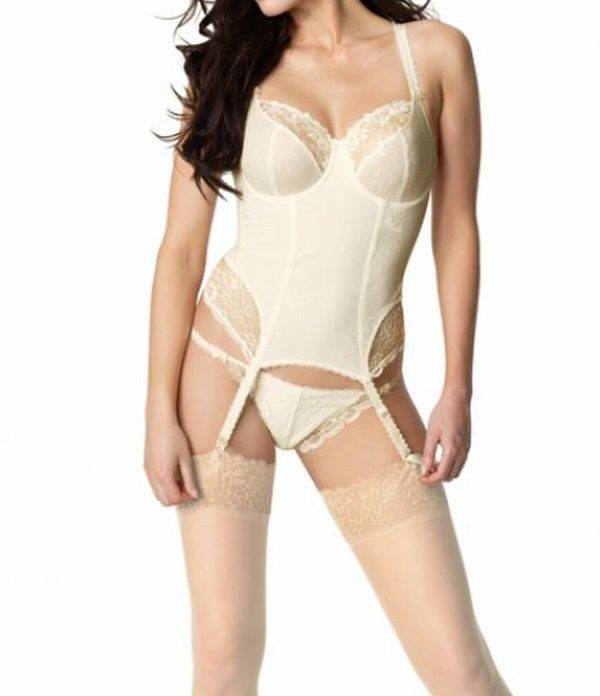 Designer: Fantasie
Made from 7 percent Elastane, 37 percent Nylon and 56 percent Polyester, the Bridgette Basque ensures maximum confidence to the bride with the excellent support it provides. Crafted to look perfect as nightwear as well as a foundation garment, the Bridgette Basque is guaranteed to make any one looks sophisticated, sexy and stunning.
Price: $86.97
Buy Here: Tights Please
Cesare Paciotti Lingerie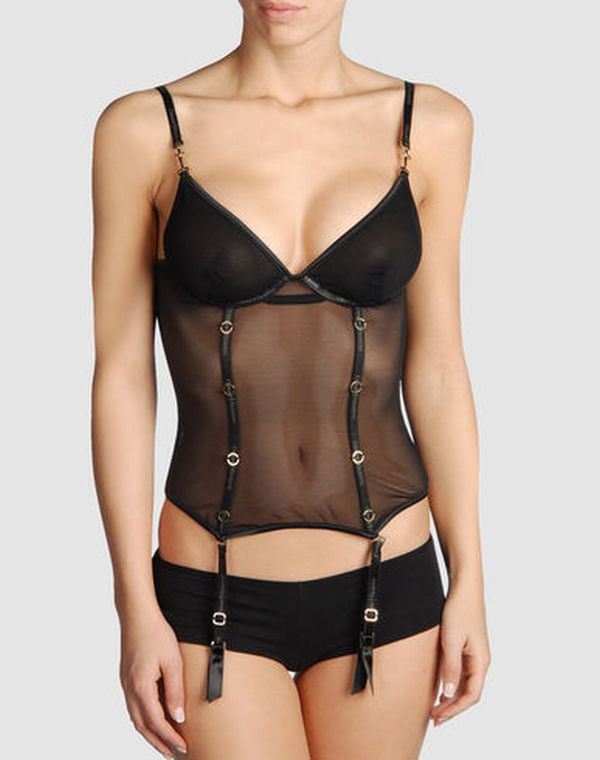 Designer: Cesare Paciotti
Part of the Spring-Summer Collection from Cesare Paciotti, this shape wear set is composed of 20 percent Elastane and 80 percent Polyamid. Detailed metallic inserts make the lingerie set perfect for use as standalone nightwear while stiffener-fitted inside and zip close give the wearer an instant slimming and boosting effect. The stretchable Cesare Paciotti Lingerie set fits women of shapes and sizes perfectly with it flirty tulle detailing providing an added touch of femininity to the bride's trousseaux.
Price: $120
Buy Here: Yoox
Panache Evie Bridal Stapless Basque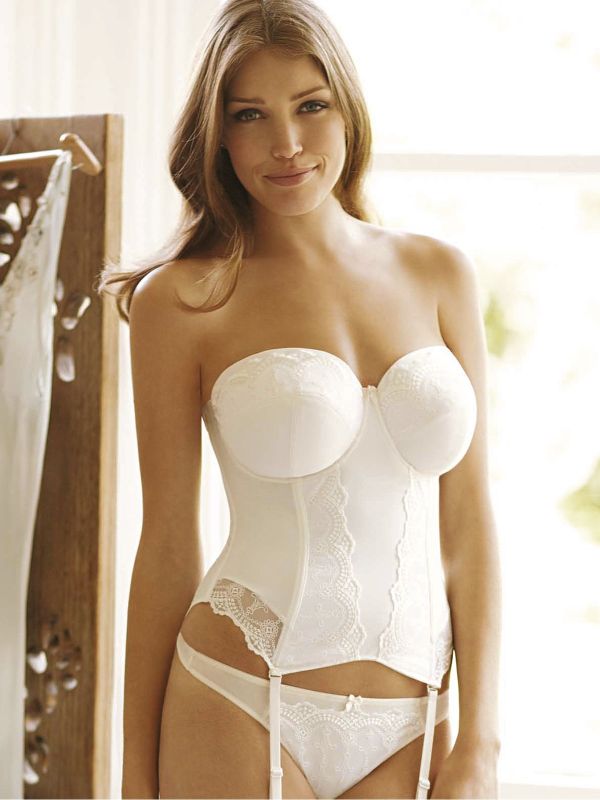 Designer: Panache
For a flattering shape, the Panache Evie Bridal Stapless Basque comes with embroidery edges. Detachable suspender straps allow the set to be worn with strapless dresses as well. With a Basque shape up to a H cup, the set's 8 percent viscose, 9 percent elastane, 14 percent cotton, 28 percent polyamide and 41 percent polyester construction makes it super easy to maintain with its subtle ivory hue flattering bridal gowns in all shades of white.
Price: $82.5
Buy here: Little Woods
Ava Bustier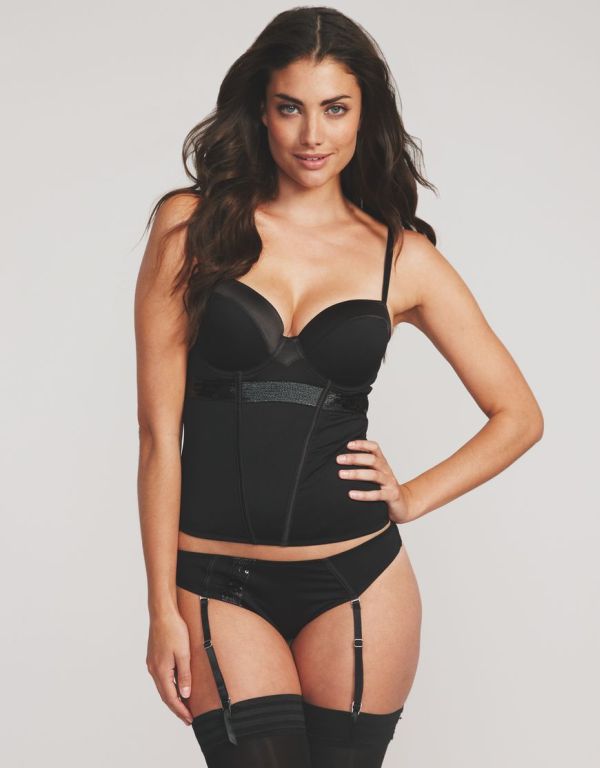 Designer: O Lingerie
With a 70 percent Polymide, 8 percent Elastane, 2 percent Viscose, 2 percent Metallic, 16 percent polyester and 2 percent PET construction, the Ava Bustier from O Lingerie flatters all shapes and sizes. A touch of sparkle adds glamour to the piece while is molded cups and underwired bustier make the bride's décolletage appear even more stunning.
Price: $42
Buy it here: Fig Leaves
Wonderbra Ultimate Strapless Lace Ivory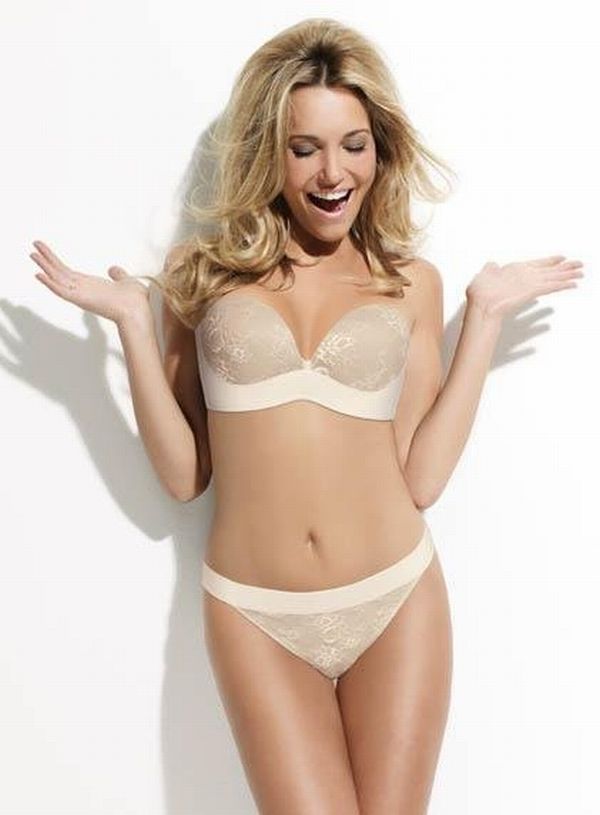 Designer: Wonderbra
The Wonderbra has proved its worth to women around the world as the leading brand name in the world of shape wear. The brand knows brings its magic to bridal lingerie with the Wonderbra Ultimate Strapless Lace Ivory that is perfect for special occasions. A thick under-band beautifully frames your bust while the intricately woven floral lace detail adds to the crisp and classic styling of the design. designed to keep you fully supported, the glamorous strapless bra is the perfect foundation garment for a bride.
Price: $53.23
Buy Here: Tights Please
Paging – Nero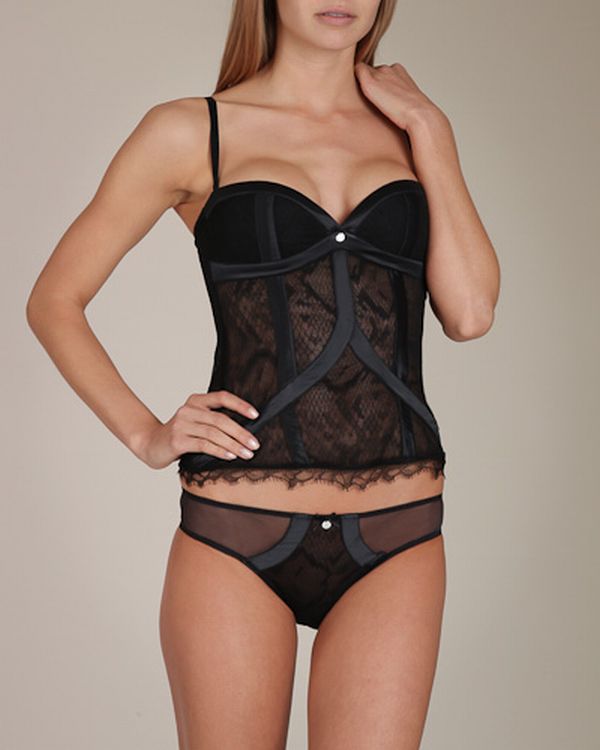 Designer: ArgentoVivo
Made in Italy, Argentovivo lingerie comes with elasticized adjustable removable straps to allow it to be paired be with off-shoulder gowns as well as strapless wedding dresses. to keep bustier secure and in place, the piece features interior silicone edging at the back with the sides and back featuring traditional boning. an adjustable hook and eye closure sits atop a Tulle panel at the back and the bustier comes with sexy detailing like lace trim and a tulle lining with lace. The wireless bust is lightly molded to provide soft support with a bow and charm adoring the front.
Price: $360.00
Buy it here: Nancy Meyer
Masquerade tiffany basque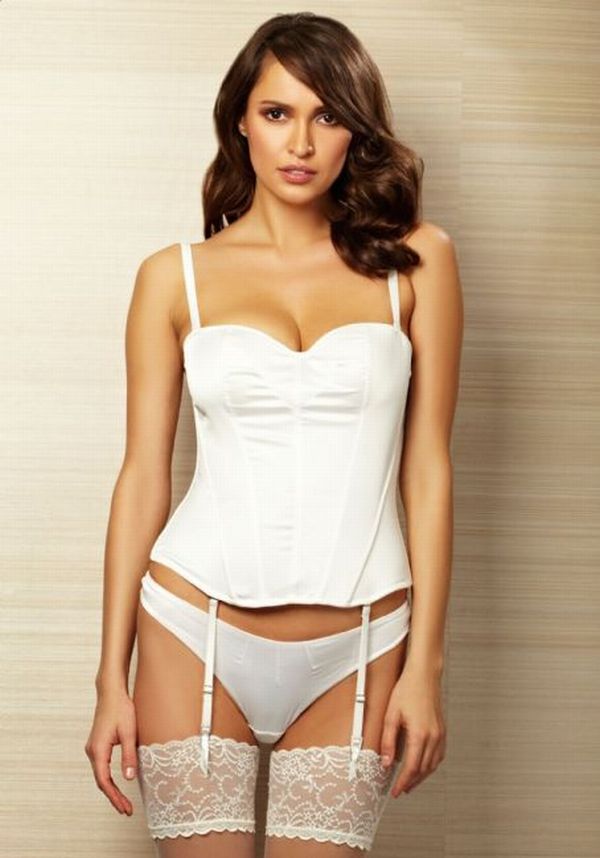 Designer: Masquerade
Fashioned in a flattering ivory shade that goes perfectly with most wedding gowns, the Masquerade tiffany basque features beautiful subtle darting detailing. For optimum comfort of the bride, the Masquerade tiffany basque is constructed in luxurious Italian stretch satin with shape enhancing lightly padding providing additional support. Removable suspender straps and multiway straps make the strapless Basque the perfect foundation basic for a special day.
Price: $82.5
Buy it here: BHS
Carnival Luxurious strapless Lace Bridal Torselette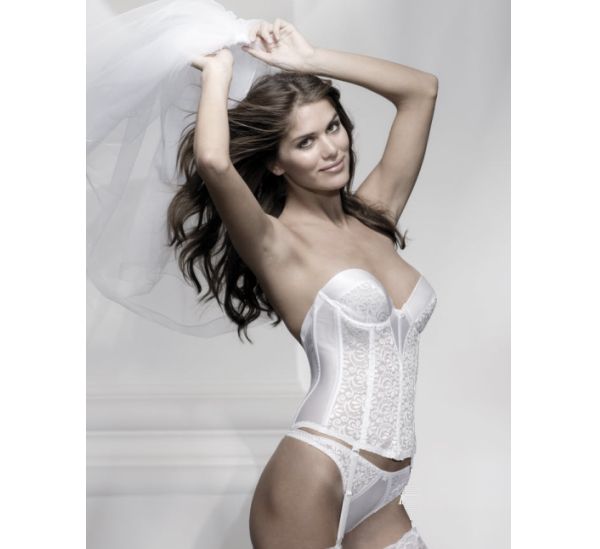 Designer: Carnival bras
Perfect for waist and lower back shaping, the Carnival Luxurious strapless Lace Bridal Torselette features a deep décolleté that makes it a perfect pairing for strapless and plunging neckline wedding dresses. Made of shiny "Chopper" Bar Lace, the Luxurious strapless Torselette perfectly flattens the waist and creates feminine curves to boost the bride's confidence.
Price: $118.5
Buy it here: MJ Wedding Store