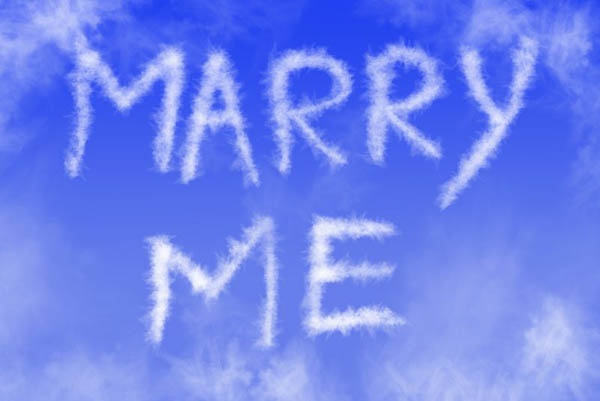 While a wedding may be the most important day of a woman's life, there is something that comes a close second – the proposal. How a man proposes to his girlfriend is indicative of how imaginative and important he thinks she is. Many ideas have been conceived by men trying their best to impress their women. From planning a romantic candlelit dinner to taking the direct approach and catching her by surprise, men have tried various proposal styles depending on what their women like as well as their budget. But there is something to be said about innovative proposal techniques that catch women completely off guard. We are taking a look at several ways with which men can propose marriage to their beloveds.
Proposing through skywriting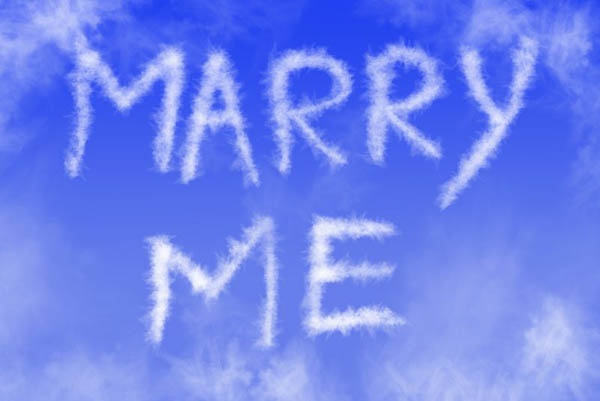 What better way is there to propose marriage than by proclaiming your love on a giant canvas? Skywriting has become quite the rage, both for marriage proposals and advertisements. The distinctive shape of the writing makes it stands out from ordinary clouds and there is no way one can miss something that has been written on the sky. Choose a day where the weather is clear. For this, you can contact the met department and ask for a forecast. Proposing through skywriting may be a little expensive since you will have to take the services of a company that engages in it. But the rewards are worthwhile and your girlfriend will have no option but to say yes.
Newspaper proposal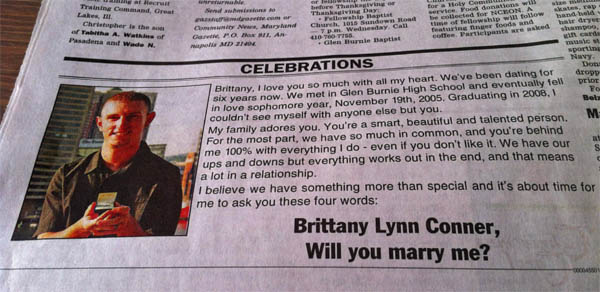 We may be living in the digital age, but newspapers still rule the media world. Chances are your girlfriend is among those who love reading the morning paper while sipping her first cup of coffee. Proposing through a newspaper is a creative way to make a statement. Not only will your woman get the surprise of her life, but the newspaper itself will be kept as a treasured keepsake. It is affordable too and you can make out your proposal according to what you think will impress her the most.
Proposing through sandpainting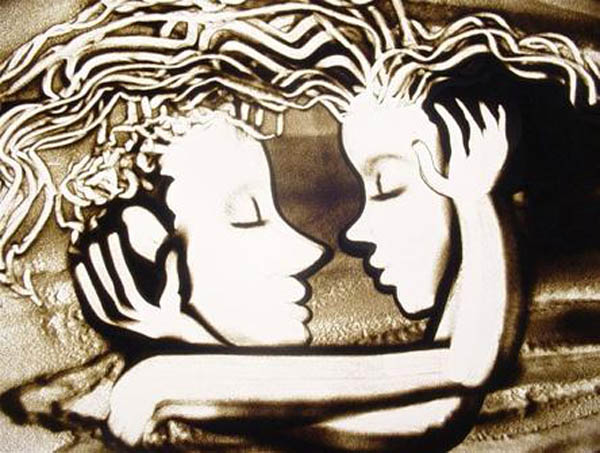 Sandpainting is another novel way to propose marriage. There are many sand artists out there who would be honored to sculpt a marriage proposal for you. You can choose someone who is adept in either fixed or unfixed sandpaintings depending on your preference and budget. Artists like Ilana Yahav are known the world over for their skill in creating masterpieces with sand that closely resemble art on canvas. You could hire her or someone of her caliber and take your girlfriend along to watch them sculpt your marriage proposal right before her eyes.
Cornfield proposal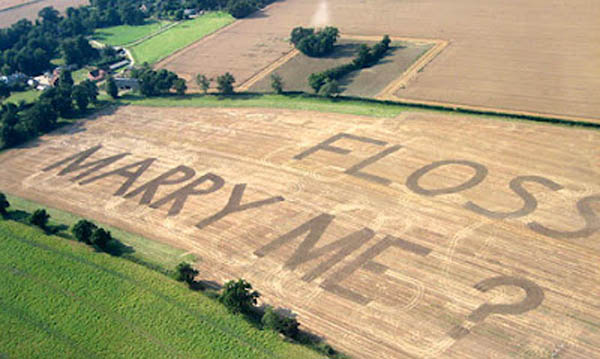 For this, you will need the required permission from the landowner. Obtain it and put your carving skills to the test by writing the words 'marry me' on a cornfield. You can seek the help of friends or ask someone proficient in making crop circles to help you out. Since the proposal can only be viewed aerially, hire a small aircraft like a glider and take your girlfriend out for a spin. Make sure you pass over the cornfield and ask your woman to gaze down. We guarantee she will be swept away with your creativeness.
Proposing in the Eiffel Tower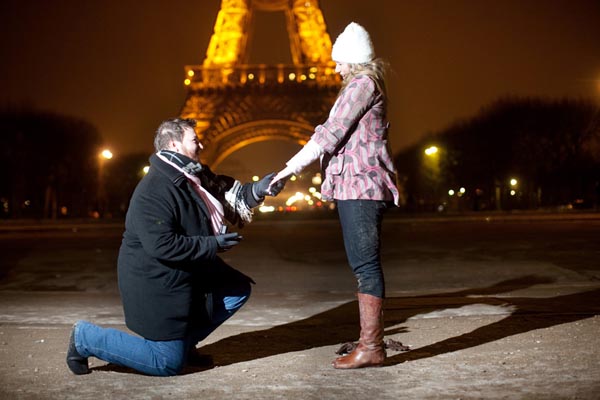 Paris is said to be the city of love and romance so what better to propose marriage than by doing so inside Paris's ultimate symbol? The Eiffel Tower has for long been used as the site for proposals. Book a trip to the city of love and head to the tower. Once you reach the top, take your woman aside, get down on one knee and ask her to marry you. The romantic atmosphere coupled with the city's skyline serving as the backdrop will make it a night to remember for the rest of her life.
Big screen proposal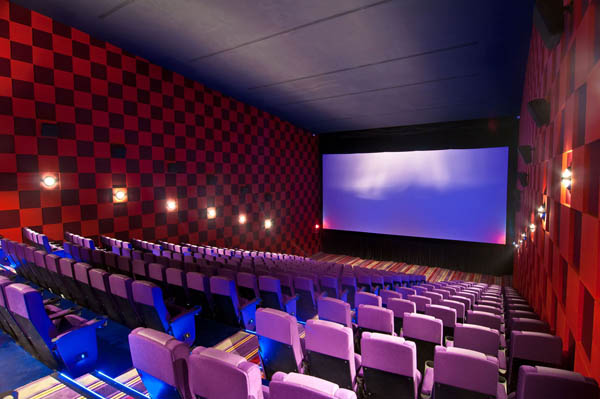 Make an arrangement with the cinema staff to stop a movie somewhere in the middle. Ask them to play a slideshow of the two of you together playing your song in the background. You can also make a recording proclaiming your love for her and what she means to you. As the video clip plays, pull out a ring and ask her to marry you.
Hot air balloon proposal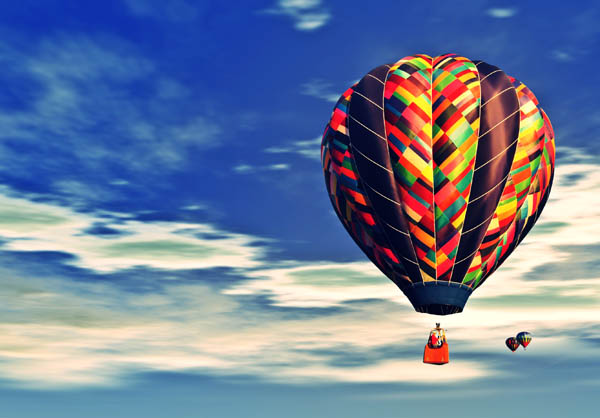 Suggest taking a ride in a hot air balloon. Just so she does not get suspicious, it could be a good idea to propose on the second or third balloon trip. Take your ring along and when you are halfway through the ride, pop the question. You can also arrange to have both your families waiting at the end of the trip to congratulate you both and go out for a celebration.
Billboard proposal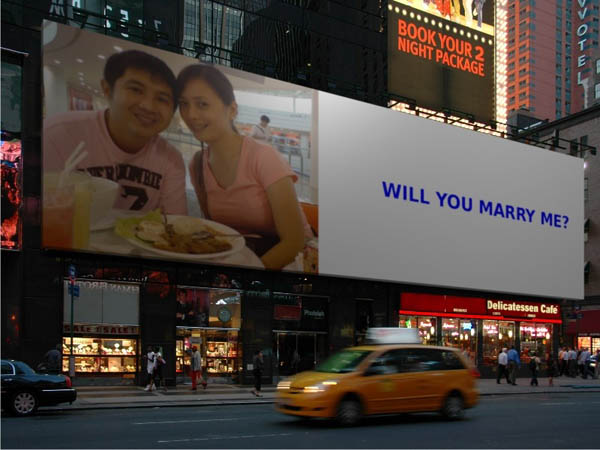 Billboards are a great way to advertise as well as propose. But instead of simply popping the question on a single billboard, you can start by having clues written that finally end with the big question. Check the yellow pages for local billboard listings. Once you have hired an agency to set everything up, drive by the area where they have been installed. As you come to the last billboard, take out the ring and ask her to marry you.
Stadium wedding proposal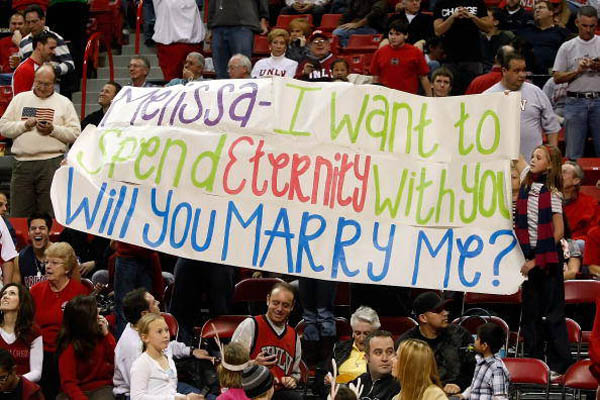 If your girlfriend is a fan of sports, then buy two tickets to watch her favorite team play. Arrange for the staff at the stadium to run 'Will you marry me?' on the giant television screen. Take out the ring, get down on one knee, and ask the love of your life to marry you. And, just so there is no fear of rejection, pop the question only when you are certain your girlfriend is ready to settle down.
Flying banner proposal
Similar to skywriting, planes flying banners are often used for adverts. Hire a company who engages in banner flying like Arnold Aerial to help you out. Make sure the skies are clear so your girlfriend does not miss it. As the plane flies by, ask her to look up and take out the ring before proposing to her.
Proposing in public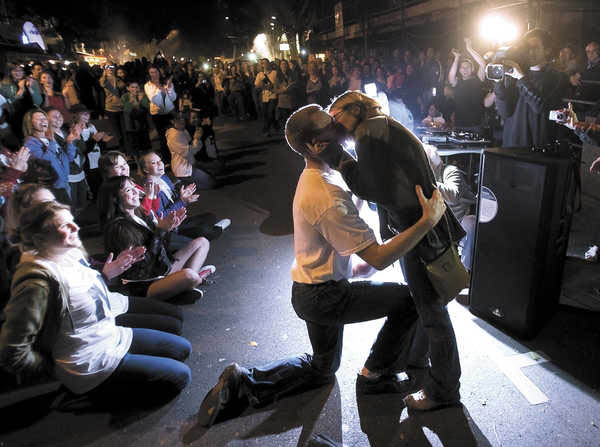 While proposals at quiet venues may work for some, doing do in public can also be well worth it. Choose a public venue like a restaurant or cafeteria that you frequent often. This will add to the element of surprise.
Love song proposal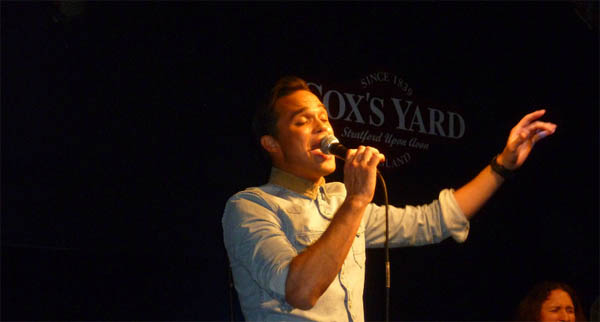 If you have the gift of being able to sing, then pen down an original song. You could sing it to her in the privacy of home or do it in a bar that hosts live singing events. The effort that you put into coming up with something totally original will floor your beloved.