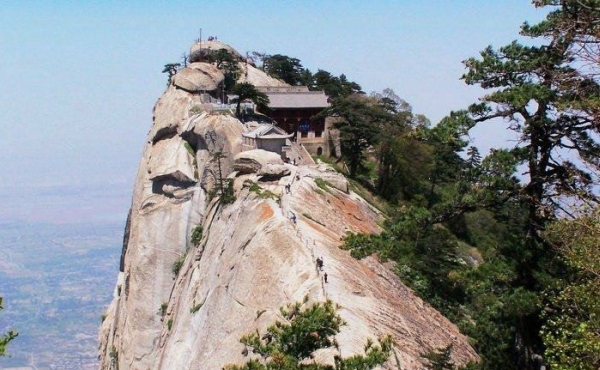 Having an adventurous wedding ceremony and an equally thrilling honeymoon takes meticulous planning and a better part of one's life's savings. However, when it comes to making an anniversary just as thrilling, one's options are rather limited since it's just not feasible to blow big bucks and a lot of time on ensuring that a simple anniversary date remains as memorable as the other important landmarks in your marital history. Here's our compilation of some of the most dangerous restaurants in the world that provide thrill seeking couples the opportunity to make a special date as hair-raising as possible.
The Huashan Teahouse, China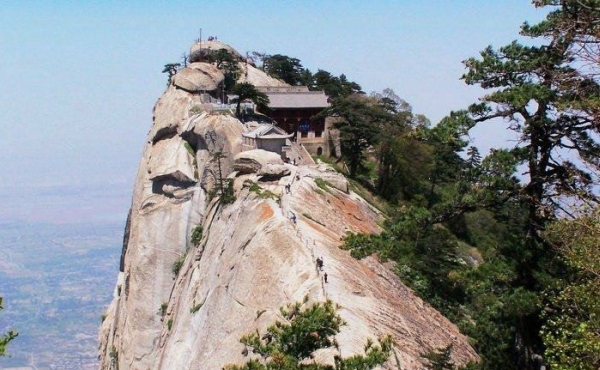 If you think getting up from the couch to make a cup of tea is taxing, you should really take a look at the Huashan Teahouse located at the Mt. Huashan in Huayin, China. The teahouse is situated inside a former Taoist temple and sits atop the peak that links the five mountain peaks that look like the outline of a flower. To get to the teahouse, customers have to climb up what seems like an almost endless path along "The Heavenly Stairs" that are bordered by a rather tiny fence which is followed by a tram ride and a walk across very tentative-looking plank path along the side of the mountain. And the trials don't end there; customers then have to climb up using ropes while balancing themselves upon toe holes dug out into the mountain. If you survive the path up, you get to enjoy the world's most refreshing and most rewarding cup of tea. Of course there still aren't any shortcuts to get you down from there which is why it's probably very wise that you have both your health insurance as well as your will updated before you book a table at this teahouse.
Dinner in the Sky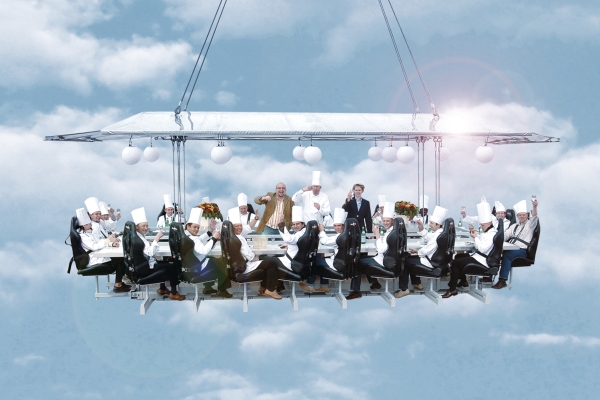 The London Eye and restaurants that offer a bird's eye view of a city are a hit with thrill seeking couples who want to feel like they're on cloud nine during an anniversary dinner in more ways than one. However, this brand new theme restaurant in Belgium called Dinner in the Sky allows you to invite 22 of your closest friends to a spectacular dining experience suspended 165 feet in the air. The "restaurant" uses a 200 ton crane to haul itself in the sky and every party can have their ride customized to be lowered or rotated every hour. Facilities aboard the diner include a photographer, a chef and a waiter and you can always hire a band or an entertainer to play for you and your V.I.P guests. The company that owns the scary diner says that they ensure each dinner party with a $10 million policy and give everyone a complete safety briefing before lifting off. The bottomless luxury dining experience doesn't come cheap either. If having your dinner sitting on chair while suspended in mid-air many, many floors above the ground doesn't give you a heart attack, the $11,000 price tag for the experience (plus extra for catering and entertainment) just might.
Medical Restaurant Taipei, Taiwan
We're not sure how erotic medical porn really is, but if you and your husband/boyfriend are into it, the D.S. Music Restaurant AKA the Medical Restaurant located at Xin Sheng North Road in Taipei, Taiwan may just become your favorite haunt. Open only from 6pm to 2:30am on weekdays and just right up to 4am on Saturdays, the restaurant comes fully equipped to deal with any dining emergencies that you might have and every meal is served at an operation table with surgical instruments including scalpels and syringes as utensils. Beverages are served or rather administered via I.V. drips and test tube vials by cute waitresses dressed like nurses. Plaster casts, crutches and x-ray scans form the décor in the restaurant and the washrooms are dubbed "The Emergency Room". The menu consists of medical-theme-named items and the price of being able to enjoy a dinner in an atmosphere that reeks of illness and death comes out to around NT$300 – NT$500 per person.
Eating with Sharks at Ithaa Undersea Restaurant, Maldives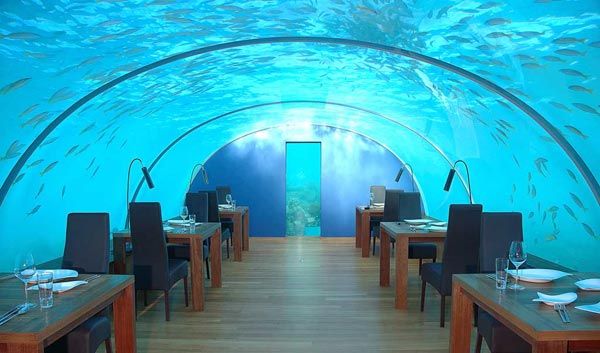 The Ithaa Undersea Restaurant in Maldives is located at the Conrad Maldives Rangali Island and is the world's first undersea restaurant. The 175-ton restaurant offers an unprecedented 270-degree view of the ocean directly overhead which makes one imagine all kinds of catastrophic scenarios where the entire wall of water can come down and crush everyone inside. To get inside, users need to go through a spiral staircase at the end of a jetty where tables are laid out under an acrylic tunnel. Even though the restaurant is safely secured to the sea floor with lots of concrete, steel and piles of sand, no one really knows how secure it would be in case of a tsunami, tidal wave or any other disasters associated with oceans. A meal at this restaurant costs $120 to $150 meal though for an additional $11,710 you can request the entire space to be turned into a luxuriant underwater guest suite for a special anniversary celebration.
Dining in the Dark at Unsicht-Bar, Germany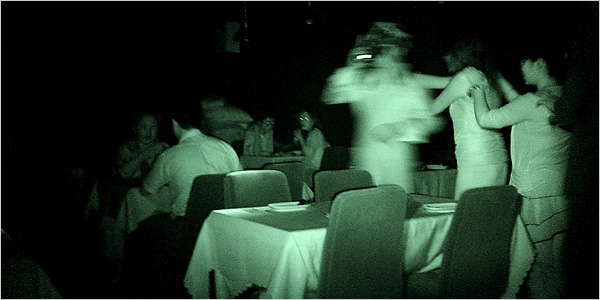 Turning the lights off during an anniversary celebration is largely a matter of personal choice though most couples would agree that the lights need to stay on during the dinner. This bar and restaurant in Germany called the Unsicht Bar allows customers to dine in complete darkness. With a number of blind and visually handicapped waiters to serve food, customers need to rely entirely on their other senses as they enjoy three or four course meals priced from EUR55.50 for meals that include meat and EUR38.50 for vegetarian options.
NINJA New York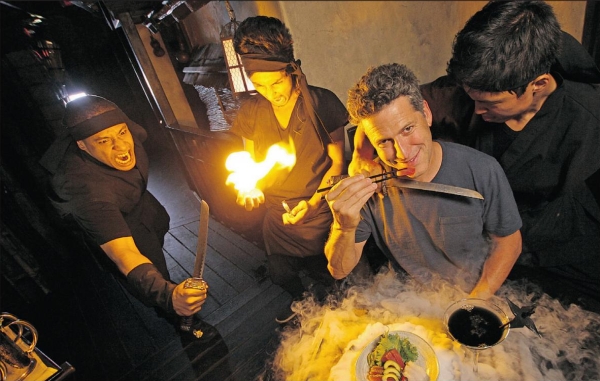 If you're looking for a serene meal served and enjoyed with the famous Japanese grace, Ninja New York is not the place you should be exploring. Located in the TriBeCa region of New York City, the diner takes you on a trip to ancient Japan filled with intrigue and a sense of ever present danger. Once you reach your table located in a jail-like cell, your wait staff brings you your meal. Then they launch into a ninja fighting frenzy that will have you wondering if you've not stepped in the middle of a gang war and whether you should have prayed before what could be your last meal ever! What's even more devastating is that each meal costs $100 per guest and is sufficient to feed a whole team!
Graveyard Restaurant, India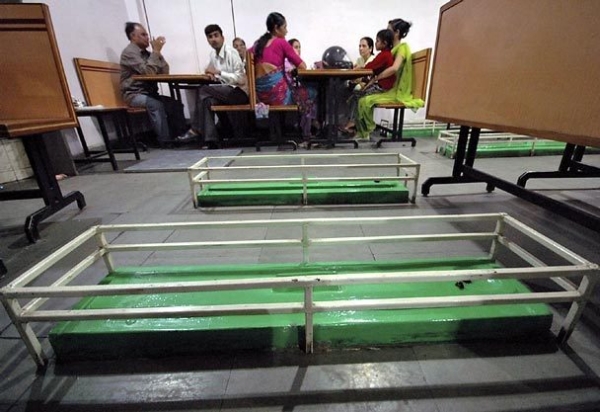 Located in Ahmadabad, India, the New Lucky Restaurant makes you wonder what prompted its owner to name it so. It is after all, located right next to a Muslim cemetery. What's even spookier is that the graves, all painted in green, with candles and flowers on them commemorating the deceased are situated right between tables with one of them belonging to a 16th century Sufi saint. Even though the owner says that having the graves around while dining brings good luck, we found no statistics on the number of people that were keen on dining at the place at night but we have a feeling getting a table for two for a romantic candlelit dinner shouldn't be too hard.
Alcatraz ER, Japan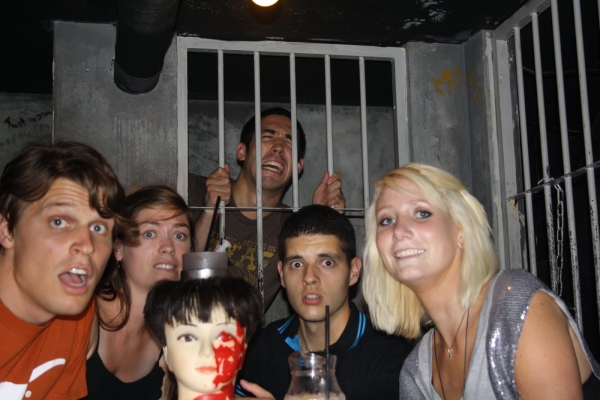 The only place where you'd get a prison and a hospital within the same vicinity is often a facility that houses the criminally insane. But the adventurous folks that the Japanese are, they decided that the theme was the perfect fit for a restaurant. Located in Tokyo, the Alcatraz ER serves beverages with false teeth in them and a platter of starters shaped to look like a severed penis! When you first enter the diner, you get asked about your blood group type after which a nurse/waitress slaps on a pair of handcuffs on your, gives you a fake shot in the ass and leads you to your table which is incidentally decorated to look like a jail cell which can be very adventurous for a couple with a prison warden-inmate/nurse-patient fantasy!
Vampire Café in Tokyo, Japan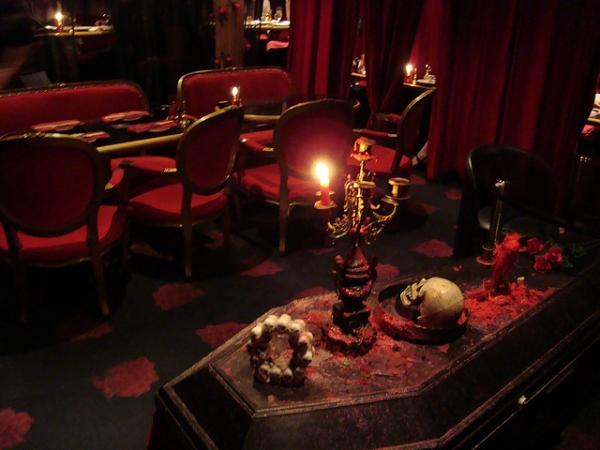 The Twilight Series may have inspired a cult following with a lot of the younger couples out there choosing a vampire theme for their weddings, but for anyone old enough to be celebrating an anniversary with a quiet dinner would find the prospect of dining at the Vampire Café in the Ginza section of Tokyo. Colored entirely in blood red, the restaurant is dipped in otherworldly themes with RBCs projected onto the floor, skulls and crosses with black coffins laid everywhere. The menu also comprises of vampire themed choices which is rather ironic and there are a host of red cocktails on offer too. Sadly, the restaurant does not offer real blood or people willing to let you sink teeth in their flesh but the café still makes a great venue for a creepy anniversary date for folks who share their wedding date with the festival of Halloween.
Death Themed Restaurant Eternity, Ukraine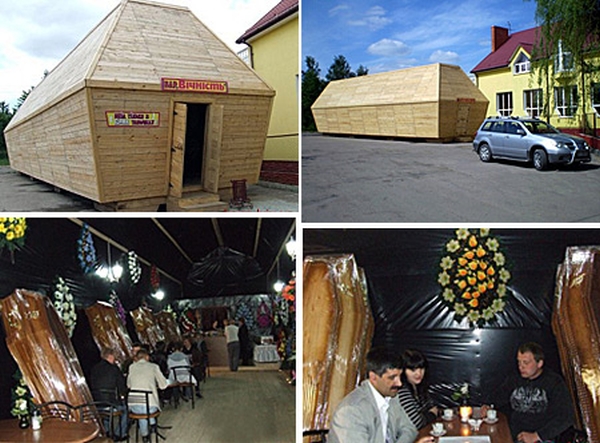 Nothing in life is as stunning, beautiful or scary as death and when a group of former undertakers expand their empire into the food business you get the best of both worlds on a dinner plate! Shaped like a giant coffin, the windowless 'Eternity' restaurant located in Truskavets, Ukraine offers visitors the chance to experience death-inspired dining experience complete with dishes named like "Let's meet in paradise", human-sized coffins, black shrouded walls and funeral wreaths. The diner is great for adventurous couples looking for a change from their regular happy-cheery romantic hangouts and may be a great location to renew wedding vows as well.