Mini cakes are the best alternative for a rustic theme weddings and give a whimsical touch to the ceremony. Ability to fit in any shape, theme or function make mini cakes a favorite choice of most of the people. Below is a DIY to make mini cakes that you can make for your wedding and even for the birthdays. Read on…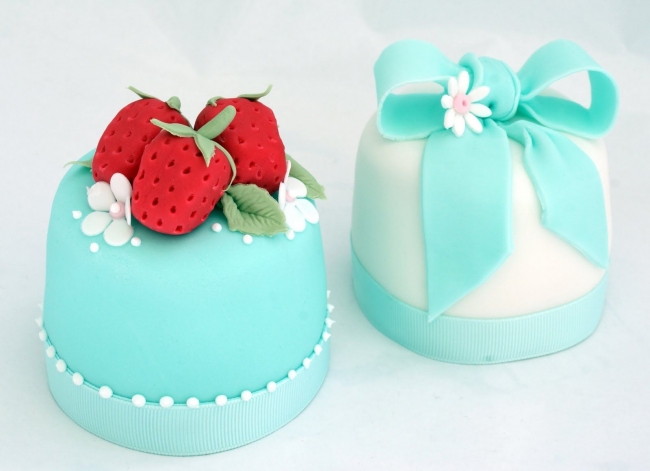 Things you need
11/2 cups cake flour, ½ tsp salt
11/2 cups al purpose flour, 1 TSB baking powder
1 ¾ cup sugar, 1 TBS ground cinnamon and 2 sticks unsalted butter
1 1/4 cups milk, 4 eggs and 2 tea spoons of vanilla extract
Procedure
1. First of all, just mix cake flour, baking powder, AP flour, cinnamon and salt together in a pan and use an electric mixer to mix the sugar and butter until the mixture gets fluffy and pale. Now, add one egg at a time and then vanilla to the mixture and start with dry things alternate in 3 segments with milk. Now, mix it until the lump free mixture is obtained. Bake it for 30 minutes and allow it cool.
2. Now let's make raspberry cream cheese frosting by combining 11/2 sticks unsalted butter, 3-4 cups powdered sugar, 4 oz cream cheese, softened, vanilla extract and 5 oz fresh raspberries in a food processor, blending it perfectly until it gets smooth.
3. Then make orange creamed cheese frosting by beating 1 8 oz packages chilled cream cheese and butter in a mixer. Beat vanilla, sugar and orange zest and then sour cream. Put mixture in a refrigerator for about 30 minutes. It will make the frosting firm.
4. Check out if cakes have cooled completely and then cut the tops of the cakes. Use frosting to fill the layer and allow it to get hard. Finish the icing with the generous amount of frosting.
Source: weddingchicks