Give a classic look to your wedding reception area using a rock candy strung on a piece of wire and we are sure, this unique and beautiful decor idea is going to be loved by your guests. The best thing about this DIY project is that you don't need to spend a lot of money on buying items but you start with very ordinary and transform it into a cool and beautiful rock candy chandelier. Here are some tips.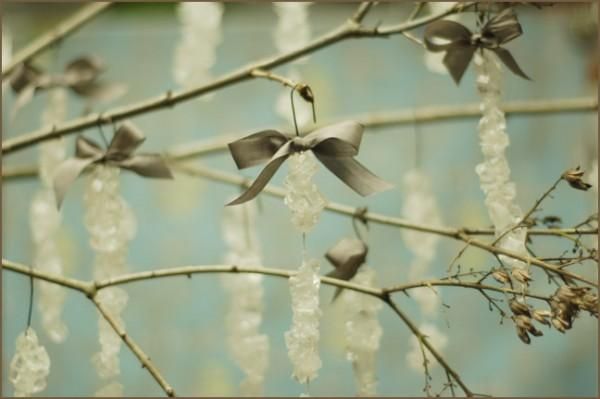 Things you need

Things you need
Bailing wire
Seam binding or ribbon
Rock Candy Strings and wire cutters
Hot glue gun and glue sticks and Scissors
Procedure
1. First of all, get some rock candies, seam binding and bailing wire from the store near you and buy these items from various online stores like Etsy or eBay.
2. Now, cut the wire in 1.5 inch long pieces. You are going to use one wire for every crystal.
3. Shepard's hook like shape should be given to the wire and use a pencil to create a nice curve of the wire.
4. Now, put a hot glue on the very end of candy string and join the end of the hook into the glue. Don't spate your hand until it does't get cooled.
5. Cut a 10 inches long ribbon piece and tie a knot and make a bow around the wire at the top of the crystal. Now, trim your ribbons tails to give them beautiful hanging strip shapes.
6. You are almost done with your project. Now, you can hang your rock candy chandelier on bare branches in a vase, from a tree or an arch.