Wedding napkin rings are the best way to add a personal and special touch to the wedding ceremony. Dressing up the specially crafted napkins on the dinner table can be a nice way to beautify the wedding area and also, these napkin rings are inexpensive and easy to create. You can simply impress all the people coming to attend the wedding ceremony by showcasing these specially crafted wedding napkins. So, add a unique style to the wedding by following these handfuls of steps. Here they are.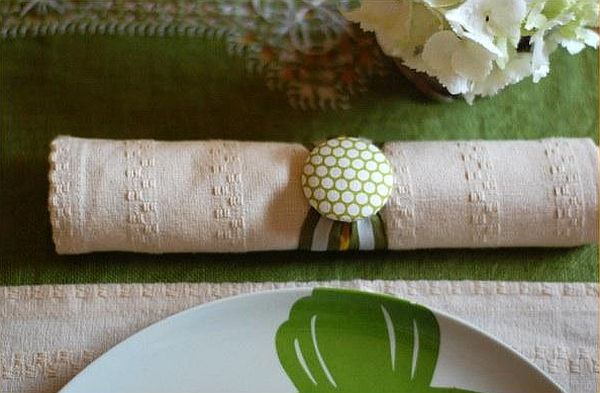 Things you need
Fabric, 2" x 2 inch scrap for each button so, get to know how much buttons you want
Thread, scissors, needle
Ribbon 6 inch length per ring, 1 inch wide)
Cover Buttons, 1 ½ inch in diameter, one per napkin ring
Procedure
1. Start the DIY by ironing the fabric to get it free from any kind of wrinkles and take the package of your cover buttons . Read out all the instruction given on the front of the pack.
2. Now, you have to cut the circle of your fabric and then putt the fabric on the button. Snap the whole fabric back to give it a fluffy button look.
3. Now, take a piece of ribbon of 6 inch long and let it pass through the metal loop. Make ribbon centered in the finished button, with the right side of the button facing the upside.
4. Make the ends of the ribbon upward and keep the button inside making it facing up towards the ends of the ribbon. Now sew the ribbon near the ring and conjoin your thread with a knot.
5. Take the button to the top by turning the ring right side out and pull the ribbon until the seam you had created is just beneath the button.
6. This is your napkin ring, make one napkin ring per guest.