Add a personal touch to the wedding reception area by making something unique and interesting. We have an amazingly challenging but interesting DIY of making chocolate mud wedding cake for you. Here are the tips.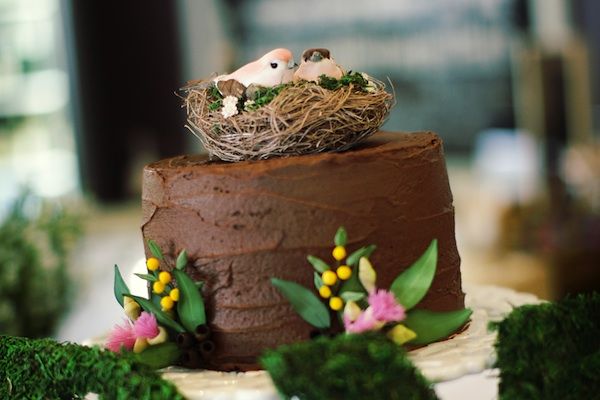 Things you need
1 1/2 cups self-raising flour
1 tablespoon oil
250g (9 oz) butter, chopped
1/2 cup plain flour
1 1/2 cups caster sugar
1 tablespoon instant coffee powder
200g (7 oz) dark chocolate
1/2 cup cocoa powder
2 eggs, lightly beaten
For chocolate fudge frosting, you need 90g butter,1/3 cup cocoa powder, Water (1/3 cup ),1 1/2 cups icing sugar mix and 1/2 cup caster sugar.
Procedure
1. Start with preheating oven to 160 Celsius.
2. Now, you have to Greece a 20cm round spring form cake tin. Make a line with baking powder.
3. Shift cocoa powder and flours into a bowl (Preferably a mixing bowl)
4. Take a saucepan and make a mixture of butter, chocolate, oil, coffee and sugar by mixing 1 cup of water into it. If the chocolate doesn't melt properly, stir it on a low heat.
5. Now combine the mixture of chocolate to the flours and add one egg at a time, while whisking the whole mixture continuously.
6. Now, pour all the mixture onto the prepared cake tin and bake it for approximately one hour.
7. Put if off after baking and let it cool. Turn into the plate after cutting the top so that it's flat.
8. For the frosting, make a mixture of caster sugar, water and butter and heat without boiling until sugar is dissolved. Take sugar and cocoa in a different bowl and stir it in a hot butter in batches. Put it in refrigerator then beat it until you think it is spreadable.
9. Don't use large amount of frosting in between layers while assembling and coat the cake only when it is cool.
10. At last, use your creativity to decorate the cake. Native wattle and gum flowers made from icing and cute bird's nest is great idea to decorate the chocolate mud cake.