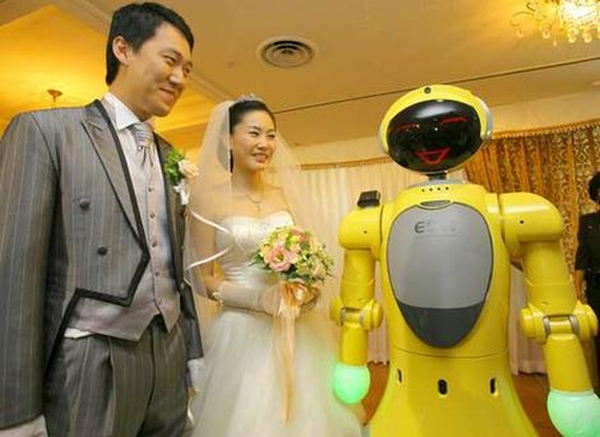 Theme weddings are all the rage these days but not everyone gets to live out the full force of their wildest wedding fantasies. The luck and brave few who do, however, ensure that their wedding day stays etched in the memories of all present as well as a few million people who read about them on the internet and in newspapers. Here's our compilation of some of the geekiest weddings from around the world that made headlines with their bold flavors.
Wedding conducted by a Robot Minister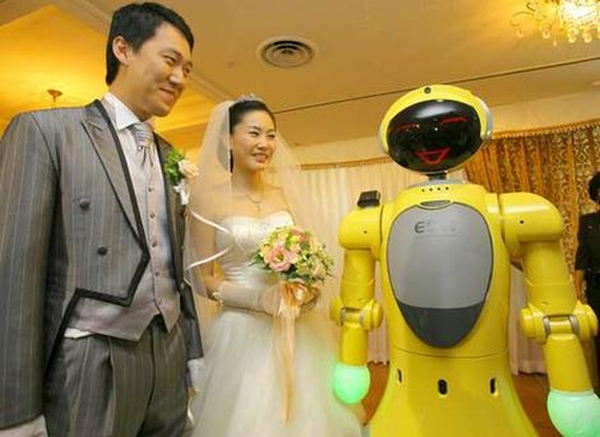 A 1981 novel by Clifford Simak called "Project Pope" envisioned a world where a robot became a pope and a 1971 story by Robert Silverberg called "Good News From The Vatican" told the tale of a robot cardinal. The idea of robots as guides and spiritual leaders is nothing new though robots have never really been entrusted with ministerial duties and rights. But that didn't deter South Korean engineer Seok Gyeong-Jae and his fiancé to ask Tiro the robot to officiate at their civil wedding ceremony. Being a robot, Tiro has no actual religious authority though he was entrusted with the role of 'master of ceremonies' at the wedding. It was the first time ever that a robot officiated at a wedding though Hanool Robotics, Tiro's makers, have revealed that they will need to make several upgrades to the robot before it can be used for other weddings.
Sexy Star Trek wedding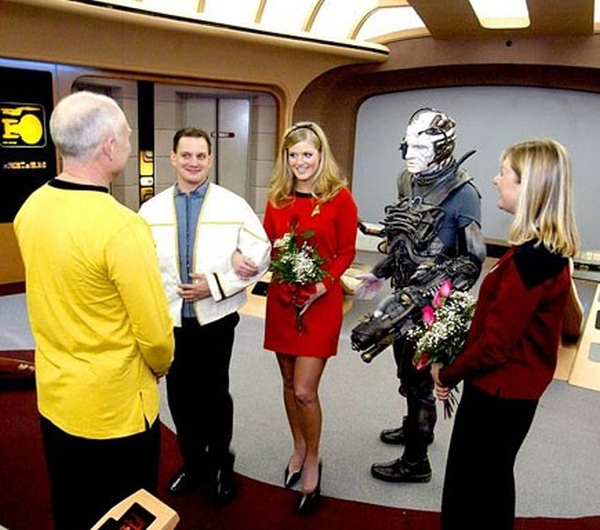 Star Trek fantasies are perhaps the most staple of all geeky party- and wedding-themes. The Las Vegas Hilton allows geeks to live out their wildest Star Trek fantasy in authentic style and even offers a number of packages to couples who can have their theme wedding be romantic, geeky and stylish all at the same time.
San Diego Superhero Halloween Wedding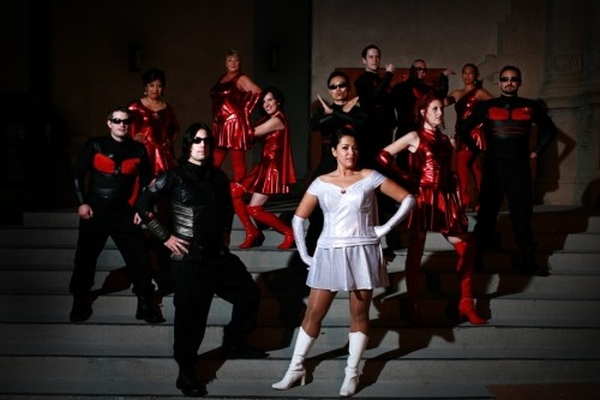 Halloween inspires people to dress up in all kinds of bizarre costumes though San Diego-based couple Jennifer and Bryan went a step ahead and asked all their wedding guests to go nuts and come to their wedding reception as superhero alter egos. The couple had their quaint and traditional wedding at Dan Diego's San Rafael Catholic Church though their reception at the Balboa Park-based Museum of Man was a totally different affair altogether. Compete with scroll-y skulls and creepy font, the reception features horror movie clips projected on the wall, shiny crime fighting outfits with masks eyeball garnish signature superhero cocktails and a zombie cake that was slashed with a machete.
Steampunk Wedding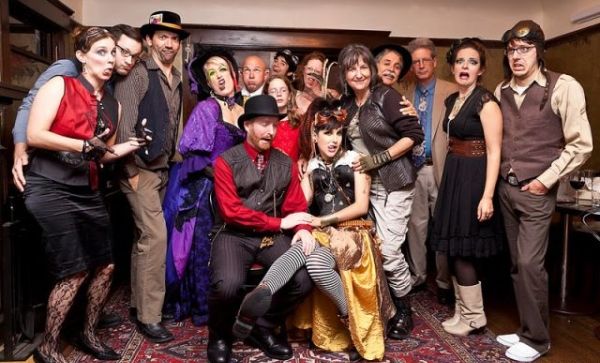 A steampunk wedding doesn't seem as outrageous and blasphemous as it would have a decade and a half ago. These days, being offbeat is the most "in" thing you can do. Which is why this crazy-ass steampunk wedding looks oh-so-delicious.
Katamari wedding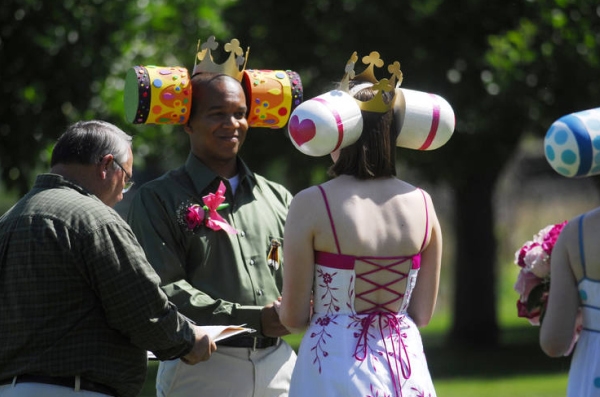 Third-person puzzle-action video game Katamari Damacy hardly inspires the same kind of geek devotion as let's say the Star Wars universe but that doesn't mean that it isn't a legit choice of themes for a wedding. Idaho-based couple and Katamari fans Aidra and Ernest took their gamer wedding theme a little too seriously and got their entire wedding party to join them in Katamari madness as they celebrated their love for each other. Complete with Katamari Damacy-themes boutonnieres and cake topper, the wedding was a roaring success to say the least.
Android lovers wedding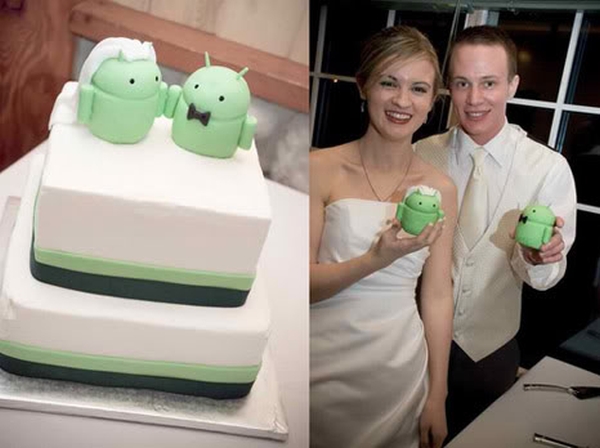 T-Mobile employee Kaylee fell in love with Motorola employee Andy and when they decided to get married, they decided to celebrate their shared passion for Android OS by including the motif in their wedding. The couple had the Android logo on the wedding invites and even had Android dolls on top of their cake. Sadly, the minister didn't agree to dress up in an Android costume but we're sure android lovers in the future will b able to pull that one for sure.
Darth Vader Wedding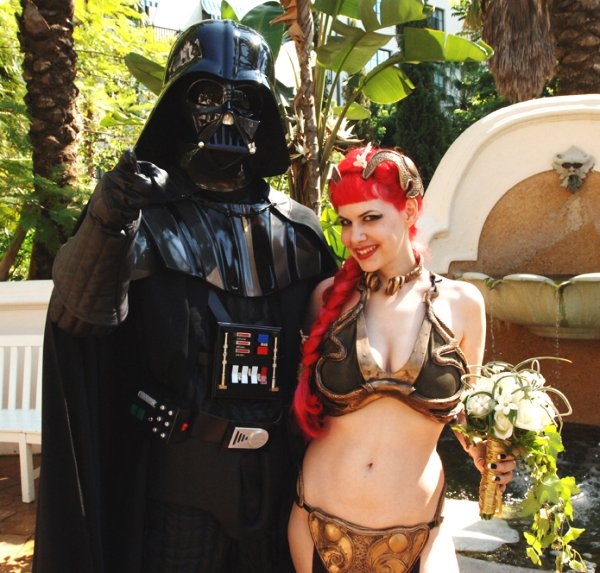 Geeks Are Sexy reader New Hope Fan Girl got to live out her wildest fantasy as she convinced her fiancé to have a Star Wars inspired wedding in which he would dress up as Darth Vader. Though it was undoubtedly a little bizarre to see Darth Vader get married and we're sure the guy had to deal with a lot of Darth Vader Wedding Night jokes but we cannot but help fawn over a guy who would go to such lengths for his fiancé! No prizes for guessing who gets our vote for Husband of the Year.
Batman and Superwoman wedding in presence of all Superheroes!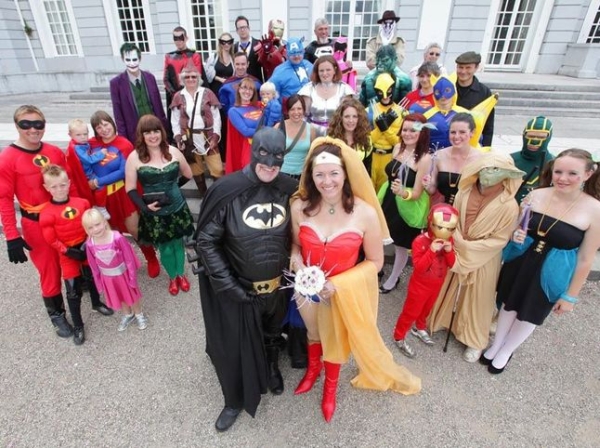 A superhero-studded wedding is the stuff geek fantasies are made of. Even if the "real" characters from the fictional multiverse cannot actually come to a wedding, it shouldn't dampen the geek wedding mood. This Paignton, Devon-based superhero wedding bash saw Wonder Woman get married to Batman. To prevent any miscreants from disrupting the wedding during the "If anyone has any objections…" part of the wedding, friends of the couple dressed up as mighty superheroes including Iron Man. The bridesmaids dressed up as Power Puff Girls while other friends dressed up as Banana man, Captain America, Superman and Iron Man among other superhero characters. The only character in the wedding that wasn't a superhero in the wedding was the master of ceremonies who dressed up as The Joker though we can easily forgive that critical error given the gravitas of the fictional character and the magnitude of all the Hollywood bigwigs who have played the character in Batman movies!