Every girl wants to wear the best wedding dress on her wedding day. In the process of selecting an appropriate wedding dress, there is this one little thing that every bride-to-be can think of doing. What we are talking here about is making a wedding dress sketch with your own hands. Well, this is not at all very hard thing to do. If you have even the slightest of drawing capabilities then you can well make a sketch of your wedding dress; the one that you imagine to be the perfect one. You can even do this for your best friend who is soon going to get married and is looking for some neat options for her wedding dress. Thereafter you can get the exact looking wedding dress made, by visiting a professional bridal dress designer or tailor and showing him/her the blueprint that you sketched down for your wedding dress.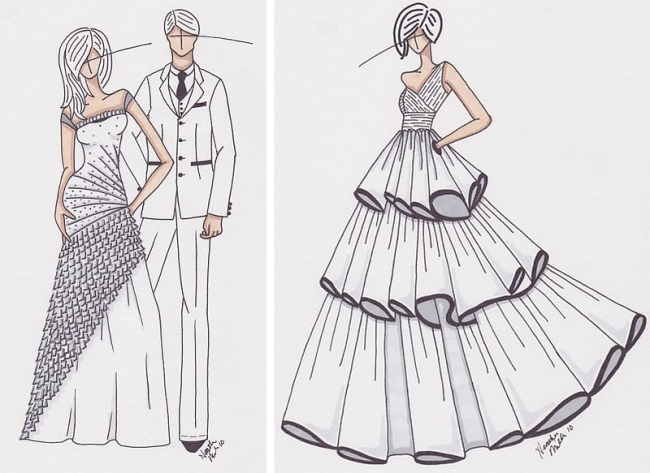 Difficulty level: Moderately easy
Time required: 20-30 minutes
Things needed
· Sketching pencils
· Normal pencil
· Colored pencil
· Sketch pad/Normal white paper
Procedure
1. The preliminary step in making a wedding dress sketch will require you to have a good pre-idea. Look in the bridal magazines for the various kinds of wedding dress styles and designs. Use internet to find few more pictures of the bridal gowns. Once when you see as much as you can, start imagining and figuring out in your mind that what would be the kind of dress that you would like to wear for your wedding.
2. Now take the sketch pad or even a normal paper will serve the purpose (whatever you feel is comfortable to you). Take a normal pencil and start drawing the female silhouette so as to get the curves of the female body type. Here you must also consider the kind of body type you have.
3. Remember that you are actually trying to sketch you wedding dress and not a female figure. So there is no need to draw a complete female figure on the sketch pad. In spite you should visualize and then draw the kind of flow you want in your wedding dress.
4. Once you are done with the framework of the wedding dress you will have to highlight the folds. Make light strokes with a pencil and draw the vertical lines, which will represent the fold of the wedding gown.
5. Use the shading pencils to shade the parts of the wedding dress that you desire to be highlighted.
6. Darken the edges of your wedding dress sketch.
7. Once you have decided the flow and look of your bridal dress start with sketching the minor details like the zippers, ribbons, buttons and all other embellishments.
8. You can even make a sketch of the wedding veil but it is advisable to do that separately.
9. To add more of the refinement to your wedding dress sketch you can use the colored pencils and color shade it.
10. Take this sketch to your wedding dress designer and tell him or her that you will wish to have a wedding dress like you have sketched.
Things to watch out for
· Try to visualize the actual dress that you desire and then make a sketch of it otherwise you will just make a funny looking sketch in the end.
· Do not overdo with the color shading as it will take away the beauty and the detailing of the sketch.
Via: ehow