Though medieval in their origin but the wedding wishing wells are really great assets for your wedding to have. In the modern times when the bride and groom look for more of the monetary gifts rather than the self-imposed gifts given to them by the wedding guests these wedding wishing wells have gained a good place in the wedding ceremonies. The wedding guests can slip into these wishing wells the gifts (generally monetary) without hesitation. And also, it saves the bride and the groom to look for pockets and securing the gifts on a day when they can't pocket down everything. So here are the steps which can help you in the creation of a wedding wishing well. Besides serving the purpose of the secure gift harbor a wedding wishing well also make a good decorative item at your wedding.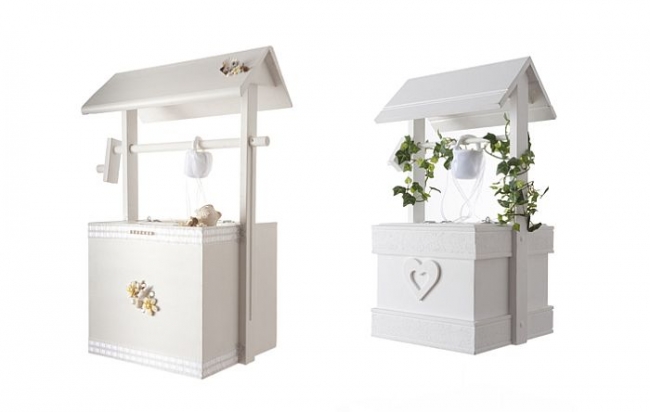 Difficulty level: Moderately easy
Time required: 20-30 minutes
Things needed:
So as to create your own wedding wishing well you will need the following items, in general:
· One big cardboard box
· Cardboard tubes
· Box for the base of the wedding wishing well
Procedure
1. Take the box that has the square base and fold its flaps and then glue them to make it hollow from one side.
2. Cut the cardboard tubes and attach them to the sides of the square shaped box.
3. Take the large cardboard and make a roof by bending it a little.
4. Attach the roof to the cardboard tubes.
5. You can insert another cardboard tube inserting the two vertical cardboard tubes from the middle and then tie a string and a small paper bucket or a bunny to it. You can even use a pair of bells.
6. Put the embellishments like small crystal flowers, pearls and whatever you like to decorate your wishing well.
7. To give a natural touch you can also add some green plant twines to the wishing well.
8. Place the wedding wishing well on a nice table at your wedding reception and all you have is a pretty looking wedding wishing well securing all the best wishes from your guests.
Things to watch out for
· Get fine cardboards to accomplish your task of creating a wedding wishing well.
· Paint the wedding wishing well in any of the desired colors of yours.
via: easyweddings