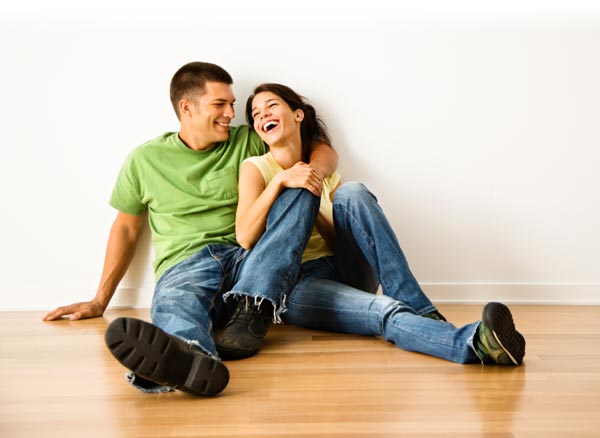 Unlike most little girls, little boys don't grow up dreaming of having the perfect wedding and being the perfect husband. But, in this very world very being a "playa" is a prized characteristics and hailed as the top quality in a successful man. There are men who are evolved enough to acknowledge that having a family and a wife is a desirable quality and a cornerstone of a well rounded life. However, even though there are a gazillion self help books that tell men how to be successful at work or how to be better in bed, there aren't any manuals on how to be a good husband. So, here's a list of characteristics that women around the world have found the most attractive and desirable in husbands.
You have to be good in bed
Unless you've voluntarily entered a polygamist/polyandrist relationship, a marriage is supposed to guarantee sexual fidelity and exclusivity. Since limiting your sexual activity to your spouse is a prerequisite for married life, it becomes very essential that a married couple meets one another's sexual requirements. Dissatisfaction with one's spouse's sexual prowess is one of the major causes of infidelity and divorce hence it becomes even more important for a man to keep his wife satisfied in that department. Since there aren't any tests that can rate how good you are in bed, you pretty much have just your experience, intuition and your wife's feedback to rely on to gauge how good you are. Yet, if you want to make absolutely sure that you wife never desires any other man but you, you can always research for new techniques and positions online, via books written by experts or more simply by just asking your wife what she likes or dislikes and what her fantasies are.
Acknowledge your wife's efforts around the house
One of the main reasons why married couples fight is because men often fail to notice and appreciate the effort their wives put in around the house and with the kids. If you plan on being a fantastic husband, you might wanna try and shift the focus on her every once in a while. If you notice something different around the house, say so. If you're wife looks prettier, tell her. Even though you may feel like ordering take out and relieving your wife of cooking duties for an evening should let her know that you care for her, it would probably help your cause much more if you told her that you're ordering take out 'cause you love her and want her to take a break and relax.
How to get your space without making your wife feel bad
Even if you've had a bad day at work, you don't have it take it out on the wife who may have no clue what's happened to you through the day and who has been waiting eagerly all day for you to get home. If you're not comfortable discussing work when you're home, just take a long shower or a bath instead of parking yourself on the couch in front of the TV with a beer since that might make her feel like you're shutting her out or ignoring her.
Be faithful in every sense of the word
No one on the face of the planet likes a cheater. Being cheated on dents one's confidence in oneself and even though men may feel like they owe it to themselves to ogle at every woman they see or it's somehow their God given right to take every "chance" they get, adultery just doesn't a good husband make. So if you're planning on winning the husband of the year award, you have got to learn to not only be faithful, but also to curb your natural instincts that might make you want to covet other women. You still retain the right to have platonic relationships with other women even after you're married, but you must make it absolutely clear to your female friends as well as your wife that you plan on sticking to your wedding vows.
Be reliable and responsible
Financial security is the cornerstone of any good marriage. Once you get married, you share your financial resources and responsibilities with your wife which is why you need to learn to be both reliable as well as responsible with money. Even if you're the breadwinner in the family, you cannot squander the money you bring in as you like. And if your wife has a problem with sticking to a budget, you have the right to put your foot down and ask her to be more responsible. In other aspects of the marriage too you need to be both responsible as well as reliable. If you've promised your wife that you'd mow the lawn, just mow the lawn; if you've promised her that you'd pick up the kids from the school, pick up the kids from school at the time you told her you would. Keeping up your end of the bargain is a top quality in a good husband.
Be sensitive to her needs and wants
The number one thing that women look for in a man is sensitivity. Being sensitive isn't limited to just listening to her crib about her day, it also means that you understand her unspoken needs and desires. As her husband and as someone who lives with her, you would know what calms her down, relaxes her or gets her motivated and you should use this inside knowledge whenever the need arises. There may be days when you might have to put her needs in front of your own but trust us, if you do it often enough, your wife would notice and would be grateful for it too.
Be considerate
Unlike what most men think, trying to be a good husband doesn't make you a sissy or a wuss. If you're open to making the effort, you will be rewarded with a rich, successful and happy married life that would in turn boost your efforts at work and in society. One of the keys to winning a woman's heart and keeping her generally happy is to keep her in the loop and being considerate of her limitations. Being considerate doesn't mean completely giving up every aspect of your life that she dislikes. Instead, it simply means that you make an effort to take her desires and happiness into account during the course of your plans as well. If she doesn't like your buddies hanging at your house, it may be because they leave behind too much mess for her to clean. In such a case, you can always clean up after them yourself; when you're running late, give her a call or text her so she wouldn't worry or wonder where you are. Little gestures like these go a long way in ensuring marital happiness.
Show your love
One of the major reasons why women tell their husbands "you've changed" is because after a while of being married, men forget to show their wives that they love them. From forgetting anniversaries and birthdays, to doing the small romantic things they did when they were dating, married men have a hard time keeping up with being the man their wives fell in love with. If you're married and if you're looking to make the effort to be a good husband, the first thing you need to do is to try and display your love and affection a little more. You don't have to fake what you don't feel but you can always present your sentiments better. And it doesn't even have to be a grand effort every time- just leave a note on the fridge or send her flowers or take her to a nice restaurant every once in a while to let her know that you still love her as much as the day you asked her to marry you.
Help her around the house every once in a while
Most men feel like taking care of the house is a woman's job and though most wives tend to do housework a certain way, they really appreciate it a lot when their husbands offer to help with chores. Even if it's something as little as setting the table for dinner or taking care of the cleaning or laundry every once in a while, your wife will definitely be glad if you lightened her load of housework.
Learn to communicate better
Communication is something that every relationship guru, therapist, friend and advisor tells you to work on when you're trying to be a better person or a better husband. The problem always remains in making communication work for yourself as a man. However, communication doesn't mean that you have to maintain journals or share everything that's on your mind with your wife. Instead, it simply means that you need to make yourself understood better. If you can't talk to her one on one, leave her notes or send her an email regarding the issue. If you want your space, you can tell her that you need your space and that you'd talk to her about the problem a little while later. The important thing is to tell your wife exactly what you need; you'd be surprised how much better it is than brooding or trying to tiptoe around an issue