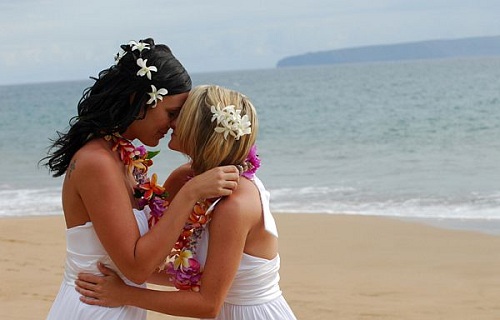 Be it a heterosexual or a lesbian wedding, it is a commitment of love and can be anything from simple to elegant and demure to extravagant. What matters most is that it mirrors the personality and style of the couple being married. However, to make sure that irrespective of yours being a same sex wedding, everything falls in place, listed below are some ideas to plan a perfect lesbian wedding.
1. Lesbian Wedding Invitations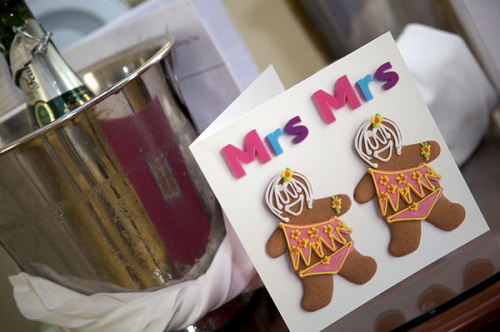 If you are sending out invitations for homosexual wedding, why not make them lesbian oriented. Show your commitment for each other with elegant white invitations featuring two wedding gowns at the top or even a standard pink color invite can make a wonderful lesbian wedding invitation. You can also stick to traditional invites or opt for something funky and unique. To add a personal touch, consider getting your photos printed on high quality, heavy glossy paper. Another interesting idea is to have a dark colored background with sprigs of pink flowers and two brides in wedding dresses.
2. Lesbian Wedding Destinations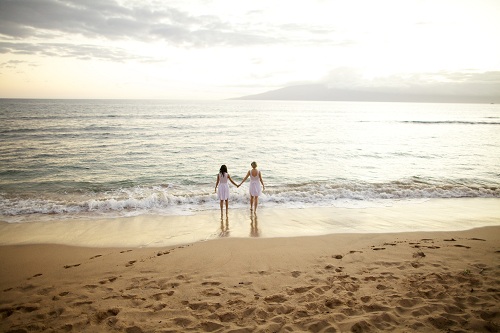 For lesbian couples looking for romantic and a memorable wedding experience, destination wedding can be a great idea. You also have an option to combine your wedding and honeymoon in a wonderful location abroad. Massachusetts, east of US, is one of the few states that has legalized same sex marriages. Each of its four seasons offers perfect conditions to celebrate your big day in style, proving an ideal backdrop for your picture perfect moments. In case you and your partner enjoy the city life, consider Iowa for commencing your wedding. The city is considered as one of the popular lesbian wedding destinations and is a perfect choice for those who want to feel like at home when getting married.
3. Lesbian Wedding attire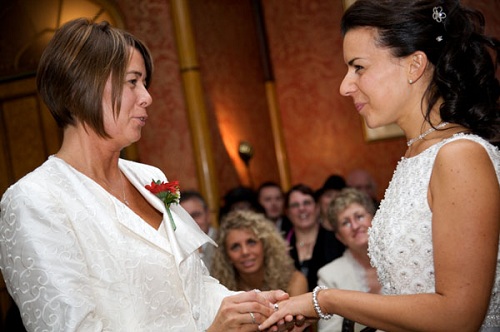 A wedding is a celebration of your love, so your clothing should complement your personality. As your outfit will be documented more than any other accessory, it is important that you choose a wedding dress you love. There are no traditional rules as how a lesbian wedding outfit should be. If both of you have a similar style and taste you may consider matching dresses. Gowns or tailored suits in one color but different shades is another wonderful way to complement each other. Moreover, you may also consider an individual style such as butch and femme, in case both of you are not very effeminate.
4. Lesbian Wedding rings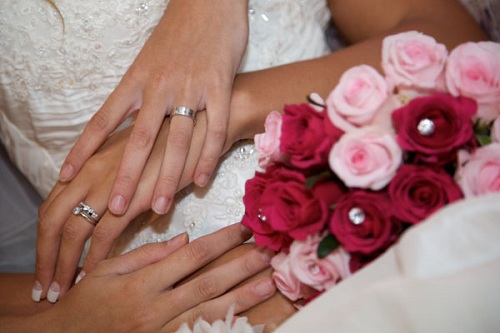 Your wedding ring will not only symbolize your love, but will also showcase your everlasting commitment towards each other. So, take time to ensure you have chosen the perfect ring for your partner. Ring featuring a rainbow flag is a common but a wonderful way to express you loyalty towards your same sex partner. It is considered as a piece of pride jewelry and can make a great lesbian wedding ring. However, as there is no rule that you must opt for a specific bisexual community ring, you may consider various designs. For instance, a band with a little diamond will help you represent never-ending circle of your love or matching rings with your initials can make cute wedding rings incase both of you mirror each other's style.
5. Lesbian Wedding vows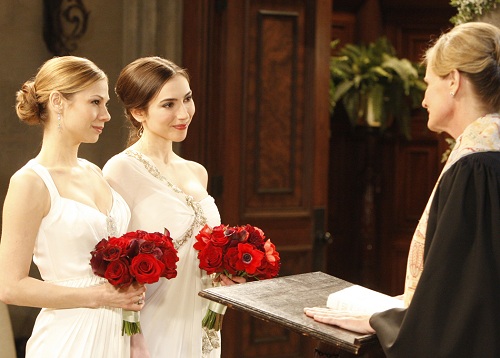 When it comes to lesbian wedding vows, you have various options. You may choose to write your own wedding vows or consider a typical traditional ceremony. You can recite poetry to your partner, or write your own vows from the bottom of your heart. If your beloved likes to laugh and crack jokes, you may give your vows a humorous touch to start a new beginning on a light and happy note. Few lines from your favorite song is also a great romantic way to promise your eternal love to your wife.
6. Lesbian Wedding cake and cake toppers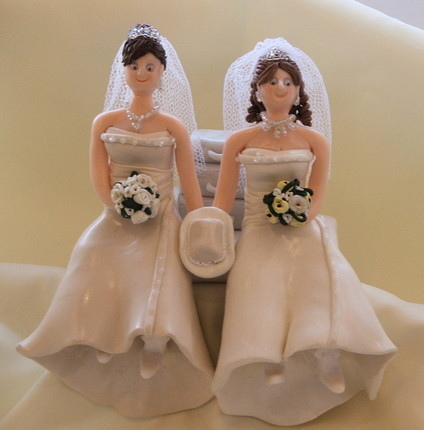 Cakes are a traditional part of any wedding ceremony. However, it need not necessarily be a quintessential tired traditional cake for your lesbian wedding. It is the creative, out of the box cakes that catches everyone's attention. A single layered heart shaped cake featuring yours and your partner's picture is a perfect way to represent your love on your wedding day. Pink being a girls color, you may also consider strawberry cake decorated in a whimsical style. If you are looking for a traditional cake to complement your wedding theme, you can always opt for elegant cake toppers especially designed for lesbian weddings. Brides holding hands or kissing each other makes an exquisite cake topper that can surely become a beautiful keepsake commemorating your union.
7. Lesbian Wedding events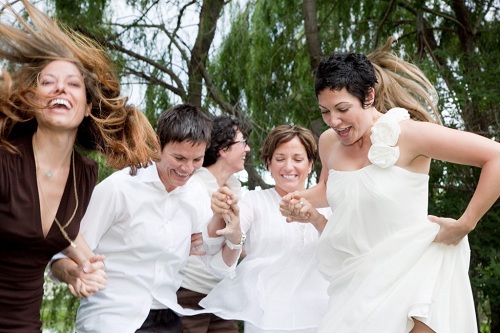 There are no written rules about how to plan a lesbian wedding. However, it is highly possible that your friends and family will approach you to ask for your preferences especially for the bridal shower party. It is entirely up-to you and your partner as how you want to proceed. You may combine your bridal party and share some fun moments together or if the budget allows you may chose to have separate parties hosted by your respective families. Either way is fine as long as both of you agree to it.
8. Lesbian Wedding Etiquette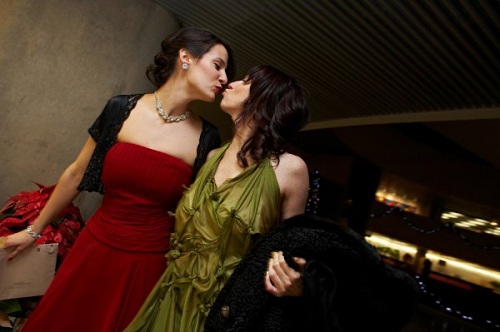 In most cases, lesbian weddings are ruled by same guidelines and etiquettes as heterosexual's ceremonies. It is completely up-to the couple if they want to customize their event that suits their taste and style. However, being a lesbian couple you may not divide the seating arrangement into the traditional bride and groom side, but instead chose to have mixed seating that represents the community supporting the same sex couple. Moreover, instead of having a best man you may consider a best woman. Another unique element that you can add to your big day is that instead of one partner waiting for the other at the altar, both of you can walk up the aisle together.
9. Lesbian Wedding gifts and favors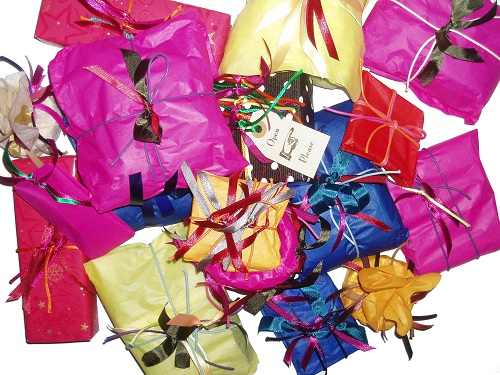 Wedding favors is a great way to thank your guests for their love and support. Consider celebrating your same sex union with special lesbian wedding favors. Rainbow flags or rainbow antenna ball favors is a wonderful way to mark your wedding day. Lesbian wedding favor magnets also make a cute and a unique wedding gift that your guests can keepsake for years to come. Another interesting option is hinged mint tins, personalized with your name and date of union, it will surely make a delicious sweet reminder of your special day.
10. Lesbian wedding speeches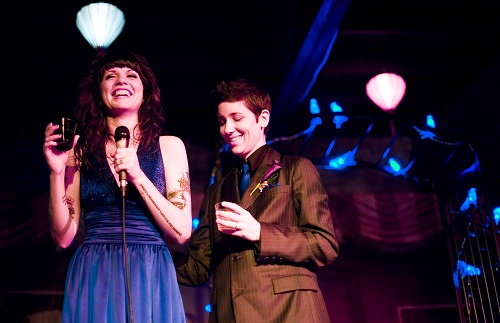 The basic do's and don'ts remains the same for lesbian wedding speeches as it is for heterosexuals. However, for same sex wedding instead of the best man, best woman can raise the toast and words can be altered accordingly. The tradition dictates that bride's father, best man and the groom are expected to offer a few kind words. But in case of a lesbian wedding either of the bride's father or both can do a speech. Toasts are meant to be tweaked as per your own personal situations and feelings. You may have one or many.