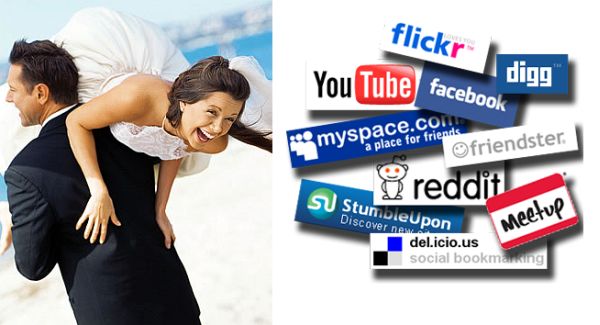 Social media is fast emerging as the platform of choice to meet friends, have conversations, share pictures and videos and sometimes, conduct business. With so many people online, websites and networks have cropped up in a bid to make the most out of this trend. Almost all people with access to the internet and a computer have profiles created on various social networks. But catching up with friends and making new ones aren't the only options available. Brides-to-be are increasingly making use of the web to plan their wedding. From finding the right wedding dress to planning the venue, these sites are becoming the platform of choice for women the world over.
Collaborative planning
When it comes to receiving suggestions for wedding plans, no platform is as good as social media sites. Well wishers can post suggestions of where to find what, the best deals and other helpful ideas. You can create a separate profile just for your wedding day and post questions to members. If you're looking for a good caterer or where to find the best dress, be assured that somebody on your member list will have something useful. Since weddings require careful planning, multiple heads can be better than one. Members will also feel needed and will appreciate having you desire their inputs.
Invitation
You can create a website for your big day or use the tools available in social media sites for your guest list. If you're designing an actual site, make room for a type of blog or forum where invitees can share thoughts and get to know each other. Or, you could create a profile along the lines of Facebook and make it a closed group to deter wedding crashers. Invite your friends and introduce them to each other. Since many will be strangers, the idea serves as a nice way to enlarge networks. Upload pre-wedding pictures and anything else of relevance. Those who don't interact online can be sent conventional invitation cards sourced from online sites like Etsy and Ink Garden.
Venue
Use the internet to search for the perfect venue. Since weddings can cost a small fortune, you naturally wish to cut down on expenses. Scour the web for good deals and follow up on suggestions from friends. Contact well wishers on social networking sites, especially those who are already married, for suggestions. Cross check the cost of venues in your area to see if there are places that offer them for a lesser price. Post venue ideas on your blog or profile so that members can lend suggestions.
Wedding rings
Most wedding rings are purchased from local stores. But the internet can offer you some great deals on wedding rings with catalogues of their best pieces. Sites like Facebook are often used by designers and vendors to showcase their products. You can visit their pages or look for rings from other online sites. Before making a purchase, select your size and choose from the different metals available. Most sites are very specific so you shouldn't face too many problems picking out the ideal ring for your wedding. Cross check the price against multiple sites and find the best deal from a certified online store.
Wedding attire
The internet is the best place you can approach for a wedding dress. With so many people taking their businesses online, there's no dearth of choices. Whether you choose to get a designer dress or something more low-key, websites offer you some of the best deals you'll find. The Knot is a great site that's dedicated to weddings and everything that goes with them. You'll find budget wedding planning ideas, dresses, accessories and a whole host of items. Dansbridalandtux lets you buy dress off the site with the promise of prompt and careful delivery.
Food and beverages
Choose sumptuous wedding menus and exotic drinks from vendor websites. Websites like Local Catering offers users quotes on a variety of vendors. You can hire the vendor of your choice based on your budget. You can also search for quotes on other providers like florists, entertainers and limos. However, since vendors pay a price to give you a quote, it is advised that you ask for one only if you're serious about hiring them. BevMo! is another great site you can visit to place orders for drinks with deals like buy one, get another at a lesser price.
Photography
You want to imprint your wedding memories so choose a good photographer. Look around social networking sites or Bridal Hood for quotes and links to good photographers. Ask for portfolios before you settle on one so you don't feel cheated post wedding day. Another idea is to get wedding attendees to take pictures. Most tend to carry cameras and your close friends will be more than willing to take shots of your happy day. The pictures can be uploaded to your online profiles or website so those who couldn't attend can get a glimpse of how your wedding went.
Music
Listen to your favorite music while you dance at your wedding through websites like Spotify. The site offers users millions of tracks to choose from with streaming from the likes of labels including Sony and Universal. You can also make use of Spotify's apps to run on iOS devices like iPhone and iPad and others using the Android platform. There's a six-month free trial period when logging in through Facebook. The sheer range of music is amazing and you can choose from millions of songs to play on your wedding day.
Honeymoon
Sites like Gogobot are modeled along the lines of a trip planner and check to see if the recommendations you receive from the internet are trustworthy. You also get tips and ideas of the perfect honeymoon spots and can view photos posted by members. The handy site also gives you information on the best deals for hotels, where to go and what to take, all by the members themselves.
Wedding budget planning
Get the best deals for your wedding through sites like Wedding Channel. You can find deals for photographers, hairstylists and dresses at a fraction of the cost. Two deals are posted each week ranging from top vendors to local ones. Depending on how big or small a budget you have, the site can introduce you to providers ready to cater to what you're looking for.