Today, we are here to tell you about the wonderful centerpieces option- iced tree branches. These wedding centerpieces are best for winter weddings and create a unique impression on people. Iced tree branches are also used to make beautiful accessories for decorating the home during the winter times. So, no need to pay money for fictitious wedding centerpieces and this time, go natural with iced tree branches and get a real feel by crafting them yourself.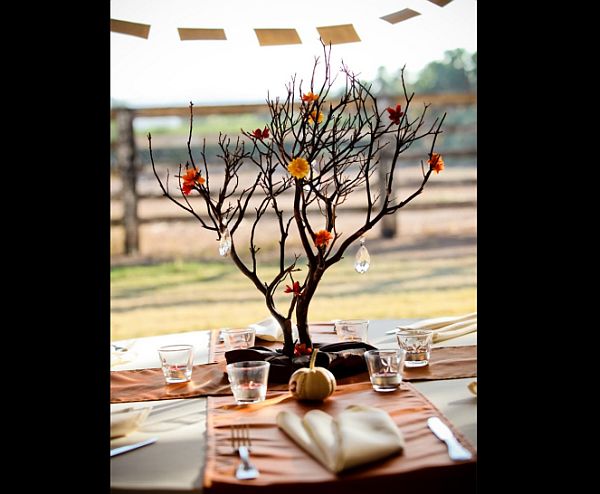 Things you need
Colorfill diamond vase filler
Plastic Sheets
Spray adhesive
Tree branches
Tall vase
Procedure
1. First, buy colorfill diamond vase filler from craft market. It is going to cost you approximately $ 2.50.
2. Cover a flat surface with plastic and pour colorfill on it and spread it properly on the surface. This is helpful for a better coating on the tree branches.
3. Then spray the tree branch properly covering it with spray.
4. Then lay the tree branch down on the diamond vase. You can also your hands to sprinkle the filler over the top of the tree branch.
5. Congratulations! This is your iced tree branch that you can use either for winter wedding ceremony or for decorating your home during winter holidays. Now repeat the same procedure to finish making all of your iced tree branches.
6. Now, let's covert them into centerpieces and you can do this with couple of ways. The first one is by using a tall clear vase and fill it the color full vase filler. This will hold iced tree branches firmly and give your centerpiece an elegant look.
7. You can also use tall non see thru vase. Fill the base of the vase with the craft foam and put iced branches into the foam. Your centerpiece will have a sparkling look.
Things to watch out for
1. Let the adhesive on the tree branches dry thoroughly.
2. Birch tree creates best shapes for centerpieces so you can use these tree branches for making ice tree branches.
3. If you don't have money to buy birch tree branches, you can even use tree branches on your backyard. Just be sure to scrape off any loose bark.