Winter weddings are fascinating. The thought of tying the knot in the season of warmth and festivities is romantic in itself. The idea of winter wedding is like an idea come alive from the pages of an enchanting fairy tale. It is truly magical and glamorous and is a treasure of memories for the rest of your life. Defying the kitsch of summer weddings, winter weddings have gained an edge. Here are a few tips on how to knit a perfect winter fairy tale wedding, so that your Cinderella doesn't have to wait long.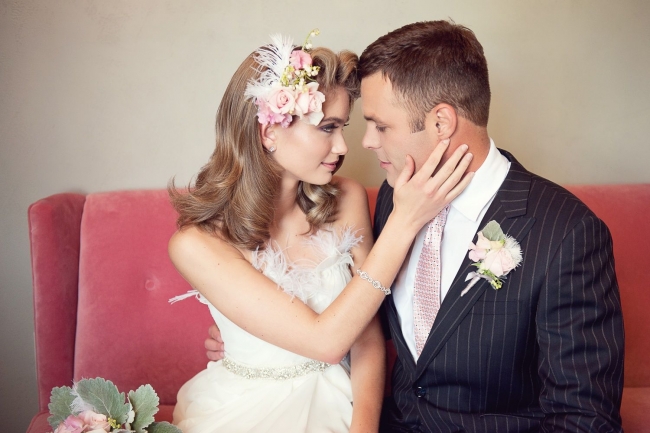 1. Getting dressed
The wedding happens once in a lifetime. You wouldn't want to mess up the most important day of your life. Welcome diamond jewelry into your wardrobe or if it is pinching your pocket, then try out crystals or pearls to resemble the icy weather. Your wedding attire is sure to stun everyone, but it will chill you instead, as it is bound to be strapless or sleeveless, so make sure you accompany a warm wrap or shrug with your dress to prevent a cold attack. Don't forget the tiara.
2. Ideal location

The choice of location depends upon the length of your guest list. If you are planning to have an extravagant and lavish affair, then you can always book a mansion or a private club. In case the wedding is a private and intimate affair, then you can go for luxury inns with a fireplace to ensure a warm environment. You may not even need a fireplace as the warmth between hearts is enough to warm up the place.
3. What's on your palate
All weddings, be it winter or summer, have to serve good food and great wine to guests as a token of thanksgiving and love. A winter wedding menu means traditional food fare with chicken roasts and pies, hot chocolate, Irish coffee, spiced wine, eggnog, and of course the big wedding cake decorated with laces and icy white cream with a snowman to grace the top.
4. Wedding flowers
Flowers are an innate part of wedding, and winter is the season of flowers. Decide if you want to go the white way to compliment the weather or you are all for reds and greens. If you vote for white, then decorate the bouquet with eucalyptus, white roses and lilies, but if you choose colors, then red roses with pines, tulips and ornamental berries are a showstopper.
5. Venue and center piece decor
If you plan to set winter theme for your winter wedding, then decorate the entire venue with white lights or bright candles of every shape and size. The venue can also be lined with snow flaked trees and crystals over the trees to glitter as snow. Also white paper lanterns, and white snow spray sinks in the mood.
The table decoration has to be grand and especially in case of a winter wedding, where you are planning to set the winter theme, then ensure a white table cloth adorns your tables with exquisite laces and ribbons decking it up. Floating candles in a glass bowl can occupy the center of the table and pine cones snow sprayed can add on to the winter effect.
6. Color and Wedding gifts
Zeroing in on the right color is like fighting a battle, especially when you and your spouse are at loggerheads over color. The most obvious choice is white, but in case you stand to defy the ruling trend, you can always opt for beige, cream, ivory to give your wedding that rich classic look.
If the tone of the wedding is winter, then the gifts should also complement the tone of the wedding as you can gift spiced hot chocolate or cocoa with marshmallows, or snow globe with the replica of bride and groom inside dancing to the fairy tale music chant.
7. Guest list and Wedding Carriage
While deciding on the guest list, make sure that the guest list does not go too long as it's winter time and holidays are round the corner for everyone, so every invitee you send will see a guest in form. It's not summertime, where you aren't confirmed if you can make it to the wedding, so take a deep breath before deciding on the guest list.Try booking a sleigh for a change instead of carriage. Let you and your wife enjoy a snowy ride in the sleigh.