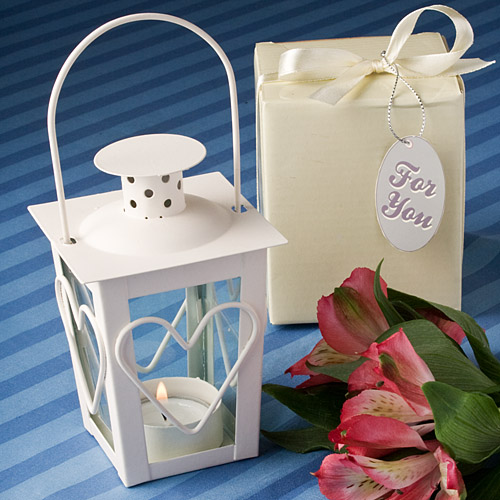 When your nuptial is over and your esteemed guests have congratulated you heartily and blessed you all the luck and fortune, you still have a vital work to do. You need to convey your gratitude and appreciation to the wedding invitees. Instead of conveying your thankfulness by using verbal notes let your wedding favors do the same for you. Pick up lovely wedding gifts that stand as a mark of friendship and love. We are sure these lovely wedding favors will melt the hearts of your wedding invitees and they will love to treasure them as valuable keepsake. We bring here a few lovely wedding favors worth considering. Take a look at them and grab your hot pick.
Heartwarming mini lantern favors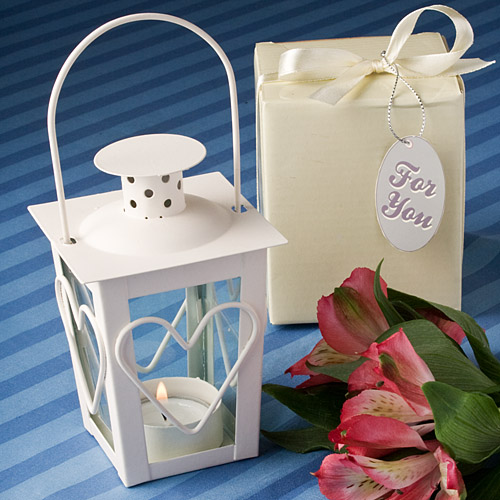 This love themed mini lantern is a great way of lighting up the spirit of love and compassion in the lives of your valuable guests. The flame of this mini lantern will symbolize the love and passion of your married life as well. It will also keep burning brighter and brighter with the wishes of your wedding guests, making your matrimony an ever successful one. This lantern is made from durable metal and has a powder coated ivory color on its surface to bring about a sense of peace and serenity to it. So, it is definitely going to be a memorable keepsake for your invitees.
Classy pink gerbera-daisy-adorned box favors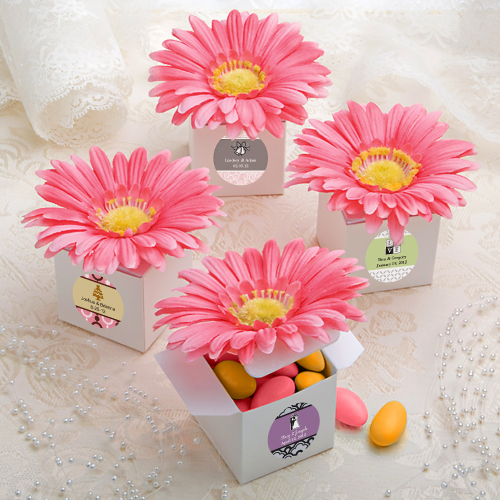 Flowers are the best expressions of your mind. You can convey a thousand words in the most polite manner by using flowers when your verbal diction might fall short off! Gerbera is the chosen one for nuptial and pink is the color of love, respect and sobriety. So, why not go for a pink gerbera wedding favor? A simple, square box, wrapped up with incandescent paper gets a wow factor with this gerbera embellishment. A bonus treat for your esteemed guests is that it is made from fabric, so that it becomes a non perishable memoir of your merry occasion.
"Scenic View" Tree-Branch Place Card/Photo Holder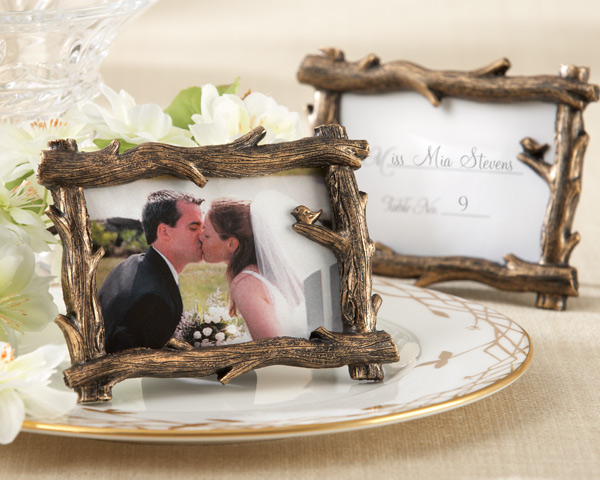 Nature, with its evergreen beauty and panoramic splendor, helps in keeping your marriage ever young. This time you have the greatest opportunity to let your wedding invitees challenge time and treasure the happy memories of your marriage ceremony as a current event. This is the best way to make them remain mentally young too. So, this nature themed place card, with tree branch detailing, tiny birds perching on the bough and rustic resin frame will do the job for you.
Cherry Blossom Hand Fans (Set of 6)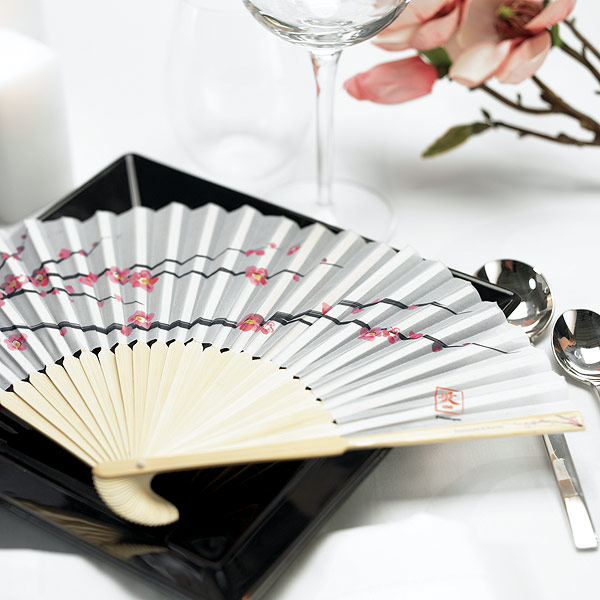 Fan away all the negative forces from the lives of your much treasured wedding guests. This bamboo ribbed fan will speak your heart out and convey your noble attempt to your guests in the most vivid manner. It will be a beautiful keepsake to display in the showcase as well, due to its handcrafted bamboo rib structure, natural monochromatic shade and intricate cherry blossom print on top. It will also be a handy essential for your guests during the hot summers too, when the temperature spurs up.
Interlocking heart design sculpture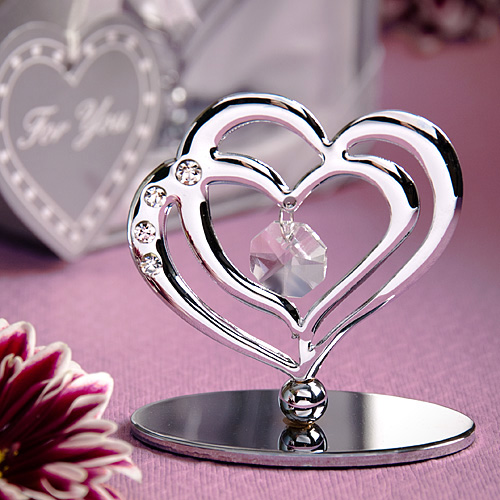 We bet there will not be anything more pretty and sophisticated as a table top display than this interlocking heart sculpture. The hearts are the most powerful weapons to reflect your love and the interlocking feature shows your loyalty and commitment towards your partner. Thus, your wedding guests will always feel happy that they were party to an occasion, which had loads of love and commitment in it. The eye-catching crystal in this showpiece works as its glamor element, while its shiny appeal stands for the fun and frolic of the occasion.
"Cherry Blossoms" Flower Tea Lights (Set of 4)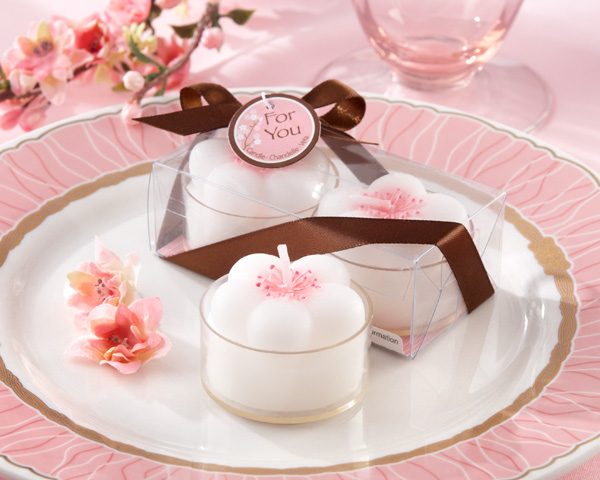 If the soft flickering flames of candles are the best ambient light for a romantic spell, you have an edge over by means of these cherry blossom tea lights. The soft flicker of this unique wedding favor by Kate Aspen is sure to enliven up the reception table in your wedding and convey your heartiest thanks to the guests for their much sought after presence. The twin tea light, sculpted in the form of cherry blossoms, is indeed breathtaking.
Hang With Us Personalized Favor Card with Seed Paper Love Birds (Set of 12)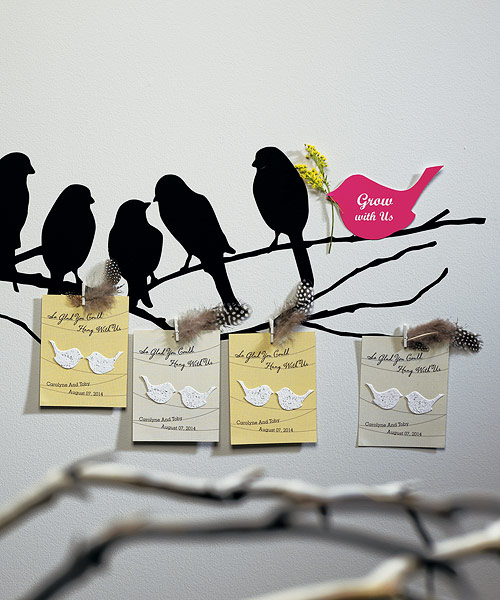 The most customized way to say "Thank You' to your wedding guests is to incorporate handcrafted favor cards. But if you are confused about the wow factor in it, let us tell us, this wedding favor we are presently talking about, has everything you want. It comes with the love birds and detachable real wild flower seeds, which are an eco themed favor as well. Your guests will be spell bound at this and will love to plant the seeds and see their 'thank you' tree grow in front of their eyes!
"Birds of a Feather" Miniature Ceramic Container/Holder (Set of 4)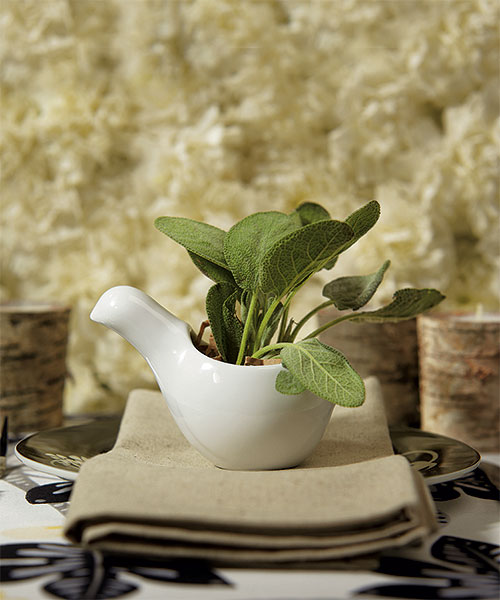 The delicate handling of ceramics shows that your wedding invitees are considered as VIPs by you. This ceramic container is perhaps one of the best love theme wedding gifts as it has option for storing water and growing hydrophilic plants, to symbolize your everlasting love and friendship. Alternately, you can also apply a spell of sweetness to this wedding favor too by filling up the container with candies and gourmet treats.
Felt Daisy Candle Holders (Set of 4)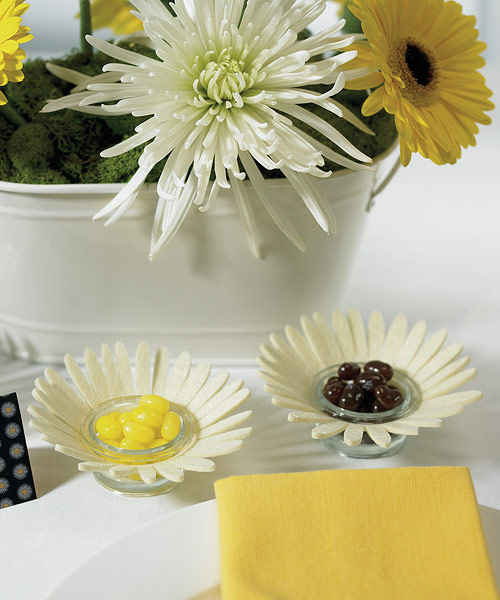 This candle holder has a romantic twist. It has a contour resembling the full bloomed petals of daisies, while the center accounts for the flickering flame. It is a perfect item for wedding reception table décor and creates the spell of delight they will always treasure. This candle holder with jelly wax will be gala keepsake for them.
Calla Lily Wine Bottle Stopper Favors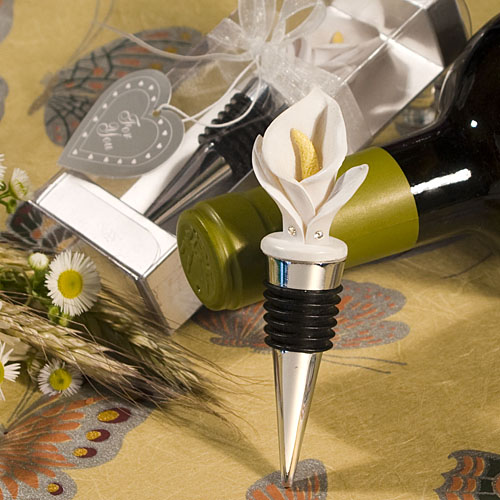 The mood of celebration will never be complete until you raise the peg towards your guests and say "cheers". This wedding favor, thus, is wine cork stopper. But the romantic lift in it is the calla lily embellishment that makes it a breathtaking gift. The good news is that this calla lily is a work of poly resin and will never wither away.