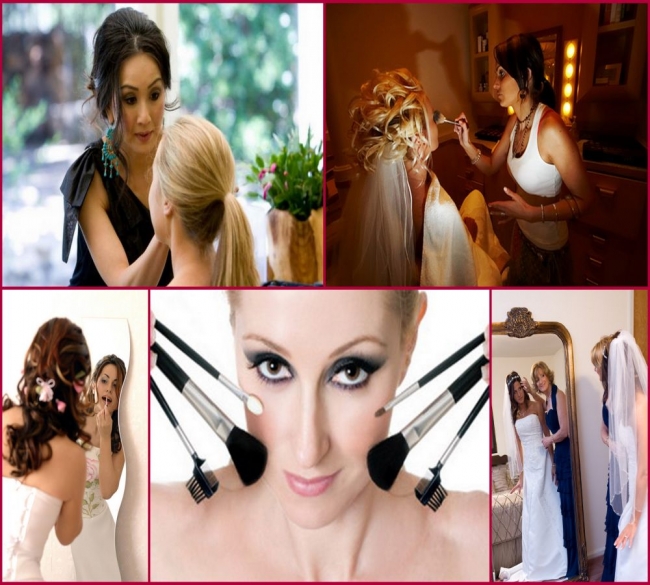 Girls always dream of a perfect wedding with a gorgeous dress, flowers, hair and makeup. You would want to look your best on that special day, and doing your best to attain that is no feat. Make up falls under that category and dealing with it can be tedious. Although, a lot of brides undertake the risk of doing their own make up, others outsource it to a professional who is thorough with the job. Admittedly, this luxury comes with a price and a lot of other hassles to start with. From selecting a good makeup artist to discussing the right make up in synchronization with the photography, the process can be quite intimidating. To make matters easier for the bride when it comes to make up, we have put together a list of tips which will come in handy while selecting the perfect wedding makeup artist.
1. Choosing the right make-up and hair stylist for the big day
There are beauty parlors cropping up in every nook and corner and so you are not tight for choice. But that said, every makeup artist might not be the best and so choosing the right one is very important. If you are new to the scene then go by word of mouth and do a little research beforehand. Once you have short listed a few known makeup artists, your job would be much easier and you can finally select one that suits your requirements. Discuss with the artist how you would prefer you hair and makeup on that day and listen to the inputs the professional has to give. If you can spare time and money, then get the makeup artists to do the entire bridal party professionally. This will make all your bridesmaids and your mom look ravishing for photographs as well.
2. Plan way ahead to arrange a professional bridal make-up artist
Since choosing the right professional to do your makeup and hair is a long process, it should not be kept to the last minute. As mentioned before, if you are new to the scene, you need to visit a couple of parlors and then choose from them. Ask to see portfolios of the work they have done and make it clear to them what particular colors and styles you want. You must also make sure they are reliable and wouldn't mess up things at the last minute. If you know some of their old clients, call them up to check if they are one time, if they bring all the necessary equipments, how receptive they are about your inputs and so on. As a precaution, always keep a plan B ready, just in case the first makeup artist scoots at the last minute. After all, you do not want to walk down the aisle looking like you are going to office, do you?
3. Do a trial session with the chosen professional stylist
Once you have short listed a couple of the stylists, book in a trial session with each of them. That way, your job of deciding which one you want to go with is made much much easier. Book and appointment and get them to do the makeup you want to wear at your wedding. Give them inputs about the lighting where the ceremony is going to take place and how you would want yourself to look in the photos. This is highly important as cosmetics play an important role in the photographs. The stylist, who gives you all that you need with regard to your requirements, is the one you should be opting for. Book off the person immediately after you have decided in order to prevent the dates being hogged off by some other bride.
4. The time of the wedding setting needs to be taken into consideration
Believe it or not, but the lighting and entire set up of the wedding is important when it comes to make up. If you are conducting your wedding during the day and is outside and the reception is in the evening and indoors, you may want to schedule a makeup session in between the ceremony and reception. Daytime photographs require lighter make up, whereas you might want to look a little more done up for the evening ceremony. Discuss with the stylist to see what works for you. Perhaps a darker eye shadow and shimmery lip color for the night and a lighter blush and natural eye shadow could work during the day. These minute details are important so you don't look too washed out during your morning portraits and too jazzy for the night pictures.
5. Professional help is still a must, even if you opt for DIY bridal make up
If at the end of the day you have decided to do your own bridal make up or is having a friend do it for you, it is still advisable to get the inputs from a professional. For example, wearing a towel over your dress or wrap it around your neck so that the makeup doesn't ruin your gown, or getting professional brushes, so you don't stain your hands and so on. Also have a spot remover on standby, so you can dab up any mishap when it comes to make up.