Wedding ceremony is an unforgettable and illustrious moment in life and it becomes even more even more special when celebrated in such a divine way as was celebrated in South Korea at Unification church. On Saturday, about 2500 couples from around the world exchanged their vows on the unification church and got blessing from the founder of that very church, Sun Myung Moon.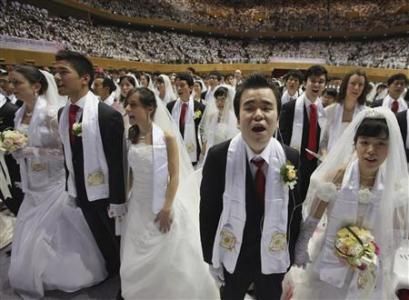 The 92-year old Sun Myung Moon and his wife sprinkled the wholly water on a group that was called up to stage and declare them tied in a wedlock. Approximately 15,000 people including guests and followers were at the ceremony and everyone cherish those amazing moments. A bridegroom from Britain named as Chouchange Saemie said the experience for him was unforgettable and amazing. About 2,500 couples from over 50 countries tied the knot and another 2,700 people joined the event via internet and tied the wedlock.
According to church official, Sun Myung Moon founded the church in 1554 and declared him and his wife messiahs and the concept of mass wedding was started from early 1960s. He also said that the mass wedding leads to all mankind to one and this wedding event is out of any ethnicity, nationalities or religions. The brides were in beautiful white wedding gown and bridegrooms were in tuxedos. Sun Myung Moon's son Hyung Jin is also a part of day-to-day functioning of the church and has many followers around the globe.
Via: reuters