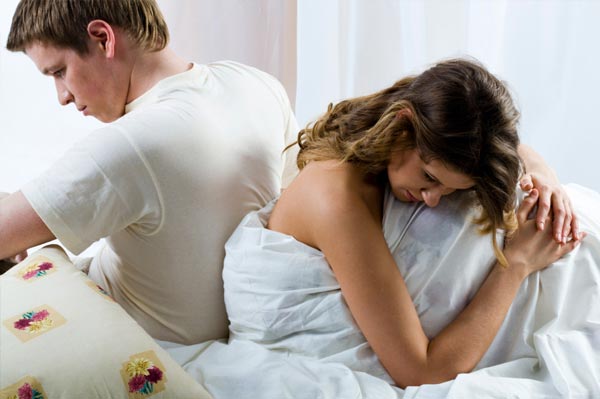 Divorce is the most obvious end to a disturbed marriage. Now, you cannot generalize the factors that contribute to a broken marriage. Every factor is unique and every couple can have a separate reason for ending it. But, there are certain common factors that are behind majority of the divorces. In this context it is essential to know that men have separate reasons for seeking divorce while women have separate predicaments. Listed below are ten such factors which makes men seek for a divorce. Have a look:
Lack of Communication
Men ideology
Being separate from each other for most of the day due to work or living in separate worlds often creates differences between couples. They fail to have a healthy and mutual relationship. So, simple discussions become heated and couples end up having bitter quarrels. Stress of any sorts keeps a man away from his woman, as they do not believe in showing they are weak.
Reason
Lack of communication deteriorates a marital relationship. So, unlike happy couples those who face such a situation gradually loose the ability to understand each others feelings. Hence, their inability to reach out to each other results in a strife out of simple discussions. Consequently, they prefer to stay aloof from each other which further widens the gap.
Why such thought
Distrust, being workaholic and prioritizing every other thing over marriage often results in lack of communication. Partners involved in such a situation become silent spectators and hardly do anything to resolve the problem. Thus, divorce becomes inevitable.
Financial Issues
Men ideology
Men are always confused whether their wives love them or their money. So, husbands think that any hint the wives get of their decreasing wealth can create havoc for marriage and lead to divorce. They also tend to dislike the fact that their women is earning more than them. Insecurity is caused by financial problems occurring in a relationship.
Reason
Living in tight situations when finance is a concern it is really difficult to keep at a decent level. This is also true that money has different significance in the lives of different people. But some women find it really complicated to live in scarcity of money as meeting the essentials becomes challenging.
Why such thought
Money has always been known to buy everything except happiness. Sometimes money is everything for women, a man without high income cannot serve the family and is practically of no use. This thought is what comes to every man and fear is risen in their minds. It has been stated that 57 percent of the American's divorce is caused due to financial instability.
Cheating
Men ideology
Men hate women who cheat. The situation gets more intensified when such women are wives. Cheating wives create inferiority complex among husbands and they wish to part ways.
Reason
Most husbands get paranoid with trauma when they see multiplication in the list of their wife's boyfriends. They take it for sure that one relationship or the other will definitely mature into an affair in days to come. Signs like behavioral changes in the wife are something to take into account.
Why such thought?
It is noticeable that woman do not normally go for a single day out or one night stand when it comes to cheating. It is likely they would go for a long term relationship. So, it is very normal for a man to think that his marriage will end soon.
Sex
Men ideology
Men often become sex starved in a marriage, so they think it wise to move out of such a marriage as their wives cannot provide them the pleasure they seek. Sex is a big time issue in every relationship. It is a two way street. The husband tends to get rough causing a hindrance to the relationship.
Reason
As far as sex is concerned, men are active beings and women are passive. While men prefer things quick women, in majority of cases, feel it is important to become emotionally attached first. So, a sex deprived husband suffers.
Why such thought
Sex is a basic instinct and each individual has a different way to look at it. While the aggressive men fail to understand why their wives lag behind in the matter the wives consider such husbands sex maniac. This makes divorce inevitable in most of the cases.
Substance Abuse
Men ideology
Men dislike women who are heavy alcoholics or victims of drug abuse. This leads to an unsatisfied marital relationship.The cause is that men do not want to be held responsible and do not want to take responsibility either. It is an issue which has been long talked about and cannot be handled.
Reason
Whether we take it or not, we live in a patriarchal society. So, men hate working in the kitchen or handling household chores while their wives doze off peacefully under the influence of alcohol or narcotics.
Why such thought
Alcoholism or drug addiction in wives often creates more commotion in the family as compared to men. So, men think that the effect of such disturbances would pass on to the kids living in the family. All these hint at divorce in the longer run.
Emotional Incompatibility
Men ideology
Women are most of the times emotional and over sensitive. But men are more practical. Although emotional differences exist between every couple but for some it gets beyond control and leads to regular quarrels.
Reason
It is very difficult to live together when two individuals are dwellers of two different worlds. Every incident leads to the creation of two different angels in the minds of such couples. So, it creates irreparable differences in between them.
Why such thought
While men confront such situations with a fighting attitude, women take the strategy to befriend such circumstances. But in some couples this common theory does not work at all and they fight wildly. This makes divorce obvious for most of them.
Lies or keeping secrets from one another
Men ideology
Lacking transparency in a relationship and trying to hide things from your husband can make them suspicious. Lies cannot be hidden forever. This widens the gap between couples and they split up. Such secrets hurt the ego of the husbands.
Reason
Too much of secrecy between couples is an indication that their marriage is on the verge of disastrous end. A wife rushing to the other room with her phone, chatting over the internet late at night etc., are some of the obvious hints that there is something wrong which she does not want her husband to know.
Why such thought
Husbands have every reason to suspect their wives due to this obvious secrecy. They may often find their wives unhappy when they are around and happy when they are not. So, husbands find it best to separate ways.
Frequent arguments and disrespect
Men ideology
Earning the disrespect of wives is the last thing a husband would want. Losing in arguments with their wives everyday adds further complications to this and paves way for grave differences.
Reason
Prevalence of too many differences leads to everyday arguments between couples. This deteriorates the mutual love and respect for each other. In course of time this keeps on widening the gap between them.
Why such thought
Simple discussions take up the shape of arguments in these cases. Couples fight over and over again on the same topic. This makes it obvious that their ways have changed and it is on the verge of ending up.
Extra-marital Affair
Men ideology
Extra marital relationships are the ultimate reasons why men seek divorce. Men often tend to get attracted to other women and don't mind getting mentally and physically involved.
Reason
Men easily get attracted to their women friends or colleagues. This attraction most of the time changes into serious affairs. Men no longer have interest in their wives, which leads them to think of ending their marriage.
Why such thought
Although women can tolerate infidelity from their spouse and give them a second chance, but men cannot think of ending their extra marital affair. There is a very dim chances of returning back. Hence, divorce is inevitable.
Society
Men ideology
The social circle has greater influence among men, which can widen the gap in between the couples. Bad mouthing about a wife creates some effect in the mind of the husband.
Reason
Men are easily influenced by the society as compared to women. So, they believe most of what they hear from friends, parents and relatives. This puts their marriages to endangered circumstances.
Why such thought
A third person has a great significance in the relationship of a husband and a wife. Men being more garrulous fall a prey to such situations and start looking at their wives with scorn. This makes the marriage drift apart.