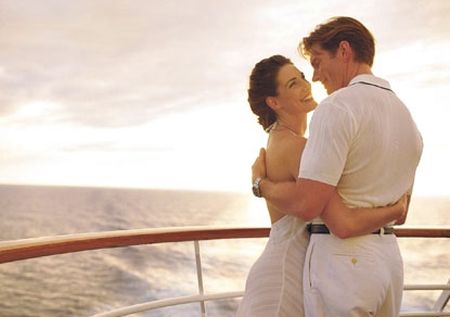 Once your wedding has rolled up you start planning on the best honeymoon destination so that your post marriage romancing gets the right start. While there is a plethora of destinations popular among honeymoon couples, we will opine that honeymoon on cruise is the best of the lot. It will give you an all new experience that you will love to share with your friends and make them jealous of your passionate journey. Moreover, the privacy to enjoy each others' company under the sky on a cruise honeymoon will be unforgettable. There are some advantages of honeymoon on cruise that will really instigate you to think on the issue. Take a look!
Everything is within your reach
The best thing about honeymoon on cruise is that you get everything when you want. So, there is no restriction in enjoying a drink together while take pleasure in the panoramic magnificence of the places through which your honeymoon-cruise passes by. You can take a leisurely stroll along the entire stretch of the cruise, hands in hands with your beloved, without the tension of crossing the road or getting traumatized with the screeching of the car just beside your ears as you might face in a honeymoon destination! Nobody will be there to intervene in your romancing time. We are sure things would never have been like this even in your favorite tourist spot.
Enjoy multiple honeymoon destinations in one
Even if you plan for the most luxuriant honeymoon on the most favorite honeymoon hotspot, what cruise destination offers you will be the most splendid of all! In one honeymoon trip you will have the opportunity to get the pleasure of multiple locations. Your honeymoon will be more packed with activities and fun. The itinerary is already planned in a cruise honeymoon and you will be informed about it beforehand. Hence, you can plan what to do in each of the locations the cruise takes you.
Less stress of planning
You have already passed through an immensely stressful phase while planning for your wedding, implementing them on your D-day and looking after it that everything gets executed as you have designed. Now, you need rest and time to spend with each other and discover each other as husband and wife. So, cruise honeymoon is best for you in this respect as the options of planning are limited regarding rooms, food and sightseeing. Therefore, you will be saved from yet another brain cramming session.
Night entertainments make your nights exciting
As a part of relaxation and entertainment cruise destination will offer you on board shows that will keep you entertained. You do not have to hunt for movies and theaters that arrange night shows to keep the fall period of the day alive too. It will be a absolutely romantic to sit beside your partner and enjoy these night shows with the scenic view of the open sea and clear night sky with glimmering stars as your celestial backdrop.
Intoxication without worry
Lifting up a glass towards your spouse and making a toast will be a much convenient option on a cruise. You will never have to worry about the consequences when you are get over-drunk, enjoying each others' intoxicating presence simultaneously. You will not have to juggle who will be the fortunate one with the glass of one and who will hopelessly stare and take the responsibility of getting a taxi when it is over. The most important thing is that you can feel absolutely safe and secured while drinking and after that as the cruise authority is always there at your service.
Lip smacking fine dining
On a cruise you get everything under one roof. So, you do not have to lurk around in search of the best dining options available in the honeymoon destination you visit and book the table in advance or else starve! There are numerous dining facilities on board. The range features café, coffee parlor, steak houses, sushi bar and formal dining halls. You can pamper your gastronomic affinities well on a cruise and in as much proportions as you want.
Food for adventurous stricken hearts
Cruise vacation is marked for the range of activities it offers. So, it has every spice to spur up the fun while you are enjoying honeymoon with your beloved. Activities commence as the day breaks and continue as the day draws close. So, from various tournaments to ice skating options to musical games, you have a long list to choose from.
Having nature as your constant companion
Nowhere in the world will you get such as opportunity to sail with the sea, vow to be with each other under the sun every time you wish and watch the golden sunset right in front of your eyes. The entire atmosphere is dreamy in cruise due to its pristine and authentic natural setting – blue sky, crystal clear water and beautiful land passing by. This will act as the most passionate start of your fairy tale romantic journey together.
Pocket friendly pleasure
In a cruise you have wide variety of options to suit your pocket. There are different categories of suites, cabins and services for couples with different financial profile. You are at your freedom to avail the one that you find the most pocket friendly of all. You will enjoy the same natural backdrop, excellent service, fine dining and entertainments minus the additional costs that threaten to burn holes in your pocket.
You build up a new friend circle
The most amusing thing you will love about a cruise honeymoon is that you will get to meet other couples too, who are also on a same romantic tour. Seeing the first sun beam of the day break and observing the sun setting at the end of the day together will develop your camaraderie with such newlywed couples that will continue even after the honeymoon is over.