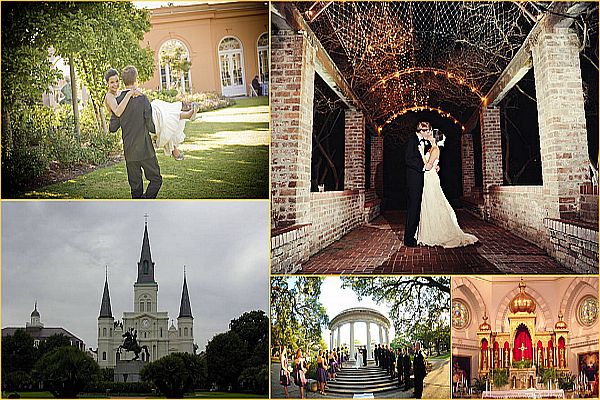 A destination wedding means having to think of a lot when planning. There are a number of places from which you have to decide first. New Orleans is one of the destinations, a couple must most certainly think about when planning on getting married. It is a place of historic building and there is just a lot to view. The culture of New Orleans wedding culture is something to glance at. The place has spectacular architecture both interior and exterior and you can just not say 'no'. Getting married and organizing wedding celebrations under the stars, in beautiful courtyards of Orleans is a unique concept. It has some exclusive and exquisite venues to offer such as Audubon Zoo, St. Louis Cathedral and Pavilion of the Two Sisters.
1. Places for the wedding ceremony
Steps of the Audubon Zoo, where you can see the amazing Sea Lions are surrounded by oak trees. Besides the beautiful oak trees setting, it also has wonderful neoclassical columns. All this together can break magic in your wedding, making a spectacular view for the guests. St. Louis Cathedral is another remarkable venue for you wedding. But you need to qualify their elaborate and stringent guidelines for getting married there. This cathedral is the oldest operational catholic cathedral in the USA. There are so many places to take into consideration, you would not be able to settle on one for sure.
2. Wedding Reception
The best place for the reception would be Pavilion of the Two Sisters at City Park. It is in the center of a 12-acre New Orleans Botanical Garden and has been designed keeping in mind traditional European glasshouse (orangery). The pavilion has long arched windows and presents beautiful panorama of Zemurray Azalea and Camellia Garden. Wedding reception can also be arranged at the well-known French Quarter restaurant. This restaurant will be an ideal destination to savor traditional NOLA cuisine. In French quarter, you can also consider the Broussard restaurant. This place is beautiful and presents the New Orleans typical style, with romantic Courtyards, Carriageway and spectacular chandeliers. However, if you are interested in an outdoor wedding, opt for circa-1839 Oak Alley Plantation. There is one fourth of a mile canopy of old oak trees, thought to be 300 years old. This plantation has been referred to as Grande Dame of the Great River Road, as it is situated on the Mississippi River.
3. Rehearsal Dinner
Michaul restaurant has several Cajun cuisine, big dance floor and plays Zydeco music. This is one of the best locations for rehearsal dinners. If are looking for something affordable, you can opt for Lagniappe, where delicious crawfish boil can be served. Boil Inc's is a fine option as it is convenient and one of the best in the town. They also provide you with the complete setup for the event. Having a rehearsal dinner would give you an idea of how your wedding is going to turn out, you could choose the same destination for the wedding.
4. Florists
NOLA Flora is known for bringing to you finest flowers from all across the world. Not only are they the preferred choice for making flower arrangements in almost every venue but they also give you innovative ideas for the set. Alternatively, you can go for artful concepts from The Plant Galley. They can offer unique flower arrangements that will daze your guests. Frankly you would not require so many flowers in New Orleans, the place itself has unique beauty, of course flowers would just add to it.
5. Cake Bakers
Try the family-owned Haydel's Bakery, if you wish to go for cake which is Louisiana-style. This bakery has been in business for almost 50 years and is one of the most popular in the city. If you are planning for a conventional wedding cake, go for Sucré which has delicious French macaroons.
6. Guest Accommodations
Bourbon Orleans, situated in the French Quarter, is a reasonably priced alternative for guest accommodation. This location will be apt as most of the tourist attractions are at a walking distance. To get a feel of past world lavishness, The Roosevelt, situated in the Central Business District, is an ideal destination. The Roosevelt has an incredible spa and a pool. Your guests would be happy with whatever they get. There is no such place which does not have the fine architecture which is enough to keep the guests occupied and intrigued.
7. Second Line
This is a NOLA ritual where the guests are made to dance on the beats of the brass band. This is a fun tradition and every couple should enjoy its uniqueness. To book the second line band, you can get in touch with Oak Productions. They also provide musicians and wedding bands.