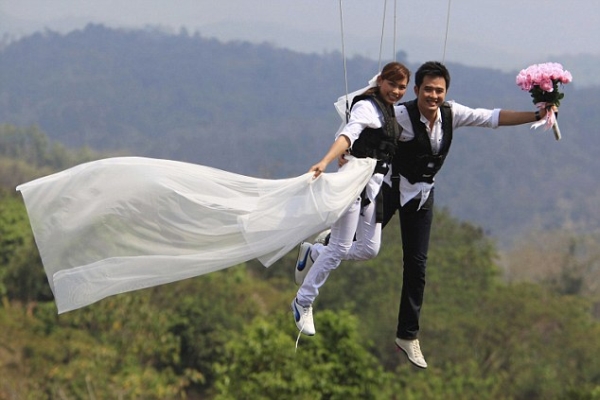 Every bride and groom want their wedding day to be memorable for them as well as the guests. But there are a few couples that want their wedding to stand out from all the other weddings that their friends and family might have ever seen and really leave no stones unturned in ensuring that their big day liners on in their guests' memories for ever. Here's our compilation of some of the most, er, memorably outrageous weddings that couples around the world have tried their hands at!
Hanging from the cliff wedding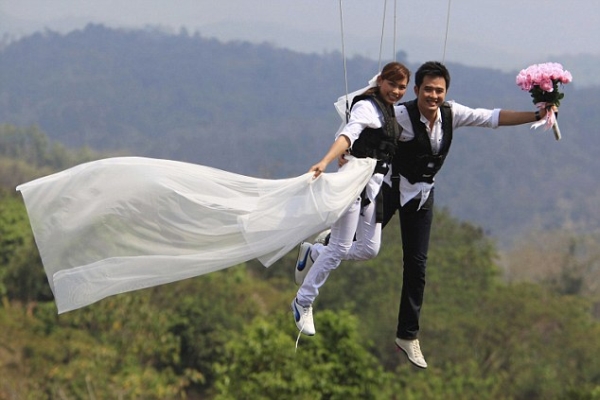 Thai couple Rattanaporn Supha and Nitiphong Jittahong hit a high on their wedding day quite literally when they got hitched while being suspended from a cliff by sling wires. The couple wore full protective harnesses with the brides adding a flowing white length of cloth to her casual attire.
Zero gravity wedding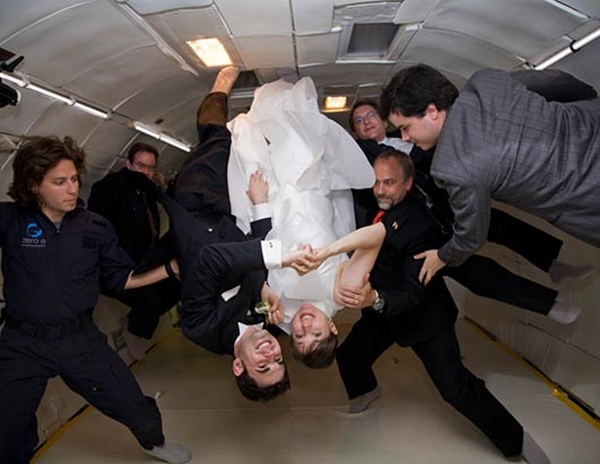 Noah Fulmor and Erin Finnegan tied the knot in a specially modified Boeing 727-200 aircraft that simulated zero gravity conditions for the unusual wedding. Richard Garriott, a private astronaut officiated the ceremony and the only FAA-approved commercial weightless flight provider Zero Gravity Corporation hosted the wedding.
Wedding with an 800 pound bear as best man!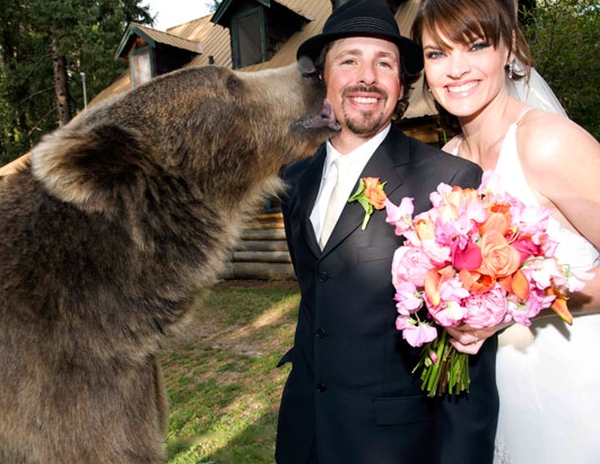 If you hate the best men that your husband-to-be has chosen as participants in your wedding, spare a thought for bride Missy Pyle whose naturalist fiancé Casey Anderson decided to have a 800-pound grizzly named Brutus stand in as best man on their wedding day. Anderson's companionship with Brutus has been the subject of a documentary produced by the National Geographic Channel called "Expedition Grizzly". Brutus has been raised by Anderson since birth so we guess it only made sense for the grizzly to be asked to be the best man in the wedding.
Wedding on a frozen glacier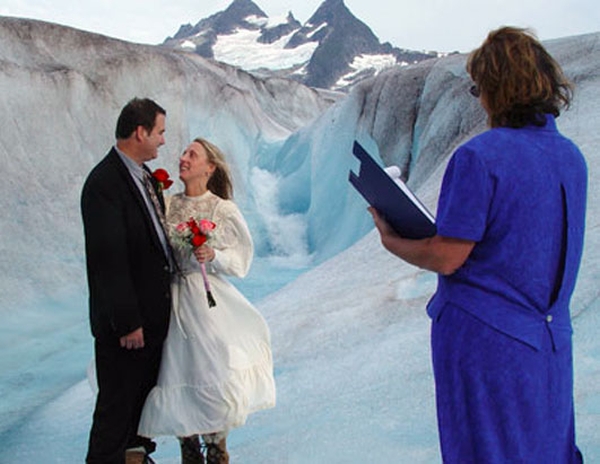 This wedding beats all the other "cool" wedding ideas to death and how! Outside of Juneau, Alaska, this frozen glacier was used as a wedding venue for a couple who wanted to "chill" on their wedding day.
Underwater wedding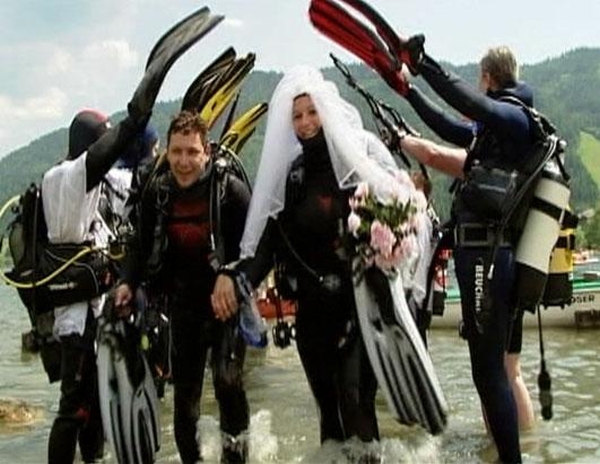 Mayr and Robert Husar lived out their wildest fantasy by getting married under the surface of the water in Austria's Weissensee Lake. Both expert divers wrote their "I Do's" underwater with a pencil.
Nude wedding in front of 250 wedding guests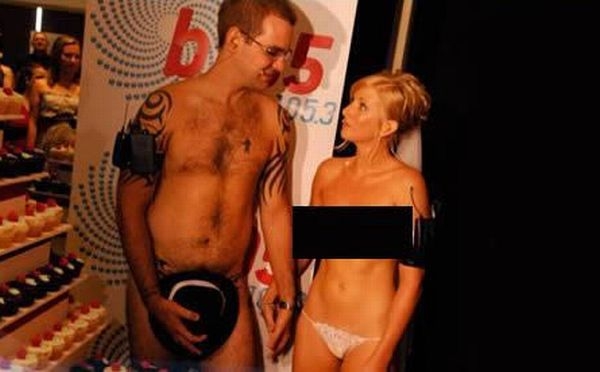 Exhibitionist Aussies Ellie Barton and Phil Hendicott decided to make their wedding day a celebration of their "real" selves by forgoing bridal attire for birthday suits. The bride wore a painted on dress, a long white veil and a strategically placed bouquet to protect her modesty while the groom protected his, er, privates from public view with a black top hat. 250 wedding guests attended the wedding and the ceremony was broadcast to thousands of listeners via FM radio.
Wedding in which bride wore World's longest wedding dress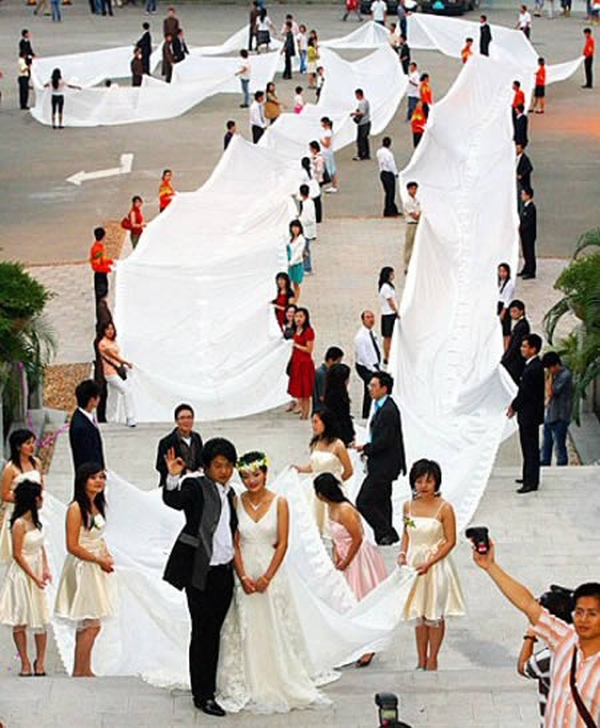 Guangzhou, China-based bride Xie Qiyun wore a dress weighing over 220 lbs with a bridal train measuring over 600 ft long. The dress made it into the Guinness Book of World Records as the longest bridal dress ever.
Wedding dead groom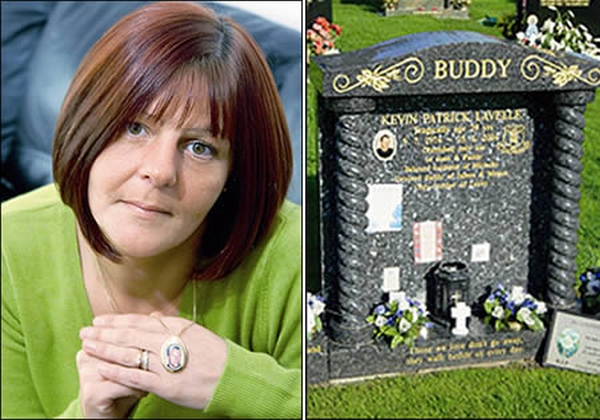 Michelle Thomas married her dead fiancé in a hospital morgue after he was beaten to death by a gang while he was returning home from work. The morgue of Oxford's John Radcliffe Hospital was used by Michelle as a wedding venue to wed her beloved fiancé and the father of her two children.
Wedding in a shark tank!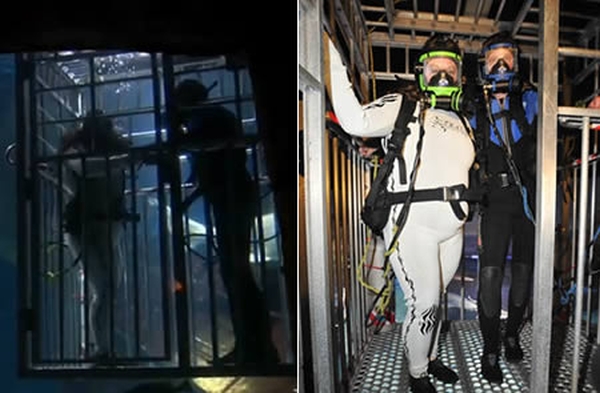 New York City couple Michael Curry and April Pignataro got married inside a 120,000 gallon shark tank. The groom wore a black wetsuit and the bride wore a white wetsuit to keep the ceremony close to tradition. as a giant grouper, nurse sharks, eels and sand sharks circled around, the couple were only protected by a cage and said there "I Do's" over transmitter as their minister and guests did not want to get in the tank with them!
Wedding atop tree stand hunting platform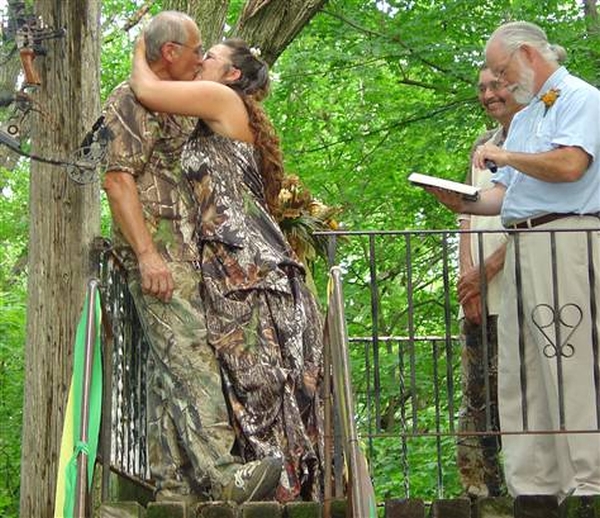 Camouflage specialists Marvin Hunter and Mossy Oak used their wedding day to promote their business and got married at the Anamosa Bowhunters Archery Club on top of a tree stand hunting platform. The bride and groom fired arrows at a target during the ceremony. Thankfully, they did not kill any animals or birds that day even though the pair is avid hunters.
Wedding with 99,999 roses for the bride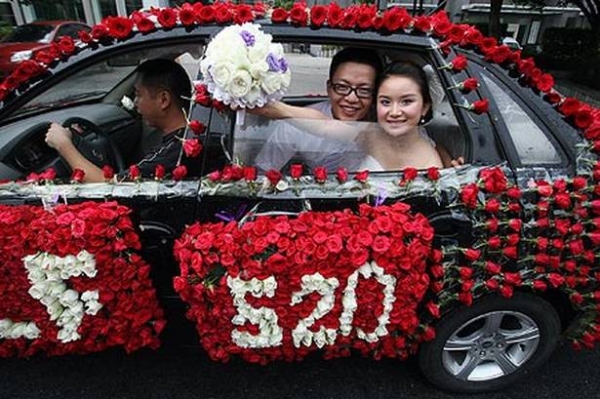 Chongqing, central China-based groom Xiao Wang surprised his bride by decorating their wedding with 99,999 roses. 999 is considered an extremely lucky number in the region and the groom spent an entire year's salary on buying the roses which were flown in from another part of the country and carried to the ceremony in 30 cars! To stick the flowers to the sides of the vehicle, Wang advertised or help on the internet. Wang also donated 20 percent of the cost of the flowers to a charity to gain even more good karma!
Couple who got married while bicycling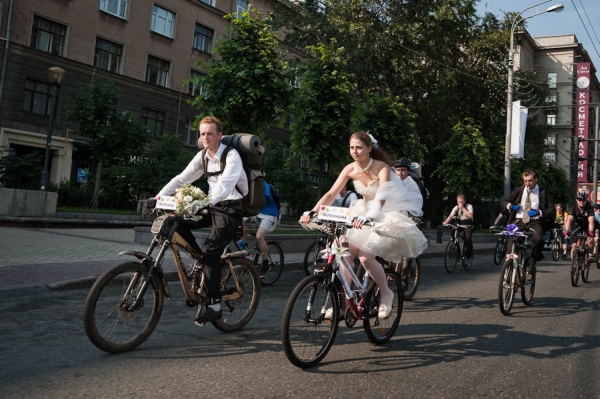 There no better way to start off a marriage than adopting healthy habits together as a couple. This couple too started their life together though they didn't want to wait until after the ceremony to begin a healthy lifestyle and chose to get married while bicycling to honor their commitment to fitness!
Wedding with 110 bridesmaids to set a World record!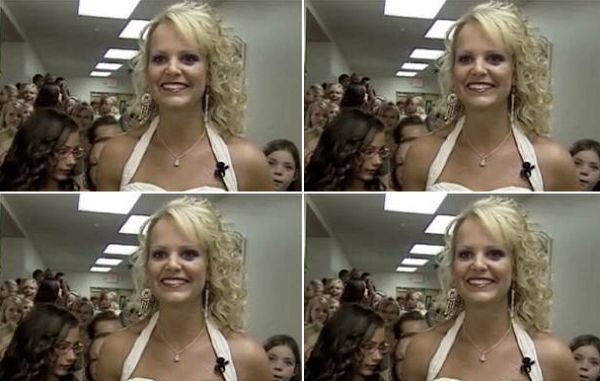 Proctorville, Ohio-based bride Jill Stapleton asked all the students of her dance school Jill's Tumble World, to be bridesmaids at her wedding! All 110 girls got to choose their own dresses in either teal or purple and carried a single rose in place of a bouquet. The world record number of bridesmaids broke the previous record which saw a woman getting married with 90 bridesmaids participating in her wedding.
Bungee Jumping Wedding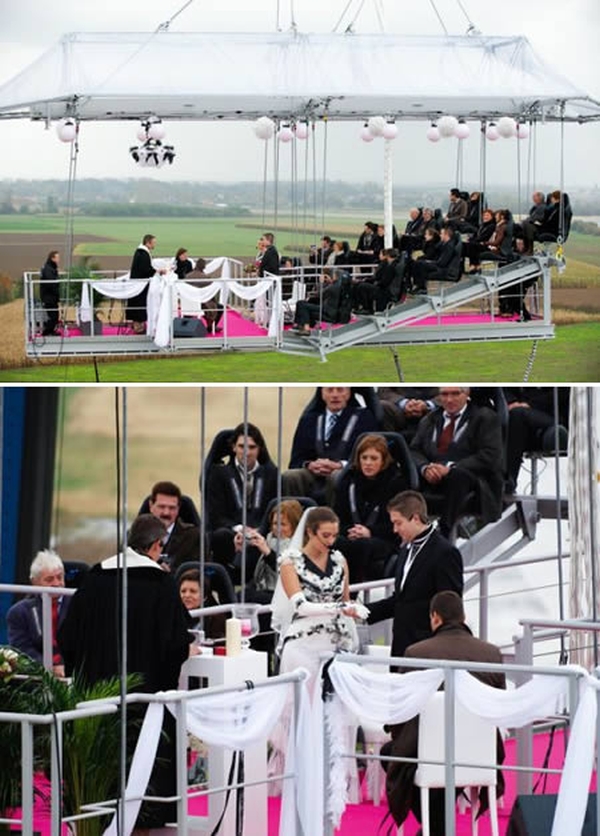 Belgian couple Jeroen and Sandra Kippers threw the ultimate thrill seeking wedding and got married atop a bungee jumping platform that was lifted up by a crane 160 feet from the ground with the couple, a minister and 20 of their guests. Musicians were held up on another platform. After the couple said their I Dos, they promptly bungee jumped off the platform to finalize their wedding!
Shrek movie inspired wedding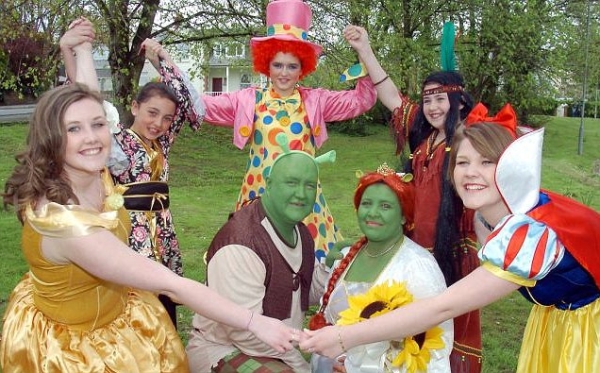 Movie buffs Tracey Williams and her fiancé Viv went to see the movie Shrek on their first date and after the couple's friends teased them about how they resembled the characters from the movie, they got married as cartoon ogres Shrek and Princess Fiona.