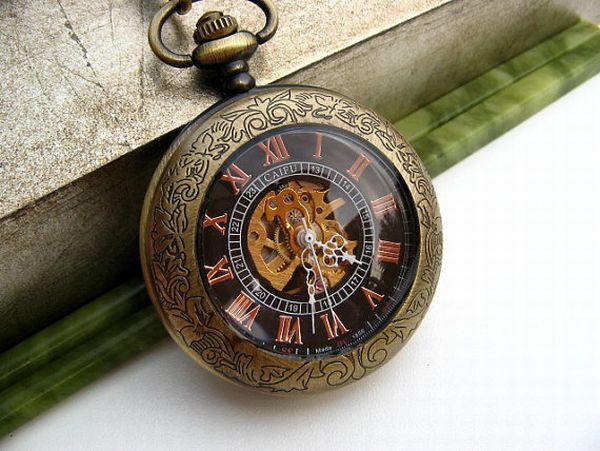 Wedding is a once in a lifetime affair, which is made all the more special by the presence of close friends who have stood by you through your thick and thins. So, it makes a perfect occasion to honor your friends in a way that they will treasure forever. This is where wedding gift favors for groomsmen come into picture, as they make your wedding all the more joyous with their presence. If you are confused what to give your cherished friends, then have a look at personalized groomsmen gift choices that will prove to be a perfect pick.
Antique Bronze Engravable Mechanical Pocket Watch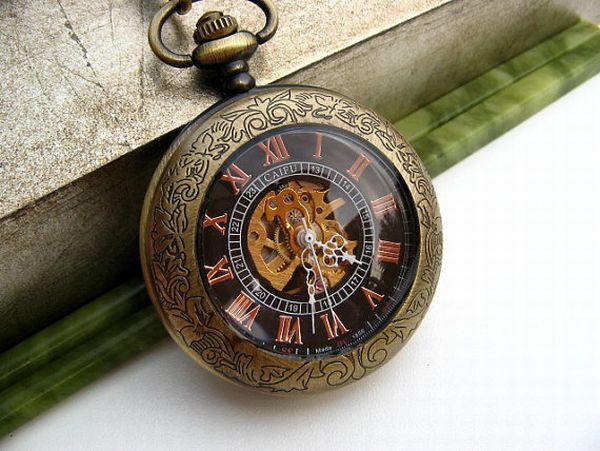 This Antique Bronze Engravable Mechanical Pocket Watch will make for one classy groomsmen gift. The eye catching pocket watch will not lose its sheen for years at a stretch and will be a perfect reminder of your wedding day. Roman numerals in copper color have been intricately placed on a black skeleton dial case. If you wish you get initials of your groomsmen engraved, then the back case will prove to be just perfect for this. The crystal magnifying viewing window is scratch resistant, which will keep it shining for a long time. The thoughtful gift will make sure that your close friends never lose track of time and keep all memories of good times spent together fresh.
Initial script font cufflinks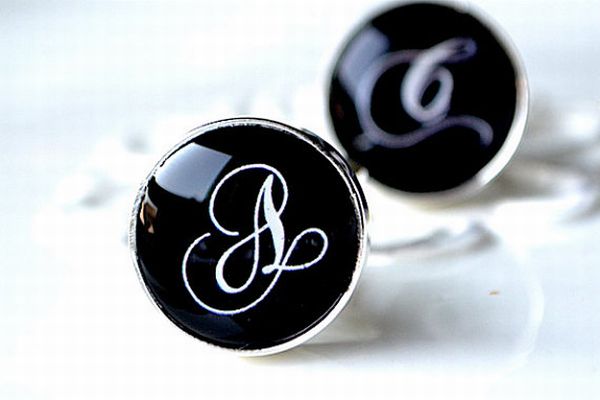 Cufflinks have traditionally been one of the most popular groomsmen gifts, which remain a favorite even in this modern era. These round cufflinks have been handmade and each measures 0.75 inch approximately. These can be customized as per a buyer's whims and fancies by engraving initials, some special words, date or some message. The cufflinks have a subtle appearance, which will undoubtedly make one elegant gift.
Photo Cufflinks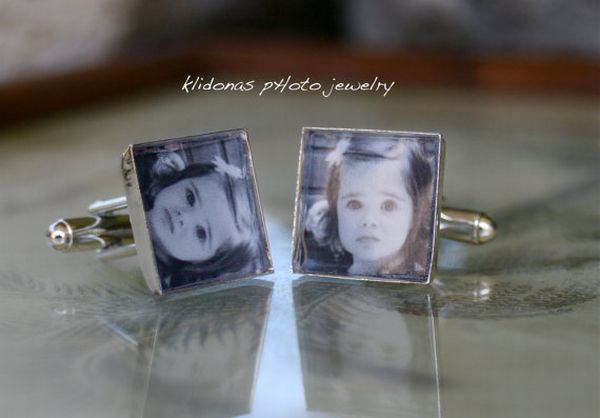 These cute cufflinks will be a perfect keepsake and will bring out that enduring style, which will wonderfully blend with your groomsman's wardrobe. Photo Cufflinks will be the perfect gift for those men at the wedding party, a gift that is totally unforgettable. Just slip in a memorable photo in the shiny cufflink crafted in a silver tone, which will be a clear remembrance of all those special moments spent together.
Personalized Rubber Grip 13-Function Army Knife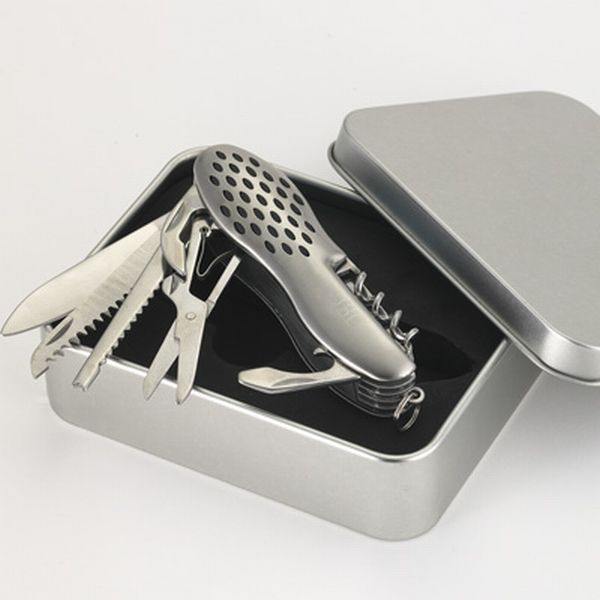 It is every guys dream to own a Swiss Army knife. Then why not give men at your wedding what they like the most in the form of Personalized Rubber Grip 13-Function Army Knife? The all purpose, fully loaded knife comprises of a scissors, bottle opener, nail file, screwdriver, corkscrew and of course a knife. The 13 function stainless steel gift is very handy and will win unending praises from your groomsmen. The best part being, this special gift can be further personalized with up to 12 characters.
Personalized Bottle Opener Gift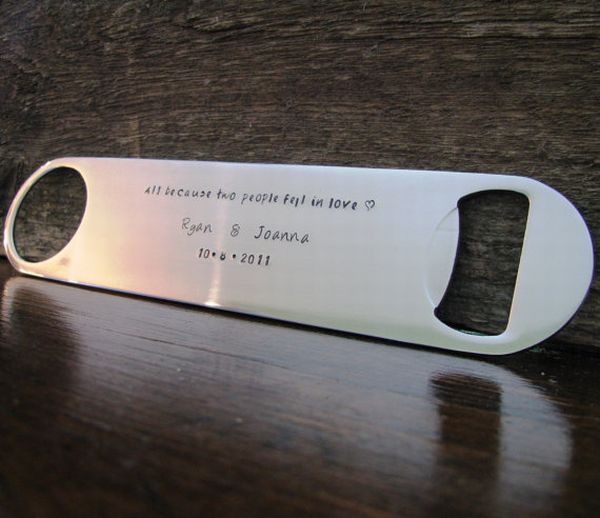 Gifting a bottle opener may sound very boring, but not until you have a look at this personalized groomsmen gift. The steel bottle opener has been fashioned out of sturdy stainless steel and unfurls a large free area that can be used for stamping personalized messages. Personalized Bottle Opener Gift will be a great thank you gift for your groomsmen who have come to make your wedding all the more special.
Personalized Groomsmen Shot Glass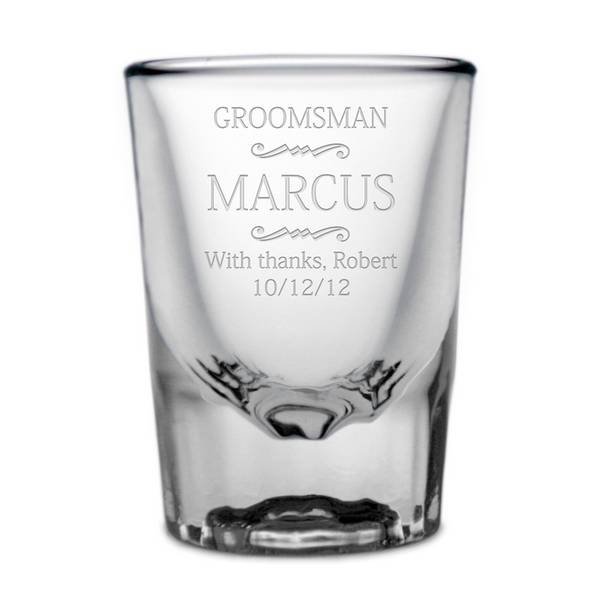 Unleash the party animal in your groomsmen as you present them with the Personalized Groomsmen Shit Glass. The beautifully engraved glass has a thick base, which makes it quite sturdy and can also be cleaned in a dishwasher. Get a beautiful message or initials engraved on the glass that will hold 2 ounces of your special friend's favorite drink. The handsomely crafted shot glass will make your man club feel all the more wanted, injecting a feeling of togetherness.
Personalized Stainless Steel Flask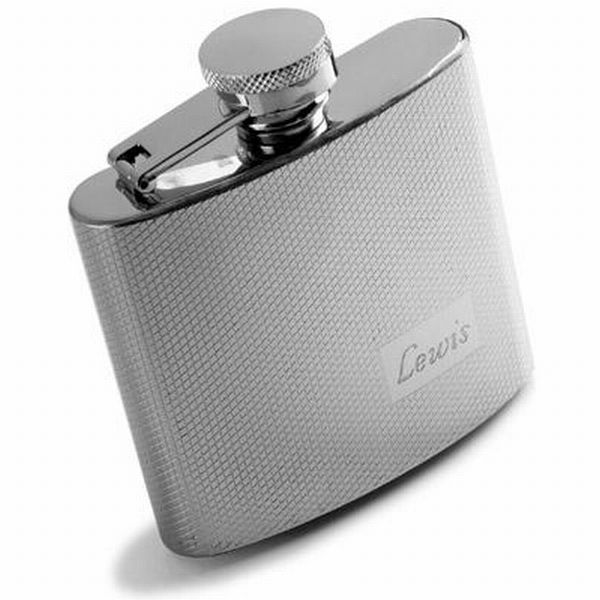 Simplicity and sophistication is what the Personalized 4 ounce Stainless Steel Flask comes smothered with. It has been given a style that every groomsman in your party will drool over like every man does on his favorite drink. Raise a toast with these flasks for some celebratory cheer as your friends hold this personally engraved gift close to their heart, which will enhance that male bonding further.
Art Form Money Clip and Wallet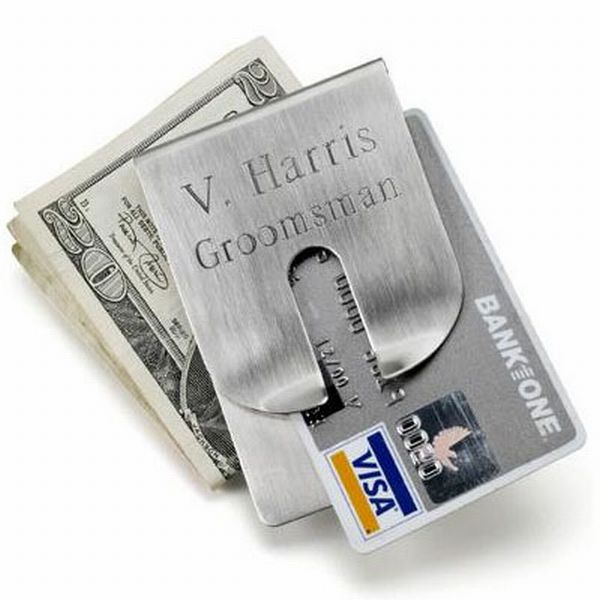 Guys don't have an option to carry a swanky handbag to safely stash away cards and money. But, this Art Form Money Clip and Wallet will keep your groomsman's bills and money safe in a classy and fashionable way. Timeless fashion is what marks this distinctive wedding gift. It is a perfect blend of style and function, which can be engraved with names/messages making the gift all the more special and filled with warmth.
Personalized On-the-Go Zippo Lighter with Zippo Portable Ash Tray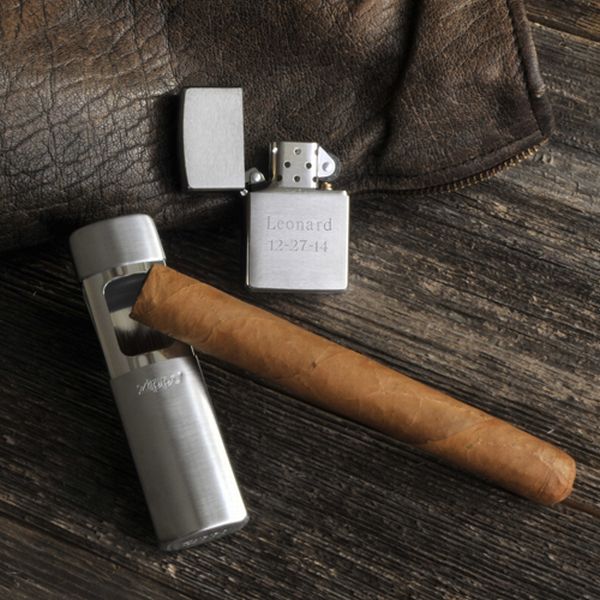 Personalized On-the-Go Zippo Lighter with Zippo Portable Ash Tray makes is the ultimate in quality craftsmanship and masculine designing. The smoker-friendly groomsmen gift, with a trusty lighter and ash tray from Zippo will be a great handy collection which can be personalized with a heartfelt thank you note. The slender ash tray can be easily stashed away when not in use and can be taken anywhere. The lighter can be used in windy conditions, while all worries of finding an ash tray take a backseat.
Personalized Silver-Plated-Matte Black Shaving Set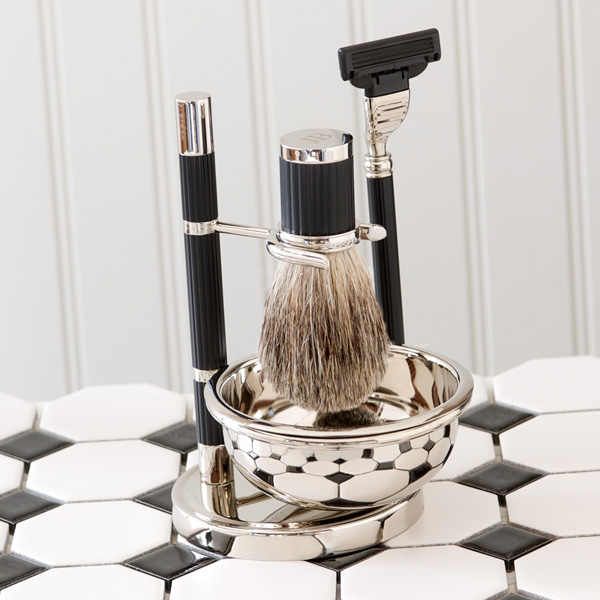 The Silver-Plated-Matte Black Shaving Set will definitely stand out in the world of electric shavers. The impressive shaving set comprises of a badger brush, a Mach 3 and a silver plated shave dish, which have been nicely placed on a tasteful silver plated matte black stand. The little luxury will be a thoughtful gift for groomsmen, who will truly appreciate receiving this great additional grooming item.