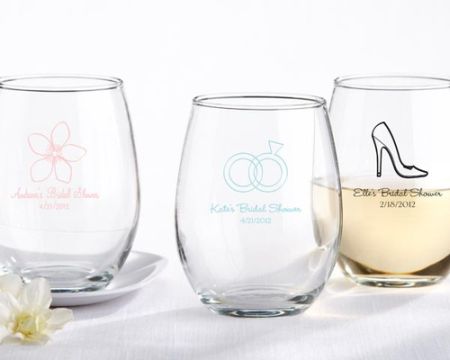 If you are thinking of entertaining the guests at your wedding ceremony in a unique way, one of the best options is to go for personalized wedding favors. As a gesture of gratitude, you can surprise your near and dear ones at the wedding with a personalized wedding favor they will not forget for a long time. When it comes to personalized wedding favors, you have limitless options, from cute gifts t home décor items to tempting edible favors. Here we have some unique personalized wedding favors you can consider to please your guests and add more fun to your wedding celebrations.
Personalized Stemless Wine Glass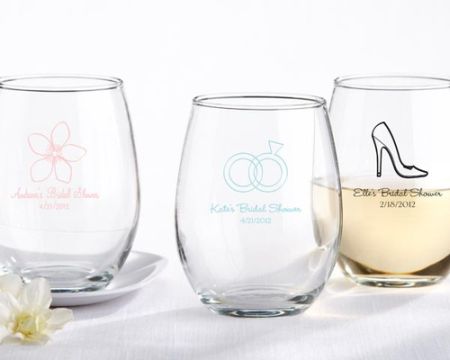 These stemless wine glasses are appropriate wedding favors to thank your guests in a special way. These unique wine glasses can be used in multiple ways other than swirling 8 oz. of your favorite wine. These stem less glasses make out to be perfect candle holders and add romance to your dinner tables. These beautiful glasses are personalized with your names and wedding dates in the design and color of your choice. This useful wedding favors will definitely be appreciated by your guests.
Personalized Mod Monogram Mini Mint Favors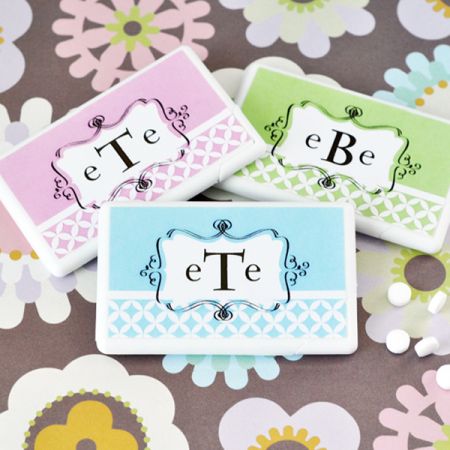 Your guests will comprehend these elegant edible favors waiting to be just devoured.These Mod Monogram Mint Favors come in a modern travel size pack and can be customized with your monogram initials in the color that you choose. The size of the box carrying the yummy mints is 3″ x 1 7/8″. The little mints filled up to the brim makes out to be the perfect and stylish way of showing gratitude to the guests who multiplied the mood of celebration of your big day.
Personalized black pocket knives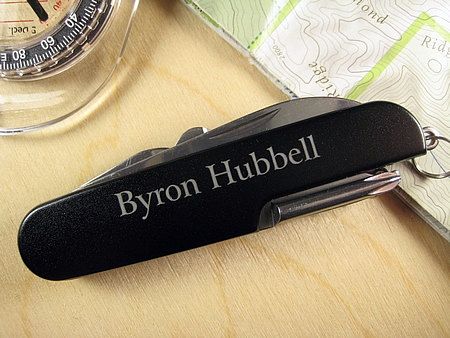 Knives serve many a purposes for us. From kitchen to the garage they find usage everywhere. So why not make wedding favors out of some black pocket knives that are made from the best metals. This is a multipurpose knife that can be gifted as a token of love and affection shared with the wedding guests. You can engrave the named on the holding area of these pretty knives and even avail them in colors other than the black.
Personalized Expression Collection Damask Design Bookmarks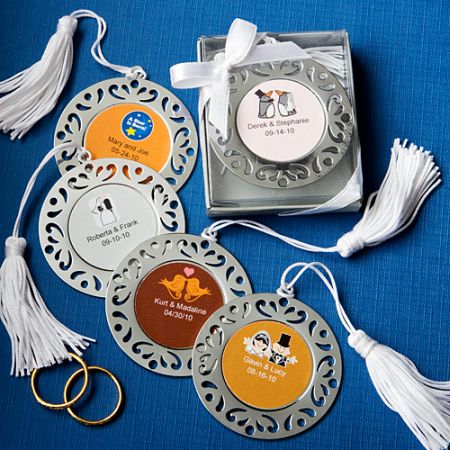 To make your big day truly unique, special and of course memorable to all, these Personalized Expression Collection damask design bookmarks can be the best of all wedding favors. Each of the silver metal bookmark favor is2″ round x 6″ long, consisting of a white thread pendent ornament with a bunch of threads along with a pretty damask cutout patterned rim. A personalized label of your choice of themes, colors and designs can be applied on the center of the rim. To make the wedding favor more elegant, the bookmark comes in a clear top and silver base wrapped with a white satin ribbon.
Spread the Love Personalized Strawberry Jam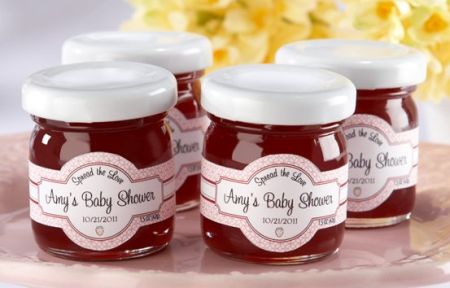 This sweet edible wedding favor will easily express your heartfelt gratitude towards your guests. Called as Spread the Love Personalized Strawberry Jam, the jar carries 1 1/2 oz. of gourmet strawberry jam made with healthy ingredients. The guests would love to receive this luscious wedding favor and spread the love remembering your big day the very next morning. The jar has a white screw-on lid with a strawberry-red and white personalized label and little strawberry accents under the names of the couple and wedding date.
Personalized Water Bottle Favors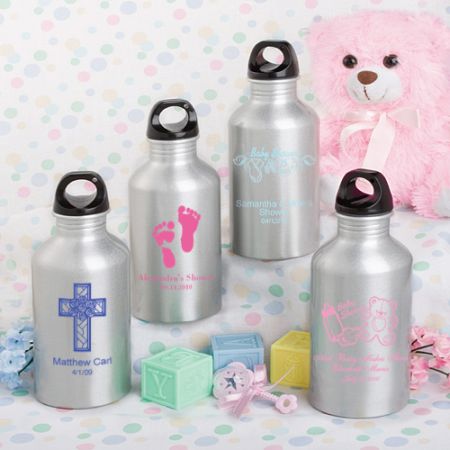 This charming Personalized Water Bottle Favors would be loved by the guests of all ages. These water bottles have intriguing looks with a silver metallic finish and black screw-on top. The front side of the bottle has a silk screen that carries an artwork pattern and hue of your choice. The stylish water bottle measures 7 .25″ by 2 .5″ and has a capacity to hold 400ml. The elegant features of this water bottle will surely captivate every guest and the personalized label of your names and wedding date will never let them forget your wedding celebration
A Lucky Pair Personalized Vegas Square Candle Tins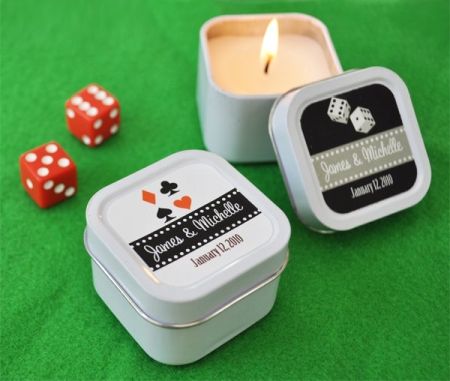 A wedding with a Las Vegas theme has all sorts of glitz and glamor and the adventurous bride swirl with joy. These "A Lucky Pair" Personalized Vegas Square Candle Tins wedding favors would perfectly fit to the Las Vegas theme. Featuring all sorts of designs and colors with a special casino touch of either a pair of aces or seven these superior quality candles consist of 2 oz. white candle. You can also include a personal message of gratitude on the label personalized with your name and wedding date.
Cherry Blossoms Fan with Bamboo Handle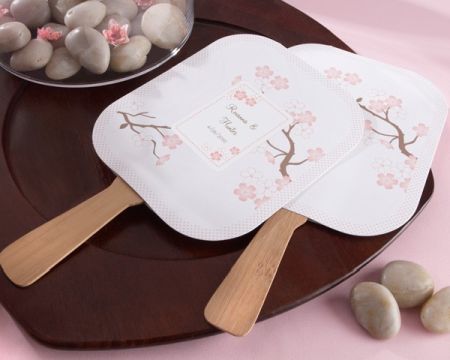 Let your guests enjoy the cool air produced by these adorable breeze makers placed on the chairs at your summer wedding day. These lovely fans with a sophisticated cherry blossom design and a bamboo handle makes your guests feel comfortable in the hot weather too. The fan is white in color including a lovely pattern of deep pink cherry blossoms with brown branches and this design is on either sides of the fan. The dimension of the fan is 10 1/4″ x 5 1/2″ and these can be personalized with the names of the couple and their wedding date.
Personalized Coffee Mug Favors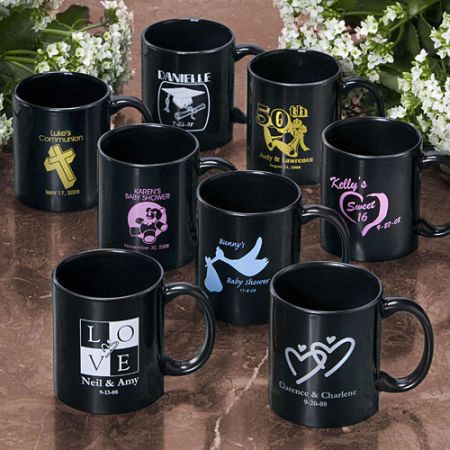 These 11 oz. coffee mugs would be adorable wedding favors for the guests who made the joyous ceremony even more memorable. The coffee mugs are available in two hues, black or white. These coffee mugs can also be personalized with the artwork selected by you or even created by you, carrying the couple's names and wedding date. These coffee mugs would remind the guests of your grand day every time they sip tea or coffee in it.
Wedding Favors (case of 24, personalized)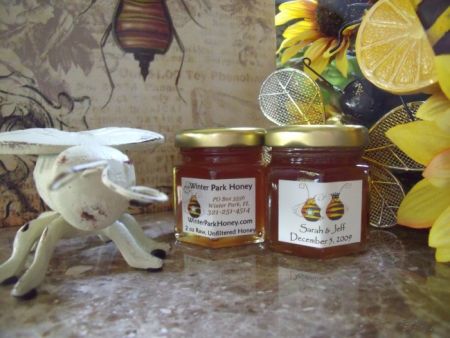 Make your wedding 'honeyliscious' with these wedding favors. The glass hex jars contain the highest quality of honey form the Floridian honey maker company Winter Park Honey. The glass jar consists of 2 oz. of delicious tupelo honey. These honey jars can be personalized with the names of the groom and bride along with the date of the wedding.