Hawaii is a dream destination for the young couples. This island mesmerizes people with its sun kissed beaches, pearl colored sands, crystal clear waters, mind boggling locations, romantic Hawaiian music, mouth watering cuisines, hypnotizing tropical fragrance, traditional culture and lots more. Located at the center of Pacific Ocean, Hawaii is a perfect destination for weddings. The island is filled with romantic vibrations and awe-inspiring attractions. There is no exiguity for fun and entertainment throughout the year. A careful planning and arrangement can bestow the couples with nostalgic moments and intimate memories.
Why Hawaii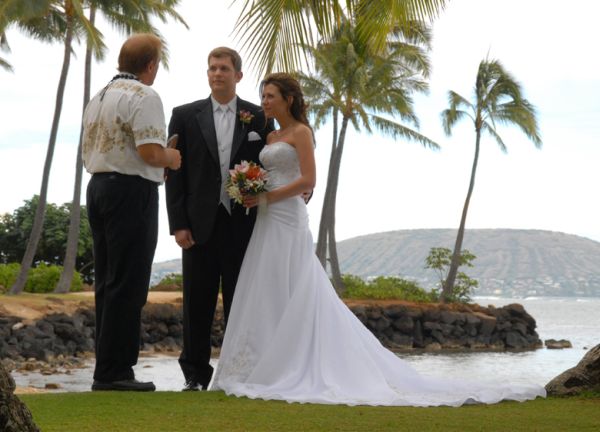 Well, there are hundreds of reasons to choose Hawaii for weddings. First of all, it has a moderate temperature throughout the year with a localized rainfall during the winter season. There are a number of exotic locations in Hawaii to host romantic weddings. They can be arranged in an open environment like a secluded beach. English and Hawaiian being the official languages, communication with the local people would not be a problem at all. The island is abundant in picturesque landscapes and possesses scenic waterfalls as well. It's quite arduous to find another perfect destination for unforgettable wedding moments. A comprehensible research on this Island will let the planners wonder, "Why not Hawaii?."
How to get there?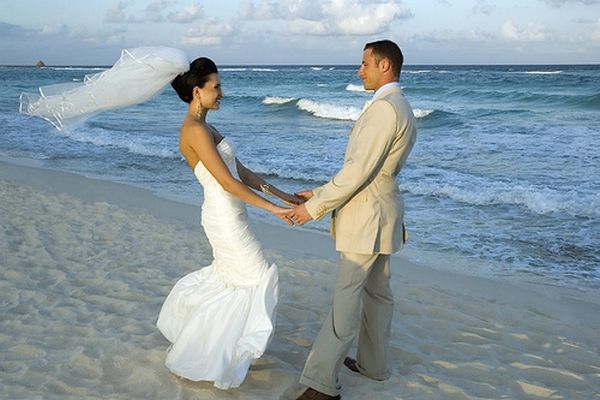 As Hawaii is one of the most preferred destinations by tourists and travelers, this place is well connected by several airlines and cruise ships. Most travelers prefer cruise journeys as they would see many small exotic islands on their way. Cruises also provide sophisticated accommodation with exquisite cuisines and facilities. Flying to Hawaii is the other way to reach these islands. As Hawaii is centrally located in the Pacific Ocean, the flight routes are well connected to the eastern and western countries. However, making your bookings earlier will save you a lot of money. On the contrary, eleventh-hour bookings will also save a lot. Renting a car is the best option to travel within the island for local sightseeing and recreations. Do mind to carry the insurance ID cards and driving license as well. Significant places in Hawaii are well connected by the public transportation too.
Wedding types
Mahinui Rainforest Wedding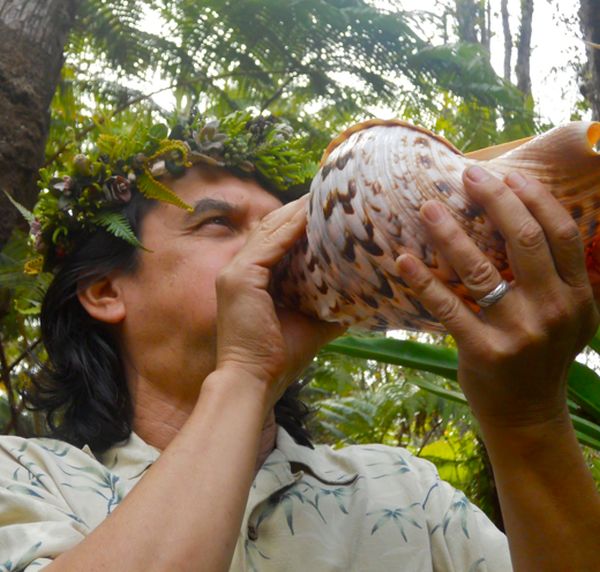 Kilauea in Hawaii is a tropical rainforest surrounded by typical fern trees. The place resembles a wild sanctuary, yet it is completely natural. This forest is regarded as a part of the sacred home for Pele (goddess of the volcano) by the local people. It's also believed that the spirit of ancient people walked this place once.The serene beauty of this forest will mesmerize the couple and guests with nature's awe inspiring majesty. Wedding pavilions are available here with complete privacy. You can enjoy music, dance, party and have fun at anytime. This place is ideal for a perfect wedding to celebrate in a Hawaiian style or in a modern style.
Beach wedding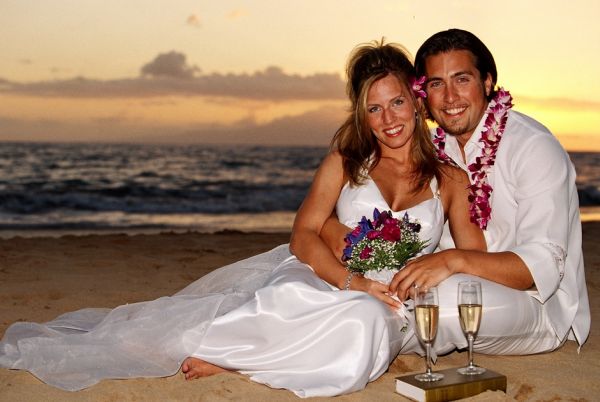 Secluded beach weddings are famous in Hawaii Islands. There are a number of beaches available for hosting private weddings. Sun-kissing backdrops, crystal clear waters, soft sands, puffy clouded blue skies etc. will overwhelm the mood of the couple and guests with joy. Hiring a good photographer is quite essential as you will cherish these intimate memories throughout your life.
Traditional Hawaiian Wedding Ceremony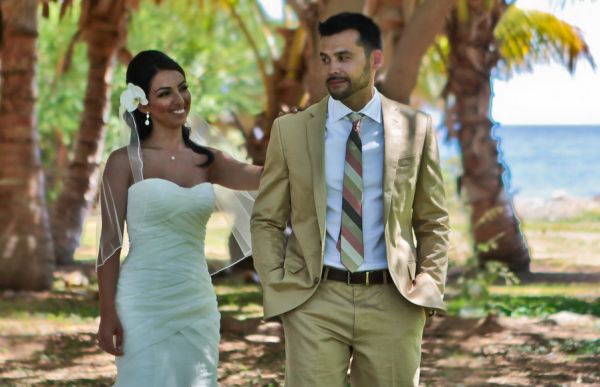 A traditional Hawaiian wedding starts with the Hawaii music. The local officiant walks the groom to the ceremony. Later, the mothers of bride and groom are preceded to their seats followed by the bridal party. A conch shell is blown to call the earth, air, sea and fire for witnesses. Then the bride walks in. The couple exchange leis which is regarded as a symbol of love. Later, the bride and groom present leis to their in-laws and the bridal party. The couple will recite vows after the Hawaiian wedding song. The couple exchanges rings at this point. A ti leaf is dipped into the sea water and sprinkled on the rings. The couple pours two different colored sands into one container signifying that they have become one. A lava rock wrapped with ti leaf is left at the place to represent the commitment made by the couple.
Available wedding venues
Wedding in Kauai

Kauai's mesmerizing coastlines and dramatic landscapes make it an adventurous destination for weddings. Try a romantic helicopter ride or a sophisticated boat ride to glimpse the sea cliffs.
Wedding in Oahu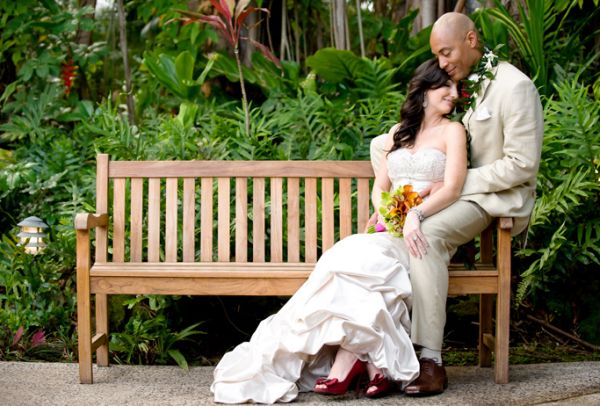 Oahu is the most famous island in Hawaii for its exceptional amenities that makes you feel at home and possess varieties of entertainment like museums, night life, shopping, surfing, etc.
Wedding in Maui

Exotic hotels, golf arena, splendid waterfalls, gorgeous coastlines, lively music, romantic dinner, etc. are the highlights of this place.
Wedding in Big Island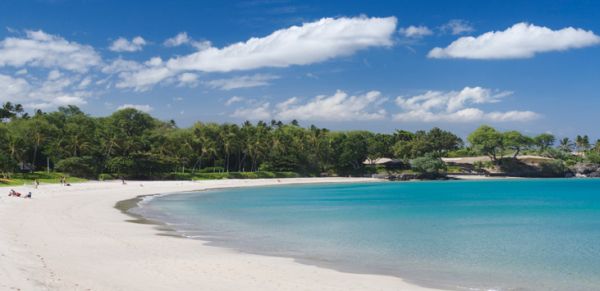 One can enjoy varieties of climatic conditions in this place right from sandy beaches to snowy mountains. Big Island is quite calm and suitable for private weddings.
Wedding in Waikiki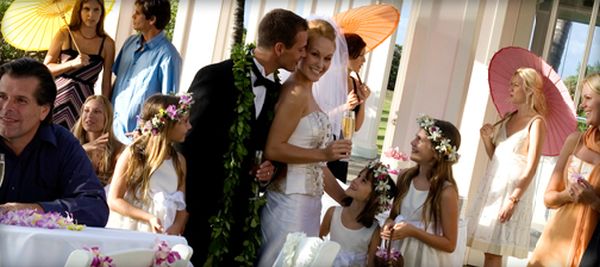 Waikiki weddings are very famous in Hawaii because of their rich ethnicity and availability of luxurious facilities such as intimate resorts and regal ballrooms.