She said a yes! The dates are finalized! The ball of preparation is rolling. If all this has got you thinking that the difficult part is over, think again. Unless you're prepared to be left at the altar, you've already started looking up stores to rent a tuxedo that would make her fall in love with you all over again. And unless you are planning to give her cold feet as a surprise gift, you would want to keep boners at bay. Neither are all men alike, nor are tuxedos. There is a suit to suit every groom's body type, style and pocket. Here are a few points to keep in mind before renting a tuxedo.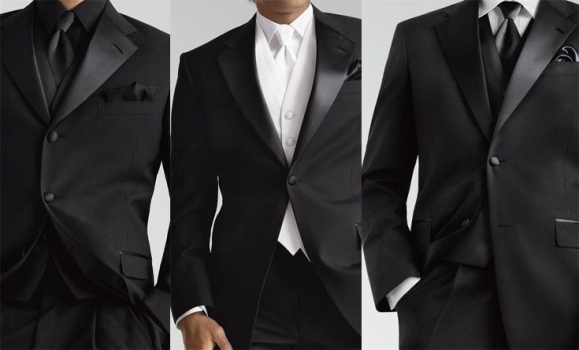 1. Research
Stop playing Pacman! Spend time on the internet looking up latest tuxedo styles and store options in your city. Read customer reviews about the service quality. Jot down a list of viable options. Get yourself versed with the basic process of renting tuxedos. Call each store individually and inquire about the cost, stock availability, etc. Collate and visit the shortlisted stores.
2. Find a good store
Clinch on a store which is either in the vicinity or en route to your workplace or home or is stocked with latest tuxedo options for you to go the extra mile. The consultant should be well acquainted with the latest trends and the tailor should be a master.
3. Well in advance
Be sure to place the order at least 3 weeks prior (this is the usual ETA most stores offer) and ensure the delivery date is at least a week prior to your wedding. This will palliate the risk of goof ups and having to settle for secondary.
4. Suit up according to the wedding theme
The theme or colors for the venue has either been decided or is running alongside. You might want to match it with the theme and the bride's wedding dress. You can carry a picture of the bride's gown to cue your consultant about your preferences. If you have a style image in mind, you might as well ask your tailor to imitate it.
5. Go in person
It is best to visit the store in person instead of sending written measurements to ensure a nice fit. This will also give you a chance to look at other suit and style options available and consult with the tailor.
6. Recommendations
As you were busy scoring high on Pacman, your fashion sense has plummeted and you might want to take opinion of your groomsman or the bride for the color, fabric, fitting and accouterments. Your consultant and the tailor will be able to recommend you the best fit for your body type.
7. Budget
The reason you're renting the tux instead of buying is that you do not want to spend overmuch. So, rule a budget and stick to it. While charting out the budget, give due consideration to the fabric, quality and style. Do not forget to ration for accouterments.
8. Well fitted
You do not want to look like a penguin. So, make sure that your suit is well cut and nicely fitted. The fit of a suit can make or break the entire appearance. Also give consideration to intricacies like cuff-links, handkerchief, wrist watch (if you plan to wear one), etc.
9. Get all the details
Keep a note of the cost, delivery date, contact number, receipt number, etc., of your order to ensure hassle free delivery on time.
10. Auxiliary
Always have a plan B. If your suit is not delivered on time due to any sort of malfunction, it should not give you jitters. There are other stores which can do your tuxedo on an urgency basis. Do not think twice about shelling out a little extra money if need be. Worst yet, you have the tuxedo you wore to your high school prom.
11. Trial well before the D-day
Personally take the delivery a week before your wedding day. If you have been working out, chances are that you've lost weight and the suit won't be the same fit. Try it on again 2 days prior to your wedding so that there's still time to get it altered.
12. Return
You have just started into a new life and are probably leaving for your honeymoon soon. But do not forget to return the suit to the store or ensure that your groomsman does it for you and get the security deposit back, if any.