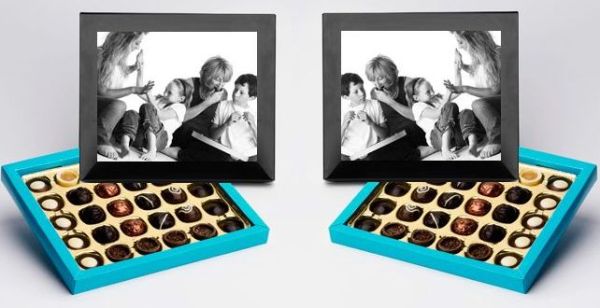 What is a wedding without tempting chocolate wedding favors? I'd say, incomplete! Chocolate gets the crown for being the best way to let your guests know that they are really sweet and loved. Chocolate has always been associated with love and giving your guests even a small dose can leave them in a state of true ecstasy. Chocolate favors are very famous amongst guests and are definitely a delicious way to say thank you to all those who made your special day all more memorable with their presence. Below is a list of ten chocolate favors that will melt into the mouths of your guests and leave them in raptures.
Personalized Chocolate Photo Box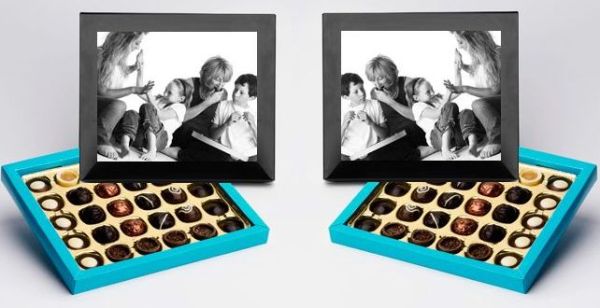 Personalized Chocolate Photo Box will be nothing less than a treasure. It comes packed with signature chocolates from Lily O'Briens that includes Hazelnut Torte, Honeycomb Crisp, Sticky Toffee, Farmhouse Ice Cream, Lemon Meringue Pie and Chocolate Noir. Wow! To top it all, the lid of the chocolate box will be ornamented with your favorite image.
Why Gift?
Personalized Chocolate Photo Box will help weave special memories of your special day. The framed picture will give the box a personal touch, making it all the more extraordinary.
Chocolate Purse Favor with Personalized Tag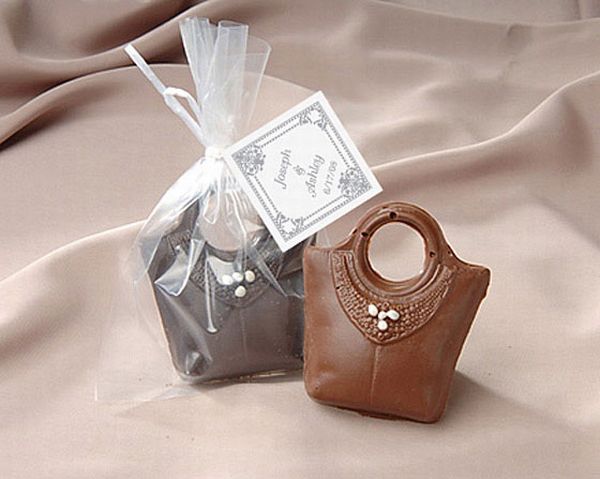 Pretty ladies and bags have a history of sticking together. Leave all the lady guests wheezing with the Chocolate Purse Favor that comes with a personalized tag. The beautifully sculptured chocolate purse will make the cutest wedding favor ever.
Why Gift?
It is a perfect gift for such an occasion, keeping in mind each purse has been made of Belgian chocolate along with white chocolate accents.
Chocolate Love Letter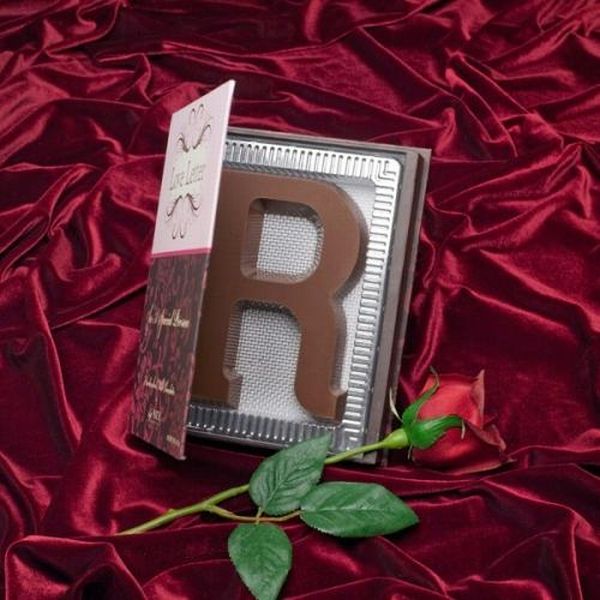 Here is some chocolate indulgence with some elegant presentation that is a perfect way to show how much you are in love. The creamy Chocolate Love Letter will be handcrafted in the initial of that someone special in your life, giving the occasion at hand an altogether special meaning.
Why Gift?
Chocolate Love Letter is a perfect way to flaunt your love in a sinful way. Family and friends will be definitely taken by surprise when they find out what is hidden inside the beautiful box.
White Favor Box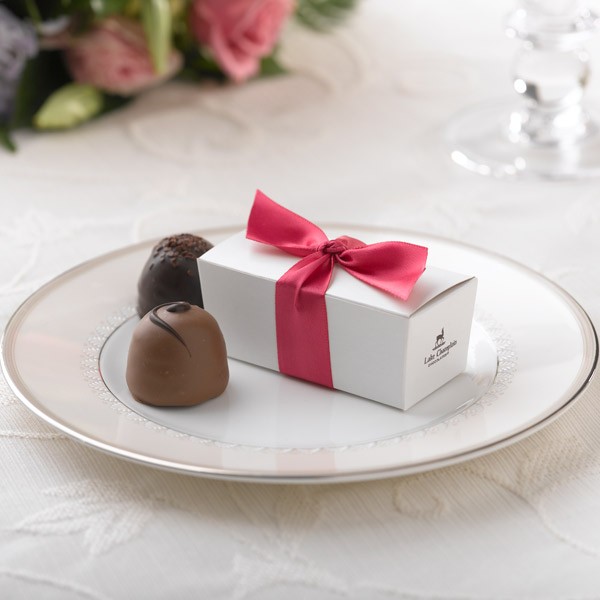 White Favor Box is a must have gift for family and friends who will attend your wedding. The classy white box will be filled with chocolates chosen by you of course, which may include hearts and chocolate truffles, to name a few. Giving it added charm will be a vivacious satin ribbon that will be tied over the box.
Why Gift?
The box can be further accentuated by getting a message engraved on the top that will give it a personalized touch. The best part being, the satin ribbon can be chosen from 20 different colors, which can be blended as per the color theme of your wedding.
Monogrammed Petit Fours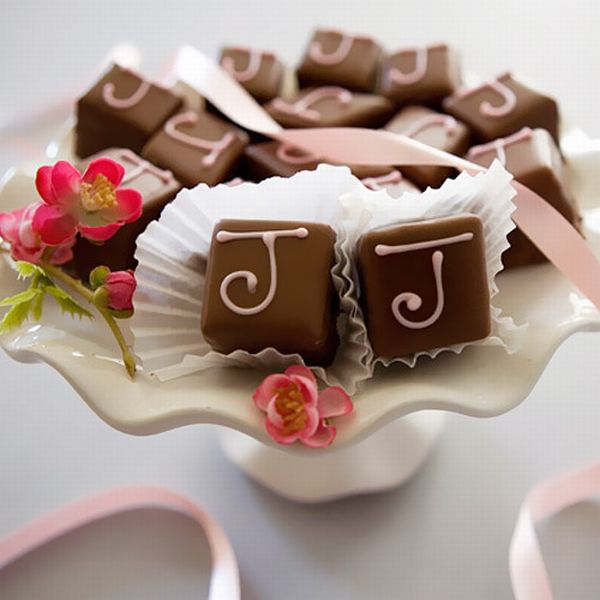 Monogrammed Petit Fours will make a wonderful wedding favor and an excellent treat for all the chocolate lovers. Every bite sized chocolate cake will be topped by single lettered monogram, which is absolutely sumptuous and will add a special touch to the occasion at hand.
Why Gift?
Monogrammed Petit Fours will be just the right favor for your D day and will add a flavor to the overall arrangements.
Forget Me Not Nut-Free Gourmet Milk Chocolate Bar

However young or old the guest at your wedding, they are bound to fall in love with this delectable wedding favor. Forget Me Not Nut-Free Gourmet Milk Chocolate Bar will come wrapped in good-looking paper that will be ornamented by a vintage design. It will put the couples name on show along with the wedding date in the center for everlasting memories.
Why Gift?
The Gourmet Milk Chocolate Bar will make sure everybody turns nuts with every bite of the yummilicious favor.
Chocolate Key to My Heart with Personalized Tag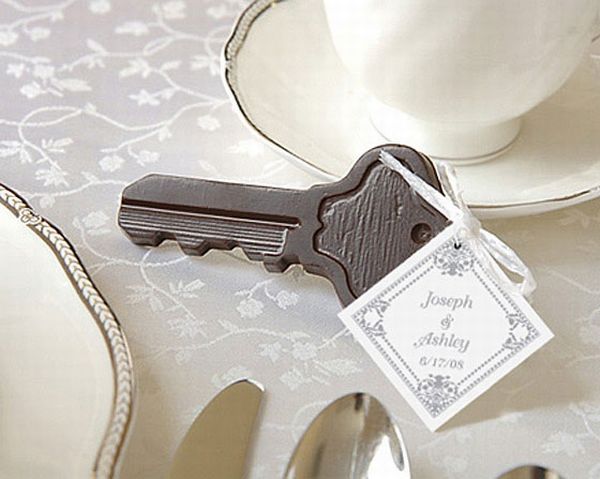 Chocolate is a key to many people's heart, so why not surprise all the guests with the Chocolate Key to My Heart wedding favors. Give the tempting solid chocolate key a special touch with a personalized tag that will be engraved by your names and date of wedding.
Why Gift?
The truly endearing fine chocolate keys will be made from imported Belgian chocolate, which will definitely fetch unending praises.
Wedding Personalized Take Out Pails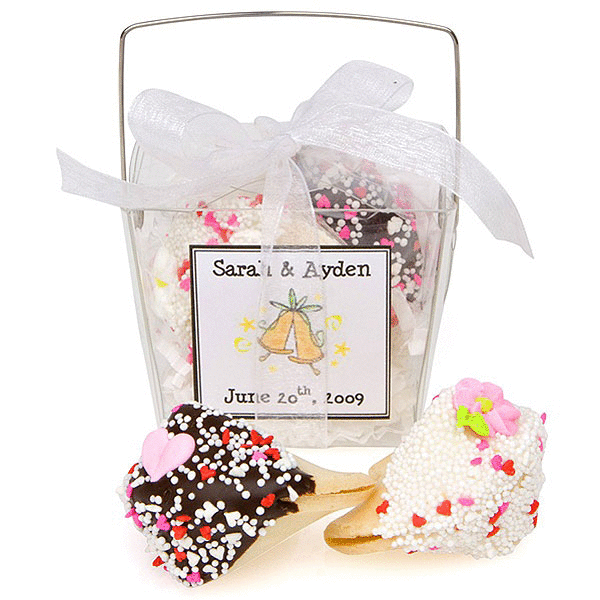 Live your fairytale wedding with these mouthwatering Asian/ Chinese themed wedding favors. The beautiful fortune cookies are hand dipped in Belgian chocolate and are further smothered with icing decorations, making them all the more alluring. These are nicely wrapped in a translucent vinyl takeout box that gives it an added zing.
Why Gift?
Wedding Personalized Take Out Pails will etch an eternal smile on everyone's face at your wedding. The beautiful box will be ornamented with dainty ribbons and will be attached with personalized labels that will cast a spell on everyone present at the wedding.
Personalized Chocolate Lollipops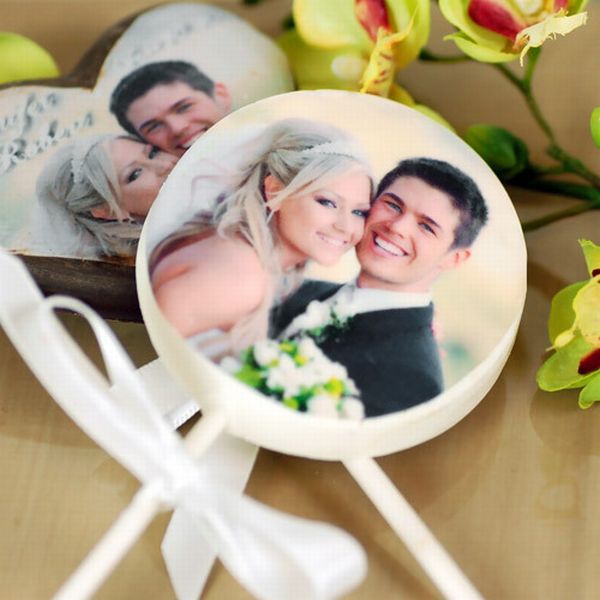 Serve up a delectable treat for your guests at your wedding in the form of Personalized Chocolate Lollipops. These absolutely delicious chocolate treats will be packed in a cello bag and further ornamented with a stunning satin ribbon in white. They can be prepared in white, dark or milk chocolate.
Why Gift?
Personalized Chocolate Lollipops are totally unique, as you can get your photo printed on the lollipops. Apart from this, any kind of information or quotes can also be printed, which will totally wow the guests.
Chocolate Truffle Ornament Plate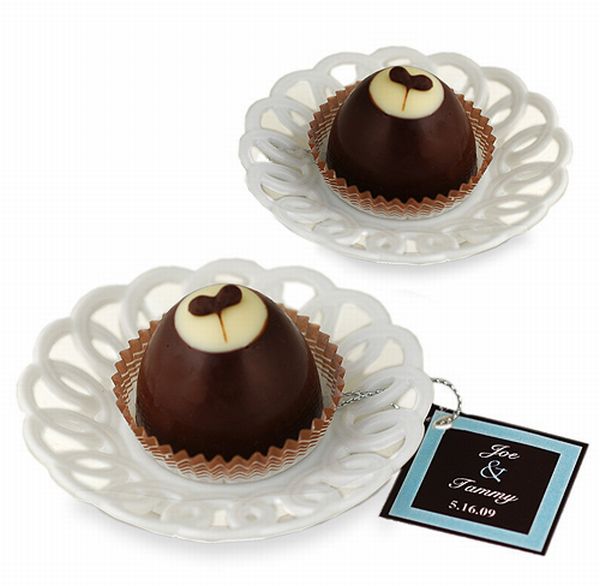 Who doesn't love chocolates! Chocolate Truffle Ornament Plate will become a matter of discussion at your wedding in no time at all. Place the overpowering smooth white chocolate filled chocolate truffle on the aesthetically appealing porcelain plate and see guests getting pulled towards it like a magnet and whiffing praises.
Why Gift?
You can choose to add a tag, which will carry a personalized message of love, acting as a wonderful finishing touch to the stylish wedding favor. These striking edible favors with an elegant packing will sure win many hearts.