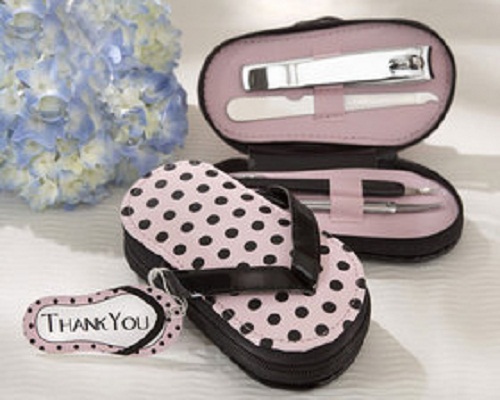 Every wedding is special and unique in its own way, then why not make your wedding a special event for your guests as well, by placing a unique and exciting memorabilia as wedding favor with a heart warming Thank You note. After all, your guests will be witnessing the most special day of your life as you get into the unison of the Holy matrimony with the love of your life. Here are some of the wedding favour ideas to express your gratitude that will surely light up the faces of your guests on your thoughtfulness, while making them feel special on your big day.
Pink Polka Dot Flip Flop' Five Piece Pedicure Set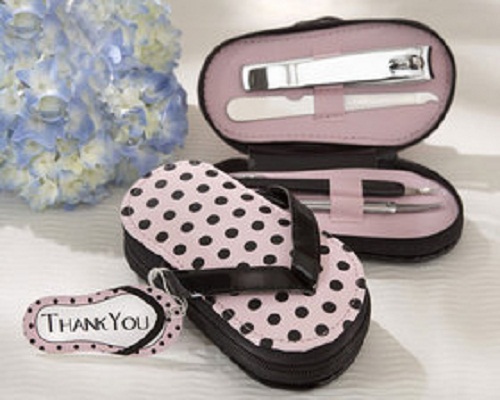 Cute and endearing, pedicure set in polka dots flip fop will surely make your wedding memorable for the ladies gracing your wedding. The five piece pedicure set has zip compartments in the flip flop to contain nail file, clippers, scissors and cuticle shaper. The durable and sturdy pedicure set is not only adorable to look at but is also useful as a convenient handbag to continue with the beauty regime while travelling.
Fairytale Shoe Wedding Favor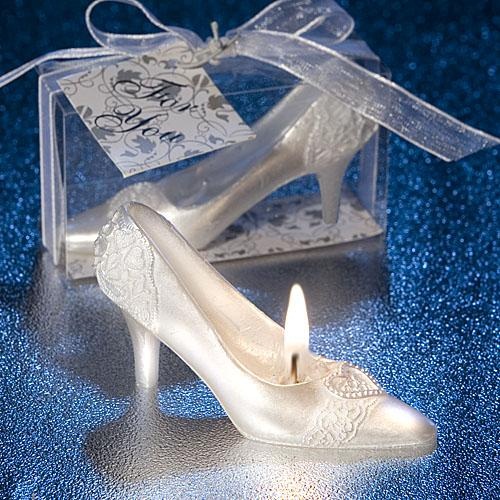 Exquisite and stunning, the shoe candle will surely win your guests over as a wedding favor. The beautiful shoe candle is made of white wax and has the elegant filigree floral detailing on it. The heart shaped buckle as a centrepiece adds up to the delicate beauty of the shoe candle. Packaged upright in an opaque plastic box, placed on a silver and white base for 360 degree viewing, the shoe candle is one of its kind wedding favor to make your wedding guests feels special. The favour packaging is finished with a gorgeous white organza ribbon and "For You" gift tag in matching floral design.
"Evergreen" Window Planter Place Card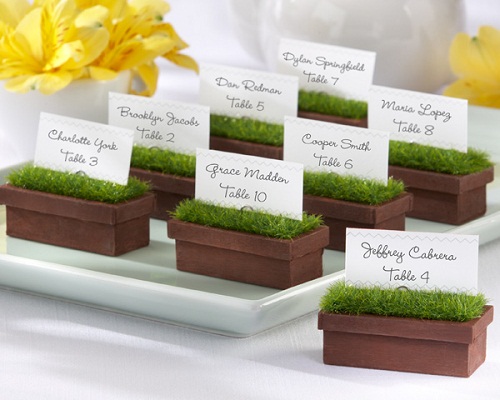 Evergreen window planter card or photo holder is a unique wedding favor to express your gratitude to your wedding guests. Ideal for both indoor and outdoor event, Evergreen is a rectangular planter in brown wood with green artificial grass on it. There is a small silver clip inside the planter to hold the card or a photograph. Evergreen as a wedding favor will surely win you accolades for being a thoughtful couple.
Midnight Rendezvous pen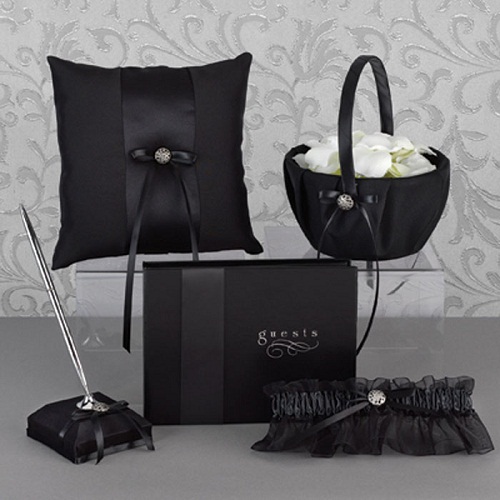 Midnight Rendezvous pen has the opulence of black, making it a unique and striking wedding favor. The stunning Midnight Rendezvous pen is 7 1/8 inches long in silver and writes with black ink. The pen holder in majestic and lustrous black, measures 3 inches square. The black satin ribbon detailing on the pen holder adds up to the glam appeal of Midnight Rendezvous pen.
Mini Lantern Tealight Holder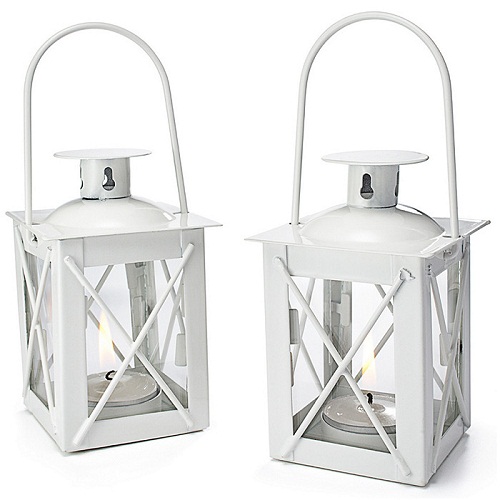 Functional and unique, mini lantern tealight holder as a wedding favor will make a perfect memorabilia of your romantic wedding. Let the guests go back with their very own mini lanterns to light up the ambiance with glowing candlelight. The pretty mini lanterns have glass windows to make them breeze proof. The glossy white finish of the lantern makes it a beautiful and versatile favor to make your wedding guests relive the pleasant memories of your wedding, every time they will light up the garden with mini lantern tealight holder.
Chrome Braided-Heart Bottle Stopper Favor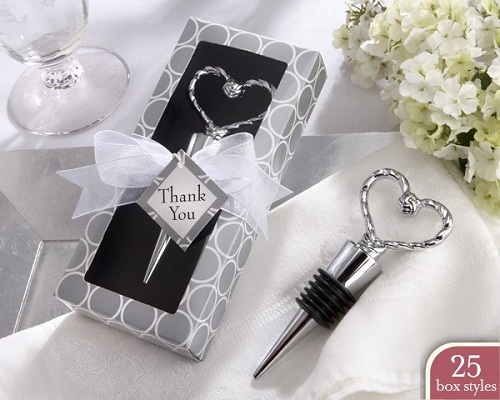 The wine themed wedding favors are elegant and romantic. The stunning bottle stopper in chrome finish, with a braided heart on the top forming a knot in the centre and the rubber gasket to keep the wine fresh, is an alluring gift to show your gratitude towards your guests for being a part of your big day. The bottle stopper, beautifully packed in an ivory gift box, tied with a matching ivory braid along with two silver trimmed tassels and "We Tied The Knot" tag is sure to brighten up the faces of your guests.
Champagne Bucket Timer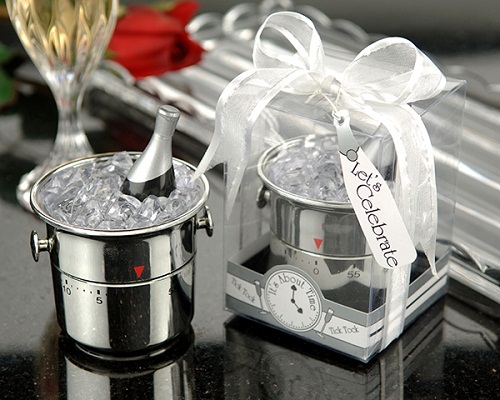 The gorgeous champagne bucket timer "It's About Time!" is a unique wedding favor that will surely please your guests. The sleek and extremely beautiful champagne bucket timer wedding favor has a silver bucket full of glass ice cubes and also has tiny handles. The timer can be started by twisting the bottom of the bucket. "It's About Time!" with a matching bottle shaped tag of "Let's Celebrate!" is a perfect wedding favor to make your wedding special for your guests as well.
Luxury Candles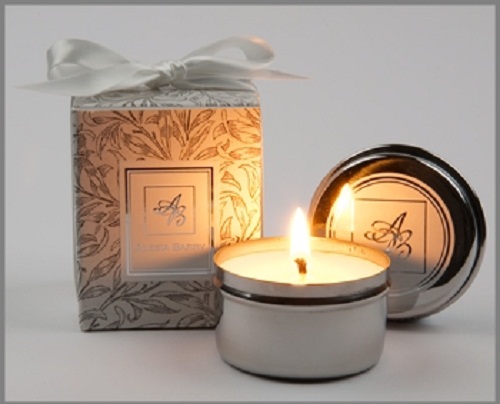 Candles are romantic and have lush appeal to them. What can be a better wedding favor than a scented luxury candle to remind your guests of your beautiful wedding every time they light it? Luxury candles by Alesia Barry are no ordinary candles but have a distinct glam appeal with enticing scents to make them the perfect token of your love and gratitude towards your wedding guests.
Murano design multi stripe letter opener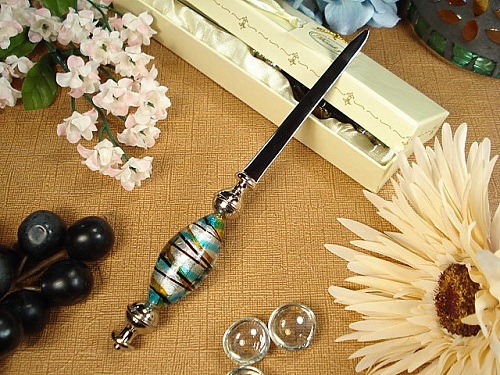 Murano design letter opener is a practical way of thanking your guests for being a part your special day. Murano design letter opener not only looks fabulous but is functional as well. Aesthetically packed in a deluxe ivory box with satin lining and glossy print design, this letter opener will make an ideal wedding favor that will last for years, reminding the guests of your thoughtfulness and elegance of your wedding. The "Thank You" tag with multi stripe letter opener as wedding favor will surely touch the hearts of your guests.
Luxury Silk Fan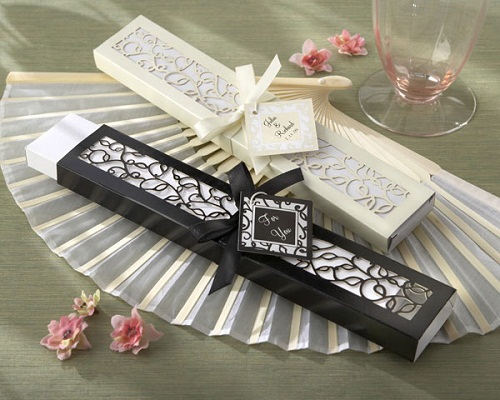 In a summer wedding, a delicate white silk fan as a wedding favor is bound to make your guests cheerful and delighted. Made of translucent silk over a bamboo frame, the silk fan is stylish and glamorous. Available in ivory or black, the luxury silk fan is presented in a stunning laser cut gift box in vine and leaf pattern. "For You" tag with the silk fan adds your personal touch to your wedding favor, while the majestic silk adds the timeless elegance to your wedding.