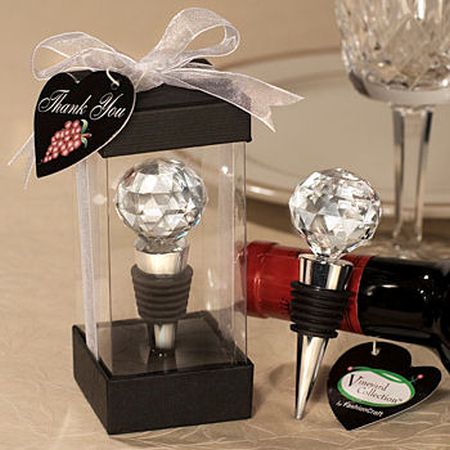 Wedding souvenirs are unquestionably the best way to express gratitude to the near and dear ones on your wedding. From personalized gifts to edible favors, the ideas are simply endless when it comes to selecting the perfect wedding souvenir. If you are thinking of some unique wedding souvenir ideas, you might love to consider some sparkling crystal souvenirs to thank your wedding guests. You could go for crystal paperweights, crystal vases or some interesting crystal figurines to impress your guests with a sparkle they will remember for a long time. Here we have some of the best sparking crystal souvenir ideas for the guests on your wedding.
Vineyard Collection Crystal Ball Wine Stopper Wedding Favors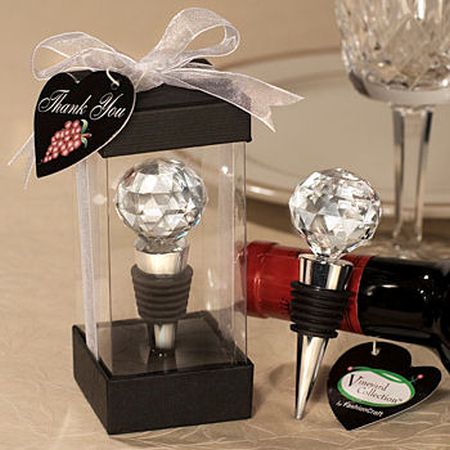 These crystal ball wine stopper wedding souvenirs from the exclusive Vineyard Collection would always ass a little sparkle and remind your dear ones of your happy occasion. The glitter and perfect shine of these crystal ball wine stoppers makes them a great gift for your loved ones. Each of the shining wine stoppers features a multi-faceted acrylic crystal ball style ornament sitting on a tapered chrome stem. The beautiful crystal souvenir come packed upright in a clear box for a clear view of the sparkling favor. Only the top and bottom of the box is shaded black. The top portion is further adorned with an organza bow and an attached heart shaped "Thank you" tag. You can also personalize it with your choice of design.
"Glass Slipper" Cinderella Key Chain Favor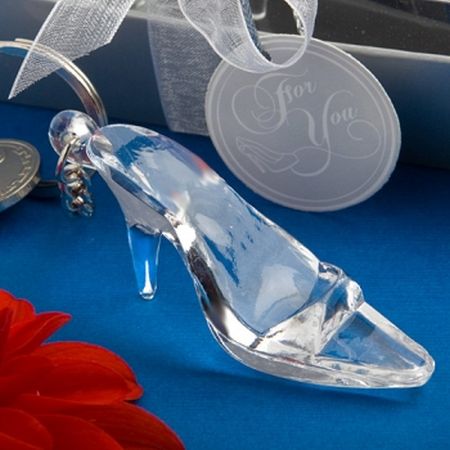 Here is yet another unique wedding souvenir idea to entertain your guests at the wedding. This Crystal acrylic "Glass Slipper" Cinderella Key Chain Favor is just worthy for a fairytale wedding, a bridal shower or a story book worthy occasion. Each charming key chain features Cinderella's magical slipper made of clear acrylic crystal fixed to a silver key chain. These fabulous favors are packed in two-piece gift box that is further festooned with an organza ribbon in white color.
Cute cut clear crystal rose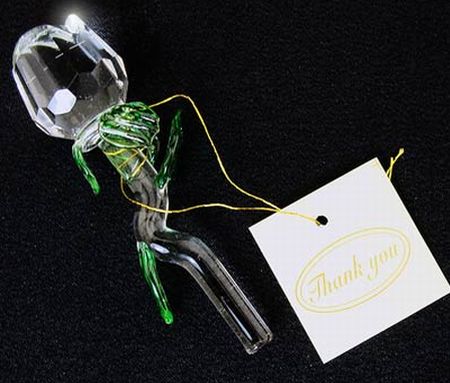 As we know that sculptures or figurines made of crystal are always admired as a home décor, so you could consider this cute cut clear crystal rose to be gifted as a wedding souvenir for your guests. The cut facets that beautifully reflect the light characterize the rose. The clear stem and leaves of the flower give the magnificent rose the glittering and sparkling appearance. This precious rose comes packed in a rectangular ivory satin lined box with a clear cover. Your guests would surely appreciate this wedding souvenir and would remember your big day for a long time.
Choice Crystal Favors by Fashioncraft – Perfume Bottle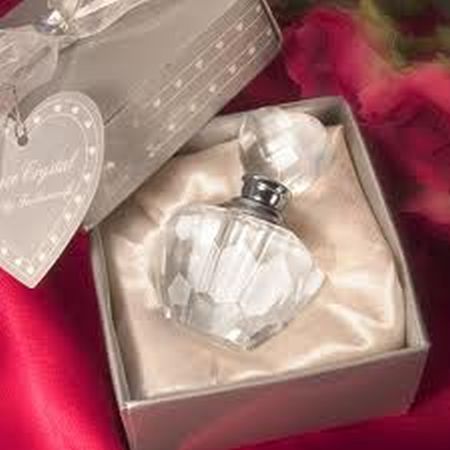 For a crystal wedding souvenir, you can go for this shining multifaceted crystal perfume bottle base with a silver accented crystal heart resting on its top. This shimmering favor comes from the Fashioncraft line of exclusive Choice Crystal. The heart shaped crystal top has an attached glass applicator inside. This precious crystal bottle is surrounded with satin inside silver box with a heart design and Choice Crystal signature, which is accentuated with an organza and satin bow with a little crystal heart on top, along with a heart, shaped tag.
Multifaceted Crystal Kissing Swans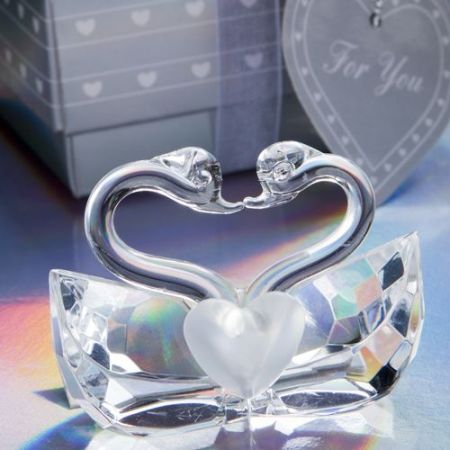 This unique souvenir will provide the most dainty and scintillating wedding favors for those who enhanced the joy of the occasion by their presence. The crystal souvenir features two beautiful kissing swans with multifaceted bodies, embraced with their graceful long necks and making a beautiful frosted glass heart. This stunning figurine makes for a cool presentation, packaged inside a silver box decorated with white hearts. The Choice Crystal signature container is further accentuated with a white organza and satin bow with a little crystal heart accent on top along with a matching tag.
Choice Crystal Cross Figurine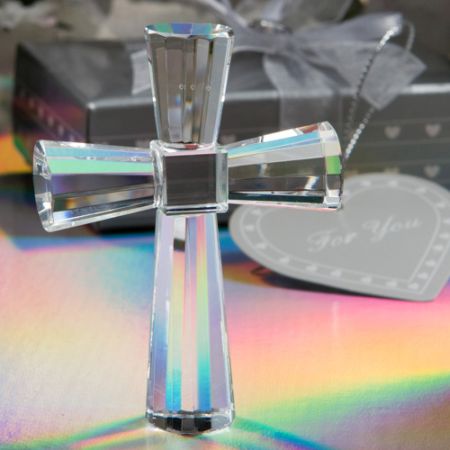 These shimmering crystal cross figurines are perfect as wedding favors to present your guests with your intimate gratitude and blessings. The multifaceted crystal of the 'Holy' cross brightens up and illuminates with a spark. The figurine is kept amidst a white satin in a signature silver gift box and is decorated with an organza bow with a tag carrying a 'For you' message.
Crystal Apple with Silver Personalized Tag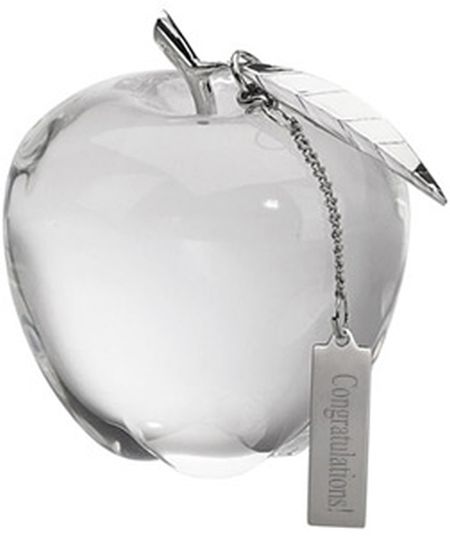 The ornamental figure of an apple in crystal with personalized silver tag is another unique favor that you can consider to present to your near and dear ones who came to attend your wedding ceremony. The cute crystal apple will surely attract anyone's attention when placed on office table or home desktop. A personalized silver tag is adjoined to a polished chrome stem on which you can engrave your name or message.
Murano Art Deco Collection Crystal Icon Favors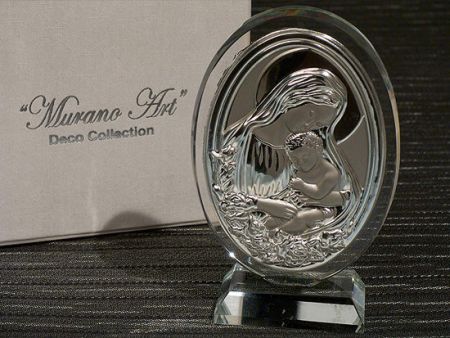 For religious themed wedding or a religious themed event, these Murano Art Deco Collection Crystal Icon Favors are an appropriate choice of expressing gratitude to the guests. The oval shaped solid quality crystal features glass icons having a two tone Italian like silver Madonna carrying a child fixed ti a solid crystal base. The favors are packed inside a white gift box with soft satin lining carrying an authentic stamp of Murano Art Deco Collection Crystal in a silver foil.
Choice Crystal Flower Pot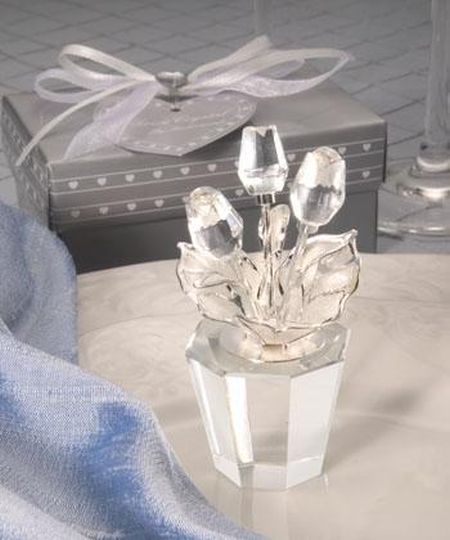 You can go with Choice Crystal Flower Pot as gratitude favors for your loved ones. These charming crystal rose flower pot wedding favors outlines a multifaceted crystal flowerpot that gasps three crystal rosebuds along with silver metal stems and embossed metal leaves. The entire figurine shines and makes the ambience glow with its luster. It is placed in satin at the inside of the silver heart design box that carries Choice Crystal signature. The box is beautifully wrapped in organza and satin bow, and is further decorated with a crystal heart on top. Moreover, a heart shaped tag is attached where you can write a personalized message.
Choice Crystal Carousel Favors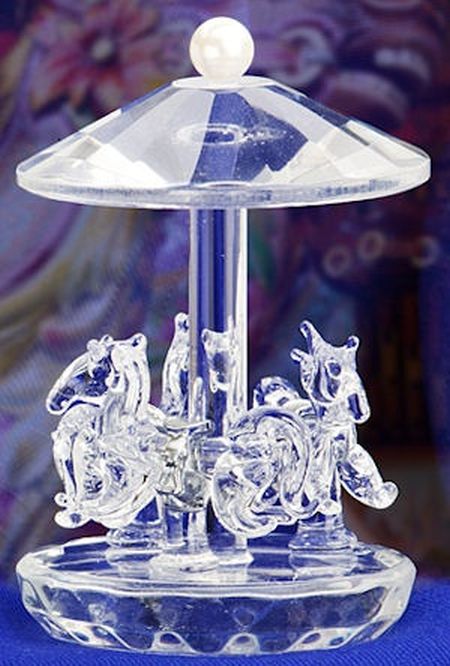 Placed on the event tables, these pretty Choice Crystal carousel favors would unquestionably turn heads. Each of the crystal sculpture consists of three horses with silver metal saddles that surround a crystal pole with umbrella and pearl-accented top. This beautiful carousel is carefully placed in a white satin inside a Choice Crystal silver gift box. White organza and satin ribbons are used to wrap the box, which is accented with a crystal heart with a heart shaped 'Thank you' tag.