Onset of summers opens all the gateways to the various distinctive summer weddings that are fun-personified. Among all those summer wedding themes that the couples make the best use of, wedding in the tropical venue is one of the best and too worthy. So, if you have planned a tropical flavored wedding for you and your love then you must surely be looking for some tropical wedding ideas. In this article we will give you some tips for making a coconut and moss ring pillow. Utilize this idea and share with others if you like the beauty of it.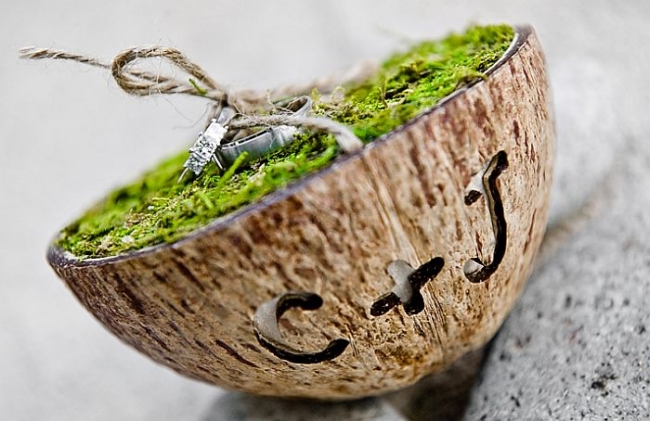 Things needed:
You will need these items:
· Old coconut
· A knife
· Brown colored marker
· Sand or grass
· Glue-gun
· Ribbon or string
· Flat moss
Procedure:
1. Take an old coconut with good husk from the outer side.
2. With a sharp knife chop down its upper part and then clean it wholly from the inner side.
3. Remove outer fibers, if any with the help of knife or a scrubbing material.
4. Draw your name initials onto the middle of the lower crust of the coconut, with the help of a pencil.
5. Carve out the sketch area representing the initials. Paint the initials with the brown colored marker.
6. Stuff the inner part of the coconut hemisphere with grass or sand.
7. Take a flat layer of moss and then hot glue it to the top of the stuffing with a hot glue gun.
8. Tie your wedding rings to the moss surface with the help of a string or a ribbon that rests glued to the moss with glue as well.
Things to watch out for:
· Be watchful carving out the initial in the best way possible.
· It is advisable to use some grassy stuffing material as it will make the ring pillow light and easy to handle.
via: weddingbee