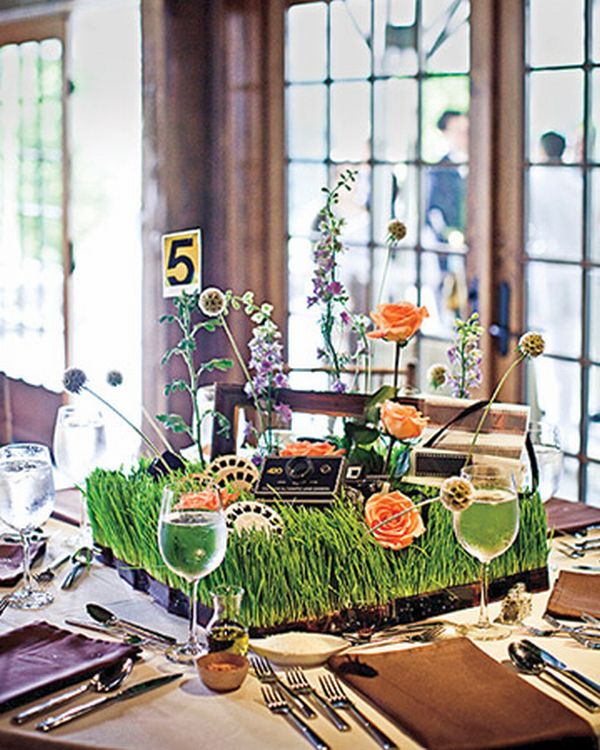 Gone are the days when wedding centerpieces had to be based only on the floral possessions. Now days everyone is trying on some unusual ways to decorate their wedding tables. Let it be the bamboo arrangements, the candle aura, the bird cage or the cupcake arrangement; everything bestows its own gleam and luster. Read on for our list of unique wedding centerpiece ideas that can help you plan your wedding more artistically.
Importance of wedding centerpieces
Wedding centerpieces have always been an area of concern in a wedding ceremony because they reflect the personality and taste of the couple. It been said that a right table décor ties together the earnestness and piousness of the ceremony and brings on the gala ambiance; and a perfect wedding centerpiece should compliment the décor and the newlywed couple.
Playful wedding centerpiece

Add uniqueness to your wedding with this unusual and flamboyant centerpiece. Conjoin each table with a different theme and some past memories and photos. The table can also include Vintage view master discs, slide carousels, wooden frames and a classic camera too. One can add more drama to the table with larkspur, peach roses, scabiosa seed heads and craspedia shoot. It will look extremely eye pleasing as well as bizarre to your guests of honor and they will be happily surprised to see your effort.
Seascape centerpieces

Dress tables with sculptural shells and coral like pieces look endearing and awe inspiring. They add an earthy touch to the whole ceremony, large conch and murex shells with cattleya orchids rested in the openings and the tiny marlin spike shells surround a vase so beautifully, which is filled with little shells and a pillar candle. The painted Manzanita branches stand tall in for real coral. Capiz shells are tied to the napkins with ribbon while a small branch rests at the top. The whole aura lends a beach transformation to the table and makes it appear enticing.
Fruit and vegetable centerpiece

A beautiful and interesting fruit and vegetable Centerpiece is what a wedding asks for. Your wedding table will look bright and refreshing with this new dimensional setting of the edibles. One can use different colored fruits and vegetables just to ensure, there is ample amount of freshness and bloom in the decor. The centerpiece graces the occasion well because it looks more homely and warm. A perfect start to a fruitful life!
Upside down wine glass centerpiece

Wine glasses always complete your wedding rituals and traditions; followed from several past years. They always bestow an affectionate end to a wedding day ceremony. The idea of placing them upside down is unique and fascinating too. The glasses can be accompanied with beautiful flowers of your choice and candles at the top. You can mix and match the colors of candles and flowers.
License Plate Names centerpiece

If you like to lend a vintage look to your wedding, then these beautiful rustic plates are surely made to beautify your wedding décor. You can visit a nearby vintage antique gallery and ask for some old rustic plates and then you can paint the canvas in your own colors. The beautiful placement and beautification of plates will give your wedding an old school look and will make every guest remember their wedding day with memories floating all around their eyes. This idea is sure to get a lot of appreciation, if managed with utmost precision.
Edible fruit bouquet centerpiece

How will you deal with a situation where your wedding guests would want to eat your wedding centerpiece? Strange… Isn't it! With this kind of centerpiece you are sure to experience such cases. The centerpiece if beautiful; is fresh, blooming and sprinkles a pleasant fragrance too. Its intriguing combination of traditional ideas with the contemporary style woos away everyone's mind in the ceremony. You can decorate your center piece with fresh sliced fruits along with the beautiful green roses, to complete that perfect look.
Bright Wedding Centerpiece with Candles

If you are among the people, who like to keep it more contemporary than traditional, then this is the perfect table décor choice for you. This enchanting candle placement on the table can steal any body's heart at the first look itself. The tablescape lends an abstract look to the décor and enhances its charm and appearance. It gives a warm glow to the wedding and bestows a clean minimalist look to the décor. The accurate placement of the candles on the table looks utterly beautiful and gleaming.
Cupcake wedding centerpiece

Nothing looks more beautiful and endearing than a cupcake decoration on a wedding table. One can also experiment with the cake itself but cupcake looks more creative and innovative. They lend an adorable view to the décor. With this kind of decoration, your wedding photographs will look photogenic as well as endearing. The guests would surely want to eat them out at once!
Birdcage centerpiece

When some ultra traditional couple thinks of their wedding décor, they might not even dare to think about a centerpiece like this. But being an unusual and unique décor person; you would surely want to try out on this one. The idea is innovative and looks interesting too. The bird cage wedding centerpiece will not only raise eye brows but will also get you a lot more appreciation in terms of creativity factor. The whole ambiance will look delightful and pretty with the existence of these fascinating bird cages.
Twig and branches centerpiece

The twig and branch centerpiece is one of its own because it is unique, creative and unusual too. The beautiful placement of the twigs with the branches makes it a constant awe inspiring material. The enchanting beauty of the centerpiece woos and steals away all the cookie points. This one is for the people who like to experiment and celebrate their wedding day or reception in inimitable striking style.
Photos of Bride and Groom in Centerpiece
You can place the photos of the bride and the groom on a small stand on each table. But, the most vital job is the selection of photos. You must try to select some photos with smiling faces of the bride and groom, in different postures. Such smiling faces will give out a positive energy on the wedding ceremony as well as have a feeling of happiness among the guests who will be able to get acquainted with bride or groom more easily.
Make Some Arrangements for Blessings
First you need to arrange some pens, papers and some cards. You can put all those things on each of the table so that the guests can write down their advice, best wishes and complements to the groom and bride and some memorable quotes. These precious notes will remind you of the wedding ceremony for years to come.Try to use some good quality paper and give them a royal look by placing some sparkling ink and pens around these cards.
Centerpiece Resembling a Wine Bottle
You can make some wine bottle structures with lamps and place these wine bottles on each of the tables. Fill the bottles with candle oil and add some wick. If you want to decorate this further with more innovations, you can also add bunches of grapes around the base of the wine bottle. You can also add some white flowers, pieces of tulle and some ivy into it. Such centerpiece decorations will enhance the beauty of your wedding ceremony. A red ribbon piece gives these centerpieces a royal look so you can glue these pieces of ribbon vertically. The centerpieces look really beautiful and your guests will feel extremely delighted.
Wrought Iron Birdcages unique wedding centerpiece ideas
Iron bird cages are very famous and one of the old methods of making centerpieces. Choose some well designed cages and paint them in bright colors. Place some candle sticks inside the bird cages and hang these cages at a certain distance from each other inside the wedding area. You can also place some artificial trees inside the wedding area and place these bird cages on the branches of the tree.
Wedding Cake Decor
Decorating the wedding centerpiece with a wedding cake is a common thing. If you wish to decorate the wedding centerpiece in different way, you need a big sized cake which is to be placed on the center table of the wedding area and you need some miniature sized cakes, replicating the master wedding cake. Place them on a stand of each and every guest table. All these cakes can be decorated with flowers on top and some birthday candles around on it. The big cake will be meant for the bride and groom and the miniature sized cakes for the guests. For bride and groom, you can also make a bigger centerpiece cake with two tired cake.
Hurricane Lamps as Center Piece
You can use some hurricane globes which are made from glasses. Place some Christmas balls inside the globes. Now, place these hurricane globes on each table. Besides this, you can use a round shaped glass jar and fix a candle inside the jar. Decorate this jar with some artificial hanging leaves and place a number of such jars in their respective places.You can place these hurricane globes in wedding area and garden too.
Using Gift Boxes as unique wedding centerpiece ideas
This is one of the funniest decorative ideas which have great impact on the guests, especially the children. You need to arrange some gift boxes in various sizes and wrap them in colorful wrapping papers. Next, attach three to four boxes together and then tie these boxes with the golden ribbon. Place these boxes on each table. It will look like a stack of gifts on the tables.
Make Some Statues
You can arrange for different varieties of statues which are made from plaster or clay. Statue center pieces are famous in Greek weddings and by adding some poetry around them; you can make it look more romantic and beautiful. Place these statues at the entrance of the wedding centerpiece as well as inside the wedding area too. If you want to give some extraordinary look, you can arrange ice statues or wax statues too, which are made from ice or wax as the names convey. Such statues enhance the beauty of the wedding area.
Make a Straw Hat
If you select the wedding area in the garden, you can have a unique wedding centerpiece to blend in with the theme. Take a few straw hats and place them at a certain distance to each other in replacement of garden umbrella. Now, place the guest tables under these straw hats. You must try to use candle light or dim lights so that guest have a feel of a rural atmosphere. Silk flowers and ribbon looks really beautiful, if you decorate them with the straw hats.
Create Romantic Ambiance
If you want to create a romantic atmosphere inside the wedding area, you have to get hold of a calligrapher who will write different love poems on canvas or bond papers for you. Now place these papers or canvas with poems on them in an antique picture frame. Decorate the frame with roses and try to give some antique look. Fix these frames inside the wedding area so that every guest can read these poems clearly. You can also use them as wedding centerpieces by placing those picture frames at the center of the each guest table.
Summery on unique wedding centerpiece ideas
Decoration of the wedding place is a most common practice. But, the most important concern is how to decorate the wedding place. Some decorations are of very simple, traditional look. You will never find any unusual thing in such a decor. If you want to make your wedding memorable, you need to decorate the wedding centerpiece in a different way. With the help of this article, you can use some of these unique wedding centerpiece ideas for your wedding.