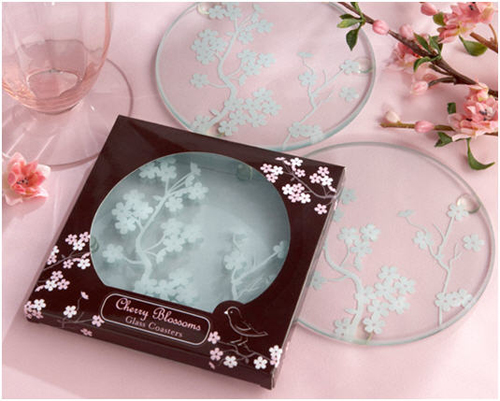 Wedding favors as we all know are little gifts that attending guests and relatives take away with them as memories of the event they have attended. Traditional favors like confetti almonds are a nice way of thanking your guests for their presence, but couples these days are getting more creative and opting for choices like personalized wedding, wedding theme based favors or even unusual wedding favor. Wedding favors are those special objects which always remind the guests of the wedding. Therefore, it is very important to take some time out and plan for a special wedding favor, which can be utilized by the guests and at the same time, it should be something which will communicate the couple's gratitude for the guests.
Coasters Wedding Favor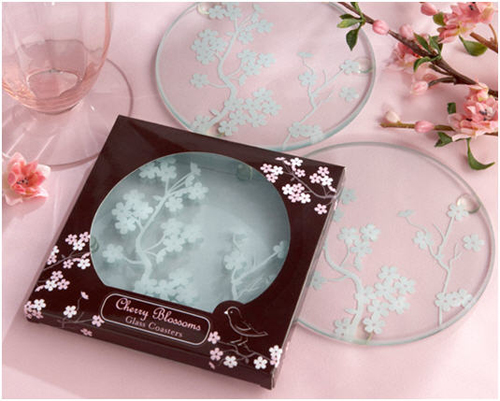 Instead of short living fancy wedding favors like chocolate and candles, couples can choose something durable for their guests which will also serve some purpose in everyday life like these glass coasters. Made of premium quality glass, these decorative coasters come in a beautiful Cherry Blossoms see-through package. Coasters are used by everybody in the family, including kids. Hence coasters can be one of the most thoughtful and purposeful wedding favor that wedding couples can gift their guests. But apart from these glass coasters, couples can also choose their favorite one from a wide variety of coasters available in the market today. For instance, couples can choose easy to maintain coasters like cork coasters and sandstone coasters; or contemporary coasters like slate coasters and stainless steel coasters. Coasters can also be personalized by engraving the names of the couple and the date of wedding on the coasters.
Personalised Wedding Guest Book And Pen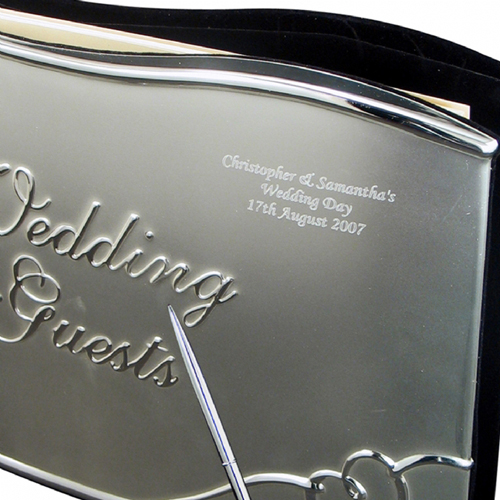 This is certainly one of the most useful wedding favor gifts you can find for your guests. Engrave your and your partner's name and the date of your wedding on the guest book, to add that personal touch to this exclusive wedding favor gift. Couples often gift treats and cards to their guests as favors, but you can gift something unique by presenting this classic wedding guest book and stylus-shaped pen to your attending guests. Guest book is utilized by anybody to keep a track of their guests in their parties. And whenever your guests will open up this guest book to register the names of their party's guests, they will always remember you and your wedding day.
Boat Wheel Magnet Travel Wedding Favour Gift (Pack of 6)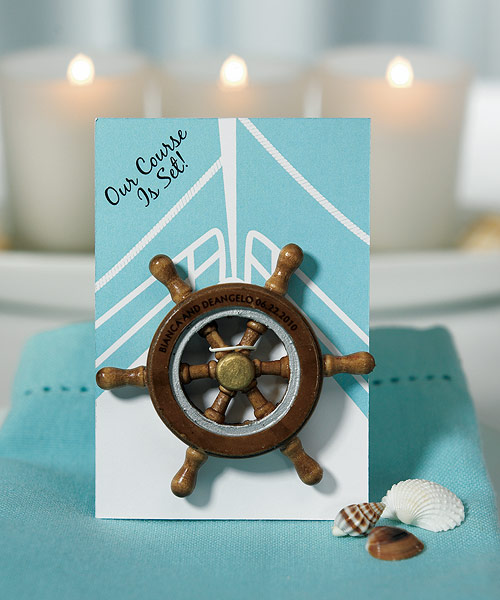 This cute and little boat wheel magnet wedding favor gift is the perfect gift for any boat themed wedding party. The boat wheel is beautifully packaged by attaching it to a standing message card. Couples can also add their personalized message or their names and the date of their wedding by placing a transparent message sticker on the wheel. This is a perfect wedding favor gift if you want to gift something sweet to your guests. The gift can also be utilized by your guests later in their life, which makes it a clever and practical wedding favor gift.
MINI WINTER WEDDING FAVOR SNOWGLOBES | CHRISTMAS GIFT SNOWMAN GLOBES – 18cts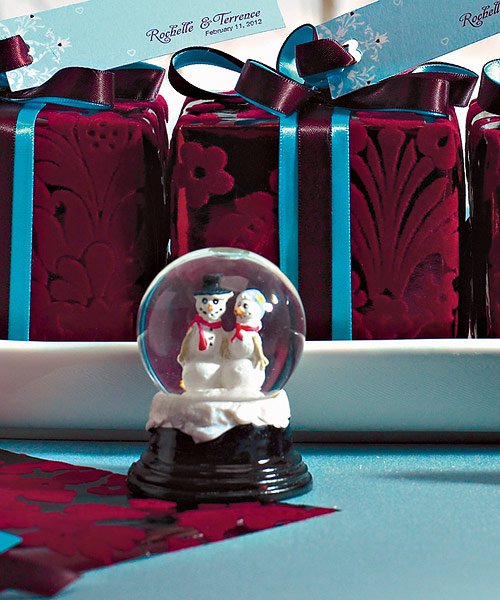 Have you planned your wedding in the winter or during Christmas? Then this snow globe decorative piece can be one of the most suitable wedding favor gifts you can present to your guests. The mini Mr. and Mrs. Snowman at the middle of the globe are quite cute and are making the piece look quite adorable. These snowman globes are available in a package of 6, which also makes it a perfect fit for any winter themed or Christmas themed wedding party. The mass availability of the gift makes it very suitable for wedding couple, as they will not have to pay and search for individual favor gift items.
100pcs Argent Satin Wedding Jewel Favor Gift Bags Pouch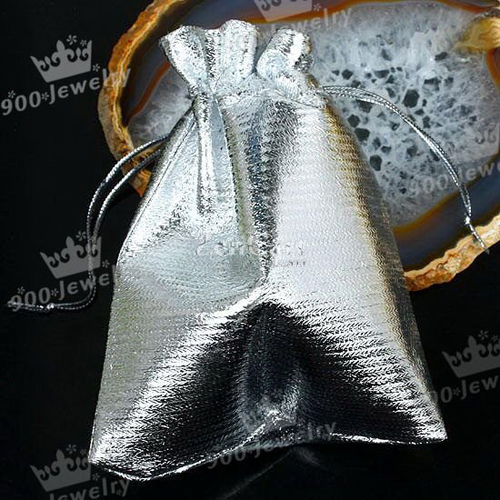 These see-through string attached satin pouches are perfect for storing wedding favor gifts. The glitzy decorative pouches are roomy enough to store wedding favor gifts like almonds, jellies, assorted chocolates or mint candies and also stylish enough to gift as something special to your guests. Other than the wedding favor gifts, these bags can also be used later by your guests as their purse. So, if you have planned to gift something useful as well fancy to your guests then end your search here and gift these beautiful favor holding pouches to your guests.
Luxurious Silk Fan in Elegant, Laser-Cut Gift Box ( Ivory, 12 Sets of 4)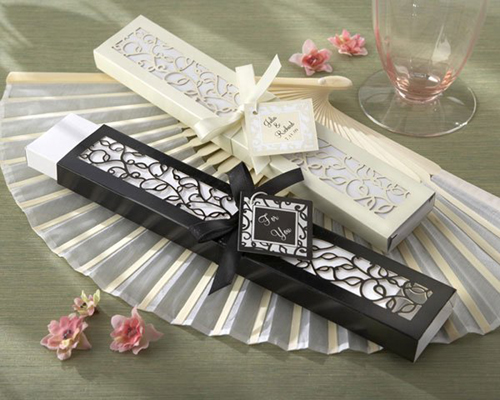 Gift these fascinating silk fans to your wedding guests and they will shower their blessings on you. These simple and elegant silk fans are made of premium quality fabrics and are lined with two smooth bamboo frames on the edges. Available in 2 classy colors- pearl white and jet black, these fans can be gifted to both ladies and gents. And not just for the wedding day, these handy fans are fashionable enough to be carried out on a sunny day to keep off from the heat of the sun and to stay cool. You can also add your and your partner's name on the fan or on the little message card hanging on the gift box of the fan to make it a memorable favor gift for your wedding.
Seeds Wedding Favor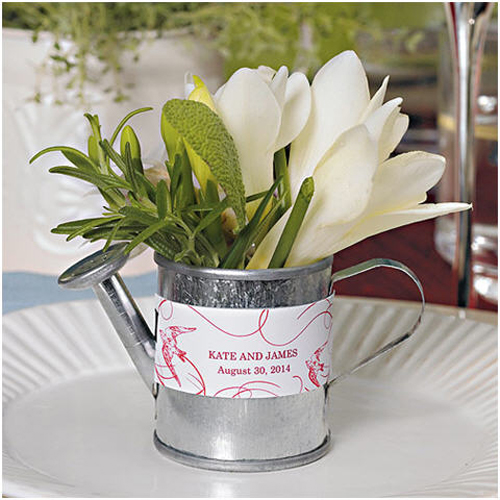 A little different than usual decorative and edible favor gifts, couples now go all-green to celebrate their wedding day and to thank their guests with these thoughtful wedding favor gifts. This environment friendly wedding favor gift will not only let you thank your guests, but also secretly the environment. Seeds arranged in small showy watering cans look very cute and also has a positive purpose attached to them. You can also stick a sticker on the watering can with your wedding date and your names on it to make it friendlier.
Tea and Coffee Wedding Favor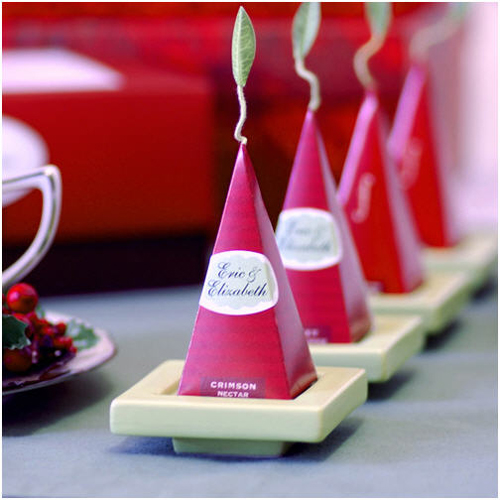 Coffee and tea wedding favors are plentiful in the market today and are available in various fancy packaging options. You can package your favorite coffee or tea type and attach your and your spouse's names on the package to make your wedding favor very personalized. That way, your guests will also be able to learn your personal taste and may even gift you something similar in return.
Box of Chocolate Wedding Favor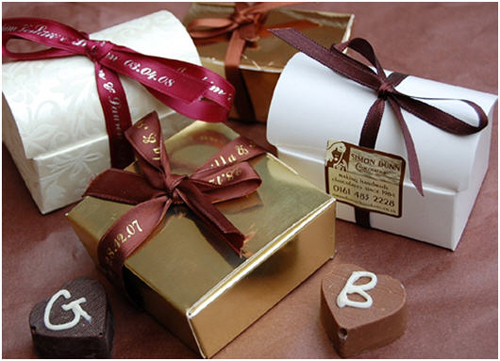 Chocolates are evergreen wedding favor gifts. These are one of the most classic ways of saying thank you to your guests. Ranging from dark chocolates to caramel filled chocolates, chocolates can be gifted to your guests according to your budget and your taste. And as far as the latest wedding favor gifts are concerned, chocolate will always remain at the peak of the favorite items for wedding favors gifts. Gift wrap your chocolates in cute little boxes and stick your names on it to make the gifts look more beautiful and personalized.
Eco-friendly Grocery Bags Wedding Favor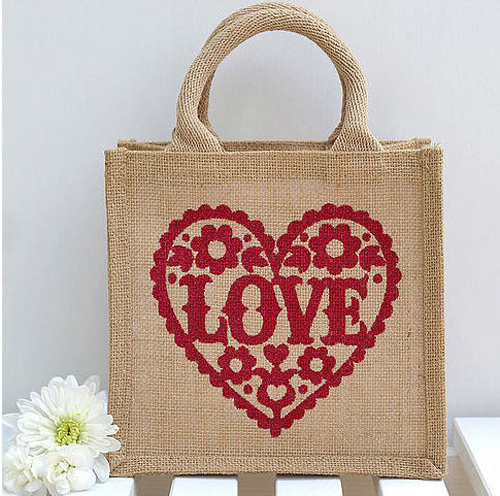 "Eco-friendliness" is the latest buzz today and you can also make your wedding favor gift eco-friendly by choosing these eco-friendly grocery bags for your guests. These are available in a minimum budget and also well serve the purpose they are made for. You can print your names and date of your wedding on the bags and accompany it as a carrier for your other wedding favor gifts.