Whether it's the theme, venue or simply the wedding cake, brides nowadays are thinking outside the box to make their big day special and memorable for years to come. From the wedding dress to flowers to shoes, everything is of utmost importance and concern for a bride-to-be. When it comes to a wedding dress, there is a range of trendy options available in the market, from designer wedding gowns to vintage styled wedding dresses. The bride-to-be needs to make sure she picks the right one. In order to make a big impression while walking down the aisle, some brides opt for strange and unusual wedding dresses, which sometimes prove to be a big disaster and leave you with awful memories forever. Here we have listed some of the most unusual wedding dresses of all time, which we would not suggest any bride-to-be to don on her big day.
Peacock feather dress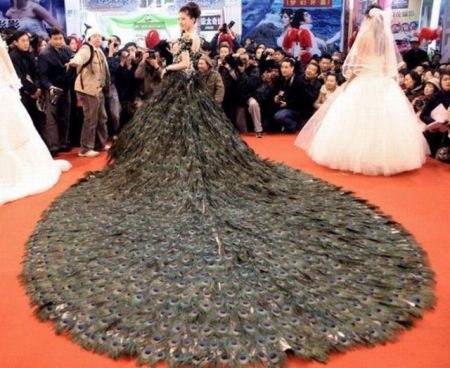 The Peacock feather dress looks simply stunning, but the idea of wearing this on your wedding day seems eccentric to me. The unusual Peacock feather dress by Chinese designers was fashioned out of 2009 peacock tail feathers along with 60 Hetian jades and was showcased at a wedding expo in Nanjing, China in 2009. The peacock wedding dress was valued at $1.9 million. The weird yet beautiful gown took eight handicraftsmen and two weeks to complete.
Long Flow wedding dress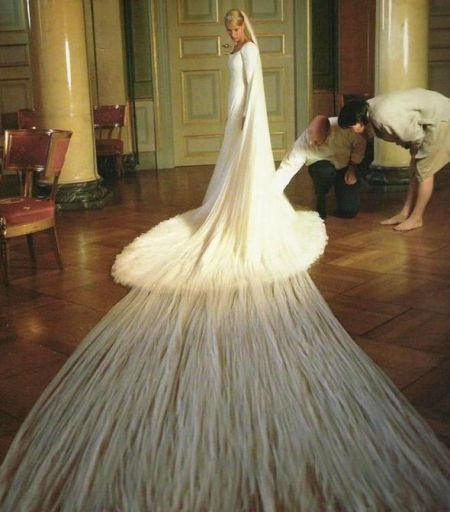 If any bride is considering this unusually long wedding gown for her special day, she should better make sure that she and the bridesmaids could carry it well while walking down the aisle. The wedding gown looks a bit weird to me with its unusual length and design, but it might help you make a big, long statement on your special day if you could manage to handle its flow.
Grassy look – unusual wedding dresses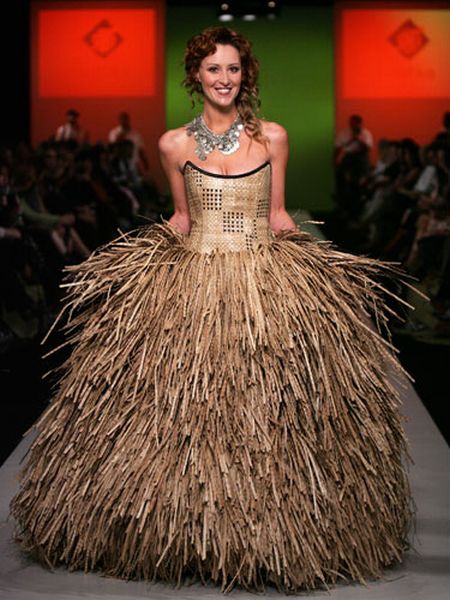 That's so grassy! Now, who would like to wear a grassy wedding gown on her big day? Personally, this particular dress is sure to prove to be a big disaster for the bride on her wedding day. This thing might turn more than a few heads at some fashion parade, but I just cannot imagine a bride dressed in this grassy outfit walking down the aisle.
The Slam Dunk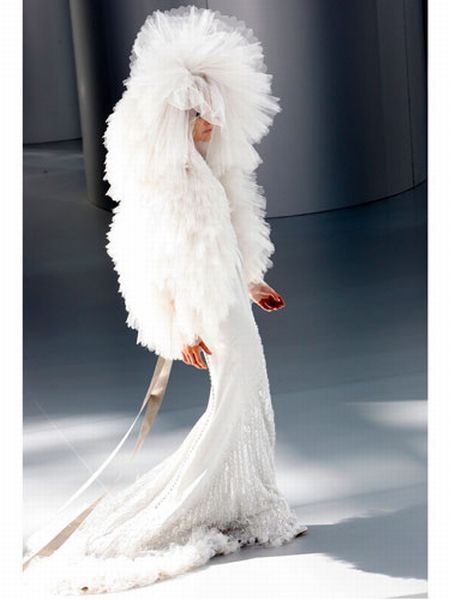 This unusual creation takes the idea of having a wedding gown with a hat to a new weird level. I just hope that a bride opting for something like this manages to keep the big hat in place, especially at the moment she will kiss the groom. Anyway, people are crazy and we never know someone would really love to take chance with this crazy looking wedding dress.
The Cage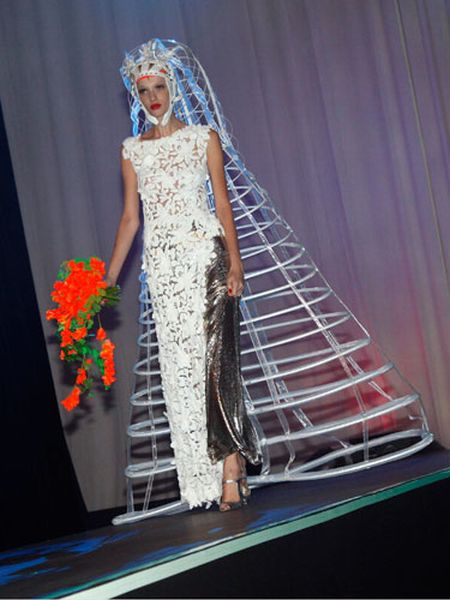 This looks to be a perfect Lady Gaga type wedding gown, which I do not think any bride-to-be would like to try on her wedding day. Moreover, where is the couple going to keep that cage after the wedding is over? Anyway, we do know the target users for this dress. This wedding dress might look good on a bride form some other planet in some sci-fi movie.
Unusual maternity bridal gowns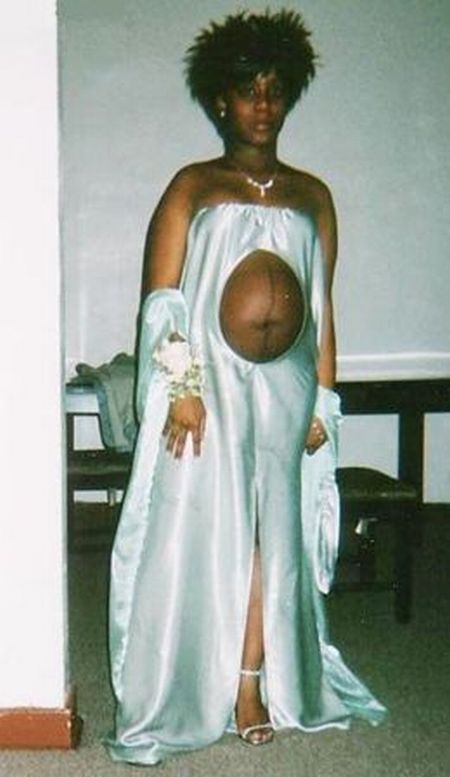 This wedding gown pictured here is though unique but quite unusual, weird and ugly. It is undoubtedly not a great outfit for a real maternity wedding. There are enough choices while selecting a wedding gown for a pregnant bride that will make you look gorgeous for the occasion, so you really don't need to go for something unusual like this, which could make you look horrible. A pregnant woman is proud of her baby bump, but a maternity wedding is not the right time to show it off.
Plastic made wedding dress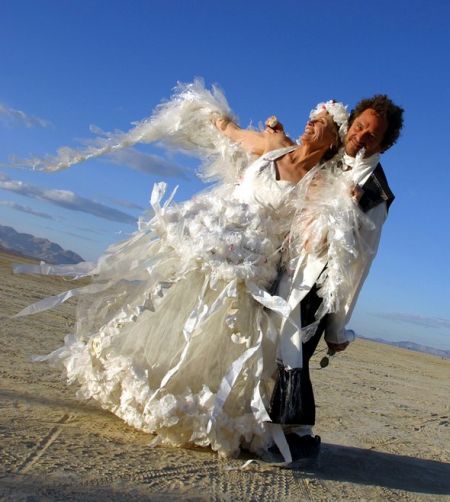 We know that green and sustainable materials, such as recycled plastic, are becoming the choice of many designers across the globe for their trendy creations. However, choosing a bridal gown made of this see-through material may not be a preferred by a bride of this era unless she wants to end up pictured on papers and online for her weird fashion sense. Tell me if any bride would love to be seen wrapped in plastic on her wedding day.
Horrible Gothic wedding dress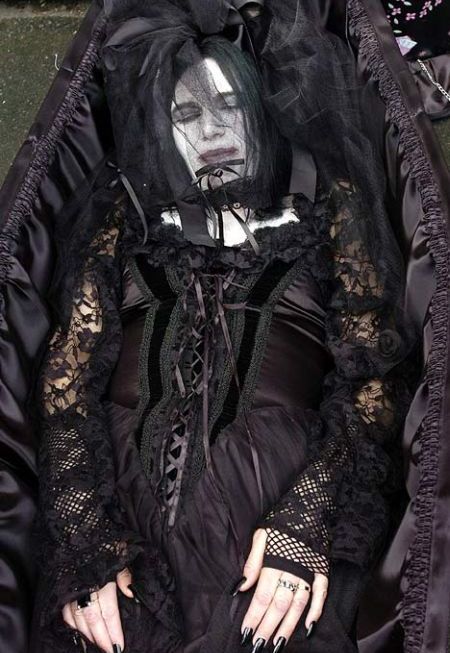 This wedding had a theme of Gothic wedding where the not-so-young couple decided to tie the knot after 27 long years. The wedding of Julie Williams and her childhood sweet heart Dylon Holroyd took place in a very unusual way as this happy occasion did not seem like one. All of the hundred guests who attended this strange wedding came dressed in black as if they have come to attend some funeral and not any celebrations. The wedding dress of the bride added to the weirdness of this unusual wedding because the bride was dressed in a gothic style, wearing a black gown and black veil and went to the wedding ceremony in a hearse inside a coffin.
Ghost Shadow wedding dress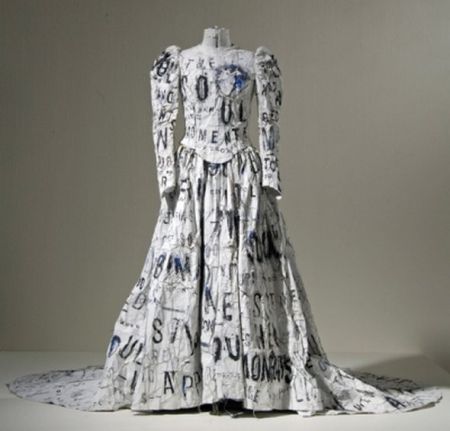 For a bride who is planning to have a ghostly theme for her wedding; this seems to be the perfect wedding dress. Created by artist Lesley Dill, this weird wedding gown has been christened 'Dada Poem Wedding dress'. She made this dress in 1995, which is now exhibited at the Orland Museum of Art. The dress carries Emily Dickinson's name with the quotation, "The soul has bandaged moments".
Long Train Wedding Dress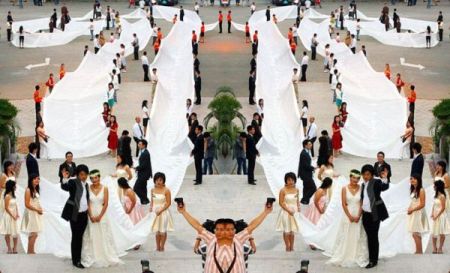 After selecting the perfect wedding dress; the train of the gown is the main aspect that decides the formality of the occasion. The length of the train should be appropriate with the location and time of the ceremony. But, this part of your elegant wedding dress may also look weird if it runs for a few kilometres, like in the given picture. The very long train here is walked down the aisle by the guests present for the wedding, thus keeping them busy. Was anyone looking at the bride too or was it just the wedding dress.
Cake Wedding Gown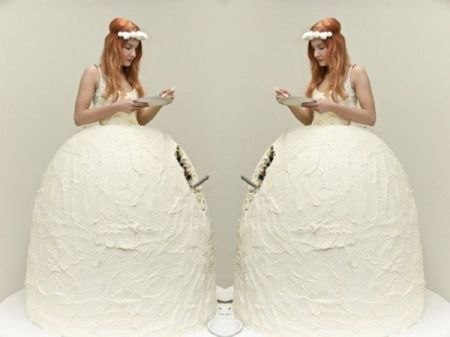 Every bride wants to look different and wear something unique for her wedding. How about a scrumptious wedding dress? This unusual cake wedding gown will serve as a beautiful yet delicious wedding dress for the bride. What is even better is that it will also dish out the luscious dessert for the guests. Not actually a good idea for a wedding gown and would definitely not be liked by the groom. Who knows he starts eating it the moment he sees it and asks the guests to help him too?
Condom Wedding Gown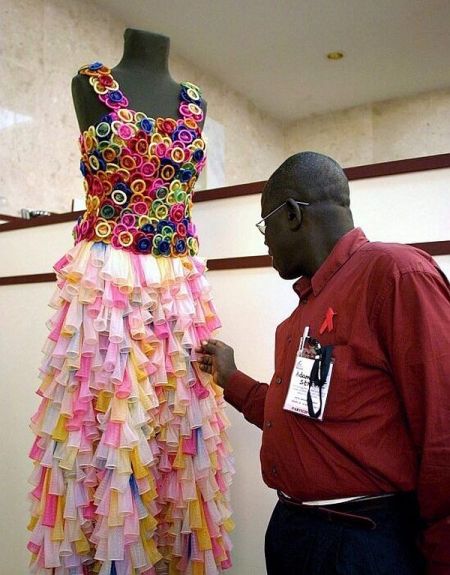 An enterprising dressmaker in New York; thought of a unique idea of commemorating the 19th World AIDS Day by creating a wedding gown made of colourful condoms. Exactly 12,500 colored condoms were stitched together to make this gown. The concept of this condom wedding gown is though innovative; but, the resultant dress is quite weird. This gown, however, spreads awareness regarding AIDS. Nice idea indeed. Nevertheless, the mere thought of seeing a bride wearing it for real on her wedding day makes me go crazy.
Octopus wedding dress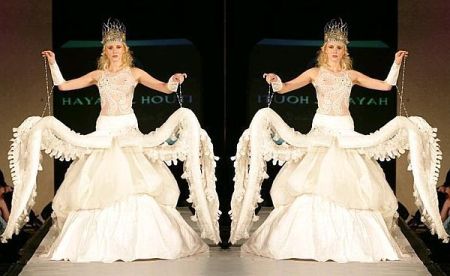 This unusual wedding dress pictured here looks a weird choice for a wedding gown. This is because, the bodice is made of octopus legs and the headdress is made of seaweeds. This particular gown can be a quite appropriate choice for a beach wedding, but still it's kind of unusual and weird. Wanna join the bride for an octopus dance?
Body painted wedding gown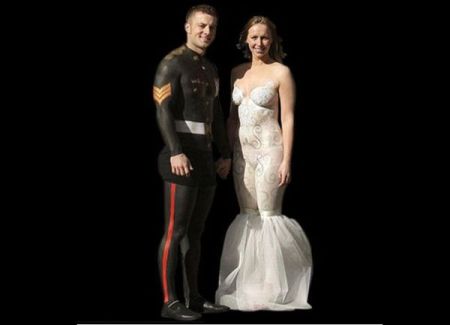 How about a wedding dress that is painted all over your body? Few days back, a reality show organized a body painting challenge on GMTV in United Kingdom. Three couples from the United Kingdom participated in the competition. The body painting artist were called forth to paint their bodies like they were dressed for their wedding. The competitors stood naked in the downtown area where this competition was held. They were given piece of cloth for decorating their so-called body painted wedding gowns. Well, this might seem exciting but is certainly not a good idea for a wedding celebration.
Flour and egg made wedding gown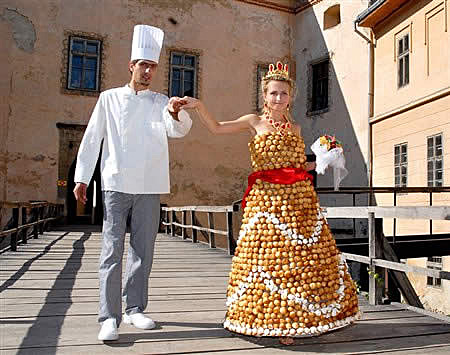 Valentyn Shtefano, who happens to be a famous pastry chef in UZHHOROD, Ukraine; designed a wedding dress for her fiancé using floor, sugar and eggs. This sticky dress was made out of 1,500 cream puffs together with caramelized sugar. The dress however, appeared to be heavy but weighed only 20 pounds. The chef took a time period of two months to make this amazingly sweet dress for her wife.
Nesting dolls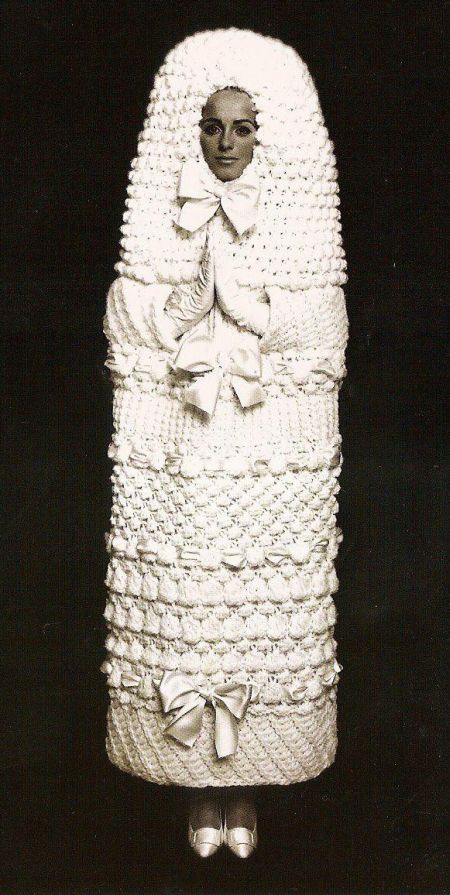 This weird wedding gown was hand knitted by Yves Saint Laurent in context of an exhibition that represented the selected life work creations of the master of fashion design. Quoting the last centuries of needlework; this cocoon wedding dress was a tribute to the woman in the sixties. The cocoons were sewn with help of needle by the great fashion designer himself that was exhibited at De Young Museum in San Francisco.
WTF wedding dress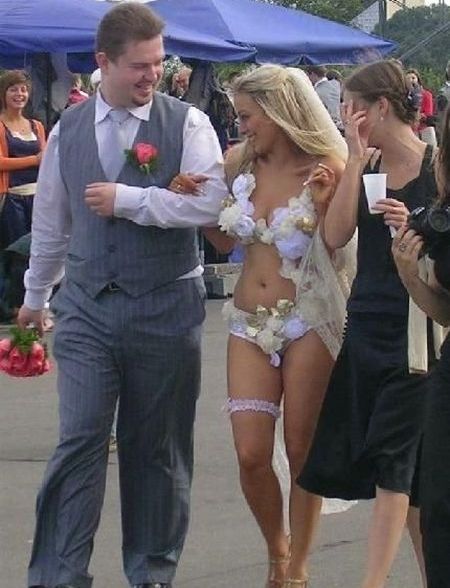 Running naked in your underwear for your work can be your worst nightmare; but, getting married in your undergarments is even worse. This weird idea of tying the knot in white under garments instead of a wedding dress was picked out by the Russian bride; Ivana Greencardavitch, who works at the "Booties" dance club. The groom might have complemented her if he would have chosen to put on some boxers instead of some crumpled suite.
Crazy wedding gown
Every bride seeks a wedding gown that could make her look gorgeous and attractive; but, choosing the one is never an easy task. For the bride who wants it wild and hot, this looks to be the perfect wedding dress. Designer Lan Yu created these crazy and unusual wedding dresses / gowns.
Flag wedding dress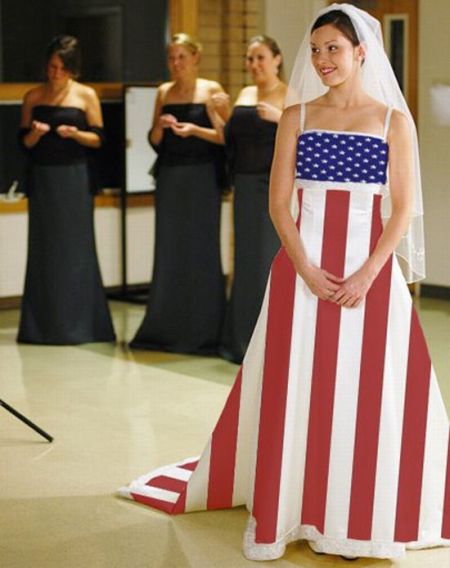 A wedding dress made of your country flag reflects your patriotism at its best, but wearing one on the wedding day seems weird to me. I just can't understand why someone would choose a Flag wedding dress. She has all the time in her life to show her patriotism. Isn't it?
Fur Colored Wedding Dress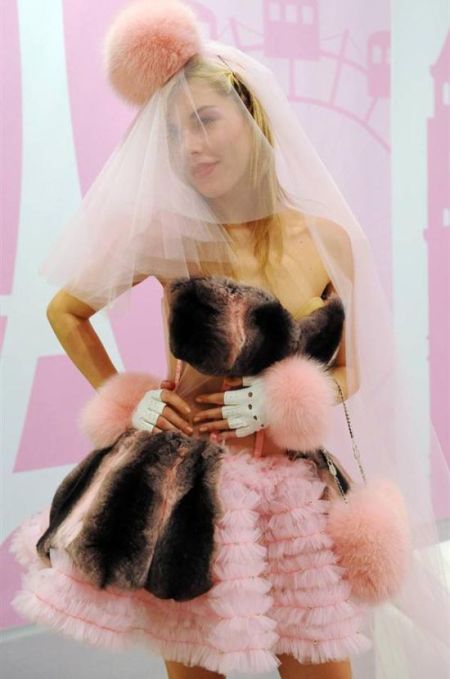 This fur colored outfit designed by Ornella Meneguzzo is a quite a weird choice as a wedding gown. Many at the catwalk might appreciate this fur dress, but a bride in this outfit would look a complete fool.
Toilet paper wedding dress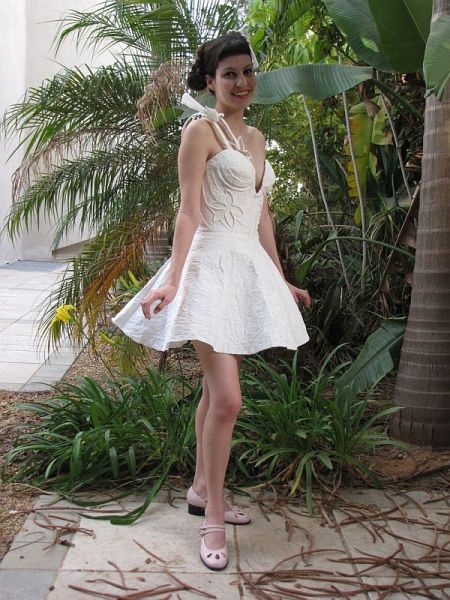 Here is yet another weird idea for a wedding dress. This particular wedding gown was made with 1000 toilet papers, glue, sewing threads and duct tapes. That's truly weird and surely one of the most unusual wedding dresses we have seen.
Balloon wedding dress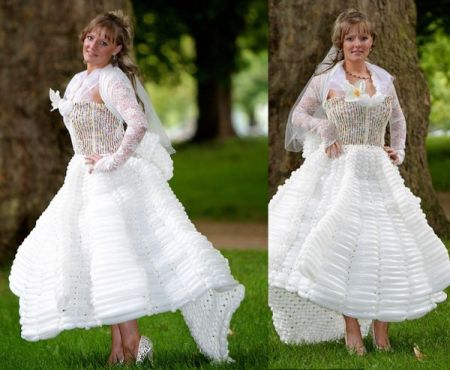 Inspired by the wedding gown of Duchess of Cambridge, Thelma Levett made a replica of the wedding dress for her daughter by using 5000 balloons. Do you want something like this for your daughter? And yes, even if you get yourself one of these, where would you keep it later?
Rubber wedding gowns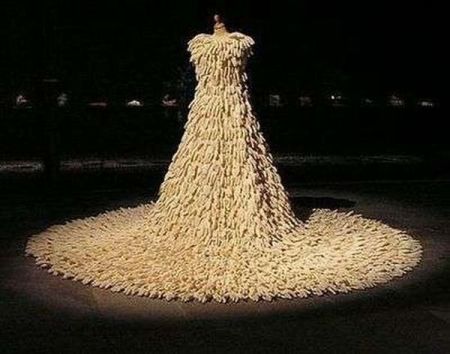 Here is a stunning yet unusual wedding dress idea. Pictured above is a wedding gown fashioned out of 1400 inverted rubber gloves. This outfit by British artist Susie MacMurray has been shown in Museum of Art and Design in New York.
Edible but unusual wedding dresses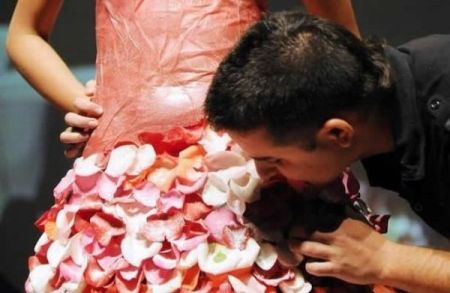 This dress was probably made so that the groom can eat it all after the couple is done with the wedding ceremonies. Created by a young chef from Colombia Juan Manuel Barrientos, the original unusual wedding dresses were created with 2000 sugar glazed rose petals.
Swimsuit Wedding Dress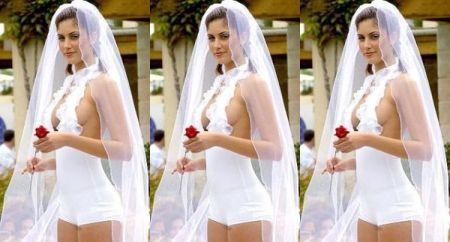 Would anyone really try this swimsuit as a wedding dress? I hope not. One thing we are sure of is the fact that the bride will be the centre of attraction for all for so many reasons. The swimsuit-wedding gown is sexy, bold and is sure to leave everyone spellbound at the wedding. It surely deserves to be part of the list of unusual wedding dresses.