Q. Can someone share about beach wedding centerpieces?
This is my second wedding but I never did anything in first. I have offered to help my wife to be with the decorations. We are going to have a beach wedding and I have no idea what I could have at the beach as beach wedding centerpieces. Please provide me with some really good ideas. There would be a lot of wind so it would be better if there was something which was heavy yet not distracting. Do you think it is safe to have anything in glass if there are going to be kids?
Beach wedding? Not a bad idea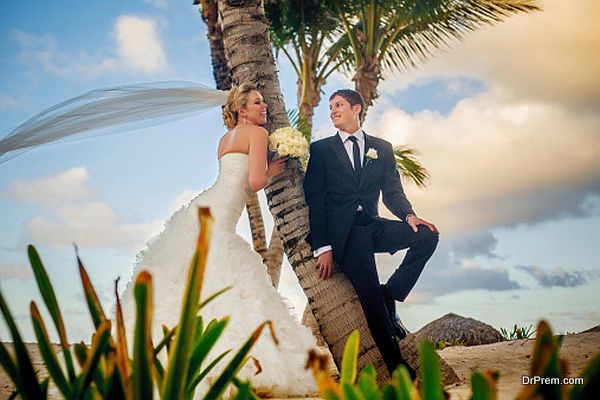 A very unusual and wild kind of wedding is the beach wedding. The heavenly and serene ambience makes the event romantic to its very core. The very thought of a wedding to be performed in the beach gives shudder. Celebrate your special day at a very mystical location amidst tropical wonders.
Just dream of the soft caressing breeze touching you gently, the white sandy beach makes for a perfect romantic background. A Hawaiian beach wedding is the most widely practiced beach wedding as it is rated as one of the best wedding and honeymoon destination. The trumpeting of the conch shell creates such an atmosphere that you are bound to get goose bumps.
Creative beach wedding centerpieces
Since times immemorial, a mere thought of a beach has kindled love, passion and peacefulness in the heart of the entire mankind. Beach weddings have become very popular these days, most importantly because the beach makes your wedding look like a dream. It is an extremely magnificent quality of the beach to be able to blend stark contrasts. Your wedding on a beach can be serene and passionate, soft and vibrant, antique and modern, and suave and rustic, all at the same time. There's not a doubt about it that the air on the beach carries a fragrance of romance all the time. How you decorate the beach has a significant role to play in strengthening the effects the beach can have. Here are some ideas for the beach wedding centerpieces you can choose to have on your reception tables:
Sail Boats with tea light centerpiece

'Sail through the sea with a light in your heart'. That's the message a boat sailing with a light beneath its sails imparts. Get those small boats made with frosted glass sails to place in the center of the tables. Both a tea light and a candle will look beautiful from behind the frosted glass. Let your marriage be the boat, with the light of love beneath its sails. You can also have oyster shells with a stick to hold a small cloth sail to enhance the natural effect. The bowl of the oyster shell can always hold a candle.
Sand castle centerpiece

Get a miniature castle made out of sand with its towers such that they can each hold a candle. Such a centerpiece will render an imperial get up to the wedding and if you want to take your guests to an entirely different world, you can choose the overall theme of an aristocratic style. Spread some sand neatly around the castle and keep some shells, and artificially made starfish around. It would be fabulous if you can get miniatures of a prince and a princess placed on a path carved out in the sand to the castle and illuminate it with tiny candles. You can also have a castle decorated with only flowers all around.
Antique lantern centerpiece

While taking the sacred vow, the couple prays their marriage to be lantern in the dark times. Lanterns as centerpiece will look very elegant and graceful. You can place these miniature lanterns with tea lights inside them in a pair and decorate the adjoining area with flowers. There are also lanterns available that give an effect that they are hung though they are placed on the table at their base. A message for togetherness printed and kept aside these lanterns on all the tables would add to the beauty of this set up.
Lighthouse centerpiece

For a wedding with a subtle theme, a lighthouse as a centerpiece will be a very good choice. There could be no better choice than a lighthouse to imply the strength of the bond of marriage. Have a tea light or a candle placed in the lighthouse and accessorize it with blue net, satins, and flowers. The light in the lighthouse shall remind everybody that marriage is the lighthouse in the sea of their lives.
Single bloom centerpiece

Grandeur lies in simplicity; hence it is a wonderful idea to use a simple set up of a vase with a single flower in it to boost the décor. Floating a gerbera, or a sunflower, or a big garden rose in a vintage glass will look classy and elegant. Larger blooms with bigger petals and in bright colors will look very attractive. You can add shells and colored stones to the vase for enhanced decoration.
Sea grass splendor

This centerpiece is perfect for Hawaiian or tropical weddings. Use strands of dried bear grass to make a wreath and adorn it with dries flower petals and sea shells. In case the bride is wearing a wreath herself, match the centerpiece with that and the overall décor. Light a candle in the centre of the wreath shielded with a glass to protect the dried grass from burning. This shield will also save the candle from the sea winds. This centerpiece can also be used later as a home décor item
Fishbowl with fish and flowers

Using fishbowls as centerpieces is also a good choice. A pair of little goldfish inside the bowl with flowers around will make it a highlight. Also, you can keep flowers, or flower petals, and floating candles inside the fishbowl filled with water. Have some colored pebbles and sea shells in the bottom of the bowl and illuminate the surrounding with candles. Adorn the bunch of flowers outside with pearl strings or net or satins to give the centerpiece a royal touch.
Submerged flowers and candle centerpiece

There are numerous ways in which the combination of flowers and candles can be used to make an elegant centerpiece. A group of differently sized vases filled with water with flower petals and floating candles will look very beautiful. Placing some white pebbles in the bottom of the vases will add to the softness. Also, you can have a big round vase with pearls in the bottom and a fragrant candle on its top. Surround the vase with flowers and pearls. White roses will particularly look very beautiful with this one.
Submerged floral vase centerpieces

Using vases of different heights and shapes and placing them in a group as a centerpiece will beautify the table without much effort. There can be different ways to decorate these vases. Placing flowers with colored water, or filling them up with sand and sea shells are some options you can explore. Preferably, use vases with neutral or translucent colors that would blend well with the sunlight.
Coral style centerpiece

A bunch of artificial corals and conch shells will also look beautiful as a wedding centerpiece. These clusters of artificial corals are available in many colors. You can also use candles around the centerpiece. In case you are using a vase, fill it up with white or blue colored sand and bright colored stones before placing the corals and conch shells. What you want to do with these centerpieces after the party is up to you. You can give them as gifts to your special ones or keep one or two of them as tokens of remembrance. In executing all of the above ideas, the power of your own imagination is dearly required. After all it's your wedding, and you should have everything the way you like. Hope the beach and the centerpieces make your wedding a truly memorable one!