There has been a significant shift in wedding dress trends over the past decades and now days; people prefer to dress in their own style because of far more greater options than was available earlier. In today's time, not only brides but grooms also have wider options about style and colors in wedding suits. Many notable wedding dress designers are coming up with some exquisite tuxedos and suits that can match up well according to your personality and style.
If you are a groom and are about to tie the wedlock; buy a wedding suit based on the theme and place where you are getting married. Wedding attire of bride should also be considered while choosing the wedding dress. Below are the best ideas to choose wedding suit for grooms.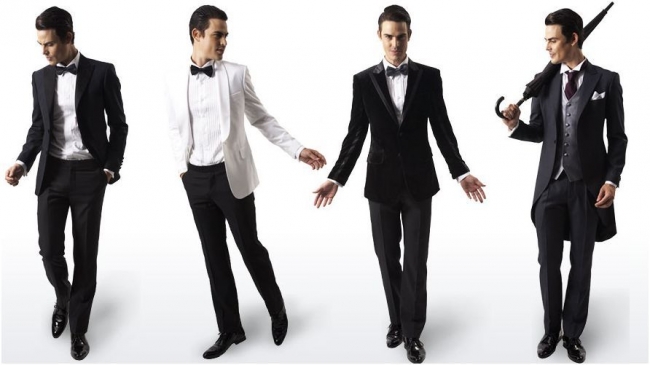 1. If you have an evening wedding then going for a formal look is the best idea. In formal tuxedos, you can choose to wear black dinner suit and black trouser and the same color tie. You can wear golden cuff links with it as it will add a spark on your personality. White wedding suits also goes well but don't forget to select either a cummerbund or a vest. A hat and cane works well with white wedding suit, if the wedding event is an extravagant formal one.
2. Tuxedos can also be a great option for a day time wedding but a different style can be selected for the day-time event. Stroller jackets with the same color trousers or moming suits with cutaway jackets looks beautiful on a daytime wedding. For formal event, go for cuff links, a beautiful tie and black or brown color shoes, depending upon you suit color.
3. If you're planning a semi-formal wedding then you don't have to worry so much about the attire as it is same for evening or daytime wedding event. Stroller jackets and matching trousers are the best options for semi-formal event. You can go for black, gray or white in color for this type of affair.
4. For a complete informal wedding event, you can wear a business suit of dark gray, navy and black. Whit, tans and light grays will go perfect for a spring season during the day.
5. For a daytime event at some beach, you can wear light weight cotton, rayon and wool suits.