Fall is a lovely time of the year to get married surrounding yellow, oranges and burgundy colors of the season. You can use apples, pumpkins, maple leaves and gourds to decorate the reception area to get a feel of season. This season is also a great time to experiment with flowers. Today, we have come up with a beautiful fall wedding DIY centerpiece idea of making Pumpkin Centerpieces that can be a real budget saver for you. The best thing about this project is that these centerpieces can fit into any kind of wedding theme. Read below to make these beautiful pumpkin wedding centerpieces for your wedding.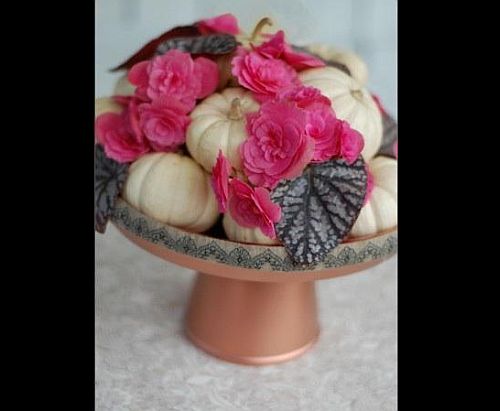 Things you need
Get some mini pumpkins (approximately 12-15)
Leafy Begonia plant
Blooming Begonia plant
15 short florist water pick
Floral scissors
A cake stand
Procedure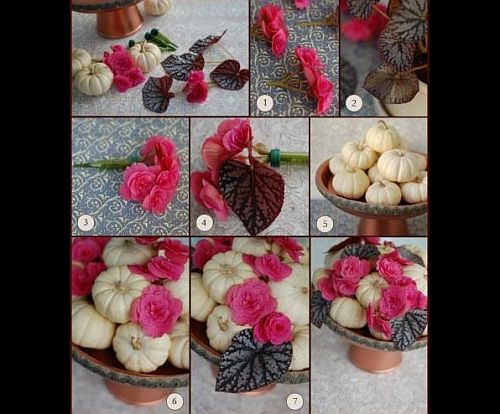 Start by cutting the clusters off of begonia plant, make sure you leave 2 inches long stem. Cut approximately 10 blooming clusters.
Take the foliage plant and snip approximately 10 single leaves from the foliage plant.
Fill your water tubes and put the caps on.
Now fill all the water tubes and put caps on them. Don't fill them over to the top, more than half the mark is enough.
Now, use your own creativity to make these tubes look beautiful. Add some blooms or leaves or a bunch of flowers or simply mix them. Get a bigger hole with the help of scissors, if you find it difficult to stack a bunch of blooms in these tubes.
Now pile all the pumpkins on to the cake stand and decorate the pumpkin stand by inserting these flower filled tubes in between the gapes. You add some blooms by inserting them evenly.
You can also add some leaves to make it look more natural and beautiful.
Via: oncewed