World has taken a paradigm shift towards high-end technologies and online shopping. With this, it is no surprise that buying wedding dress online has also become a raising trend. Wedding day is aesthetically known to be the bride's day, a day that comes with a dream of looking the most beautiful woman on the earth. With this desire, she wishes to plan and buy perfect wedding attire that would give her a beautiful and flawless appeal.
What could be more impressing and effective than getting a perfect wedding dress on the web? Internet provides a beautiful and huge collection of affordable wedding gowns that look elegant, sophisticated and inspiring beautiful but you can be in trapped if you don't know some tricks about online shopping. Here are some tips to help you make a satisfactorily wedding dress purchase.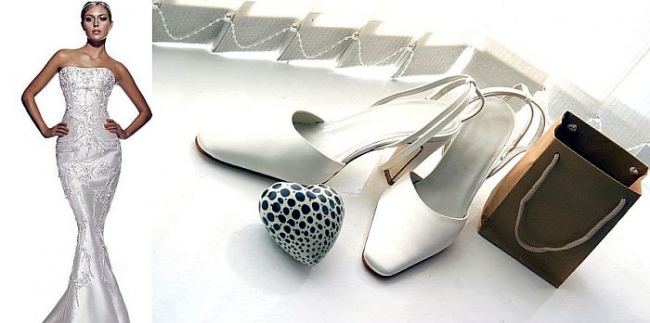 1. Know your style
You should know about the style, kind, measurement, adornment and the color you wish to purchase. Your choice of the bridal dress can set a perfect mood or tone to your special day. So, do consider the wedding place before making the final purchase. Also, take into account the hours or the timings when the wedding is to be conducted. If the wedding is to take place in morning hours, you can choose a bright combination and if the same is to take place during evening hours, pastel shades and light combination can work out best.
2. Do some research
If you get confused or are in dilemma with what to buy, you can research the market. You can go to online wedding auctions to get innovative and fresh ideas for your wedding dress. Such auctions and online exhibitions are a perfect platform to quest your search for wedding attire. This will help you explore fresh ideas worth adding charm and glamor to your personality on your special day.
3. Visit a boutique and know your style

You can even visit a wedding boutique near your house to take a taste of which style and what kind would suit you the best. There are various options like cap sleeves, A-line, strapless and many more to explore. When purchasing from the online marketplace, there is no trial room and hence it may turn out to be an unsatisfactory dress for your great day. When it comes to buying dress for your wedding, it is best to first try a few styles in the physical designer boutique to ensure that you would look the most beautiful.
4. Set a budget
Once you are sure of what will look best on you and what kind of dress you want to buy, set a budget for yourself. You should stay within your set budget so that it helps you narrow your search. When you have a set budget for yourself, it's advisable that you stay within your budget while finding the best or else you'll turn out placing your eyes on something that you cannot afford.
5. Read various reviews
After setting your budget, search for a good online seller. Visit various online wedding auctions and company websites to read reviews and comments of the customers, clients and dealers as well. After reading the reviews, you can choose the best ones from the lot and further narrow your search.
6. Choose the best one for yourself
From the websites of the selected online wedding attire sellers, you can browse the perfect dress you looking for. Carefully, explore all the available options and look at the pictures from all aspects before finalizing one.
7. Check out the size
Once you are done with the dress selection, check out whether the dress of your size or measurement is available with the seller. If required you can also make request for alterations and any changes. You can even ask questions regarding the material of the dress, detailing and also the style of the selected dress. If there are certain queries, clear them off before you click on the buy option. Also make sure that the dress would reach you much before the wedding day.
8. Know about the return policy of the store
Do check for the return and exchange policy along with the specified terms and conditions. Most of the online purchase does not behold any such return policy but there are some who offer a percentage of refund for a defective piece. It's always better to know about the same for better satisfaction.
9. Add to the cart

Once all your doubts are cleared and you are completely satisfied with the dress and also the policies of the online seller, make the final purchase by clicking on the 'Buy' option. If the purchase is made through online auctions, join the auction and use the 'Buy' option.
10. Safe payment gateway
When paying for the dress, make sure that you use a reliable and safe payment gateway. Make the final payment using your credit card, debit card or net banking facility.