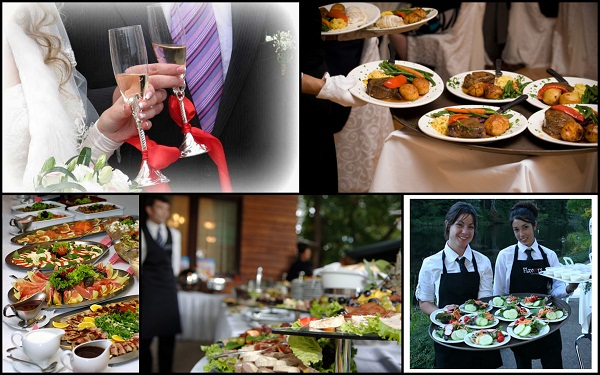 When talking about wedding preparations, wedding caterers registers itself in the checklist of the most important items. A happy wedding calls for a memorable treat. And the treat is incomplete without delicious food. Only a good wedding caterer can make available the serving of delicious food. Caterers have to be by far the best, in order to keep your guests satisfied. The guests always come o eat and drink. At this point it one say a way to happy guests is through the stomach. Choosing a suitable wedding caterer, although, might not be an easy task. Here are a few tips that can come handy while you are on a look out for a perfect caterer for your wedding.
1. References please!
You have got whole lot of people around you to ask for references. Start with your family and friends. You can then move onto the suggestions of your neighbors or even friends of friends or relatives. And don't just listen but understand how they are ranking a particular caterer. Plus, do your own research work too. If you want a good caterer, be inquisitive about it. Throw sensible questions at them. You can inquire about things like if they found the service up to the mark or if they got what they ordered or how did the room looked when they entered it or did the caterer went that extra mile to make things memorable or was the food good enough or was it enough for everyone. The best part of word-of-mouth and first hand researches are that they are honest and authentic.
2. Research for reputation
For research, you can rely for the most part on varies websites. Type your query and hit the search button. Visit wedding websites and online registries to find out about caterer reviews. You can search through user experiences and comments. Read them and analyze what will go well with your preferences. Equate the positive and negative feed backs and decide accordingly.
3. Contractual basis
Some caterers would have extremely high charges with not so high quality services. So, before you zero down on them, read the fine print on the contract document carefully. If even in slightest of doubt, ask for clarification and proper explanation before signing it. This will ensure that you do not get into a mess with the company for something which was not clearly stated in the agreement.
4. Know the staff
A lot depends on the catering staff too. They need to be quick and precise with their hands. A staff which provides great and timely services may burn a small hole in your pocket but then it is always worth it. Always remember that an experienced and well trained staff does charge a little more but are well needed.
5. Don't rely on taste samples
This is a greedy little world full of treachery and falsehood. What you tasted in the company's tasting process may be different then what you are going to get in your marriage. Therefore, it is always good if you go for a caterer whose food you have tried at a wedding venue or have the option to do that at some real place.
6. Trust your instincts
Let your instinct guide you too. If you feel connection with the staff members do not hesitate to inquire more and settling down with them thereafter. If you comfortably chit-chat all your queries and obviously, like their services and the extra efforts, you might have chanced upon your perfect caterer.