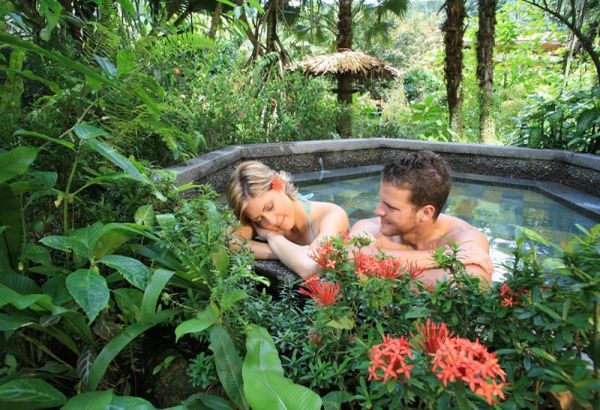 After all the chaos and the busy season of planning your wedding, you deserve a relaxing honeymoon. However, if the budget is holding you back from taking your earned vacation; consider some of these affordable alternatives that offer the same romantic and intimate experience. Moreover, these places do not come with an exorbitant price tag. In this article, we will check out a few honeymoon destinations and tips for honeymooners on a budget.
Costa Rica

Costa Rica is a beautiful and exotic country located in Central America. This is the most suitable for adventurous honeymooners who prefer to do more than lie on a beach. It can be a dream destination without being expensive. Here you will experience the natural beauty of mountains, waterfalls, rainforest, beaches, and volcanoes. It boasts of some really special accommodations that range between $ 60-70 per night for a decent double room. Even sightseeing and other activities are relatively cheap making Costa Rica a perfect destination for honeymooners on a budget.
Brazil

For those looking for a great combination of scenery and hotel accommodations, honeymoon in Brazil can be a good idea. Located in South America, it boasts of thousands of miles of beaches; and, it is ideal for newlyweds yearning for secluded and adventurous trip. It offers a pocket friendly relaxing atmosphere close to nature.
Considered as one of the most popular honeymoon destinations in the world; Brazil is known for its beaches, museums, carnivals and other historical spots. If planned well, honeymoon in Brazil will surely be both memorable and romantic without getting beyond the budget.
Thailand

If you are looking for an adventurous vacation then consider Thailand for your honeymoon. It has lot to offer to honeymooners. For those who want to spend time being close to nature, there is much greenery. You get stunning beaches with an exotic flair and ancient and historical places will surely keep you enthralled.
The long golden sandy beaches in Phuket are ideal location for spending some intimate time. Thailand is an extremely inexpensive place with budget friendly resorts and great deals on airfares. A beautiful bungalow or a double room in a hotel will cost you approximately $ 20-30 per night.
Mauritius

Renowned for scuba diving, sailing, water skiing, and its beaches, Mauritius is a fast growing honeymoon destination. Its heavenly ambiance, cool climate, marvelous attractions have made it a newlywed's paradise. It is a perfect place for a romantic beginning especially when you are on a tight budget. You can spend quality time together enjoying the stunning view of beaches, which is truly unmatched.
There are many affordable resorts and hotels offering excellent services and all modern amenities for a perfect honeymoon. Even the car rentals are very cheap ensuring comfortable commuting. Rest assured honeymoon in Mauritius would surely be a romantic and an unforgettable experience; that both of you would relish for lifetime.
Philippines

With over seven thousand islands, a honeymoon in Philippines can be a great romantic and adventurous experience. It offers five star accommodations, fine restaurants, modern shopping centers, and reliable tour operators, all at an extremely budgeted price. The Filipino culture is known for its rich culture and delicious cuisines.
White sandy beaches fenced with coconut and palm trees; some of the world's best snorkeling and diving spots, makes it a spectacular honeymoon destination. The country also has affordable provisions for various water sports and other leisure activities to keep you and your better half entertained.
Jamaica

A romantic honeymoon on the beautiful beaches of Jamaica can be heaven. It may sound surprising, but a vacation in Jamaica does not have to leave you broke. Thanks to all inclusive resorts and hotels, the Jamaica Island has become much more affordable for honeymooners.
With little planning, the budget conscious couple can get great deals on air and hotel packages. If you are an adventurous couple, you can also save a great deal on water sports. Overall, it is truly an exotic and a lively place most suitable for honeymooners on a budget.
Hawaii

While Hawaii does not immediately come to mind as an affordable honeymoon destination, planning ahead can leave you surprised. Pick a deal when airline prices are discounted and everything else will fall in place. Accommodation in Hawaii is moderately cheap offering relaxing and romantic experiencing amid the sun kissed beaches of the Island.
Formed from volcanoes, it is an ultimate honeymoon destination featuring unparallel attractions. It is mainly due to its tropical environment and countless outdoor activities. Not to forget, the Hawaiian cuisine, that adds to the exotic experience most honeymooners crave for.
Las Vegas

Where else can you get bread and breakfast and buffet for only 99 cents? Lag Vegas is home to free drinks and cheap eats while you enjoy gambling. This glamorous, action packed city never shuts down and almost everything under the sun is accessible all hours of the day.
Sensational shows, gourmet restaurants, sparkling casinos, and various other activities sums up Vegas. If you are not on for betting, you can find myriads of secluded places to be alone in a wonderful setting. In Vegas, there is an accommodation for every budget and a buffet for every taste.
Bali

Just about everyone has a budget for their honeymoon and Bali is a lot cheaper destination that you can imagine. The beauty of the Island is that you could rent a beach-facing bungalow for not more than $ 300 for the entire month. You can have spa and beauty treatments at your villa free or at a nominal cost. Even the most expensive meals would cost you less than $ 40.
What more can you expect? Bali is a beautiful Island known for its glorious beaches, forested hills, lush rice terraces, and pretty temples. Charming Balinese dancer and soothing local music will keep you entertained while you blend yourself in the unique culture of this place. This is a perfect place for romantic honeymooners on a budget.
Cancun, Mexico

Mexico offers a number of excellent locations for honeymooning couples, and Cancun remains popular amongst them. Here accommodations are comparatively affordable for honeymooners on a budget. In most cases, $ 40-50 per night will give you a good double room. Apparently carved out of the jungle, Cancun is known for big luxurious resorts and lively nightlife.
Beautiful palm fringed beaches and ancient Mayan ruins complete the setting. The night in the city steam up with delicious inexpensive food, tempting cocktails, and, best of clubs. This is why, this is one of the best destinations for honeymooners on a budget.
How to plan a honeymoon on a budget
Planning a wedding is stressful and expensive on its own but what most young couples fail to account for when they begin the process is the honeymoon. Most couples do not have their honeymoon planned and booked till days before the wedding itself which adds to the stress and ends up costing more.
A good way to ensure that you don't end up breaking the bank on the honeymoon trip is to plan a honeymoon before setting the date for the wedding. This can help couples make the best of off-season deals and with the budget for the honeymoon in place, they would be able to adjust their budget for the wedding accordingly. Here are a few tips for honeymooners on a budget
Set aside a specific budget
Honeymooning on a budget is something that most middle income couples consider a sensible first step as a married couple but they often let their romantic fantasies get the best of them and end up spending a lot on gourmet meals, room service and souvenirs.
To ensure that you don't go overboard on your honeymoon, fix a specific budget and try and adjust your activities within those limits. You can also opt for making all the payments in advance and travel with traveler's cheques rather than carrying cash or using your credit cards while you're on your honeymoon.
Consult a travel agent
For a stress free wedding, a wedding planner's services really come in handy. Similarly, a travel agent can really help ease your worries about honeymooning on a budget. Just be sure to specify your budget and be open about cost saving ideas.  You can speak to your agent for great offers and packages for cheap rooms, discounted services and less expensive activities.
Consider a honeymoon registry
A wedding registry helps guests contribute towards the purchase of household items for a couple about to get married. In the same way, a honeymoon registry can help couples raise the fund required to have a honeymoon. This way they can still enjoy their honeymoon without digging too deep into their own savings. Honeymoon registries are generally handled by tour operators; and can help guests sponsor specific activities like meal at a romantic restaurant, spa treatment, scuba trip or sunset cruise. They can choose to pitch in towards the cost of the honeymoon package as well. Just be sure to list a honeymoon registry as your gift preference and not as a separate registry that guests are asked to chip in for.
Timeshares as wedding gifts
Depending on your level of intimacy with a family member or a friend who has a timeshare, you can ask them if they would consider letting you use it for your honeymoon if they are not using it to vacation or are banking it. If the owner of the timeshare is really close to you, you might be able to receive it as a wedding gift and save a lot on resort fees.
Research less expensive destinations
A honeymoon in Venice might be one of the most romantic ideas ever but it can also set you back a good few Benjamins. However, if you want to honeymoon in a particular country or region, look out for less popular destinations and book resorts and inns in smaller towns. Not only will this ensure that you stick to your planned budget, this could also be a great way to explore a country.
Know the least expensive times to travel
Honeymooning during the off-season is a great way to save considerably on hotel and travel expenses though this option generally means that you would have to encounter less than optimum weather. If you don't mind having to spend an afternoon or two indoors while its pouring or snowing outside.
You can use the off-season to fit what would otherwise be an expensive trip in your budget. The Caribbean off-season is from April through December and most European destinations have an off-season from November through March.
Tell everyone you are honeymooning
Telling people you are on your honeymoon can get you additional complementary services at restaurants, airlines and even hotels though this is not exactly a surefire way to stay within a budget. However, honeymooners are often gifted free meals, bottles of champagne and gift baskets which can help couples save up a small amount for sure.
Sleep on the train
A great way to save up the cost of spending a night at hotels is to use overnight trains to cover major travel distances at night. Not only do overnight trains provide a great alternative to renting rooms just to spend a night or two, they also help you save the additional cost (and time) you would otherwise spend on traveling as well.
Look out for all-inclusive packages
Once they arrive to their hotel, the unexpected expenses or cost of food and drinks force many couples to spend well over their budget. Since most of these expenses are unavoidable. The best way to ensure that you don't end up spending more that you planned is to choose an all-inclusive honeymoon package that covers the cost of excursions, activities, alcohol, water and all meals.
Book a cruise
A honeymoon cruise is something that people would call a vintage 1920's-theme honeymoon idea. But the fact remains that cruise honeymoons are a great way to have a wonderful and relaxing honeymoon without spending too much. Look out for packages for honeymooners and if you are comfortable with an inside cabin or a smaller room, don't pressure yourself to book a honeymoon suite.
Stay Close to Home
Though most people consider a honeymoon spent overseas to be the epitome of romance after marriage, a honeymoon spent at a small resort or inn closer to home can really help couples save big bucks as well a lot of time and jetlag. Choose a resort or inn situated close to your home.
This way you don't end up spending a few days of your honeymoon in traveling to and from your chosen destination. Even if these off-beat places don't offer honeymoon packages, they are likely to cost way less than most clichéd destinations and you get to save big bucks on international airfares as well.
Camping honeymoons
For couples that share a love of nature, camping honeymoons could be the beginning of a tradition for their married life. Since camping activities come with options to suits all kinds of budgets, couples can choose to spend as much or as little on their outdoor honeymoon as they like.
From a basic pickup, tent and bonfire honeymoon to beach camp honeymoons and rented cabin honeymoons, the camping getaway can also include activities such as hiking, white water rafting or paragliding which would also be very helpful in helping couples bond and unwind together.
Bed and Breakfast for honeymooners on a budget
Secluded B&Bs are more romantic and more versatile than most people give them credit for. Not only are these places quieter and more private than most resorts and honeymoon destinations, they also allow couples to spend quality time alone with each other rather than providing distractions and having people intrude in their space all the time. For half the price of what you would spend on hotel rooms, you get a well-kept room as well as a decent home cooked breakfast and you can spend the rest of the day exploring the local scenery and spend more on souvenirs.
Hospitality network/hostel/backpacking/monastery honeymoons
If you really want to go traveling for your honeymoon but don't want to splurge your entire budget on accommodations, hostel, monasteries and hospitality networks can provide you with economical options to spend the night. Some of them may not be as private or exactly as romantic as you would want. Moreover you won't be burdened with the thought of having blown all your life savings on a two-week long trip alone.This is an ideal option for honeymooners on a budget.